How To Attract Birds
Due to intense habitat degradation and climate change, the job of backyard birders has become increasingly difficult, but not impossible. This is a brief guide on how to attract birds to your backyard and how to make your garden more comfortable for them. Start with a bit of research, gather all the items you need, and then start building nesting spots, bird feeders, fountains, and more.
Items Needed
Before you start learning how to attract birds, you should know what items you need. Therefore, we have put together a list of several essential elements that you will need during the process. Here are the items you need to attract birds:
Nest – Such spaces have a double role. First of all, they offer birds a safe place to build their nests and to lay eggs, which is vital for endangered and threatened species. Secondly, these nests also work as shelters where birds can hide from predators or from adverse weather conditions.
Bird Feeder – Birds need an accessible source of food to attract them to your garden, and such feeders are a great solution for it. If you want to add a nice decorative touch to your backyard, you can opt for modern designs.
Cords and hooks – Buy all the tools and extras that will help you install the feeders and the nests.
Seeds and food – Make sure you know what seeds are suitable for the birds in your area. Also, do some research and find out what foods are bad for birds depending on their species.
Native plants – Such species will make your garden more appealing for birds.
Step 1. Do Your Research
This is the most important step while learning how to attract birds. Depending on your area of residence, there are various species of birds that fly around. You need to know everything about your area before you can proceed with the tricks and techniques that will bring the winged creatures to your yard.
Find out what birds live in your area
You will have to customize every element in your garden depending on the birds you wish to attract. For instance, if there are plenty of migratory birds in your area, they might enjoy different nesting styles that the native ones. If you don't know all these things beforehand, you risk driving away the birds you wish to attract.
Find out what they eat
This is another important step to consider. If you want to know how to attract birds, you must find out what they eat. Their favorite food will not only attract them, but it will also ensure they get a healthy development.
Find out what plants they enjoy
Birds are more likely to enter an ecosystem if it looks friendly to them. Therefore, you will want to make your garden more comfortable for them by bringing native plant species around. Be very careful when you read about it to avoid introducing species that are toxic for certain birds.
Step 2. Do Some Planting
At this point, you should already be familiar with all the conditions these birds require. The first step in attracting them is to make your garden look as natural as possible. After discovering what native plants they enjoy, it's time to introduce these species in your very own backyard ecosystem. You can either buy the plants from a specialized shop or transplant them from a different garden. Whatever strategy you choose, make sure you read about the conditions these plants require.
Step 3. Build a Birding Nest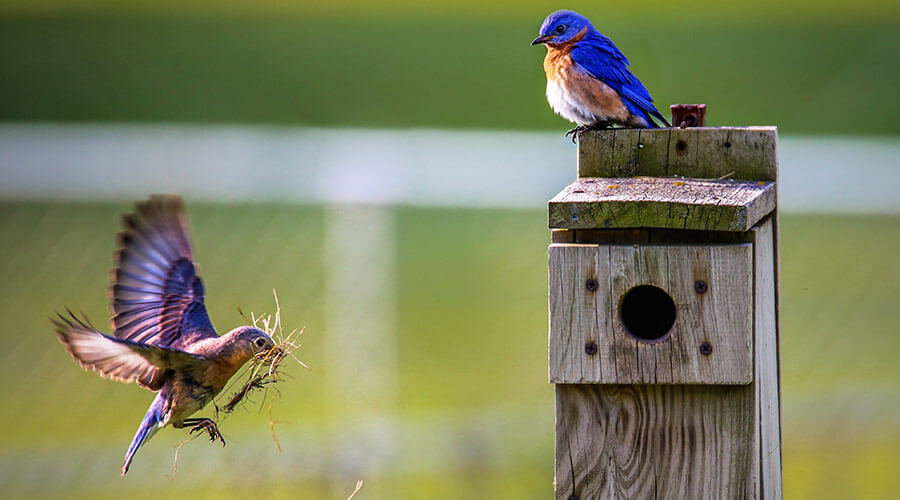 While learning how to attract birds, it's important not to forget about the nest. It can provide shelter for birds if they are looking for a place to lay eggs, want to escape predators, or are hiding from extreme weather conditions.
All nests must feature an opening that provides enough ventilation. The shape of the nest and of the opening varies from one species to another, so make sure you use the suitable one. This way, you can prevent predators or other pests from entering the nest.
Another strategy to attract birds to these nests is to keep everything as natural as possible. Add some turf, grass, leaves, and branches inside. This way, the birds will feel more at home and will become more likely to lay their eggs there. Also, try to keep dead trees around if they still haven't collapsed, as they are an important attraction for birds like woodpeckers or other similar species.
Step 4. Choose a Bird Feeder
Just like nests, feeders must feature different designs according to the birds you're looking to attract. However, there are a few common features you should consider. First of all, make sure no squirrels can get to the seeds and the food you are putting in the feeder.
Then, choose a design that keeps the food dry. If it gets wet, no birds will eat it and you will drive them away. In the end, go for something accessible and easy to clean. Feeders need regular cleaning and fresh food, so you should do this activity at least once a week. This way, you can prevent birds from getting sick.
Here are a few examples of feeders and their most common uses:
Tube feeders – these can hold sugar water inside, so they are the most suitable choice if you want hummingbirds in your garden;
Tray feeders – these are the most common types of feeders. The clear advantages are that are easily accessible and easy to clean. However, this means squirrels or other predators can also reach them;
Suet feeders – these feeders are a bit different, as they feature special cages that can hold suet cakes. Therefore, the most common birds they attract are chickadees, woodpeckers, or nuthatches;
Window feeders – again, we get some easily accessible feeders you can stick to your window through suction cups. They are perfect if you want to watch birds while they feed, and are appealing for finches and sparrows;
House feeders – in the end, we get the most visually appealing type of feeder. They keep all the seeds in a secured container and release them on a tray at the bottom.
Step 5. Choose a Place for Installation
The ideal place for a bird feeder is somewhere near your window. This way, you can watch the birds more easily and, in case something happens, you can intervene. If you place it too far away or near a tree, it gets a lot more vulnerable in front of squirrels, pests, or any kind of predators. Buy high-quality cords and hooks to secure the feeder in one place and keep it from falling or tipping over.
Step 6. Choose Suitable Food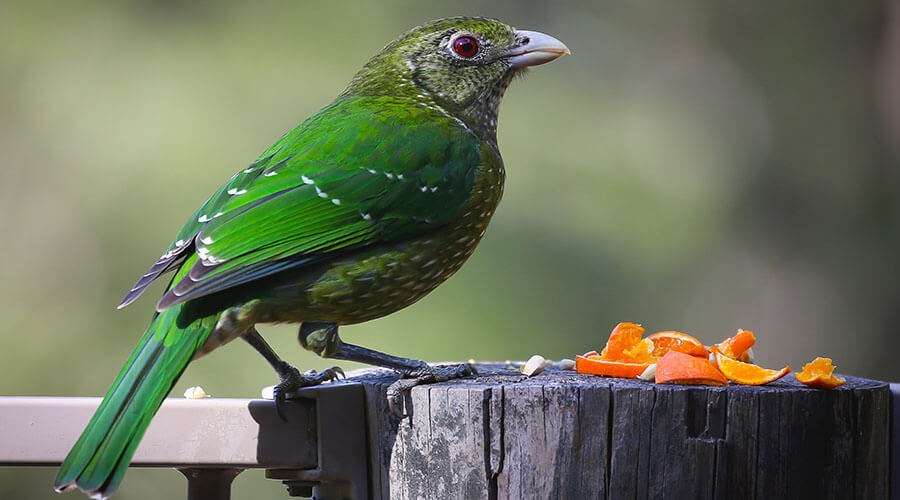 Seeds
There is a wide variety of seeds that birds enjoy. The most common choice among birders is sunflower seeds, which are enjoyed mostly by songbirds. However, if you want a more diverse attendance, you can try safflower or millet.
Nuts
These are also an important addition that should be present in any feeder. Magpies, for instance, love peanuts, while birds with solid peaks enjoy cracking nuts with hard shells.
Fruits
This is a great choice to attract exotic birds. Grapes, apples, or oranges sit really well in a feeder and can turn any regular bird food into a delight.
Suet
This is also a nice addition to any feeder. You can either purchase suet from special shops or make your own. If you go for the second option, you can get as creative as you like and mix multiple ingredient to create delicious food for the birds.
Step 7. Add Grit
Since birds do not have teeth, they digest their food in the gizzard. This organ needs grit, which can be a mix of stones, sand particles, fine gravel, or even organic matter like oyster shells or eggshells. Mix some grit with the food and help the birds with digestion.
Step 8. Add a Water Source
You have more chances to attract more birds if you bring a water source in your garden. They love the sound of moving water, so a fountain or a small pond with running water would make a great choice. Make sure the water is not too deep and keep it away from places where predators may hide.
Step 9. Avoid Pesticides
Knowing how to attract birds also means knowing what to avoid. Pesticides are harmful not only for plants, but also for birds. They kill off their food sources and can be really toxic if they reach their digestive systems. Instead of using pesticides, opt for natural pest control methods.
Step 10. Keep Predators and Pests Away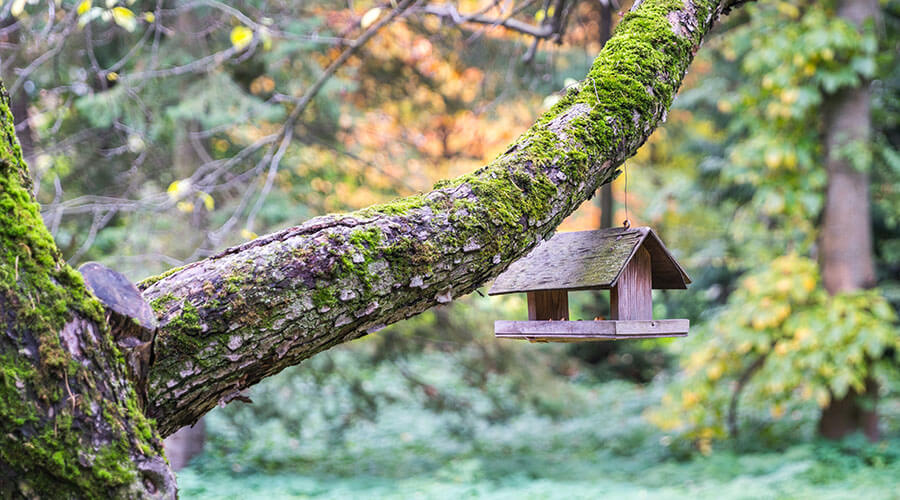 Birds and their eggs are an easy prey for cats, but also for snakes, raccoons, or even rats. Also, nests and feeders are often a target for pests like squirrels who eat the seeds and munch on wood. One way to keep the birds safe would be, as mentioned above, to place the nests and feeders somewhere close to your house.
Also, you can opt for anti-predator design features. Tubes, small openings, or cage-secured feeders are a sure strategy to keep pests from reaching the food while also protecting the birds. Spraying special predator repellent substances is another good solution, as well as keeping feeders and nests high above the ground and far from trees.
Conclusion
These are all the important steps you need to consider while learning how to attract birds to your garden. You need to consider a variety of factors, such as the birds you want to bring in your backyard, what plants and food they enjoy, and the feeder designs they find most appealing. Creating a bird wonderland on your porch is not that difficult as long as you do a little research first.