Colorado's collection of prairies, rivers, mountains, and forests creates an incredibly ecologically diverse environment. With over 3 million acres of wilderness, many animal species call Colorado home. That list of animals ranges from bears to beavers to birds. Robust ecosystems full of trees and wildlands protected by National Park status allow woodpeckers to thrive, making Colorado a top location for woodpecker sightings. In this article, we're taking a closer look at the woodpeckers in Colorado that you can see on a daily basis.
Drawn to the state's lush forests, the woodpecker is one of the most abundant types of animals found in Colorado, and there are as many as 12 different species of woodpecker in Colorado.
Colorado's dry climate creates the perfect environment for woodpeckers, who thrive in a state with abundant deadwood and frequent forest fires. Woodpeckers make their homes amongst the deadwood because it's easier for them to bore holes with their powerful beaks. They also eat the beetle larvae plentiful in those areas.
Some species of woodpecker are migratory and only spend a short time in Colorado due to the cold, snowy winters, but many woodpecker species call the state their full-time home. In fact, migratory woodpeckers are somewhat of an oddity, and many species prefer to remain sedentary.
While most people are familiar with the woodpecker's signature drumming, identifying them can be difficult, even for more experienced bird-watchers. Read on for more information on all of the woodpecker species that reside in Colorado and how they can be identified.
---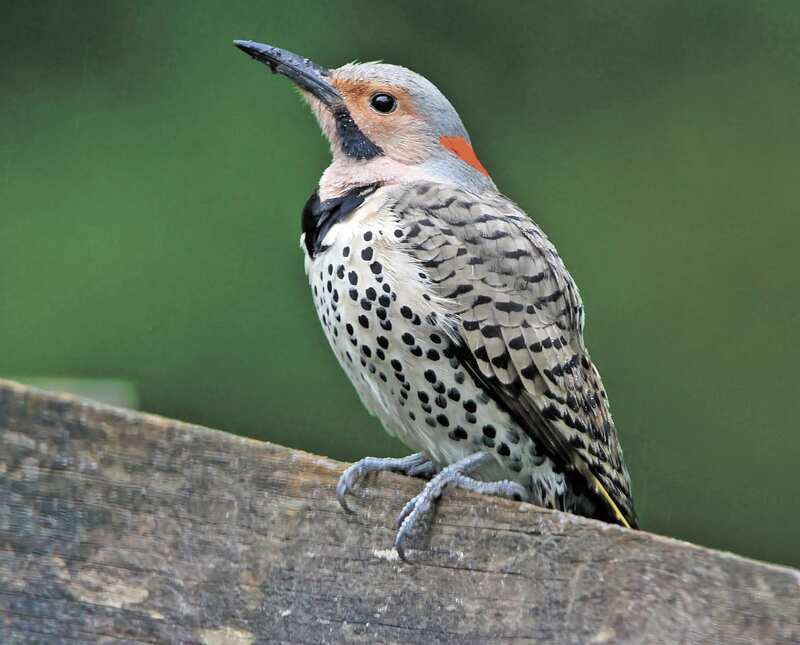 Northern Flicker
The Northern Flicker is the most common species of woodpecker found in Colorado, and it's also one of the easiest to identify. The underside of their wings is a vibrant red or yellow and the white patch on their rump is very apparent in flight.
These woodpeckers are on the larger side, with a wingspan ranging between 16 to 21in and a weight ranging between 3.9 to 5.6oz.
While they nest in the trees, Northern Flickers are ground foragers and subsist on a diet mostly made up of seeds and insects. Ants are the Northern Flickers' most common food, and they use their barbed tongue to slurp up their prey.
Northern Flickers often nest in dead trees, where it's easiest to bore out a nest cavity. They'll often reuse nests from previous years, a relatively uncommon behavior in the woodpecker world.
Females lay up to 8 eggs at a time and spend between 11 and 13 days incubating them. Chicks are naked when they hatch and live in the nest for around 27 days before they're ready to leave.
An uncommon trait of the Northern Flicker is their migratory nature. While many other species of woodpecker are sedentary, the Northern Flicker migrates long distances to escape the winter cold. Of course, that means many Northern Flickers are not year-round residents of Colorado.
These woodpeckers prefer to stick to the state's forests, and usually avoid human civilization. However, urban sprawl threatens their habitat and occasionally puts them in close proximity to houses and towns.
In some Colorado suburbs, Northern Flickers are a considerable pest. They drum on the sides of homes causing property damage and the sound of it is bothersome to many homeowners. Scaring them off is easy enough, and the damage they do is typically cosmetic.
---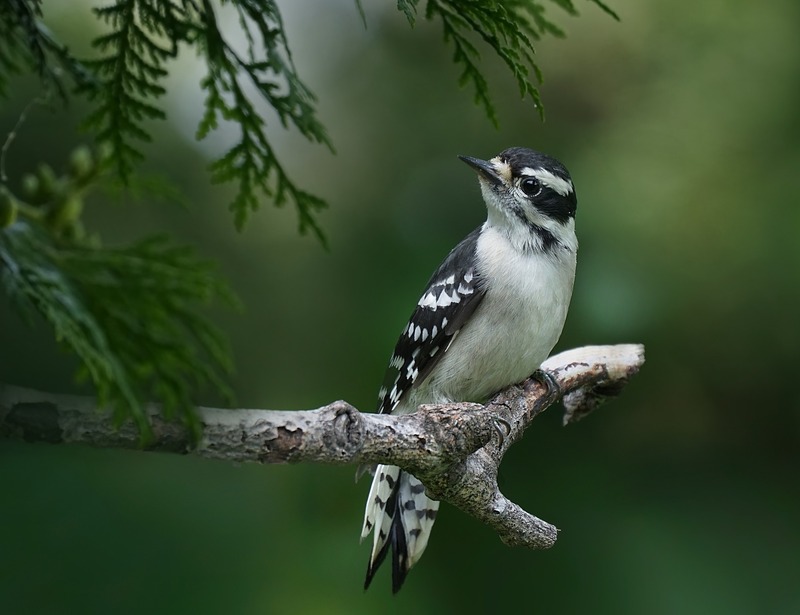 Downy Woodpecker
Weighing in at 1oz and featuring a wingspan between 9.8 to 11.8in, the Downy Woodpecker is the smallest woodpecker native to Colorado.
Apart from their diminutive size, Downy Woodpeckers can be denoted by their black and white plumage with a flourish of red feathers on the back of the bird's head. Bird watchers will need patience and a keen eye if they intend to spot one of these tiny woodpeckers in the wild.
These birds don't migrate, remaining sedentary year-round. They prefer to nest in deadwood, finding hollows in the trunks of dead trees or making their home in the dead branches of living trees. Colorado's dry climate is the ideal home for the Downy Woodpecker.
Downy Woodpeckers are one of the more agile species of woodpeckers, flitting about the treetops with ease. They seldom come to ground-level and only do so in search of food. These woodpeckers also typically avoid human contact, preferring to stay in the wilderness.
They mainly eat small insects, drumming away at trees until they find beetle larvae, ants, and caterpillars. The males of the species are territorial hunters, often chasing females away from more prosperous hunting grounds higher in the trees. Females will usually scavenge lower branches or in bushes.
These woodpeckers are monogamous and both sexes take turns incubating their eggs during the breeding season, making them different from many other woodpecker species where that responsibility rests on the female.
Female Downy Woodpeckers lay 3-8 eggs per brood, and it takes 12 days to incubate them. After 3 weeks, Downy Woodpecker chicks are ready to leave the nest.
Despite their aversion to humans, Downy Woodpeckers are also a common sight at backyard bird feeders, making them a favorite of residential bird watchers across Colorado.
---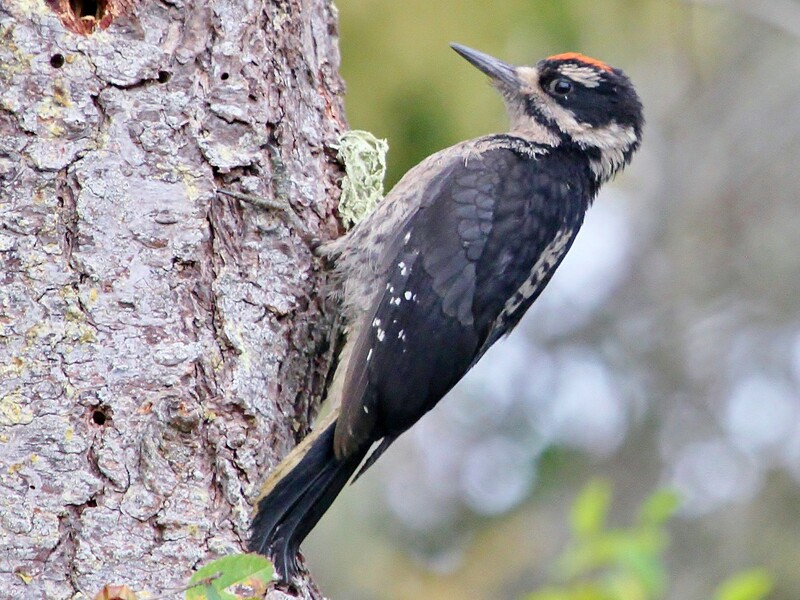 Hairy Woodpecker
Strikingly similar in appearance to the Downy Woodpecker, Hairy Woodpeckers also feature black and white plumage accented with red. However, Hairy Woodpeckers are noticeably larger so it's not terribly difficult for an experienced bird watcher to distinguish between the two species.
Hairy Woodpeckers weigh between 1.4 to 3.4oz and have a wingspan that ranges between 13 and 16in.
These woodpeckers share a lot in common with the smaller Downy Woodpeckers. They eat many of the same insects and also prefer nesting in deadwood. Hairy Woodpeckers are also a sedentary species, so expect to see them year-round.
Hairy Woodpecker nest construction is a quick process. They must work fast, as they only begin crafting their nest cavity 2 weeks before the female is ready to lay her eggs.
A typical Hairy Woodpecker brood is between 3-6 eggs and it takes 12 days for them to hatch. Naked and helpless at birth, chicks aren't ready to leave the nest until around a month has passed.
One area where the Hairy Woodpecker differs from its smaller cousin is its beak size. A Hairy Woodpecker's beak is large and powerful, allowing them to hollow out larger tree trunks for nesting purposes. They prefer to nest high up in the treetops and craft nests with hidden entrances to evade other forest-dwelling creatures that would ransack their nests.
Their diet is mostly insects, with tree-boring beetle larvae being of particular interest. Hairy Woodpeckers famously feast on bark beetle larvae (an invasive species), so their presence is important in maintaining a balanced ecosystem.
You're also likely to spot these woodpeckers around bird feeders, and they prove a little more comfortable around human civilization than the smaller Downy Woodpecker.
---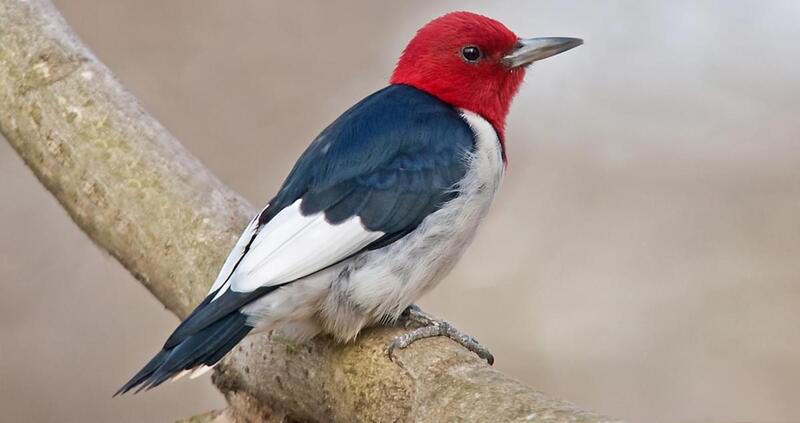 Red-headed Woodpecker
The Red-headed Woodpecker's magnificent plumage makes one of the easiest woodpeckers to identify. Their head is ruby-red, their body is white, and their wings are checkered black and white. It's been affectionately dubbed "the flying checkerboard" by some bird-watching aficionados.
However, their unique coloring doesn't develop until the bird reaches maturity, so spotting these woodpeckers can be challenging. It's easy to mistake adolescent birds for a different, less colorful species.
A larger woodpecker, the Red-headed Woodpecker weighs between 2 and 3.2oz and has a 16.5in wingspan.
Red-headed Woodpeckers are migratory birds, often flying south to escape the winter cold. Their time in Colorado is limited to breeding, and their range doesn't extend west of the Rocky Mountains.
Red-headed Woodpeckers are adroit flyers and incredible hunters. They're one of the few species of woodpeckers who are flycatchers, able to snap insects out of mid-air. They are also intelligent enough to store their food, often hiding large meals like grasshoppers in tree trunks to save for later. This behavior is a little bit peculiar, as the other species of woodpeckers that store food are sedentary and need food reserves to make it through the winter.
Despite their hunting abilities, Red-headed Woodpeckers eat mostly plant matter like acorns, seeds, and berries.
Incredibly territorial, Red-headed Woodpeckers go to extremes to protect their breeding grounds. They ransack rival birds' nests and puncture their eggs in order to guard the territory. No other species of woodpecker in Colorado exhibit such aggressive behavior towards other birds.
Their mating ritual is extensive and features aggressive courtship on the part of both the male and female. They'll chase each other through the trees, stopping to bob their heads in an effort to display their vibrant colors. Once mated, pairs stay together for many years.
Females sometimes lay two broods of eggs, each with a clutch size of 3-8 eggs. They incubate their eggs for two weeks. After hatching, most Red-headed Woodpecker chicks are ready to leave the nest after 3 or 4 weeks.
---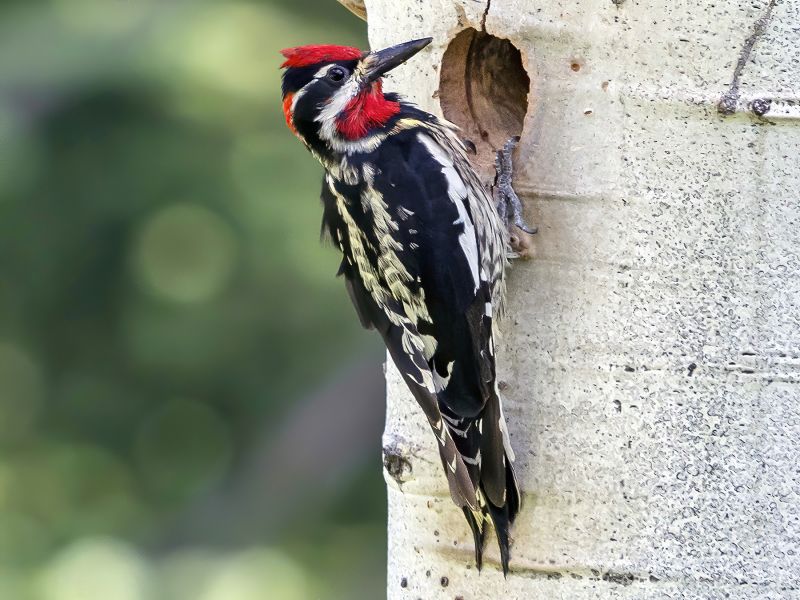 Red-naped Sapsucker
As their name implies, the Red-naped Sapsucker enjoys a diet that largely consists of sugary tree sap. They bore holes in trees and drink the sap that flows out of them.
Their specialized tongues are tipped with fine hair that allows these woodpeckers to lap up the sap with ease; they don't actually suck the sap from the trees as their name implies.
The Red-naped Sapsucker's feathers are black and white speckled and their heads are mostly red. A small stripe on their heads is their signature identifier.
They weigh around 2oz and have an average wingspan of 16in.
Red-naped Sapsuckers are commonly found near Aspen trees. In addition to drinking the sap, these birds also make their nests in Aspen deadwood. They'll often return to nest in the same tree every year, a somewhat unusual activity for a woodpecker.
Like the Red-headed Woodpecker, Red-naped Sapsuckers employ an aggressive strategy during mating season. They'll often chase prospective mates in a dance-like fashion, fluffing up their feathers, swinging their beaks, and squealing. They remain monogamous for the duration of the mating season.
Females lay 3-7 eggs per egg-laying season and spend 8-12 days incubating them. Some Red-naped Sapsucker chicks are ready to depart the nest after 3 weeks, but others need up to 32 days to reach maturity.
The range of the Red-naped Sapsucker is limited to the western half of Colorado, drawn mostly to the vast forests existing there and seldom venturing to the eastern plains.
---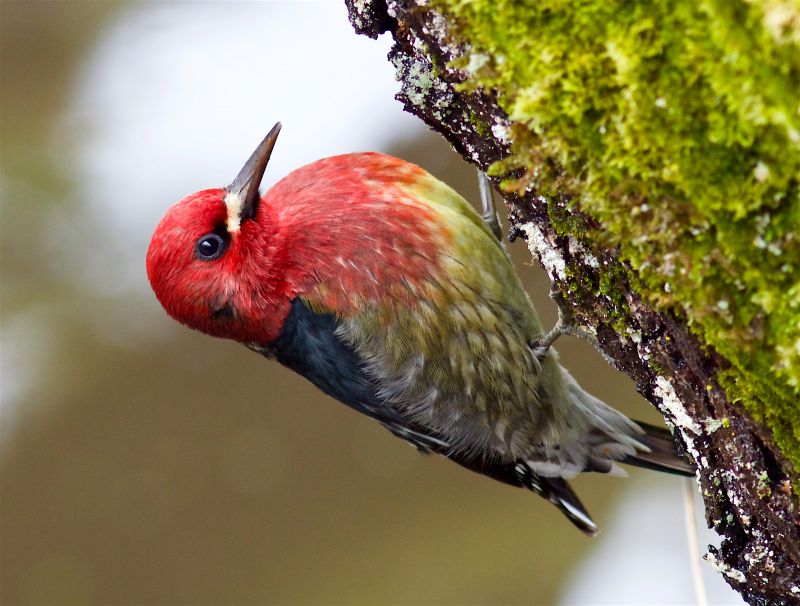 Red-Breasted Sapsucker
Bird watchers may struggle to accurately identify a Red-breasted Sapsucker. They are among the least common woodpeckers in Colorado, preferring the coniferous forest of the west coast of the United States. Spotting a Red-naped Sapsucker in the wild in Colorado is a very rare occurrence.
Their coloring is similar to the Red-naped Sapsucker, leading many people to misidentify them. In fact, the Red-breasted Sapsucker only recently received distinction as its own species, with many ornithologists misclassifying them as Red-naped Sapsuckers.
These woodpeckers migrate long distances and are most likely to be found passing through during the winter months. They prefer to spend winter in the forest, so they don't usually venture east of the Rocky Mountains.
Red-breasted Sapsuckers are of average size for a woodpecker, with an average weight of 2oz and a wingspan of 15in.
Unlike other woodpeckers who are picky about their nesting location, the Red-Breasted Sapsucker is happy to make a home just about anywhere. They prefer hollowed-out deadwood, but the location and height of the nest seem to be of little concern for them.
Female Red-breasted Sapsuckers lay 4-7 eggs at a time, and it takes 2 weeks for them to hatch. Chicks reach maturity and are ready to leave the nest after 4 weeks with their parents.
True to their namesake, they drink mostly sap and eat fruit and insects. Their voracious drilling attracts hummingbirds looking for an easy meal and, in some instances, can kill trees.
---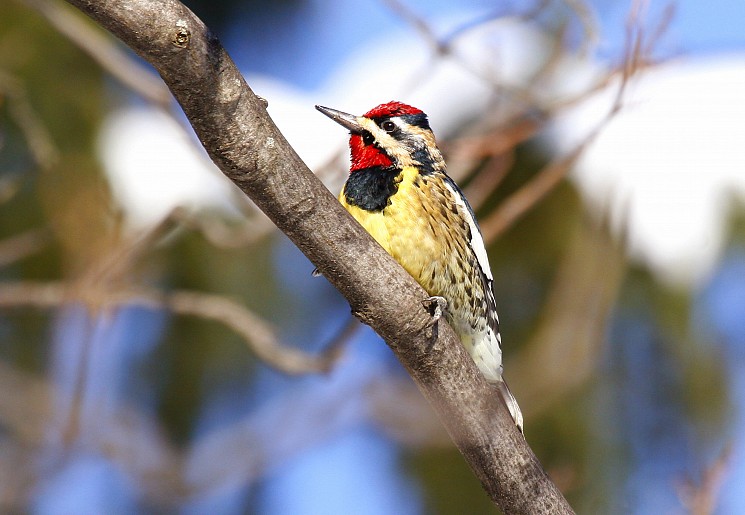 Yellow-bellied Sapsucker
Another sap-loving woodpecker, the Yellow-bellied Sapsucker is distinguishable by its crimson-colored head and the yellow-shaded feathers down its chest and belly.
On the smaller side of things, these woodpeckers weigh between 1.5 to 1.9oz and have a wingspan of 13 to 16in.
Like the Red-breasted Sapsucker, these migratory woodpeckers can be difficult to spot in Colorado. Native to the eastern United States, the Red-breasted Sapsucker prefers to winter in warm climates, with a range that can extend as far south as Central America.
Unfortunately, climate change is diminishing their habitat in the east, forcing them to relocate. Their numbers are still numerous and their status is not currently threatened.
They can be seen on the eastern side of Colorado, and don't venture far into the Rocky Mountains.
Yellow-bellied Sapsuckers subsist mostly on a diet of tree sap. They prefer to drill wells in trees that make sap with a high sugar content, like birch and maple. The wells require constant drilling to keep the sap flowing, so they don't venture too far from home during the warmer spring and summer months.
Unlike other woodpeckers, whose nesting process is a collaborative effort from the male and female, male Yellow-bellied Sapsuckers take on most of the nest building responsibility. They select the tree and spend weeks hollowing out the nest. No lining is installed. Instead, the female lays her eggs directly on top of the wood shavings left over from the nest building.
Females will lay up to 6 eggs during a particular mating season. The eggs hatch after a 2 week incubation period, and the baby birds leave the nest after taking 30 days to reach maturity.
---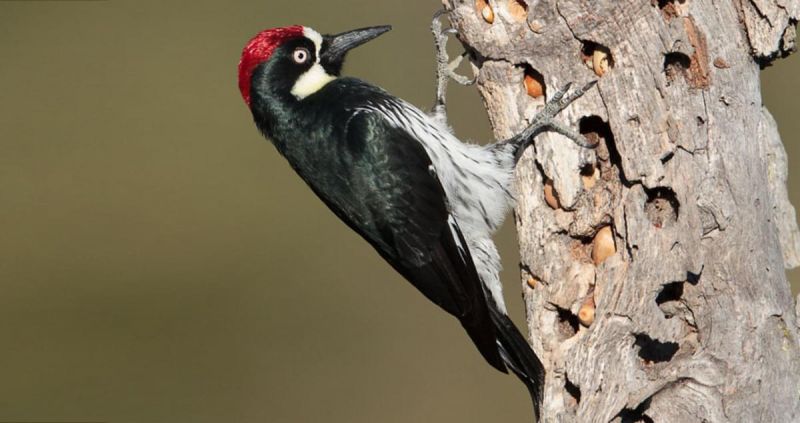 Acorn Woodpecker
With their white faces, black beaks, and a shock of red feathers on the tops of their heads, the Acorn Woodpeckers' appearance resembles that of a clown's.
On average, they weigh 3.2oz and have a wingspan of 17in.
While they are far from the most common woodpeckers in Colorado, preferring the warmer weather further south in places like New Mexico, they will travel further north in search of more plentiful food sources.
As their name suggests, Acorn Woodpeckers thrive on a diet of acorns. Like the Red-headed Woodpecker, Acorn Woodpeckers also have a penchant for storing their food. Their near-endless drilling carves many cavities in oak trees, which are then filled with acorns and other nuts. Acorn Woodpeckers rely on these food storages to survive through the winter, as they are sedentary birds.
Their drilling also serves another purpose. They simply nest in one of the many cavities they've carved. Acorn Woodpeckers are less particular about their nesting habits than other woodpeckers.
Acorn Woodpeckers exhibit a more complex social structure than other woodpeckers in Colorado. Acorn Woodpeckers for a family unit, with young birds helping to gather acorns and assist in raising the young. A family unit can consist of up to ten woodpeckers, and they all help in the rearing of woodpecker chicks, regardless of parenthood.
Acorn Woodpeckers can have up to 2 broods per egg-laying season. They lay 3-6 eggs at a time and spend 11 days incubating. Around 30 days later, chicks are mature enough to leave their parents, but many chicks stay near their nest.
Acorn Woodpecker populations in Colorado are steady, especially if food is abundant and their storage methods are successful.
---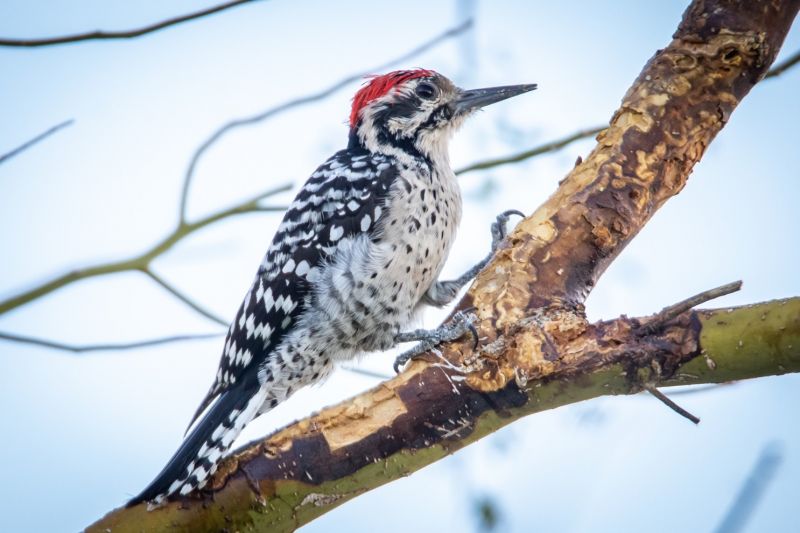 Ladder-backed Woodpecker
While other woodpecker species prefer tall trees and forests, the Ladder-backed Woodpecker is a desert-dweller. In Colorado, these woodpeckers are most likely to be found in the south-eastern portion of the state, making their homes amongst juniper trees and shrubs.
Ladder-backed Woodpeckers are on the smaller side, weighing only 2oz on average and have a 13in wingspan. Their black and white speckled coloring makes them easy to find amid the desert foliage.
Their diet is mostly insects and insect larvae, with beetles, ants, and caterpillars representing the majority of their prey. They seldom drill deep for food, instead opting to scavenge in low-lying bushes and along branches.
When the time comes to nest, the males will hollow out a nest cavity in a larger desert tree. They prefer Joshua Trees and junipers but have also been known to nest in cacti.
Ladder-backed Woodpeckers are non-migratory, so the population of these woodpeckers in Colorado remains relatively stable. As long as their food supply of insects remains plentiful, Ladder-backed Woodpeckers are content to spend their lives in one location.
The clutch size of the Ladder-backed Woodpecker varies. Sometimes females lay as few as two eggs or as many as 7, depending on the availability of food.
Known to be territorial, Ladder-backed Woodpeckers take an aggressive posture towards rival males during mating season and exhibit a rivalry with Nuttall's Woodpeckers.
Interestingly, Ladder-backed Woodpeckers and Nuttall's Woodpeckers share enough genetic similarities that they can hybridize.
---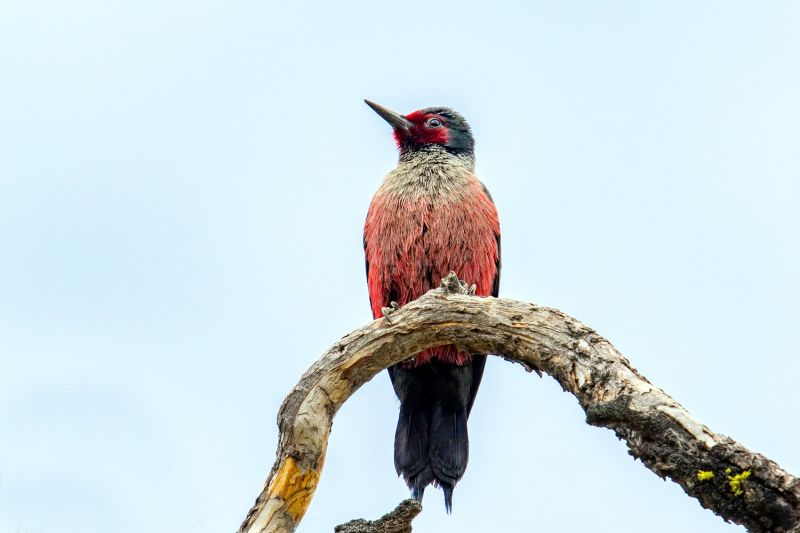 Lewis's Woodpecker
Its name derived from legendary American explorer Meriwether Lewis, Lewis's Woodpeckers are birds of a different feather. Their size and powerful wings make them excellent flycatchers, and, as a result, they spend little time boring in trees.
With an average weight of 4oz and a wingspan as large as 20in, these woodpeckers are well-equipped for more aggressive hunting practices. They circle their prey from above and swiftly dive down to pluck it out of mid-air.
Many types of insects are on the menu for Lewis's Woodpeckers, but they'll also scavenge for berries and nuts. Occasionally, they'll store food in tree crevices in anticipation of winter, when insect populations dwindle in colder climates.
These non-migratory woodpeckers can be seen year-round in Colorado, where they make their home in the state's coniferous forests in the Rocky Mountains. With red bellies and dark green wings, their coloring makes them easy to spot. Just don't expect to find many on the eastern plains.
Lewis's Woodpeckers aversion to drilling extends to their nesting practices. They prefer to make their nests in pre-existing holes in deadwood, sometimes claiming another woodpecker's old nesting cavity. Once they find a nest, they make minimal modifications and lay down a bed of wood chips.
Lewis's Woodpeckers have one of the larger clutches, laying between 5 and 9 eggs during a nesting season. It takes up to 16 days for the eggs to hatch, and chicks aren't mature enough to leave the nest for a month.
---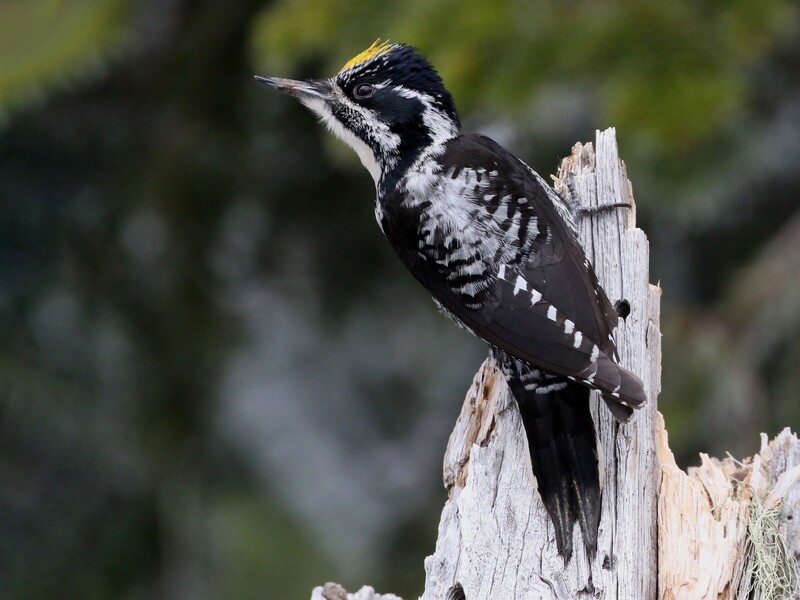 American Three-toed Woodpecker
While most woodpecker species have four toes, the American Three-toed Woodpecker's unique three-toed foot aids them in their hunting and wood-boring practices. They have better balance than other woodpeckers and can generate more leverage, allowing for more powerful strikes with their beaks.
Their increased power allows for another intriguing practice. American Three-toed Woodpeckers chip away at tree bark, rather than boring deep holes. This method of drumming allows them to hunt for pine beetles and pine beetle larvae, one of their most common sources of food.
Pine beetles are an invasive species, their presence often decimating forests. American Three-toed Woodpeckers perform a sort of public service by helping to keep pine beetle populations under control. Of all woodpeckers in Colorado, these are the most welcome sight.
With a wingspan of 15in and a weight of 2oz, American Three-toed Woodpeckers are on the smaller end of the woodpecker size spectrum. Spotting them is relatively easy, with the bright patch of yellow feathers on their heads starkly contrasting with their black and white bodies.
These sedentary woodpeckers can be found all over the Colorado Rockies, making their homes amongst the pine, spruce, and fir trees. If food remains plentiful, they won't see a reason to relocate, even in the winter.
American Three-toed Woodpeckers prefer to make their nests in deadwood and are often attracted to recently burned areas. The males and females work collaboratively to build the nest, with the male hollowing out the nest cavity and the female applying the finishing touches.
Once the female has finished the nest, she lays between 3-7 eggs on a bed of wood chips. Then, she sits and incubates the eggs for 2 weeks.
---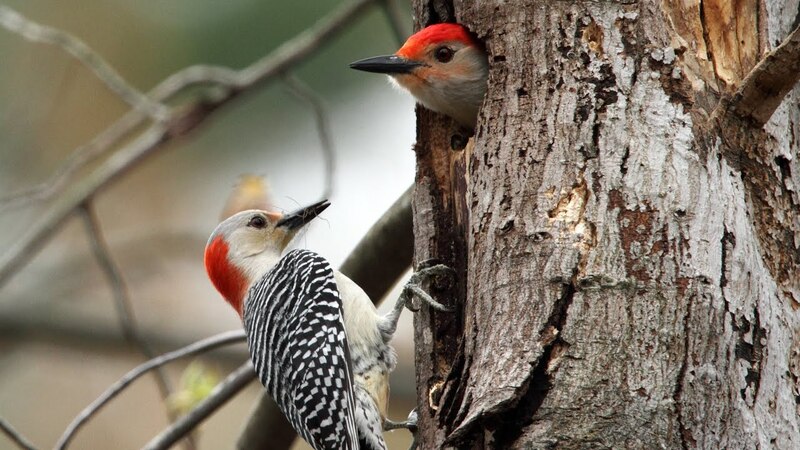 Red-bellied Woodpecker
Distinguishable by their vibrant red heads and pale pink bellies, these birds are one of the least common woodpeckers in Colorado. Their main territory lies on the eastern half of the United States, but they will venture west in search of food.
These omnivorous birds enjoy a balanced diet of insects, acorns, fruits, and seeds. On rarer occasions, they also pluck small fish like minnows out of forest streams. Their barbed tongues and sticky saliva aids in catching insects, and they wedge their heads deep into crevices to root out their meals.
Of modest size, this species of woodpecker weighs around 2.5oz on average and has a 13-17in wingspan.
The Red-bellied Woodpecker is a non-migratory bird, so their population numbers in Colorado should remain level. They're most likely to be found on the eastern side of the state and don't venture further west than the Rocky Mountains.
Red-bellied Woodpeckers mate for life and share many parenting responsibilities. Their nest building is collaborative and, while they often return to nest in the same tree year after year, typically bore a new nest cavity.
The male of the species will also relieve the female of her nighttime hatching duty, allowing both sexes to search for food as they prepare to rear their young.
These woodpeckers defend their nests and territory with vigor and often have to protect their offspring from larger species of birds like the European Starling and other species of woodpeckers.
Red-bellied Woodpeckers can have up to 3 broods in a nesting season. They lay 2-6 per hatch and spend 12 days incubating them. After 4 weeks, Red-bellied Woodpecker chicks reach maturity and are ready to leave the nest.
---
Related