In Minnesota, the "Land of 10,000 Lakes", there is an abundance of birds. From Cardinals to Bald Eagles and Loons, this state is the perfect spot to see just about any bird that you can think of. So it comes as no surprise that the state of Minnesota has 11 different species of woodpeckers. Below we will list each of the Minnesota woodpeckers along with their characteristics and information about their habitat, food, nesting, and behavioral habits.
---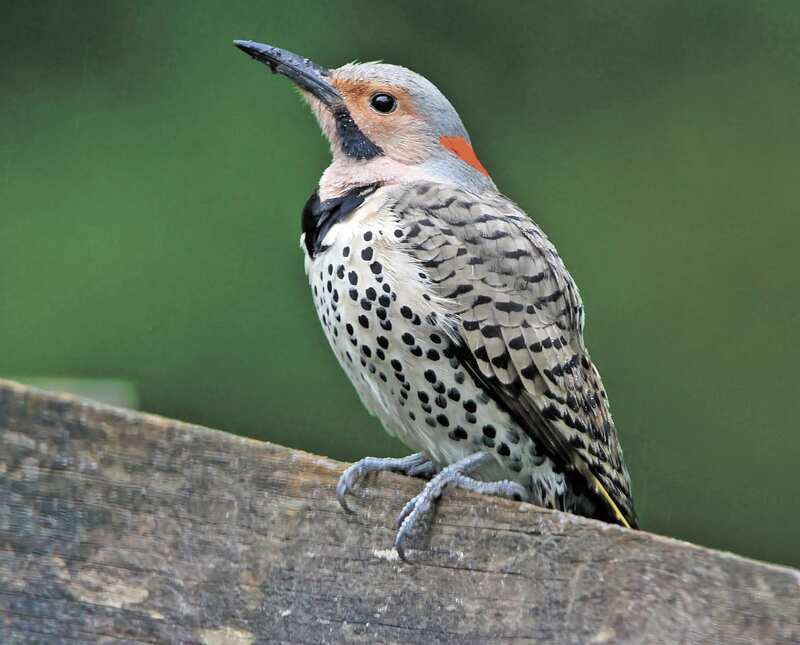 1. Northern Flicker
Length: 11 – 12 in
Wingspan: 16 – 20 in
Weight: 4 – 5.5 oz
Lifespan: up to 9 years
The Northern Flicker is a medium to large size bird that is almost as big as a crow. It has a unique spotted pattern on its underbelly with a black crescent at its neck. There is a splash of red at its cheek, and depending on the race, it will either have yellow, red, or gilded flight feather shafts.
This woodpecker spends a good bit of its time on the ground but does perch in trees. They fly up and down like most woodpeckers and are often found in forests, parks, and in wooded suburban areas. They prefer ants and beetles along with seeds, nuts, and fruit. They like to nest within tree trunks and can be found year-round all throughout the U.S. as well as in Canada when they are breeding and even in Central America.
When courting, two males will often face off in a fencing duel in front of a female to get her attention for mating. Upon mating, Northern Flickers often reuse their tree cavities from nesting. They will also use spots left behind from other birds.
After raising their brood, the pair will not interact with each other outside of breeding season. It is not known if they return to to the same mate the following year. These Minnesota woodpeckers can be seen year-round, particularly in the central regions of the state.
---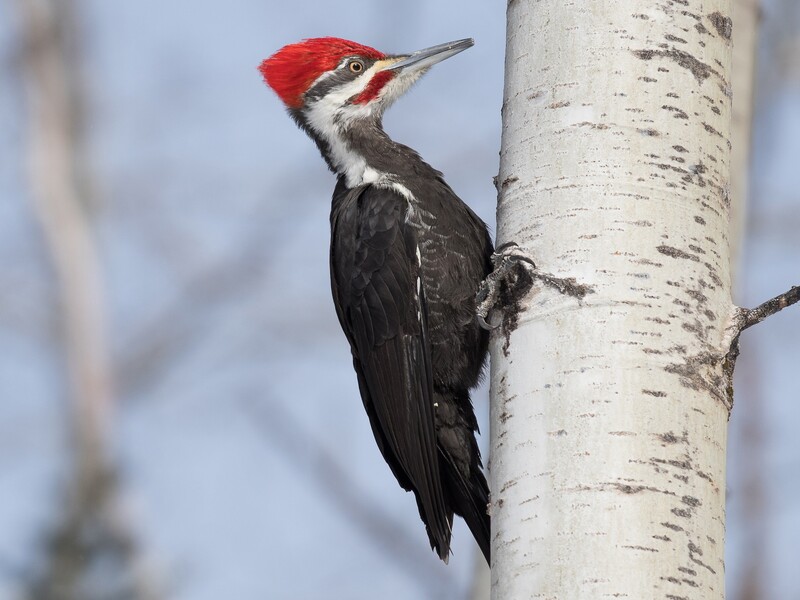 2. Pileated Woodpecker
Length: 16 – 19 in
Wingspan: 26 – 30 in
Weight: 9 – 12 oz
Lifespan: 9 to 13 years
The pileated woodpecker is one of the Minnesota woodpeckers most commonly recognized of the family with its bright red mohawk. Its black and white face and wings make the Pileated woodpecker easy to spot. About the size of a crow, this Minnesota woodpecker drills very distinctive holes into trees that are shaped like a rectangle.
Their loud calls come from the forests, wooded backyards, and suburbs dense with trees. Pileated woodpeckers like to forage for carpenter ants in dead trees, fruit, and nuts.
When foraging, they leave behind nest holes, which smaller birds like swifts and pine martens turn into homes. Pileated woodpeckers have an average life span of about 9 to 13 years. Often this woodpecker is seen in the northern part of the state.
They like to nest in holes in trees and can be found throughout the year in Canada as wells as the east to southeastern and midwestern parts of the U.S. They flock together and live in groups and will mate with the same partner for the entire year and for life. Upon their brood being raised, the pair will abandon the nest and not reuse it later.
---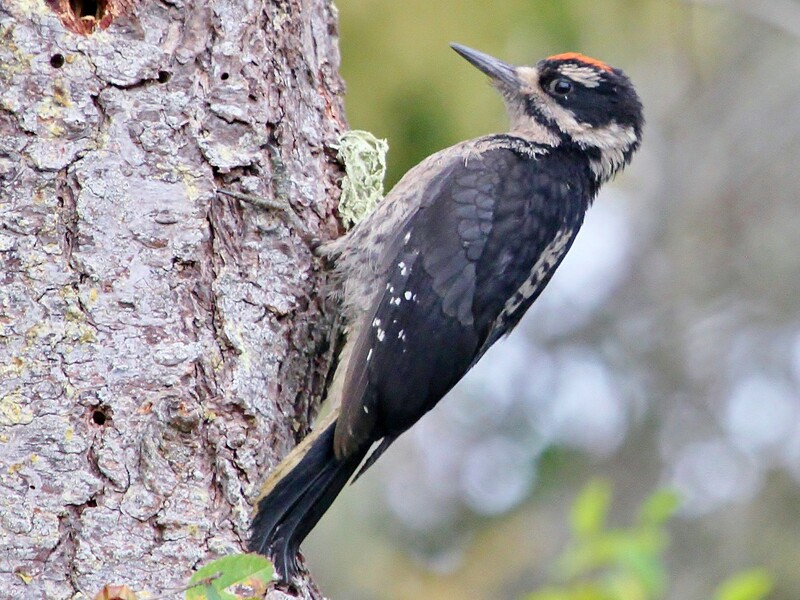 3. Hairy Woodpecker
Length: 7 – 10 in
Wingspan: 13 – 16 in
Weight: 1.5 – 3.5 oz
Lifespan: up to 15 years
This woodpecker is the size of a robin and is similar to the Downy woodpecker but is the larger of the two. The Hairy Woodpecker is black and white all over, with striped wings and two white stripes on its head. It has a patch of red on the back of its head and a long bill.
Hairy woodpeckers make their home in tree holes and will feed at the base of the tree for insects. Their loud, quick call is abrupt and sharp. They like to tap energetically on trees in a variety of settings, including forests, parks, backyards, and tree-lined cemeteries.
Mating males will put on a display when in conflict with other males. They will also put on a display for females. Their broods consist of 3 to 6 eggs. To catch a sighting of these Minnesota woodpeckers, you will have to look in the northern part of the state during the breeding season.
Hairy woodpeckers tend to follow Pileated woodpeckers around and forage behind them to gather the insects that they have missed. They sometimes will also drink sap made by sapsuckers. This woodpecker can be found across North America and Central America.
---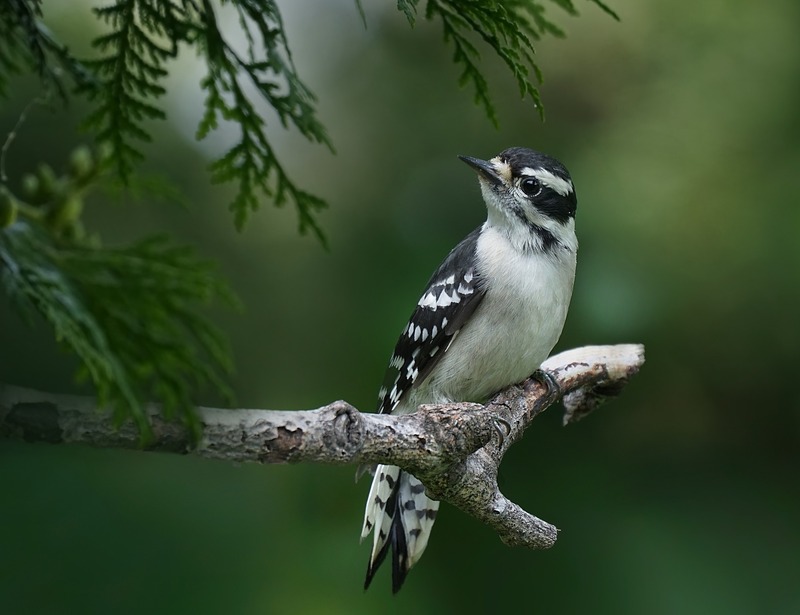 4. Downy Woodpecker
Length: 5.5 – 7 in
Wingspan: 10 – 12 in
Weight: 0.5 – 1 oz
Lifespan: up to 12 years
As noted above, the Downy and Hairy woodpeckers are similar in color and size, with the Downy being the smaller of the two. The noticeable difference between the two is that the Downy has a shorter bill.
For their habitat, this woodpecker likes open woodlands with deciduous trees or brushy edges with tall weeds. Their loud calls come from the forests, wooded backyards, and suburbs dense with trees. You can also spot them in orchards, parks, and backyards.
The Downy woodpecker is quite the acrobat and perches on small limbs a calling out with a high-pitched whinny note. This woodpecker will often flock with nuthatches and chickadees in the winter, as well as forage with them in backyards at birdfeeders. Like other woodpeckers, they will nest in trees and build a nest in the walls of buildings.
Their acrobatic displays are also seen when courting a female. They will flutter between trees like a butterfly to catch a female's glimpse. In Minnesota, you will mostly see this woodpecker to the east and north of the state.
---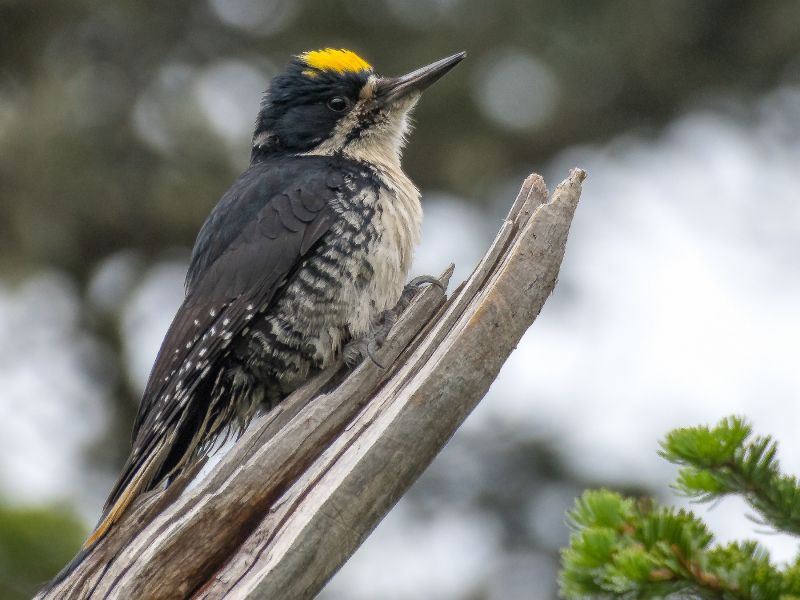 5. Black-backed Woodpecker
Length: 9 – 10 in
Wingspan: 16 – 16.5 in
Weight: 2 – 3 oz
Lifespan: up to 8 years
As its name implies, the Black-backed woodpecker is all black and is small to medium-sized. Their coloring suits them well as they are often found in burnt forests, tapping into soot-covered trees. With underbellies of white, they commonly look grey because the soot smudges their feathers.
Unlike other woodpeckers, they will spend a long period in one spot foraging. They go after large wood-boring beetle larvae, which are found deep in trees. They also have a direct flight pattern, rather than up and down like others.
This Minnesota woodpecker is not as common to the state but can still be seen year-round in the area, especially in places that have experienced burning. Their sharp calls can be heard while they forage low on a tree trunk near the ground.
Black-backed woodpeckers like to make new nest holes every year. Like the American Three-toed, this woodpecker only has three toes rather than four like most other woodpeckers.
---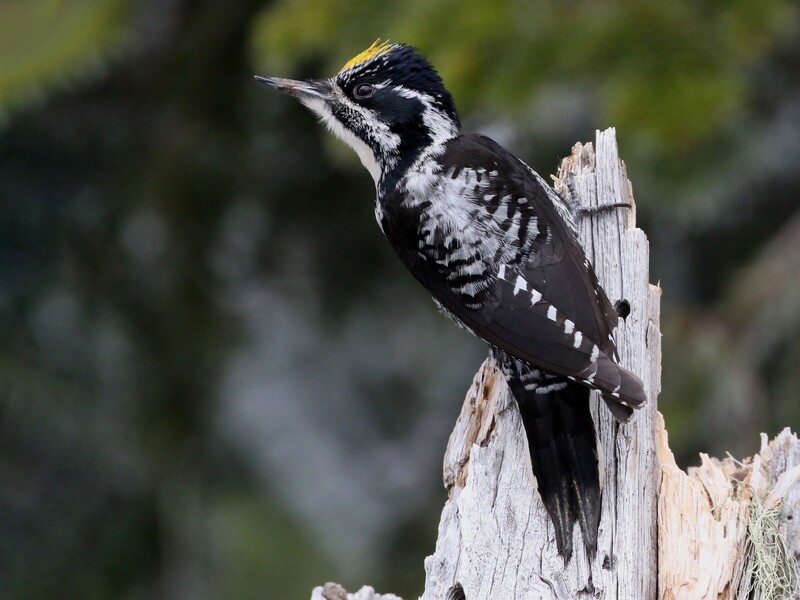 6. American Three-toed Woodpecker
Length: 8 – 9 in
Wingspan: 14.5 – 15 in
Weight: 1.5 – 2.5 oz
Lifespan: up to 6 years
The American Three-toed woodpecker has three toes, allowing it to lean back farther than other woodpeckers. They are small to medium-sized birds with black and white plumage and just a dot of yellow on their forehead.
When foraging, this woodpecker likes to flake or peel back the bark of a tree. Considered opportunistic feeders, they are often found taking advantage of bark beetle outbreaks in dense spruce forests.
They prefer forests that have been disrupted by storms, wind, fires, or insect outbreaks. The American-Three toed will rapidly drum at a tree, slowly trailing off only to repeat the pattern, much like the Black-backed woodpecker.
American Three-toes breed farther north than other woodpeckers and are closely related to the Eurasian Three-toed woodpecker. This species will mate for several years and remain monogamous for the breeding season. Both the male and the female will care for the brood before, during, and after.
---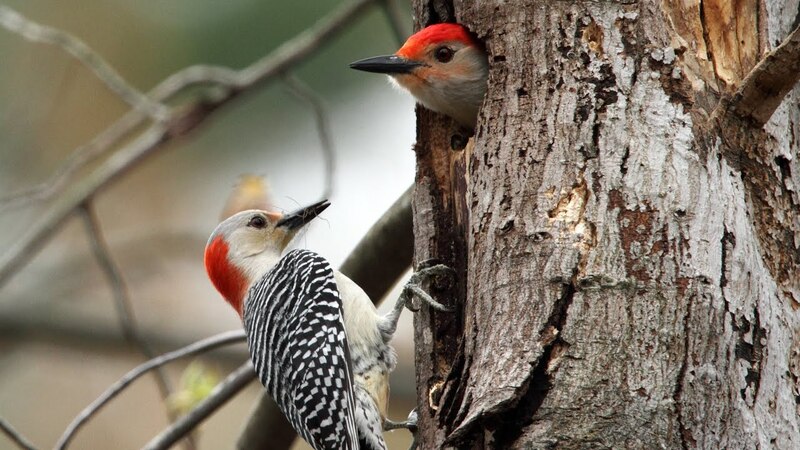 7. Red-bellied Woodpecker
Length: 9 – 9.5 in
Wingspan: 13 – 16.5 in
Weight: 2 – 3 oz
Lifespan: up to 12 years
Red bellies are medium-sized and have a distinct redhead and a pale whiteish red belly with black and white striped backs. More common in Eastern woodlands, these Minnesota woodpeckers can be found in oaks and hickory. They will also venture to backyards in the suburbs for feeding.
Their loud calls come during the spring and summer and often pop in at hummingbird feeders for a quick drink. Red bellies have been known to take over other birds' nests. Although aggressive, they often fall victim to the European Starling.
The males will catch a female's attention by tapping on the inside of the nest cavity he made for them. If she is interested, she will tap back.
They can be mostly seen in the southern parts of the state as well as across the U.S. and Canada. The Red-bellied woodpecker is most active during the breeding season and will live up to 12 years.
---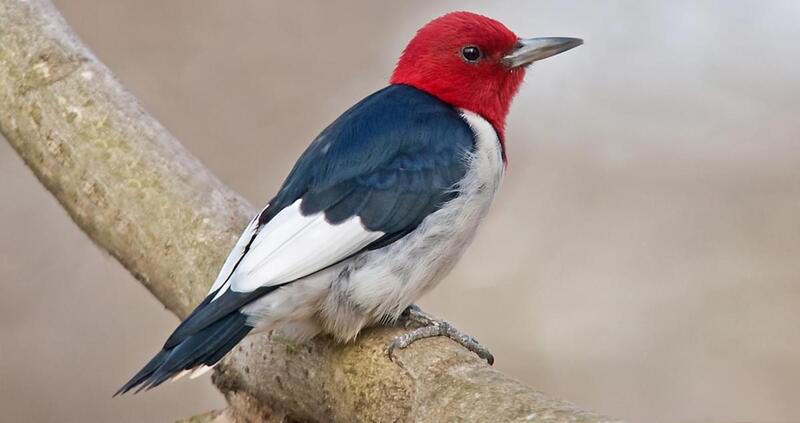 8. Red-headed Woodpecker
Length: 7.5 – 9 in
Wingspan: 16 – 16.5 in
Weight: 2 – 3 oz
Lifespan: up to 9 years
You cannot miss this woodpecker with its deep red head and black and white body. In the sun, their plumage is almost iridescent and shiny. They have raspy calls like Red bellies and have a knack for catching insects in flight.
The Red-headed woodpecker can be found in pine trees, open forests, and agricultural areas. Their loud calls come from the forests, wooded backyards, and suburbs dense with trees. In Minnesota, you will most likely see them near the water's edge.
Sometimes referred to as the "flying checkerboard," this woodpecker does not act like a woodpecker. They like to eat seeds and store nuts, and have a raucous and harsh call. This helps them to defend their territory. Redheads have been known to steal eggs, destroy bird's nests, and even venture into duck nesting boxes.
During the breeding season, the male and female will do their fair share to raise their brood. Outside of the breeding season, they will not interact with one another but ultimately stay together for many years.
---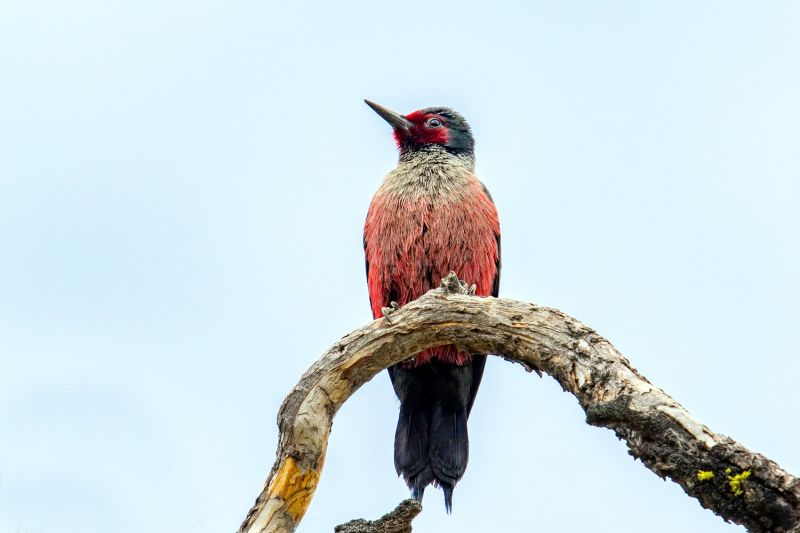 9. Lewis's Woodpecker
Length: 10 – 11 in
Wingspan: 19 – 20.5 in
Weight: 3 – 5 oz
Lifespan: 4 to 11 years
Almost the size of a crow, the Lewis's woodpecker is not like other woodpeckers; they forage like flycatchers and fly like a crow. Their color is unique, with grayish red underbellies and black wings. Their black heads have deep burgundy patches on the cheeks that highlight their eyes.
You will find them in the pine and oak trees near wetlands, burned forests, orchards, and near streams and rivers. You will hardly ever see them boring for insects as a woodpecker should. They spend most of their time flying and catching insects.
Although it is not common to see the Lewis's woodpeckers in Minnesota, you will most likely see them in the southeastern part of the state when they are visiting. They have a lifespan of about 4 to 11 years.
There is not much known about their mating habits, but the Lewis's woodpecker is known for flying around a nesting tree to get the female's attention.
---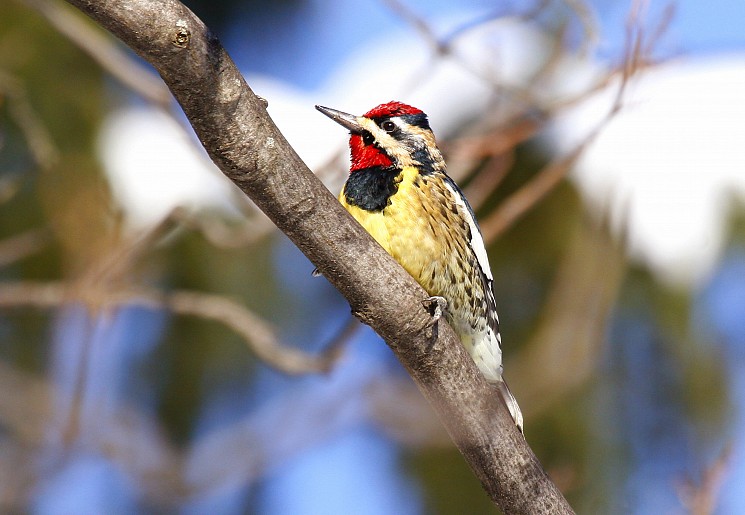 10. Yellow-bellied Sapsucker
Length: 7 – 8 in
Wingspan: 13 – 16 in
Weight: 1.5 – 2 oz
Lifespan: up to 7 years
Yellow bellies are more known for their bright red, black, and white striped heads rather than their yellow undersides, which are mostly white with pale yellow. This woodpecker is larger than a Downy woodpecker and likes to feed at sap wells. They like to drink sap and drum on trees and anything metal.
Their drumming is stuttered in both coniferous and hardwood forests. They tend to nest in smaller trees like aspen groves. The Yellow belly can be found in eastern Alaska, Canada, and across the northern parts of the U.S. During migration, they will fly as far south as the Caribbean and Central America.
Although their name indicates cowardness, they are pretty aggressive to both birds and humans. Their largest displays of aggression are towards the same sex.
In raising their brood, males share in the work of building the nest, incubating eggs, and feeding. The pair will mate for long periods; however, some will take a different partner every year.
---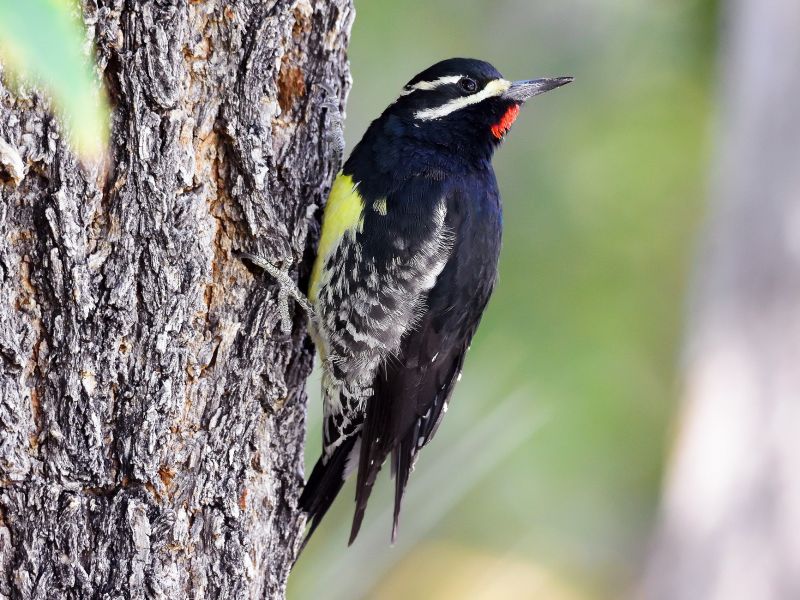 11. Williamson's Sapsucker
Length: 8 – 10 in
Wingspan: 17 in
Weight: 1.5 – 2 oz
Lifespan: up to 7 years
The Williamson's woodpecker is compact yet stout. This medium-sized woodpecker has a striking black and white striped face with a bit of red under its chin. It also has a spot of yellow on its underside. It has a long bill that helps it to drill small sap wells in coniferous trees.
When breeding, they will forage on ants and other insects. During this time, they will choose from open coniferous forests and woodlands in western North America. They prefer firs, pines, and aspens; however, you will also find them in pine juniper, oak scrub, and riparian forests in winter.
They have a raptor-like call, and their drumming is more methodic and not as erratic as the Red-breasted and Red-naped Sapsuckers. Because the male and female look so different, they were not fully understood to be one of the same species for quite some time.
When mating, they make lifelong pairs. They only part after the brood is raised and then will meet up again the following year. This sapsucker can live up to 7 years. It is not common to see this sapsucker in Minnesota, but if you do spot one, it will be in the southwestern part of the state.
---
Fun Facts About Minnesota Woodpeckers
There are four species of sapsuckers in North America: Red-breasted, Red-naped, Yellow-bellied, and the Williamson's.
Yellow-bellied sapsuckers are some of the only migratory woodpeckers.
The Lewis's woodpecker is named for Merriweather Lewis of Lewis and Clark.
The Red-headed woodpecker is one of the only known woodpeckers to store food and cover it with bark or wood.
The Red-bellied woodpecker will store caches of food in a tree by drilling rows upon rows and storing a single nut or seed inside.
The American Three-toed woodpecker can perch motionless for several minutes at a time.
Black-backed woodpecker females will forage higher in a tree than a male.
A Downy woodpecker can produce many vocal sounds.
Hairy woodpeckers are called Hairy because of the white thread-like feathers that poke out from their black back.
Flickers are members of the Woodpecker family and are called Flickers because of their brightly colored undersides of red or yellow.
The Pileated woodpecker is considered to be the biggest woodpecker.
---
Related
If you like owls, Minnesota is home to a wide variety of owls (especially compared to other states). You can learn more about them in: Owls In Minnesota
Minnesota is home to plenty of small game, the exact kind of game that hawks love to go for. Because of this, Minnesota is home to a number of hawks as well. You can check them out in: Hawks In Minnesota