Having one of the best bird watching books in your possession is incredibly advantageous if you're an avid birder. In this article we're going to discuss why you might want to purchase a bird watching book (or add to your collection if you already have some!) and review some of our favorite books available today.
Best Bird Watching Books – Why Would You Want One?
Bird watching or birding is a hobby that involves observing wild birds in their natural habitat. It is a fascinating activity that has captured the hearts of millions of people. It can be as simple as going to a park that is abundant with trees and enjoying the wildlife amongst them. Some people have made it a life's vocation and invest in equipment and references to guide them in their bird watching enterprise.
The right bird watching book can provide that extra insider information on the best places for bird watching, what kinds of birds you can expect to find, and how to identify the birds that you see. These books are perfect for both beginners who want some guidance, and for those who want to take their birding to the next level.
Here are 6 modern field guides to bird watching that you may use as a starting point to what many have discovered as a fulfilling hobby for people of all ages.
The Wonder of Birds: What They Tell Us About Ourselves, the World, and a Better Future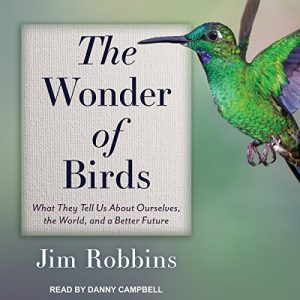 Jim Robbins, an esteemed science reporter for the New York Times and author of the book The Man Who Planted Trees, engages us with his thoughtful insights about birds' noteworthy features that have a considerable impact on humans. He takes on a novel approach by surveying not only those features but also their evolution as birds continuously interact with us humans. This book displays his talent for captivating nature writing that will hopefully awaken a fondness for birds and nature in his readers.
National Geographic Field Guide to the Birds of North America, 7th Edition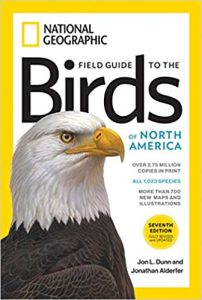 This edition covers 1,023 species that live or migrate either as exotics or accidentals from the north of the border of Mexico to the seas and neighbouring islands 200 miles off the coast. Thirty-seven new bird species, 50 new range and 16 new subspecies maps, 330 new illustrations and updated texts bring this book up a notch from the 6th edition published 6 years ago. It is a field guide all birders should purchase as it is up-to-date, easily accessible, and, best of all, exceptionally affordable.
Do you want to take beautiful photos of birds as well? Check out guide on the Best Cameras for Wildlife Photography!
Peterson Field Guide to Birds of North America, Second Edition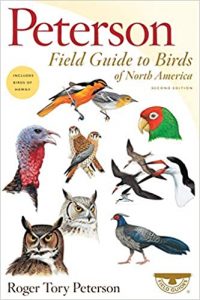 It was 10 years ago that the first Peterson Field Guide to Birds of North America was published and became legendary in the field of bird-watching. This Second edition does no less as it is chock full of birds in different stages of life. It features some of the scruffiest to some of the most colorful. A noteworthy addition is a Life List, a birder's documentation of the most remarkable encounters of their career, updated and maintained in the most meticulous manner possible.
Good Birders Don't Wear White: 50 Tips From North America's Top Birders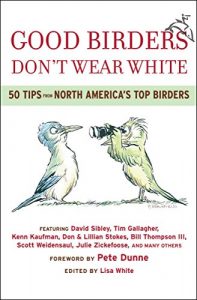 This book contains 50 tips from some of the best birders out there, covering topics ranging from bird feeding, identification, and how to become an expert. It contains basic information all birders must have to enjoy their chosen hobby to the hilt. Beginner and intermediate birders will enjoy it the most and can even act as a springboard for more advanced studies. It is a strong assembly of tips and suggestions any beginner birder can study to move on to a more dedicated endeavor.
Backyard Birds (Field Guides for Young Naturalists)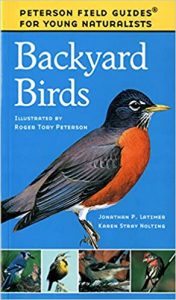 This series was developed with the beginner in mind. It features the original artwork of eminent naturalist Roger Tory Peterson, making it doubly engaging to children. Roger Tory Peterson is known as the father of modern bird watching. His work has not only helped increase environmental awareness, but it also helped people appreciate and enjoy nature. He was also the one who invented the modern field guide, and this series incorporates the Peterson Identification System, the most compelling procedure of bird identification.
The Sibley Field Guide to Birds of Eastern North America: Second Edition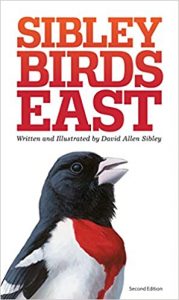 This revised edition is an essential resource for birders who want a definitive guide to the birds of the West in a format they can carry into the field. It features 715 bird species that are found west of the Rocky Mountains. The 5,046+ amazing illustrations with captions identify the most significant field marks. Information includes nesting, feeding behavior, and major identification features. There are more than 652 maps drawn from contributions by experts across the continent, showing summer, winter, and year-round ranges and migration patterns.