Despite more than 60 Eagle species globally, there are only four species that you can find in the United States. At one point or another, all four species have been spotted in Florida. Only two of the four Eagle species are indigenous to the United States: the Golden Eagle and the Bald eagle. The other two the least common, with the Steller's sea eagle being the rarest. During their migration at specific times, it is easier to spot all the species, including the least common ones. In this article, we're focusing in particular on the Eagles in Florida.
In Florida, you can spot all of these species at one point or another. Eagles in Florida are one of the loved species by bird watchers because of their amazing beauty and impressive ability to soar higher and large. These birds symbolize many things from victory, freedom, courage, pride, inspiration, and honesty.
Below are interesting facts about Eagles that will make you soar with joy while watching them, including information that will help you identify the birds you are lucky to spot, including their common sounds and photographs. We will look at the two commons in Florida and generally the United States and the other two rarely spotted in the country.
Let us look at the eagles in Florida in detail.
---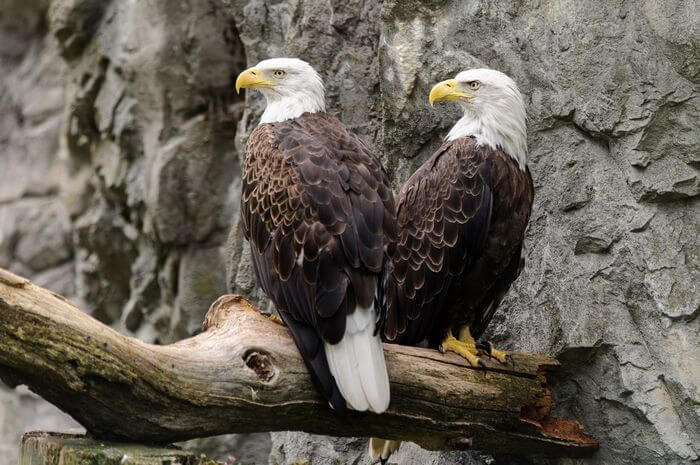 Bald Eagle
Haliaeetus leucocephalus is its scientific name.
Bird characteristics:
Wing span-180-204cm when mature
Weight 3-6.3kg
Gestation period-34-36 days
Lifespan-20 years in the wild
Diving speed 120-160km/h
Diet-mostly small birds, reptiles, and fish
Facts about the Bald Eagle
Striking appearance-These birds have an astonishing beauty ranging from their large brown bodies, bright yellow beak, and white feathered head.
It is the national bird of the United States-You may know nothing about birds or eagles for that matter, but you know this one, especially if you live in the US. This majestic eagle species is the country's national bird and seal, symbolizing freedom. Since 1782 the bird has appeared everywhere, from the president's flag to the one-dollar bills hence the most pictured bird in the country.
The Bird's Name
It is one of the most recognizable bird species globally, with its name 'bald' having nothing but not having hair on its head. As you can see from the picture, the bird has white feathers on its entire face and tail end with no baldness anywhere on its head. The name bald is from 'piebald,' an old English word meaning white patch related to the white feathery patches on its head and tail end.
Long-life Expectancy
The bald eagle has an average life expectancy of 20 years while in the wild, but the oldest bird reached 38years. Cage or captive birds live longer than those in the wild, with an average lifespan of 50years.
Large Wingspan
This species has been regarded as the giants of the skies; even though they are not the largest birds, they are on the top of the list. It has a wingspan of approximately 80 inches. The bird is around 3ft in length and weighs up to 15 pounds.
Habitat
Mostly found near water bodies. They often build their nests around water bodies like oceans, rivers, and lakes. This is because they commonly feed on fish, so it's easier to hunt for fish near water bodies. They are also found in these areas to find long coniferous trees to build their nests to such for prey from high up.
During the winter season, the birds would be spread all over the United States and in just a few specific regions during summer. Their movement during winter is to look for warmer areas of Florida and return during spring for mating.
During these months, especially between October to April, they usually move through the states, and hence the best time to see them in Florida.
They are cannibalistic-It is not uncommon for the birds to feed on other birds such as waterfowls and gulls. Being birds of prey, they can feed on carrion, mammals, and they also tend to scavenge.
They were once extinct and considered an endangered species-Since 1972 to 2007 have been under the protection of the Florida Fish and Wildlife Conservation Commission as they were almost going extinct. However, the situation changed in 2008 when they stopped being considered endangered. This was because of DDT, an insecticide that proved dangerous for this bird species, causing severe infant mortality in the 1940s.
---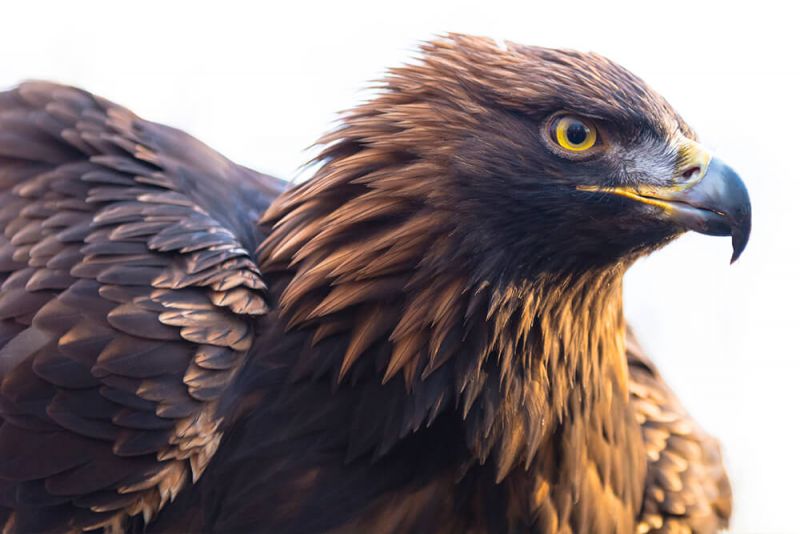 Golden Eagle
Aquila chrysaetos is this bird's scientific name.
Bird characteristics:
They have a maximum speed of 320km/h
A large wingspan of between 180cm-203cm
Females weigh around 3.6kg-6.7kg while the male between 2.8kg -4.6kg
They can live for up to 38 years.
Together with the bald eagles, the golden eagles are the true eagle species of North America. You can find these birds anywhere in the United States, but they are rarely seen in the eastern parts of the country except during the winter months. These species of birds are the most widely distributed in America. They are the largest birds of prey in North America, with up to 86inches of wingspread.
Bird Appearance
The golden eagles have a striking resemblance with the juvenile bald eagles, only that they are a bit larger, and for this reason, you may mistake them. These birds are dark brown, with their backs and necks having gold feathers.
Unlike the juvenile bald eagle, their feathers cover their entire body, including their legs. This will help you differentiate the two birds without confusing one for the other. As you can see from the photograph, the birds have yellow hooked beaks.
Naming
Unlike the bald eagle, there is no mystery attached to their name to be solved. These birds acquired their name from their body characteristics of having gold feathers around their necks and backs.
Speed
These birds are unbelievably fast and agile with a maximum speed of 320km/h hence expert hunters.
Diet
These birds commonly feed on mammals, with their favorite prey being marmots, hares, prairie dogs, ground squirrels, and rabbits.
Habitat
These birds can be found in almost every type of environment but would mostly prefer wide-open areas. They prefer living and hunting in open areas near cliffs, hills, and mountains. However, you can also find them in forests, grasslands, arctic tundras, deserts, streams, and rivers.
The Everglades national park and the Florida everglades are the best places to see golden eagles in Florida. Of the two eagle species found in this park, they are one of them. Being lovers of open spaces, this state park is the perfect place for spotting this eagle in Florida because of the large amount of flat open area. However, it may be relatively rare to spot them in Florida.
Courtship Characteristics
The Golden Eagle typically mates for life. They do not have a specific month for mating, but they can commonly be mating in America in march during the spring. Therefore, this is the best time to see the eagle. Asides from courting, the cool and clear conditions of this month make best to spot these birds as they do not love warm and wet day.
Conservation Status
Currently the status is at least concerned with approximately 170,000-250,000 species in the whole world. These birds have one of the most stable and numerous populations.
Fun Fact
During courtship, the birds perform a captivating ritual of the males trying to impress the females. The male would fly up high with a stick or a rock and then drop it. Before hitting the ground, the eagle will dive while trying to catch the stick. They will then hunt cooperatively once they are together, where one lures the prey and the other attempts to kill it. Trust me; it is amazing to watch them perform this ritual.
---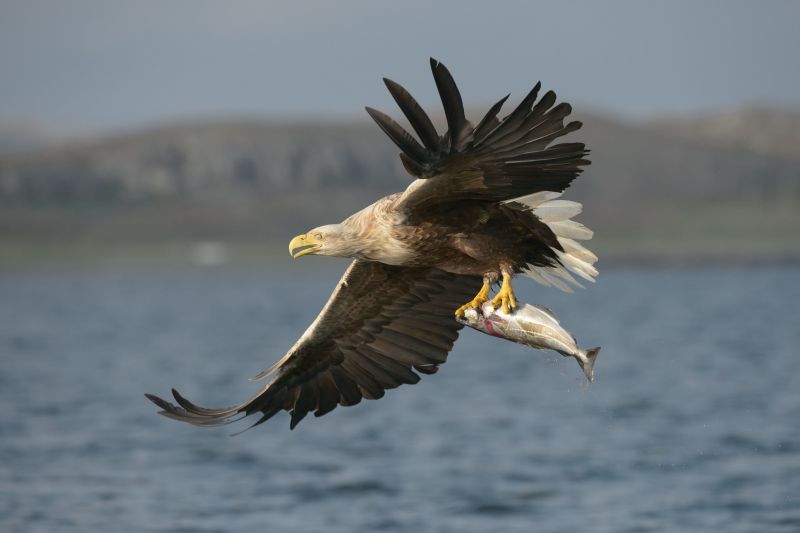 White tailed Eagle
Its scientific name is Haliaeetus albicilla.
Bird characteristics:
They have a wingspan of around 2-2.4m
The birds' conservation status is of least concern because of their increasing population.
Their diet mostly includes small mammals and fish
Have a life expectancy of approximately 21 years
They weigh between 3-7kg
Species Information
Appearance
This bird got its name from its body characteristic of the white feathers on its tail. It can often be mistaken for the bald eagle as both of them have whitetails. Even though the rest of their bodies are covered in brown feathers, you may think their head, body, and tail are covered in white feathers. This is because of the light tone of the brown color.
Mating
The white-tailed eagle mates for life and will often use the same nest in the recurring years. If the current mate dies, it is easier for them to obtain a new one. You can easily spot them during the spring months than during winter as they will be out hunting to have a lot of food during their breeding season.
You can be able to see them soaring over water bodies during spring as they catch their prey. During March and April, the pair will breed and incubate their eggs. The incubation period lasts forty days, during which they will be alternating hunting and caring for the egg.
Habitat
The chances of spotting a white-tailed eagle in Florida or even in the entire United States are minimal. They are most likely to e seen on the coast of Alaska, but still, there have been spottings in Florida. Their sittings in Florida include woodlands on the river edges and coastal cliffs during the mating season of march and April.
Conservation Status
Currently it is at least a concern because of the increasing and stable population. However, the species were endangered and almost went extinct. They were saved from this extinction by the rapid reintroduction done across the United Kingdom. Today the species is most common in Europe than in the United States. Truthfully it is very hard to spot the white-tailed eagle in Florida.
---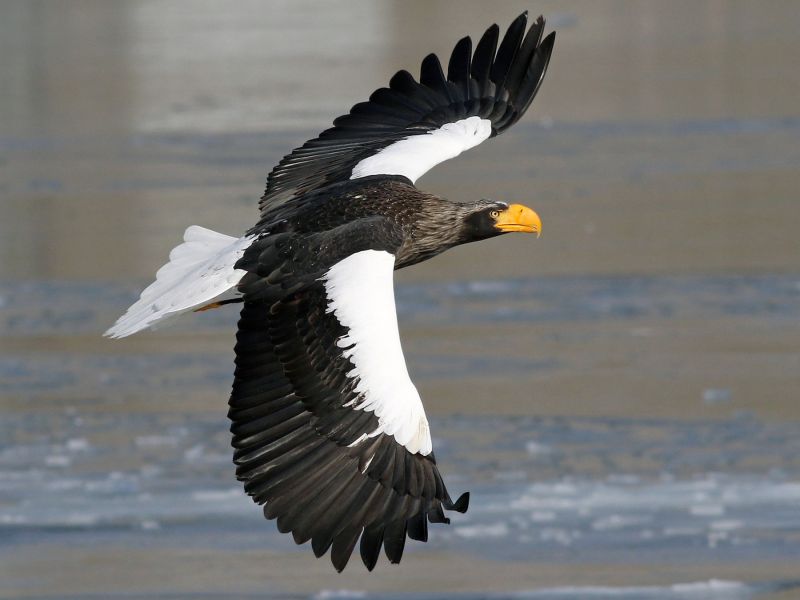 Steller's Sea Eagle
Its scientific name is Haliaeetus pelagicus.
Bird characteristics:
They have a large wingspan of 2-2.5m
Females weigh between 6.2-9.5kg while males between 4.9-6kg.
The birds can live up to 20-25 years.
They feed on mostly small mammals and fish. Sometimes they will prefer to feed on dead salmon along the rivers instead of catching live prey.
Species Information
Appearance
In the eagle family, Steller's sea eagle remains to be the largest. The females are usually larger than the males weighing over 20pounds though most tend to weigh between 6-9kgs. They are not just heavy but also large, with wingspans that can spread over eight inches. The birds have a white tail and wings and their entire body covered in white feathers.
Sounds
These birds produced unique sounds described as "ra ra ra-raura," almost like a bark after systematic studies.
Conservation Status
They have been classified as under below least concern conservation status. Their population has been experiencing a decline, and for this, they have been rated vulnerable species and under protection in Japan.
Habitat
They is the least common of the four species in Florida and entire America, but from time to time, they seem to make their way into the country, including Florida. They are commonly found in Asia. If you are lucky, you will spot these eagles in Florida along riverbanks and coastlines. They usually build their nests on much taller and older trees in the area.
During autumn before their migration, you may be lucky to see these birds in Florida. In Florida, you can see only the adolescent birds during this time. This is also the best time to spot them because, during autumn, they feed more frequently. It is very hard to spot adult Steller's sea eagle in America but every once in a while during autumn before their migration; you can spot juvenile birds. This is, therefore, the best time to try and spot these birds.
Unlike other birds, they do not build one nest, which they will constantly return two but will build several nests, usually 100m from each other along the tree lines.
---
Related