Listen up, developers! Purple martins need your help. We've got a real housing shortage on our hands, particularly in the eastern portion of the United States. And we need you to help fill the gap. In this article we're going to talk about how to attract purple martins to your yard.
---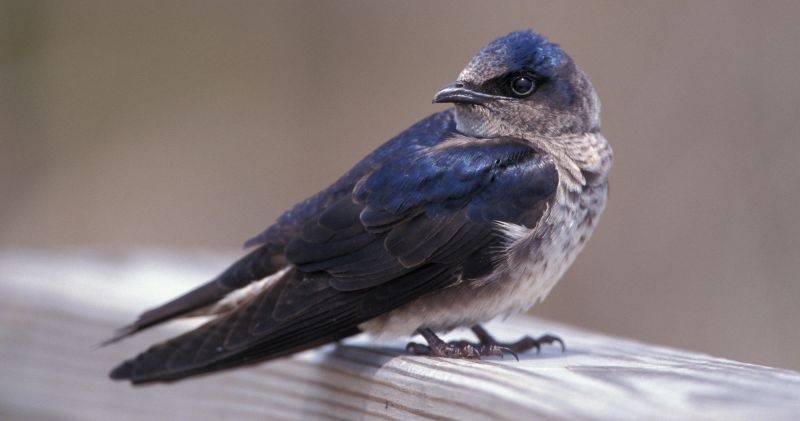 About Purple Martins
Progne subis
Lovely to look at and a joy to listen to in the early morning hours, the purple martin is a welcome songbird in North America. The largest member of the swallow family, purple martins range in length from 7.5 to 8.5 inches with 15-inch wingspans and are recognizable by their iridescent, purplish-blue plumage, their gray throats and breasts, and their forked tails.
Purple martins feed primarily in flight, swiftly grabbing up insects such as wasps and flying ants, flies, beetles, dragonflies, grasshoppers, moths, and butterflies. Often they will fly low over water sources in search of bugs. They also occasionally pick up insects from the ground.
Contrary to popular belief, however, they don't eat all that many mosquitos. Remember that fact. We'll be talking more about it later.
Dark swallows, as they are also sometimes called, winter in South America but return seasonally in the spring for breeding and nesting purposes. Nests are constructed from grass and twigs and occasional green leaves. Females incubate clutches of 4 to 5 or 3 to 8 eggs for 15 to 18 days. Nestlings are fed by both parents and typically venture out on their own after a month.
Much of the western United States has experienced a serious decline in purple martins. No one is certain why, but it is believed the far more aggressive, non-native European Starlings have created competition for the mutual types of nesting sites they both prefer. In the west, these are often abandoned woodpecker holes and other natural cavities.
The eastern portion of the country is also seeing a drop in numbers. In the east, however, purple martins are nearly completely dependent on man-made housing.
---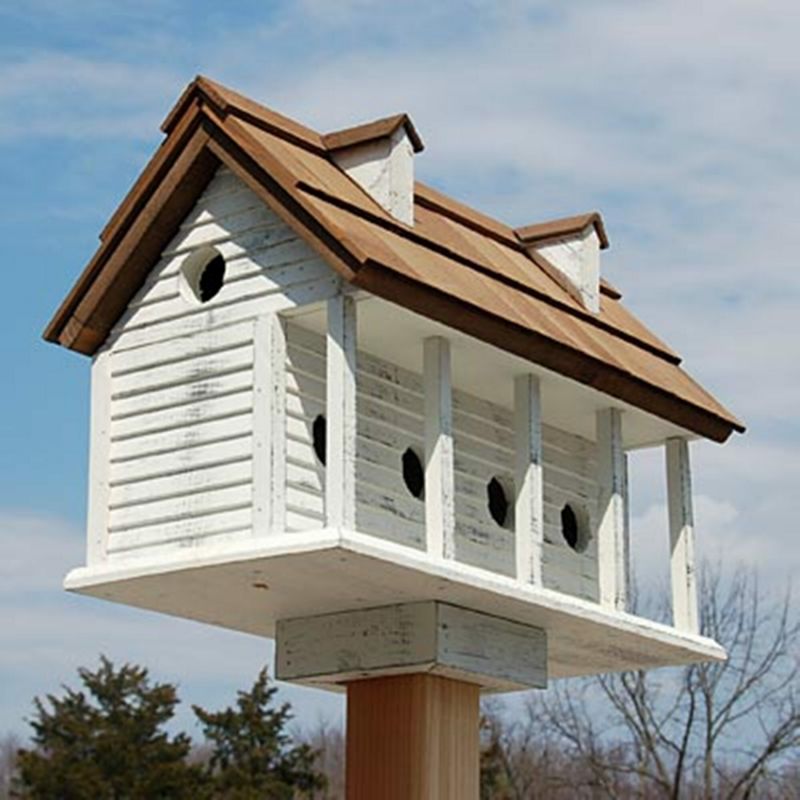 So They Need Homemade Birdhouses! I Can Make One Of Those!
Not so fast. If you want to learn how to attract purple martins, you have to get hip to how they like to live. Despite being outdoorsy types, these birds are big into communal living. Set apart, ordinary, single-family dwellings are not going to do.
Purple martins prefer to nest in groups with apartment-style dwellings, so if you're going to build bird housing for them, it should offer six to twelve individual units at minimum each sized 6 inches long, 6 inches wide, and 6 inches high. Each entryway should be a hole 2-1/8 inches in size. Each apartment should also offer a perch outside so they can get in a little sunbathing as well. Make sure the perch is thin and narrow so other, less-friendly vermin don't use it for nefarious purposes.
These apartment houses can be a labor-intensive challenge to build, so don't feel bad if you decide to purchase one instead. Houses tend to be available in wood, metal, or plastic. Wood is generally the best choice as it's porous thus better able to provide insulation. Cedar is a good, durable choice. Buy one of these and you'll typically get a 60 percent occupancy rate.
These birds are also fond of hollowed-out gourds, so a second (and easier!) option is to make several of these individual units. Faux-gourds in plastic can also be purchased but if you feel like making one on your own, be sure to find one that is large and with a short stem and thick skin. You'll need to cut a 2-inch entry hole in each gourd and four 1/4-inch drainage holes in the bottom of each. Be sure to clean out the insides along with the seeds.
By the way, if European starlings, jays, owls, crows, or ravens pose a problem for the purple martins in your area, you can make your gourds and houses predator-resistant by making a crescent-shaped entry hole instead. If you make the entryway with a 1-1/2 inch radius and 1-3/16 inches at its highest point, it will be large enough for purple martins to navigate their way in but too small for these larger birds. We need not mention this will keep out squirrels as well.
While you may be inclined to paint your birdhouses in vivid colors, paint them white instead. White houses not only attract martins but also reflect heat to keep nestlings at a comfortable temperature.
---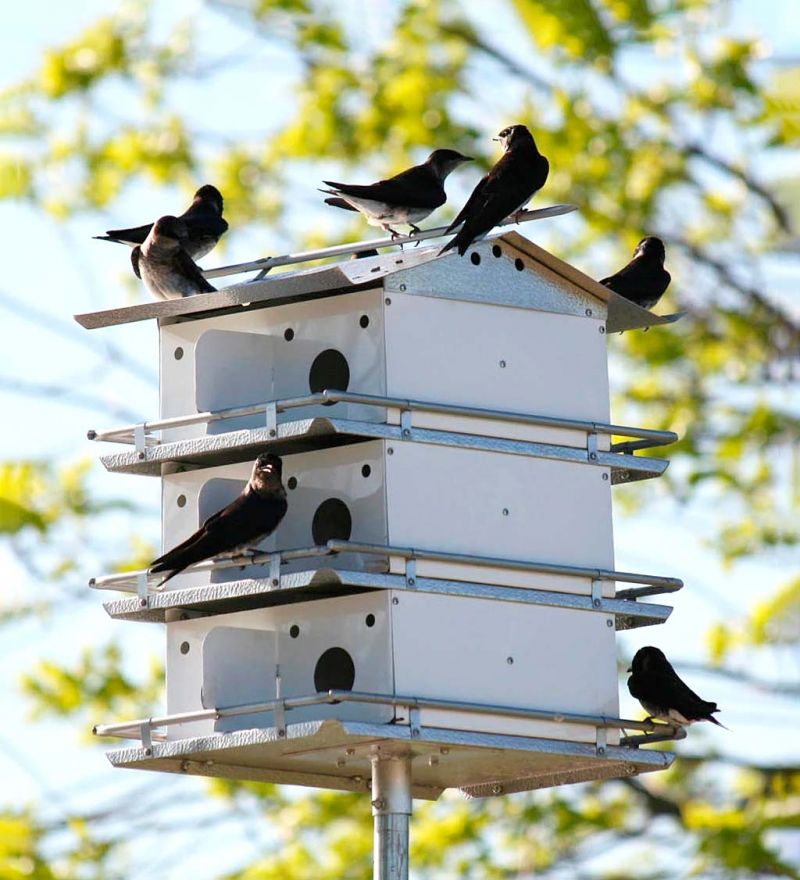 Ready to Mount Your Apartment Houses?
Whether you go with gourds or apartment complexes, your housing units need to be erected in the center of wide-open areas at least 40 to 60 feet from nearby trees and 30 to 120 feet from human housing. They should also be erected on telescoping poles that are secured in concrete at least 12 to 18 feet above the ground. Being able to lower them will be important so you can check to make sure the individual nesting areas are not being infiltrated by other birds or predators, and so you can clean them out at the end of the season.
Be sure the houses are firmly affixed to your poles and that they don't spin or twist in the wind. That will only disorient your tenants. Also, don't attach the poles or houses with wires that lead to buildings, trees, or even the ground. All too often these can be used by predators to access their nests.
---
Oh, And Another Thing
If you're wondering how to attract purple martins with birdseed, you don't have to. As noted earlier, martins feed on a steady diet of insects so no bird feeders are necessary. They do, however, need a source of water. But skip the birdbaths. Martins prefer areas near streams, rivers, marshes, ponds, or lakes. It's in their DNA to soar low over watercourses to not only grab insects but also to sup up water and drink it on the fly. They simply can't accomplish that with birdbaths.
---
If We Build Them, Will They Come?
They should. So you'd best be ready for them. Watch for the early arrival of "scout" purple martins who, depending on where you live, may arrive anywhere between January and June. These tend to be older birds who already have an established nesting site. Open your houses four to six weeks after these early birds and they'll be ready for the yearlings that will soon follow. Just keep an eye on your birdhouses so that no other bird species move in before them. If need be, close off the entrance holes with paper cups until the purple martins arrive.
If, however, you're concerned they won't find your housing suitable, you can always sweeten the pot. And, no, we're not talking about a washer/dryer in the basement. As we've made clear earlier, purple martins are extremely sociable types, so another way to draw them in is by fooling them into thinking there are more birds of a feather hanging out at your newly erected bird condos. Placing a dark-colored decoy bird near your units will often lead them to stop by and check things out.
Playing the music of their distinctive chortles and gurgles can also be a draw. Just be sure to give that music a rest once they arrive.
And while purple martins may take pride in their ability to find their own food, leaving out a flat tray of crushed, dried eggshells near your houses is one treat they would be hard-pressed to pass up. Eggshells are a great source of calcium and an easy way to win them over. Having a source of fine gravel nearby doesn't hurt either as purple martins like to eat a bit of it to aid their digestion.
Most importantly, be patient. Learning how to attract purple martins is one thing, but getting them to follow through on your meticulous actions can take time. If they don't come one year, they may come the next.
---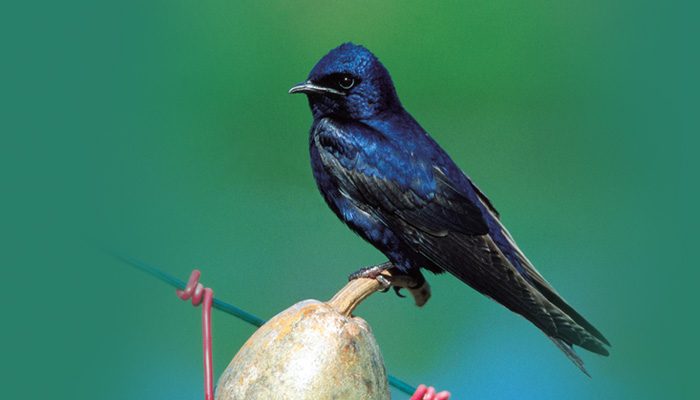 How To Avoid Losing a Martin Colony
Once you've mastered how to attract purple martins and you've enjoyed a season or two watching their comings and goings, you won't want to lose them. But while you'd think with the free lodging you offer as landlords that your colony would return year after year without fail, it doesn't always work that way. The same martins will return each year so long as the housing they have become accustomed to remains the same. If you want them to keep coming back, you have to actively manage your site.
Protect Against Predators
The biggest reason that martins leave a nesting site is predation. If a single snake or raccoon finds its way up the nest pole or an unfriendly crow, hawk, or night owl is able to get at eggs or young hatchlings, you can lose not only one pair of birds but a whole colony. And you can possibly lose them forever. It's best if you have the means to lower your nesting poles to make daily inspections, but whether or not you do, you can protect your birds by installing predator pole-guards and owl-guards.
Inspect Regularly
Be vigilant. Don't be afraid to lower your poles and make weekly inspections of the nests. This type of care won't scare off purple martins, and it will alert you to any problems such as parasite infestations or wet nests that can harm or kill nestlings. If you find such problems, clean out the nesting material and replace it with clean and dry wood shavings.
Between inspections, be sure to walk around under the houses daily to inspect for signs of activity. Keep records of what you find and when. Tossed out nestlings and plucked martin feathers are sure signs that unwelcome visitors have invaded your purple martins' otherwise happy homes.
Avoid Tree Encroachment
Tree encroachment is another reason a colony may not return. Purple martins need plenty of room to swoop down on their insect prey, and if they find trees and bushes beginning to destroy the openness of that habitat, they'll be less likely to recruit new, younger birds to their colonies. If you want your birds to keep coming back, make sure not to add to plantings and prune existing growth regularly.
Keep Squatters Out
Leaving martin housing open and accessible during the winter months is another surefire way to lose a martin colony. Boxes must be cleaned and closed in late fall. Otherwise, nests can quickly become overrun by paper wasps, squirrels, and Screech Owls making them uninhabitable for their former tenants. As a landlord, you also have to take care to not let nest-site competitors, namely non-native European Starlings and House Sparrows from moving in. Both will aggressively attack martin nests including their eggs and young. In addition, House Sparrows will stuff nests with so much nesting material that martins cannot get in.
Be Ready for Opening Day
If you own a beach rental, you want to be sure your cottage is open and ready for business by the start of the beach season. The same goes for your martin houses. If you open up your housing too late, you'll risk them moving on. Additionally, if you have to make repairs or even replace a house and pole altogether, you have to make sure the height, position, and compass direction are the same as you had previously. Otherwise, your birds may not recognize their former summer homes.
Provide Plentiful Housing
Lastly, it's important to make sure you are offering ample housing, especially if a neighbor decides to get into the purple martin attraction business as well. One 12-unit apartment might be adequate to start a colony, but it won't fit the bill when the colony begins to grow. Offering at least 24 nesting compartments will help ensure your birds continue to crash at your place. If it's any easier, you can also add some gourd homes for variety. Having that extra housing can also be a Godsend if an unexpected storm destroys a portion of your existing housing.
---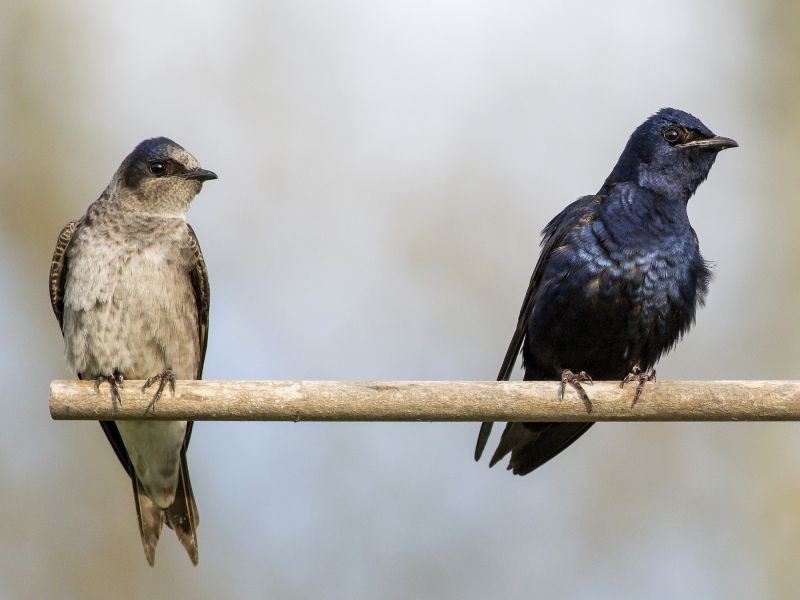 Why Don't Purple Martins Build Their Own Nests?
It's hard to say what has caused purple martins to become so dependent on human home construction, but trust us it's not because they're lazy. These energetic birds are known for their swift flight–up to 40 miles per hour when diving for flying insects!–and for their often wild acrobatics when they do so.
No, they very well may leave home construction to humans simply because we've been building their houses for some time. And we do a pretty good job of it.
In his 1808 book, American Ornithology, Scottish ornithologist Alexander Wilson wrote about observing Chocktaw and Chickasaw settlements in the late 1700s where clusters of hollowed-out gourds were placed atop poles to serve as homes for purple martins. And naturalist Mark Catesby wrote of purple martin houses being a common sight in early-1700 colonial settlements in the Carolinas.
But why did humans go to such lengths to attract these birds? There's some belief that they were useful in scaring away hawks, crows, and vermin that threatened colonialists' poultry.
Later practices of building purple martin houses may be simply attributed to enterprising salesmanship.
A case in point is former antenna manufacturing company owner J. L. Wade who knew more than a thing or two about how to attract purple martins, not to mention customers. Wade single-handedly put his hometown of Griggsville, Illinois on the map when he converted his antenna factory into a purple martin birdhouse building company.
Griggsville is located between the Mississippi and Illinois Rivers, and there had been growing concern in the area about the overuse of pesticides to control mosquitos during the muggy, summer months. He had heard purple martins ate large quantities of mosquitos, as many as 2,000 per day. That's simply not true! But whether he made it up or just perpetuated the myth, Wade made quite a killing in the 1960s and 1970s by selling purple martin condos to his fellow citizens. Today Griggsville is known as the Purple Martin Capital of the Nation where visitors can find houses of all sizes and configurations. There's even a 562 highrise at the factory location.
Then again, maybe purple martins just let us build their houses because they've become very fond of us. It's no secret purple martins have a habit of roosting in large numbers and often on human-made structures. As noted by English broadcaster and natural historian Sir David Attenborough in his The Life of Birds documentary series, there is an oil refinery in Central Brazil on the banks of the Amazon River where each night thousands of purple martins come to roost. Directly across from the refinery sits undisturbed virgin rain forest, but these birds choose instead to be around noisy human construction.
Go figure. No matter the reason, however, they're welcome to visit us here in the north. We happen to like them too.
---
Related