Yellow jackets – ugh! – Open a can of soda or beer outdoors at a summer picnic and there they are, ready to put a sting in our fun. Seeing as they are quite attracted to sweet tasting food sources, they can cause quite a stir at our hummingbird feeders as well. In this article we're going to learn how to keep bees away from your hummingbird feeders, and ensure that your feeders are feeding what you want to feed: the birds.
Before we go further, it's important to note that yellow jackets are not technically bees. Along with hornets, they are actually members of the wasp family. However, it's easy to see why we would mix them up with honeybees, the more likeable of pollinators.
Like honeybees, yellow jackets have distinctive black and yellow stripes, but they are longer and narrower, have little hair, and don't have pollen baskets on their rear legs like honeybees do.
Honeybees as well as big fuzzy bumblebees aren't all that interested in humans. They're usually too busy searching flowers for pollen. They don't tend to sting unless attacked–more often than not by a bare foot that accidentally stepped on them. Yellow jackets, in comparison, are carnivorous and quite a bit more aggressive.
No matter their name, you probably hate to see these buzzing insects infiltrating your hummingbird feeders. But don't get a bee in your bonnet over it. If you want to know how to keep bees away from hummingbird feeder, and by that we mean yellow jackets, hornets, and wasps, here are ten tried and true ways to go about it:
---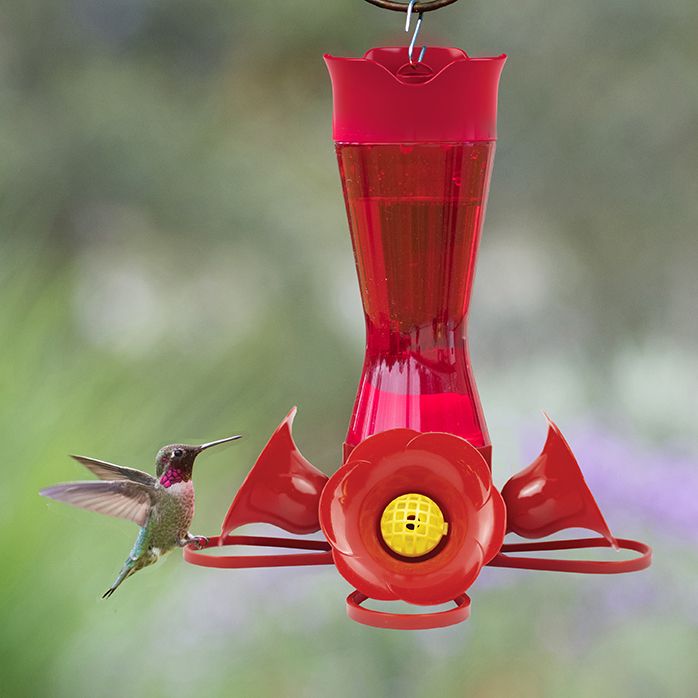 1. Go Red!
Whether it's our high school team colors or the red, white and blue of our national flag, the familiarity of certain colors stirs a certain level of loyalty in human beings.
Hummingbirds have their favorites too. That's why if you shop for a hummingbird feeder at your local hardware store or online, it will almost always be red in color. Hummingbirds find red quite attractive and may even hum about you if they see you outside in a red-colored top. Wasps and bees, on the other hand, don't have much use for red. Bees see red as black and just buzz away. However, they do have an affinity for the color yellow, as well as white, blue, and purple. So stick with that red top!
Occasionally, feeders will come adorned with yellow flower accents or insect guards, so hanging them in your yard is like hanging up a sign inviting wasps and bees over for a look see. If your hummingbird feeders have any type of yellow accents, remove them, or paint them red as well.
By the way, if you use a bottle type feeder, there's no need to add red food coloring to your sugar/water mix. The red feeder will be enough of an attraction and if you have a clear solution in the bottle, it will be easier to detect if mold or other bacteria are forming in the bottle.
---
2. Give the Bees a Yellow Substitute
Just because you're on team red, doesn't mean you should ignore the needs of bees. Much as we don't like yellow jackets, hornets, and wasps, they do serve a purpose by eliminating a good deal of other unwanted pests. They also do a little pollinating, though not nearly as much as honeybees and bumblebees.
Still, whether you're trying to divert yellow jackets or honeybees, putting out a noticeably yellow "diversion feeder" such as a bright yellow bowl with sugar water and with a center rock or pile of pebbles for bees to stand on while they feed can be a surefire attraction. Not only that, once they discover this delicious source, honeybees will make a beeline back to their hive and do a little dance to let the whole gang know what they found. So just make certain you locate your diversion feeder in a safe place not too close to human activity.
One other thing: While hummingbirds enjoy a 1:4 sugar to water ratio, bees prefer a more sugary 1:1 mix, so you can even sweeten the pot a bit by giving them what they want. On that same note, another way to deter bees from your hummingbird feeders if you see them there is to dilute the ratio in them down to 1:5.
---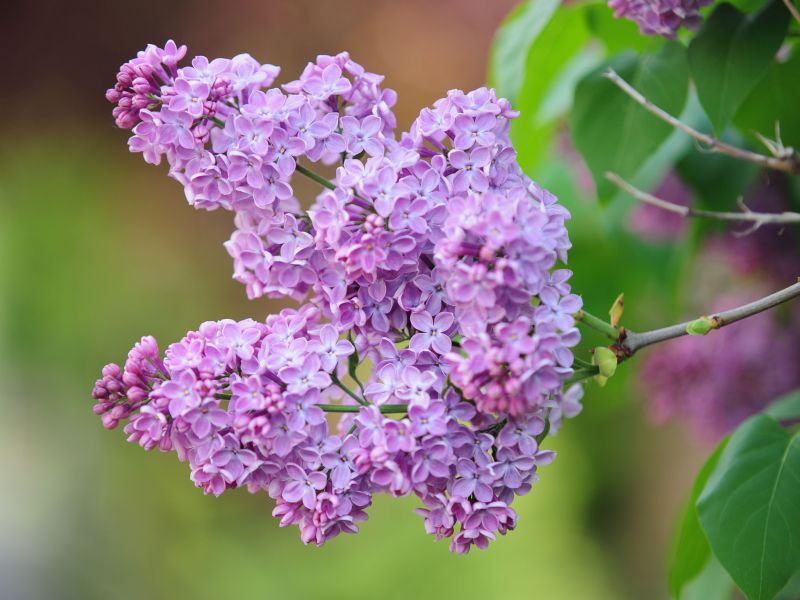 3. Woo Your Bees with Flowers
For the most part, bees prefer flowers as a food source and will only turn to hummingbird feeders if there is a nectar dearth. Planting a wide variety of annuals and perennials that provide a constant source of food spring, summer, and fall will help keep them busy and away from your feeders.
You can win their hearts (or whatever part of their body that loves nectar) with colorful flowers like impatiens, fuchsia, lilacs, lavender, crocus, goldenrod, and roses. Just be sure to hang your feeders away from these other sources of food.
By the way, don't forget to plant some red flowers too to win over a few hummers. They adore red cardinal flowers, Columbia lilies, and trumpet honeysuckles.
---
4. Put Up the Right Kind of Feeder
Ask any expert how to keep bees away from hummingbird feeder, and one of the first things they'll tell you is to buy a feeder that keeps bees and other insects like spiders and praying mantis out of it in the first place.
You can find several, reasonably-priced, no-insect feeders online. Saucer or basin-type feeders with multiple portals do an excellent job of keeping nectar away from feeder ports so that hummingbirds with their long bills and tongues can get at it while bees and other insects cannot.
Unless your hummingbird feeder has built in bee guards, you'll need to pay special attention to the size of the feeding portals. While you may want the faux-flower around each portal to be large to give each hummer space to sup up nectar, the actual portal holes to the nectar should be small.
Keep in mind also that because hummingbird feeders need to be emptied and cleaned regularly, it's best to find a style that is easy to clean and reassemble.
And that's a perfect segue to our next tip.
---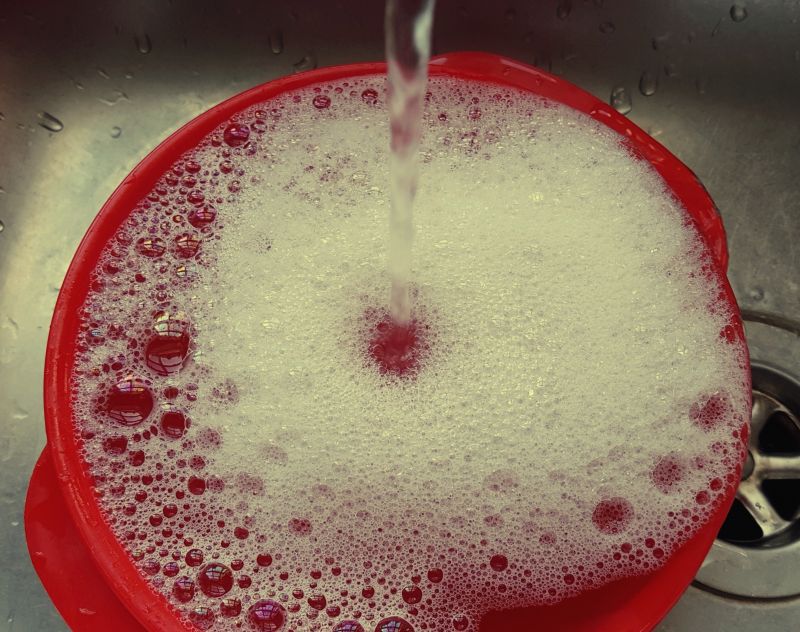 5. Keep Your Feeder Clean
There are several reasons why hummingbird feeders need to be cleaned regularly. Left unchecked, the nectar can ferment and go bad which can either turn birds away or make them sick. If the nectar inside appears to be dark or cloudy, this is a sign that harmful mold or bacteria may be developing and the feeder should be emptied, cleaned, dried, and refilled.
In general, hummingbird feeders should be emptied and cleaned every three days in warmer weather and every six to seven days under cooler conditions.
Keeping the outside clean, however, is equally important. If you overfill your feeder, air pressure can cause the nectar to be pushed up and out, and spill over the sides. And if you don't clean it up, that sticky, sweet concoction will attract bees. Likewise, if hummingbirds dribble nectar from their bills after pulling out from the feeders, that action will also attract bees.
But bees aren't just an unattractive nuisance. Beyond the fact that hummingbirds may just avoid feeders if they have to compete with them for food, it's also important to keep bees away because they can be a physical threat. If wasps feel a food source of theirs is being threatened, they are not in the least bit afraid to make a stinging attack. And because they don't die after they sting, they may do it more than once.
One of the reasons hummingbirds are so fascinating is because of their miniscule size. Believe it or not, most hummingbirds actually weigh less than two pennies! This means, however, that the tiniest bit of venom can kill a hummingbird. 'Nuf said about that!
---
6. Keep Your Yard Clean, Too
As mentioned at the top of this article, food brought outside for picnics, especially sugary drinks and treats, are guaranteed to get visits from unwelcome guests.
There's not a lot you can do about it, but one thing is certain–you need to clean it up when the party is over. That means making sure discarded food and containers are tightly bagged and secured in trash cans and that empty drink containers are rinsed and stored properly.
Skip those steps and you're going to welcome in not only bees, but also a whole slew of other unwanted visitors.
---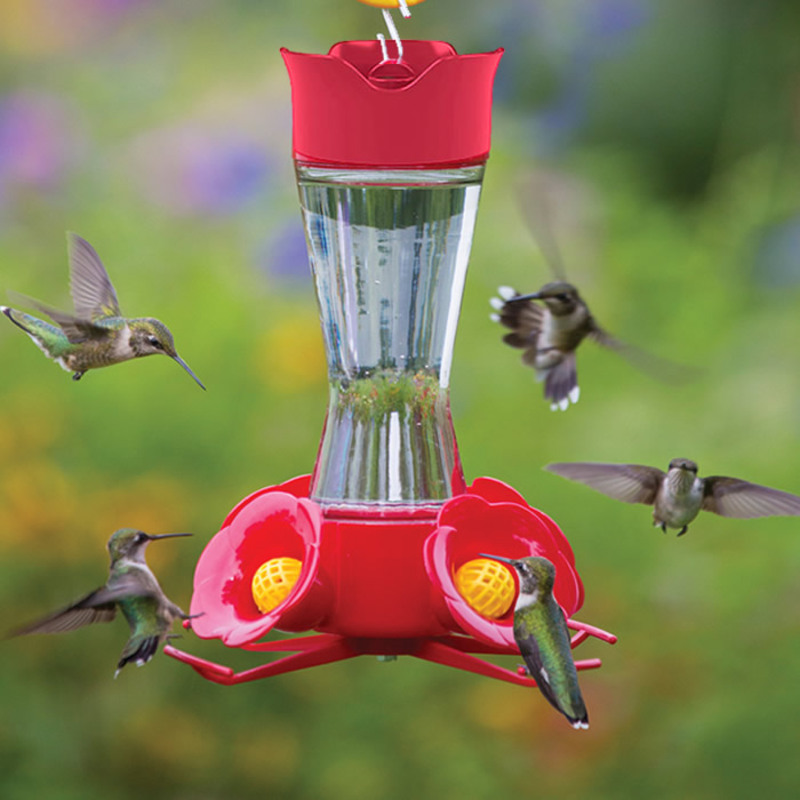 7. Hang Your Feeders in the Shade
If you want to know how to keep bees away from hummingbird feeder, you have to think like bees. Where do flowers grow? In the sun, of course. Bees and other insects know this, so they tend to look for food in sunny areas.
But hanging your feeders in shadier areas isn't just a way to pull something over on bees. It also keeps the nectar inside a tad cooler slowing the fermentation process so it won't go bad so quickly. Additionally, because the sun will over time degrade plastic feeders and cause colors to fade, hanging your feeders in the shade should help them to live a longer life.
---
8. Play a Little Hide 'n' Seek
Hummingbirds are nothing if not clever. If they find one feeder, they'll keep their eyes out for others in the area. Bees don't necessarily think the same. If they find a feeder, but discover the next day that it has been moved, they are less likely to go hunting for it. For this reason, moving your feeder to a different location from time to time can throw bees off their scent.
If you don't have an ample number of trees in your yard to periodically move your feeders from one to another, try using a simple removable flower basket pole hanger.
---
9. Try Natural Bee Repellants
Love the taste of a peppermint stick in your hot cocoa? It's hard to believe peppermint is actually a plant. But while humans enjoy it in candies, as additives in foods and beverages, and in scented soaps, bees don't care for its scent at all.
So here's a simple peppermint recipe to help keep bees away. Using a funnel, add about 10 to 15 drops of peppermint oil to a cup of lukewarm water in an empty spray bottle and shake it well. Spritz it around the ports of your feeder and bees will steer clear.
If you have dogs or other pets, be careful to keep them away from the spray bottle. The peppermint oil mix is dangerous for them to ingest.
Other natural bee repellants include citrus, mint, eucalyptus oils and an herb combo of lemongrass, peppermint oil and citronella.
---
10. Get Smart About Wasps
Before you hang a hummingbird feeder, search the area for wasp nests. Often they will build their paper condominiums under window shutters, in the eaves of roofs, or in other areas that humans disregard. If you want to eliminate them, you can use a hornet and wasp spray and shoot at the nest from a fair distance to destroy them. If a nest is particularly large, call a pest control expert.
Another option is to install wasp traps near your feeders. These are basically small containers filled with a highly-concentrated sugar water mix that attracts wasps to them. The insects will enter the containers for their sweet desserts, but be unable to escape.
If there are no wasps or yellow jackets in the vicinity of where you plan to hang your feeder, you might also want to purchase faux wasp nests to hang nearby, preferably somewhere out of the rain so the location seems credible. Territorial insects that they are, wasps will not build a nest if there is another one close by.
---
A Few Words of Caution
Hopefully this list about how to keep bees away from hummingbird feeder has been useful, but if you're still worried about other insects creating problems at your hummingbird feeders and you're considering using insecticides to keep them away, think again.
Remember, hummingbirds are small, so any amount of toxins in their bodies can severely sicken or even kill them. You don't want them to get even a small taste of insecticide. Additionally, if ants or other creepy crawlies are finding their way up to your feeders, don't apply cooking oils, sprays or petroleum jelly. If these materials get onto a hummingbird's feathers, they can cause the feathers to stick and in some cases make them be unable to fly.
---
Here's to Plentiful Hummingbirds at Your Backyard Feeders!
Hummingbirds are known to be the most popular type bird people want to attract to their feeders and flower gardens. Their tiny size, rapidly beating wings, acrobatic nature, and glittering color make them rare gems in the world of birds.
And while bees — and that includes buzzy members of the wasp family — have their rightful place in nature, they'd best not start messing with our flower-kissing friends. If they do, we'll be more than ready for them.
Hopefully this article is helped you formulate a plan for how you can keep bees away from your hummingbird feeders. Got any tips of your own you'd like to share? Drop us a line in the comments!
---
Related
Just like bees, squirrels can be a nuisance too. We've picked out the best squirrel proof bird feeders to keep the squirrels away while still letting your feathered friends eat.
Along those same lines: sometimes all it takes to keep a pest out is a little trickery. You can also keep squirrels out of feeders by leveraging a common household material you might have lying around. Learn more in: Can Squirrels Climb PVC Pipe To Reach Bird Feeders?