Every year, avid birders eagerly await the day that the diminutive, colorful birds known as hummingbirds grace local flowers and feeders. As they hover around the ubiquitous red feeders, we delight in seeing their presence and enjoy watching them zip up and around our gardens and outdoor spaces. But is simply providing sweet nectar for them to sip enough? Feeders must be maintained so our feathered friends will return to our gardens and feeders year after year. A pest that commonly invades hummingbird feeders, discouraging avian visitors, is the persistent and annoying ant. The sight of the lowly ant, armies marching up towards the sweet nectar food in the feeder, is a sight no hummingbird lover wants to see. As a bird enthusiast, avoiding or minimizing ant invasions on a hummingbird feeder is a constant battle, but there are a few ways to reduce the influx of ants or remove them once they have arrived.
---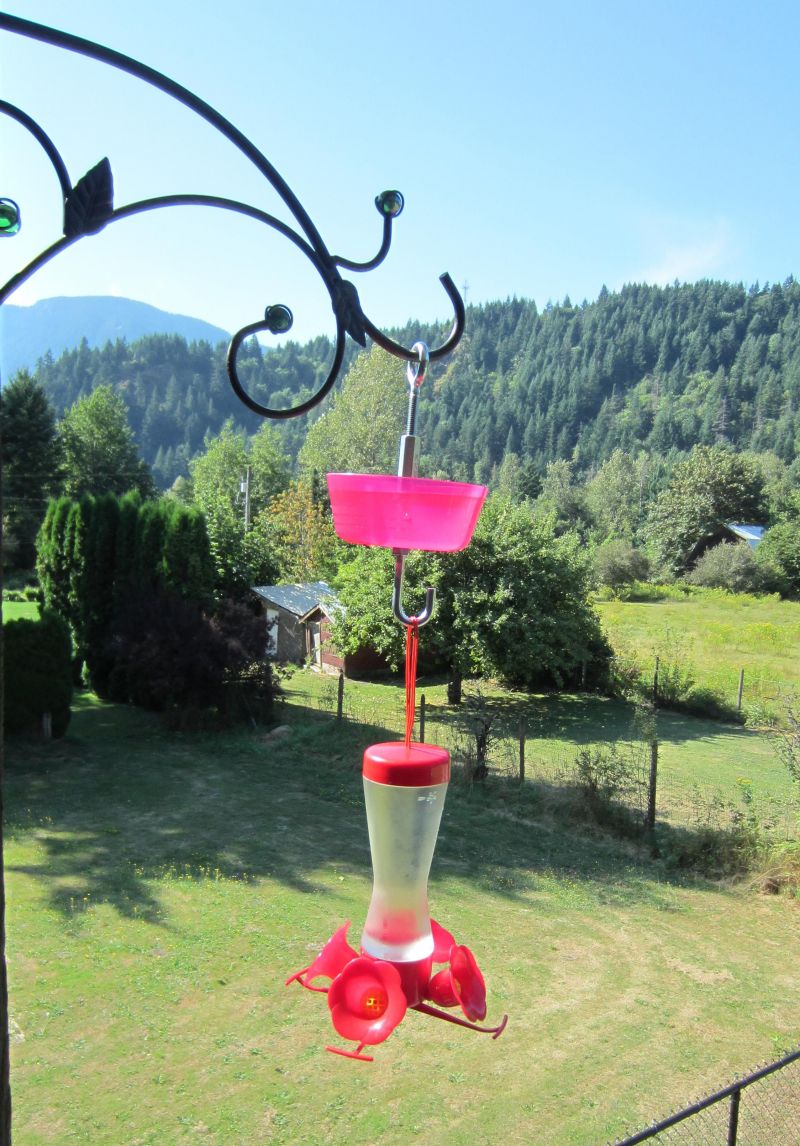 An Ounce of Prevention
The best way to have a successful hummingbird feeder is to keep the tiny birds happy with easy access to their sweet nectar, unhampered by pests or other invading intruders like ants who want the sugary treat as well. So, let's look at how to keep ants out of a hummingbird feeder. There are three main categories of preventative measures that the feeder owner can uses to avoid ant invasions: the use of moats, the use of ant repellants, and the practice of access minimization.
Moats
The ancient concept of a castle moat, built to keep unwanted invaders outside of the fortress, has been adapted on a minute scale to guard against ants taking over a feeder. The moat method utilizes a water barrier between the entrance point of the ant and the sweet nectar. Created by filling a small area with water that the ants cannot easily cross, this simple solution is built in to many pre-made hummingbird feeders or can be added using a small lid as the vessel holding the water. Most common in dish-style feeders, these handy water moats are an almost invisible addition to the hummingbird feeder that can work miracles in keeping ants at bay. While not failsafe, most ants are stopped by this barrier when it is maintained correctly. An example of such a contraption is pictured above in a DIY style ant moat.
In order for the simple moat barrier to successfully block ants from taking over the sweet nectar area of the feeder, a few commonsense things must be done to keep the moat working correctly. First, the water levels must be checked regularly. In drier climes, the water can evaporate quickly, so the monitoring the levels must be a regular part of feeder maintenance. Additionally, the moat must be cleared of anything other than water that collects inside it. Leaves, dead ants, or other debris can build up and create a bridge for the ants to use to cross the water barrier, so consistently cleaning this area will strengthen the effectiveness of this strategy.
Ant Repellents
While the health of the hummingbird is of the utmost importance, the sparing use of bug spray or other natural substances that ants dislike is another preventative method for avoiding ant infestation. Instead of spraying a chemical on to the actual feeder, use a small disk like a plastic lid threaded on to the feeder wire through a center hole, situated above the feeder. Spray or coat the lid with either a commercially produced product, an essential oil, or lemon juice, and then place the lid above the feeder. Since ants will be repelled from the scent, they will not pass by the lid to get to the feeder's nectar, and the lid can even collect any ants that don't survive the bug spray.
To repel ants without building your own lid barrier, you can find products that create this barrier and come pre-loaded with an insecticide. These work in much the same way as the lid method, but these products are an all-in-one solution that come ready to hang atop the hummingbird feeder. While many people try to avoid using any chemicals in their gardens and around any birds or animals, the very light use of these insecticides will mainly simply discourage ant and other bug infestations. Easy to use, this option just simplifies the process of creating a barrier that ants will dislike and therefore avoid.
Minimize Access
When looking at how to keep ants out of a hummingbird feeder, don't overlook the most simplistic of ideas: minimizing access to the feeder. One way to do this is to carefully locate where the feeder is hung or set up. Is it near a grassy area that typically erupts with ant piles after the spring or summer rains? If so, move the feeder location to a drier area if possible. Since hummingbirds are attracted to the smell of the nectar, a small location change might be just the adaptation needed to keep the ants at bay.
Another way to minimize access to the feeder by pesky ants is to make the entry location too difficult for the ants to enter. Try hanging the hummingbird feeder by a thin, slippery fishing line. Strong and reliable, fishing line is rated by weight strength, so you can feel secure that your feeder will not fall or break off. However, ants will find it hard to climb up and down the skinny, slippery fishing line, providing another discouragement for the ant invaders.
Don't have any fishing line lying around? If you have petroleum jelly, oil, or another non-toxic sticky substance, this solution might work for you! Coat your hanging string, wire, or other mechanism with a thick, greasy coat of your gel or liquid. With no smell, oils or petroluem jelly won't discourage ants through scent. Instead, the goopy coating will inhibit ant's ability to use the hanging wire to get to the sweet-smelling nectar. In fact, you might want to come back after applying the jelly to clean off any ants or other insects that become stuck and then reapply the substance for continued use. A great combination of ideas might even be to add in an essential oil or lemon scent to the coating for a double dose of anti-ant prevention.
One pitfall with this coating method is that sometimes with warm weather, the coating melts and drips down the wire or even on to the hummingbird feeder itself. While inconvenient, this will require attention and upkeep, which some bird enthusiasts do not enjoy. This method can work if you can keep an eye out for when it is time for necessary clean ups and reapplication of the substance.
---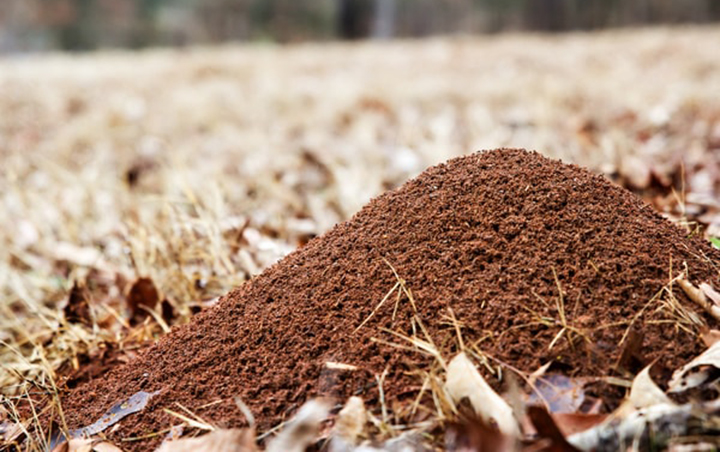 Removing Persistent Ants
So you have provided a moat around your feeder, created an ant repelling lid for your feeder, and minimized the access points for the pesky ants that continue to plague your hummingbird feeder. But the ants keep on coming. What can you do now? Here are a few ant removal solutions that might help you once the ants and other creepy crawly pests have arrived.
Move the Hummingbird Feeder
As simplistic as it may sound, choose a new spot to use for your feeder. Sometimes all it takes is moving to a fresh new location to deter ants that have found a sweet source of food. If you want to double up on the ant prevention, use this opportunity to move and combine the location change with another strategy: the use of a moat. Utilize a larger controlled body of water, like a fountain or a birdbath, to act like an oversized moat by placing your hummingbird feeder directly overhead the water source. So long as any splashing water doesn't directly impact the feeder, this might be the solution that works for your ant infestation.
Keep it Clean
Just like the old adage, you can attract more flies with honey than vinegar, your hummingbird feeder attracts insects easily with the sweetly scented nectar. So instead of letting it attract all the ants in the garden, regularly wipe down the feeder itself as well as clean off any drips below. For a leaking feeder, either repair and seal up the leak or replace it with a newer model. Constant sun exposure coupled with a light-weight plastic will undoubtedly result in some cracking or breakage over time. Keep an eye on the plastic surfaces and joint areas of plastic feeders for a breakdown in the plastic or a separation that might lead to leakage. Any drips or leaks must be stopped to avoid attracting ants to your feeder. If the ants and other insects don't get a hint of the scent, you have a better chance at avoiding their arrival or keeping them away if they have found the sugary goodness already.
Gardening Allies
While common knowledge for many gardeners, bird enthusiasts may not be aware that there are many plants and herbs that can be planted to use as a natural deterrent against specific pests. Using this understanding, knowing how to keep ants out of a hummingbird feeder might be as simple as planting a few herbs or plants alongside the feeder. Ants typically avoid strongly scented bay leaves and mint, so these are two great options to plant nearby. With many varieties of mint, if choose one that fits how you use it in your cooking, your ant prevention can enhance how you flavor your cooking! Not only can these herbs they discourage ant infestation, their strong scent is a great addition to any garden area that could also mingle with hummingbird enticing flowers or other herbs and vegetables. While feeders are the sure draw for hummingbirds, the tiny birds will also of course naturally check out nearby friendly flowers as well, lengthening the time we get to enjoy their visits to our garden spaces.
---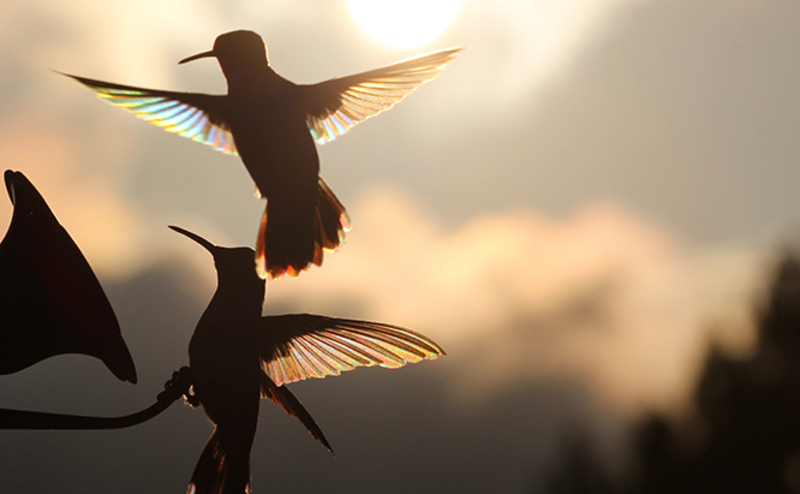 Protecting the Hummingbird
Ants invading a hummingbird feeder can be maddening, and sometimes it seems like a constant battle. But we always need to remember that we are trying to keep the ants out so that we can enjoy and protect the tiny-winged hummingbirds that grace us with their amazing presence. Be very careful when using any anti-insect solution that might injure or harm hummingbirds or other creatures in any way. For example, in place of a sticky liquid, using duct tape or other strong adhesives could be a dangerous choice for hummingbirds. As the birds fly closely in and around the feeder, a feather that touches the tape could easily adhere to the tape. This would result in a disastrous end to the fragile bird. While the risk of this happening is minimal, any occurrence would surely be deadly for the lightweight bird. The tape could also prove dangerous for other smaller creatures as well, and so this method is one to avoid. Additionally, while a small amount of safe insecticide can be employed as part of an ant barrier method, there is no need to use the spray around the tree or other location that you hang the feeder. Extra chemicals are not needed. In larger quantities, not only can they potentially harm delicate hummingbirds, they might also inhibit naturally occurring creatures from inhabiting locations where they positively impact the eco-system. A good rule of thumb is to not hurt one part of the environment to protect another.
---
Enjoying Hummingbirds
Hummingbirds are a joy to have as visitors to our outdoor spaces. Keeping ants and other creatures away from the sweet sugary food that the hummingbirds crave is fairly simple and easy to do, with a little instruction. Whether you build a moat, create a challenging slippery surface, or situate your feeder in an optimal location, a little attention to the hummingbird feeder will mean fewer ant invaders to the hanging bird buffet you provide your hummingbird visitors. Clever garden additions of strongly scented herbs are also a creative way to keep the ant invaders at a distance and provide season-long benefits as well. No matter how you prevent unwanted visitors to your hummingbird feeder, your avian guests will thank you!
---
Related