Georgia is home to plenty of plant and animal species living there both seasonally and all year round. That's because Georgia features some of the most wonderful natural sceneries popular across the country. Complementing the lush green country-side of Georgia are a wide variety of wild animals and birds. One bird variety that is particularly known to be a resident of Georgia is the owl. Georgia makes it easy to identify the various types of owls available in the local area thanks to its beautiful landscape and plenty of natural sceneries. In this article, we're taking a look at the kind of owls in Georgia you can expect to see on a daily basis.
Owls are identified as one of the indicator species. This means that the birds are dependent on the most sensitive aspects of the ecosystem for survival. The presence of owls in an area indicates that the ecosystem is pretty healthy. Plenty of owls in your area is a good sign that your local environment is balanced.
Owls love the clean open air, beautiful nature, and variety of smaller animals in this beautiful state and can be found in nearly all parts of the wonderful state. This makes it one of the most ideal destinations for bird watching.
Georgia features plenty of owl species. The humid subtropical climate enjoyed by the region encourages the growth of a wide range of plant species, insects and small mammals, which create the perfect environment for owls to thrive.
With a collection of spectacular state parks, it is no surprise that there are so many different owl species in the area. However, the ecosystem is not only great for owl activity, it is also home to a horde of wildlife of all kinds. If you are a bird watcher, an owl enthusiast or just want to find out the various species you could see in Georgia, this article could be a great guide for you.
What Owl Species Can Be Seen in Georgia?
The question above is pretty common, so we thought we could help people identify the various types of owls that live in Georgia by discussing their various characteristics.
---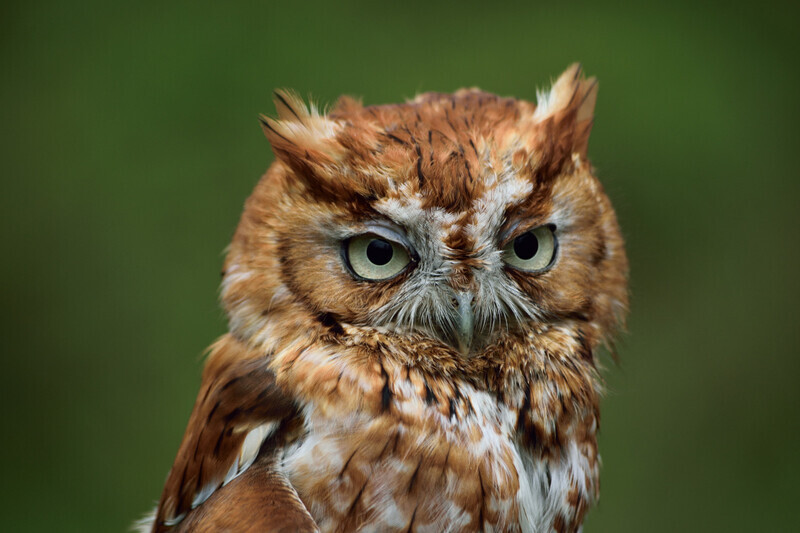 1. Eastern Screech-Owls
Eastern Screech-Owls are popular for their sublime camouflage coloration. Though they live in Georgia all year round, you will have to be sharp-eyed to spot one. They have grey and red-brown patterns on their feathers, giving them effective camouflage to blend into the tree canopies.
Their length rages from 6.3 to 9.8 inches and have a weight ranging from 4.3 to 8.6 ounces. Their wingspan can be as short as 18.9 inches and as long as 24.0 inches.
Eastern Screech-Owls nestle in tree cavities of almost any kind of tree or forest, often close to rivers and other water sources. They are among the many species of birds that benefit from excavations and cavities on trees made by woodpeckers. The best way to locate an Eastern Screech-Owl is to listen for their quavers during the night. The sound is pretty similar to a horse's whinny, but in a lower tone. You can also locate this owl species by paying attention to the smaller birds. If you here alarm calls or a lot of noise from smaller bird species like the blue jay and members of the crow family, then it is very likely they have identified an Eastern Screech Owl.
The Eastern Screech Owl is also smaller in size than most other owl species and boasts a theatrical mating display. Though they are smaller than other owl species, they are very busy birds, spending most of their time hunting and courting or just enjoying a peaceful nap during day-light hours.
Eastern Screech owls are found in the suburban areas as well as the rural area of Georgia. They are easier to spot between the months of March and April since they often mate around this time of the year. However, they are most commonly spotted when hunting, which they often do a few hours after nightfall in Georgia.
---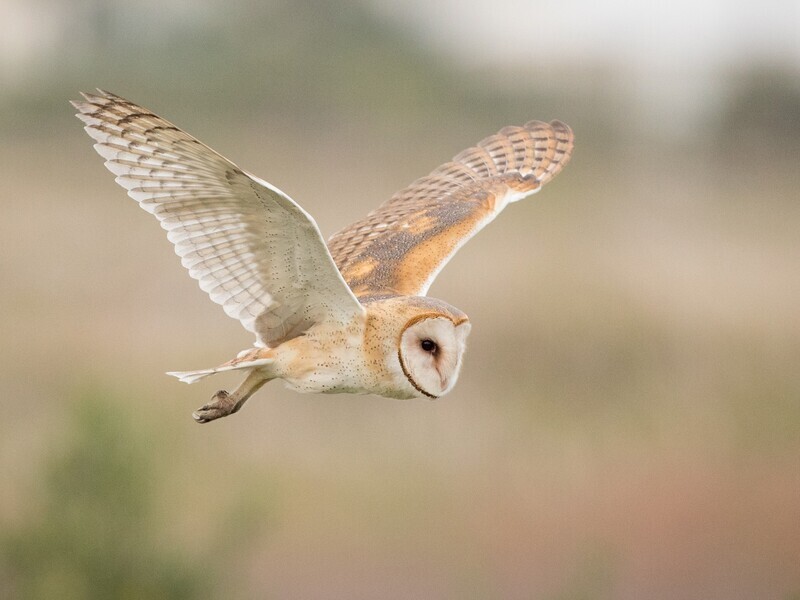 2. Barn Owl
Barn owls are easy to distinguish from other owl species during the day for their white feathers with mild touches of mottled grey. They also feature pale white faces, wide dark eyes, and light tan body feathers. The mottled gray markings are present on their heads, necks, as well as upper wings.
At night, these owls in Georgia is said to be the most difficult to spot as they rarely make any sounds as they soar in the air and among high canopies to prey on small animals. Unlike other owl species, they do not hoot. Instead, they produce alarming screech-like sounds to locate prey at night and to communicate.
Barn owls measure 12.6 to 15.8 inches in length on average and 14.1 to 24.7 ounces in weight. They have an average wind span of 39.4 to 49.2 inches. They are fairly easy to find since they spend most of their time inside dead trees or other closed structures. They have a shrill cry at night, particularly when making mating calls.
Georgia is home to a large population of Barn Owls, which can be found in most agricultural areas in the north as well as the south of the state. Apart from agricultural areas, Barn Owls can also be found in wet and marshy areas as well as in trees close to rivers. Barn Owls live in Georgia all year round, but since they are known to hunt mostly at dawn and dusk, it is best to try and catch a glimpse of them during these times of day. During the day, you can find barn owls hiding in dark spots and quiet spaces like empty barns and other man-made structures.
---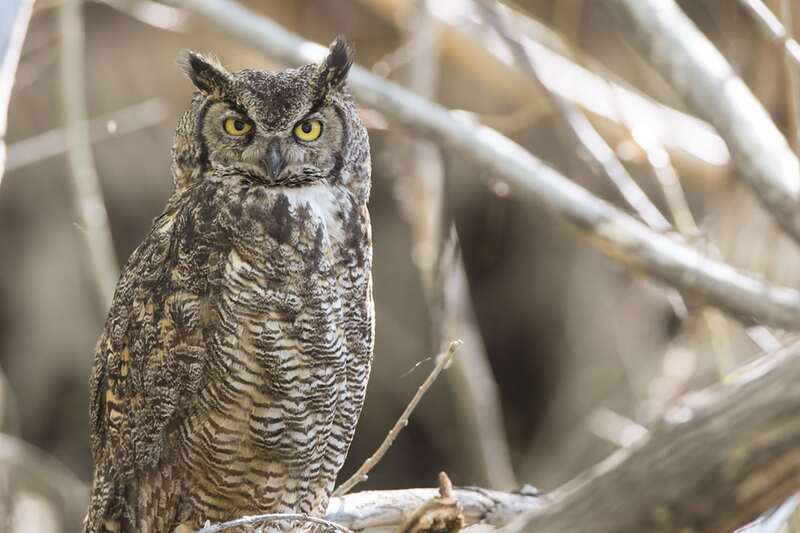 3. Great Horned Owl
One of the largest owl species in the world, the Great Horned Owl is a cross-American owl species known to spend most of its time hunting. This owl is easy to spot for its horned appearance, which is in fact as a result of feather tufts on its head close to its ears.
On average, the Great Horned Owl measures 18.1 to 24.8 inches in length, 32.1 to 88.2 ounces in weight, and 39.8 to 57.1 inches in wingspan. They are one of the easiest owl species to identify in Georgia owing to the feathered tufts on their heads and their large yellow eyes. While their favorite prey is small rodents and bugs, these owl species are known to prey on animals larger than themselves.
The distinguishable horn appearance of the great horned owl is, unsurprisingly, the source of its name. Unlike other owl species, the Great Horned Owl is bold and often willing to be seen by people. This owl species can be spotted in a wide range of regions across Georgia as well as the country. However, it is mostly known to spend most of its time in the woods and open fields.
The Great Horned Owl mostly feeds on smaller mammals, thus the preference of open fields to hunt. You have likely seen one of them on TV or live in action since they like surveying an area atop man made structures and trees before going in for a hunt. Unlike other owl species, they are known to hunt even during the day. However, they are mostly seen during twilight hours before they head out for a hunt.
---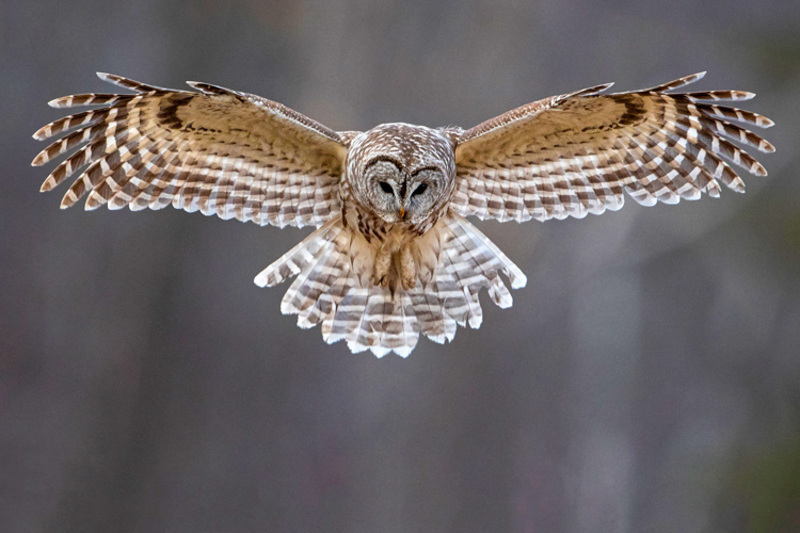 4. Barred Owl
Barred Owls are common in Georgia's evergreen forests all year round. This species of owls is fairly large and features mottled brown feathers with white plumage and large dark eyes. They boast excellent camouflage due to their soft brown coloration, which blends superbly with the trees they hide in during day time.
The Barred Owl does not migrate or travel far from its nest. They are pretty easy to attract using nesting boxes. To be more efficient on attracting a breeding pair to one of your nesting boxes, it is best to install the nest before the breeding season, which is often between the months of March and August.
Barred Owls have an average length of 16.9 to 19.7 inches and weigh between 16.6 and 37.0 ounces. Their wing span measures 39.0 to 43.3 inches. Thanks to their wide wing span, they can fly silently at night and catch most of their prey by surprise.
Barred Owls mostly hunt during the night. The best way to spot them is by paying attention to their distinct calls, which sound like "who cooks for you?" The hoots are often featured in scary Halloween tales and National Geographic videos. You could try mimicking the sounds, and since this species of owls is particularly curious, they might fly over you to take a closer look at you.
---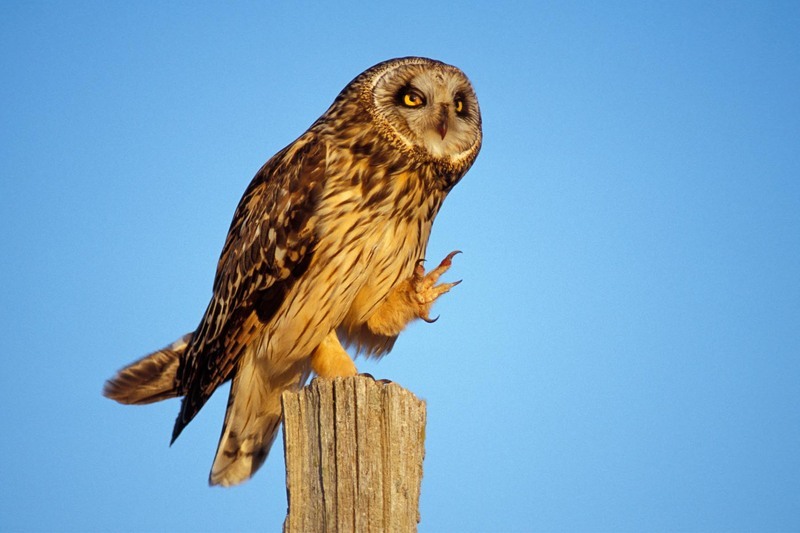 5. Short-Eared Owl
The Short-Eared Owls are mid-sized birds that feature a tawny-brown mottled coat. Their name is due to their false ears, which are often invisible as they typically only erect them to look intimidating in the face of danger. Their fame-colored feathers help them camouflage excellently with the trees and fields in which they love to hunt.
Measuring anywhere between 13.4 and 16.9 inches in length, and 7.3 to 16.8 ounces in weight, the Short-Eared Owl is one of the hardest types of owls to spot. Only non-breeding Short-Eared Owls can be found in Georgia. They feature pale faces with large yellow eyes outlined by black strip of coat. Their wingspan is usually in the rage of 33.5 to 40.5 inches, enabling their flight to appear effortless and graceful when they flap their wings.
Short-Eared Owls are common across most of North America as well as in parts of Mexico during winter. However, during warm weather, this owl breed migrates north to breed. In some parts of western U.S, these birds live year-round and do not migrate. Your best bet to spotting one is at dusk or dawn in grasslands, open fields, airports, or meadows.
---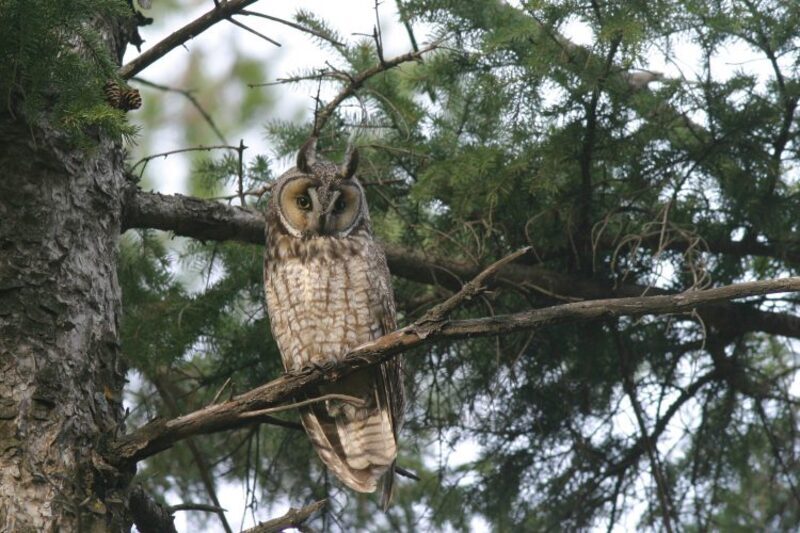 6. Long-Eared Owl
The Long-Eared Owl species can be found in scarce populations across most parts of Georgia. While there are sightings of the owl in almost all parts of Georgia, some parts of the south-eastern region of the state are not visited by this species. The Long-Eared Owl is pretty hard to spot due to its stunning camouflage and secretive nature.
This owl species in Georgia usually has a body length in the range of 13.8 to 15.8 inches and weigh between 7.8 and 15.3 ounces. Their average wingspan is usually in the range of 35.4 to 39.4 inches. Long-Eared Owls like to lay low in Georgia's dense forests and come out to hunt during the night. Their long ears give them an edge over other owl species when it comes to hunting. Moreover, they are very agile when flying and snatching up prey, making them one of the best birds to watch as they hunt.
Like most other owls, the best way to locate them is by listening to their hoots. They have long, deep hoots that are often heard in the silence of the night. Long-Eared Owls are pretty easy to spot as they often roost in the same space in large numbers.
---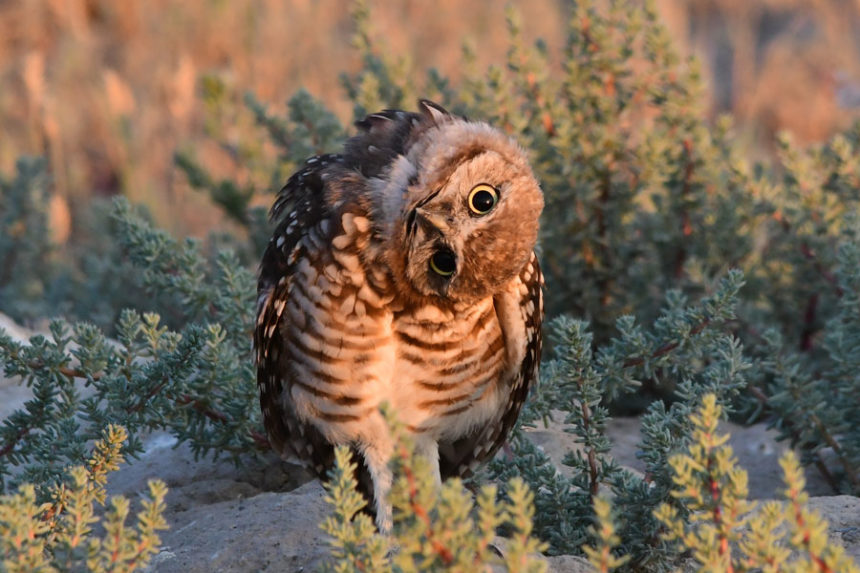 7. Burrowing Owl
This small owl species are perhaps the most adored in the area. These popular owls in Georgia are also among the smallest owl species in the world. While they are also known for their beauty, Burrowing Owls are known mostly for their unique habits.
The Burrowing Owl does everything different from other owls. From their nesting habits to their diet and even body size, they separate themselves from all other owl species in the region. This makes it easy for tourists as well as residents to identify them.
As their name suggests, this owl species lives in burrows in the ground. While they can dig burrows themselves, they usually take over burrows of their prey and configure them to their liking. While they mostly shy off from people and larger animals, they are a marvel to look at.
These owls, unlike other species of owls, are nocturnal. They can be seen hopping around in open fields looking for prey to pounce on. Their mating season is mainly during the summer and they are more active during the season, making them much easier to spot.
They have long legs and can be found looking for bugs in all hours of the day in open fields as well as other areas populated with insects.
Related