Florida boasts a tropical climate which is suitable for the survival of a broad range of wildlife. Because of these conditions, plenty of bird species don't live just anywhere in the country. For instance, you will find that they spend their winters in Florida while the migratory woodpeckers only seek warmer asylums.
Typically, there are eight permanent Florida woodpeckers seen all year round. Most woodpeckers are attracted to Florida's rich pine forests, though many of these forests continue to be cleared for the timber industry. This, in turn, has resulted in habitat loss for many woodpecker populations, which are left to suffer.
In a recent study conducted in Florida, 29 bird species have been exposed to the threat of population and habitat decline because of climate change. And of the totals, 13 species are categorized as highly vulnerable species, including the red-headed woodpecker.
Despite all these, many state parks in Florida are best known to provide remarkable bird-watching adventures. Such sites include Avalon State Park, Anastacia State Park, Olustee State Park, Blackwater State Forest, etc.
In short, Florida stands out as a paradise for woodpecker watching. It features many resident species and offers effortless accessibility. Therefore, consider supporting habitat conservation efforts to keep these adorable birds around to watch them.
This article discusses in detail the eight common woodpecker species and when in Florida they can be found. Besides, we'll look at a few amazing facts regarding woodpeckers and clearly understand each species.
Please read to the end and discover the biggest woodpecker species in North America that adds to the number of species to 9, even though it is more likely to be extinct.
The 8 Woodpecker Species in Florida
They include; Red-bellied Woodpecker, Red-cockaded Woodpecker, Red-headed Woodpecker, Downy Woodpecker, Yellow-bellied Sapsucker, Pileated Woodpecker, Northern Flicker, and the Hairy Woodpecker. The Ivory-billed Woodpecker, which is nearly extinct, makes the list 9.
---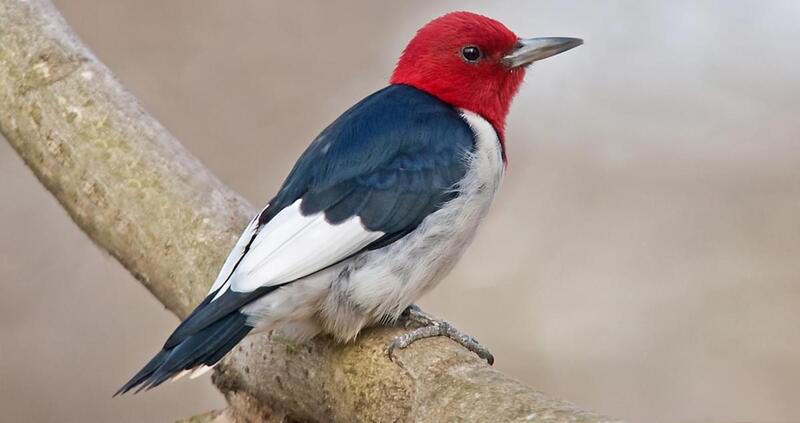 1. Red-Headed Woodpecker
Length: 7.5 to 9.1-inches
Weight: 2.0 to 3.2oz
Wingspan: 16.5-inches
The Red-headed Woodpecker migrates to Florida for the winters and breeding seasons. They move to the central-northern regions of the U.S and southern Canada every season to breed. Therefore, the perfect time to see these amazing bird species in Florida is during the winter periods. You can easily recognize them with their fiery-red heads. They can also be found in forests, especially around dying or dead trees and swampy regions.
Moreover, the Red-headed Woodpeckers can be occasionally seen visiting backyard feeders, primarily the suet feeders. They feed on seeds, beechnuts, acorns, pecans, and acorns. Additionally, these birds eat different types of fruits like apples, blackberries, cherries, grapes, mulberries, poison ivy, raspberries, and strawberries. Unfortunately, the Red-headed Woodpeckers' population is declining and is relatively less popular to be seen at feeders than other kinds of woodpeckers.
---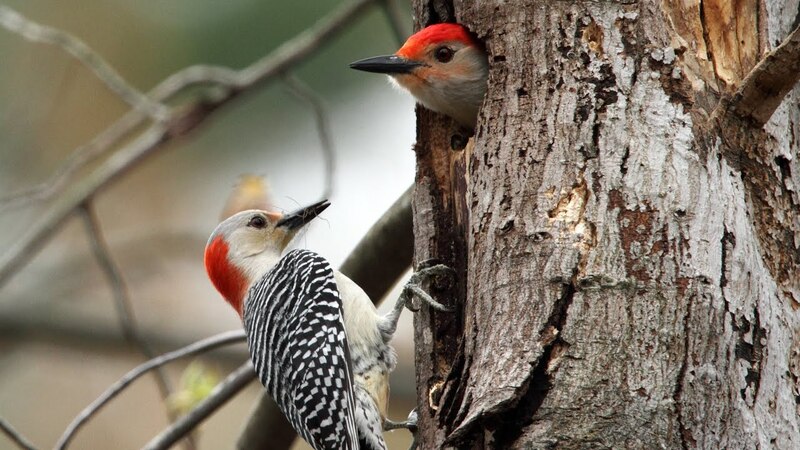 2. Red-Bellied Woodpecker
Length: 9.4-inches
Weight: 2.0 to 3.2oz
Wingspan: 13.0 to 16.5-inches
The Red-bellied is among the Woodpecker species you can find in Florida throughout the year and the state and a more significant part of the eastern U.S. They are considered non-migratory birds though some of them have been seen flying to southern areas during winters. Therefore, these woodpeckers are very common in Florida and even more during the winter.
They feature red-heads for males while their bellies are not very red. Don't get confused with Red-headed Woodpeckers. But, you can quickly identify them with their dark and white barring at their wings and backs, reminiscent of zebra striping.
The Red-bellied Woodpeckers are medium-sized and quite common at feeders, most likely those with suet than the Red-headed. Plus, you can find them in the woodlands, and they are not shy to visit suburban areas. So, it is more likely to find one living near you if you live in Florida.
However, most of them generally like nesting in dead deciduous trees and occasionally seen sipping nectar from hummingbird feeders. Their rolling call is unique, and that's what you won't ever forget once you hear them.
---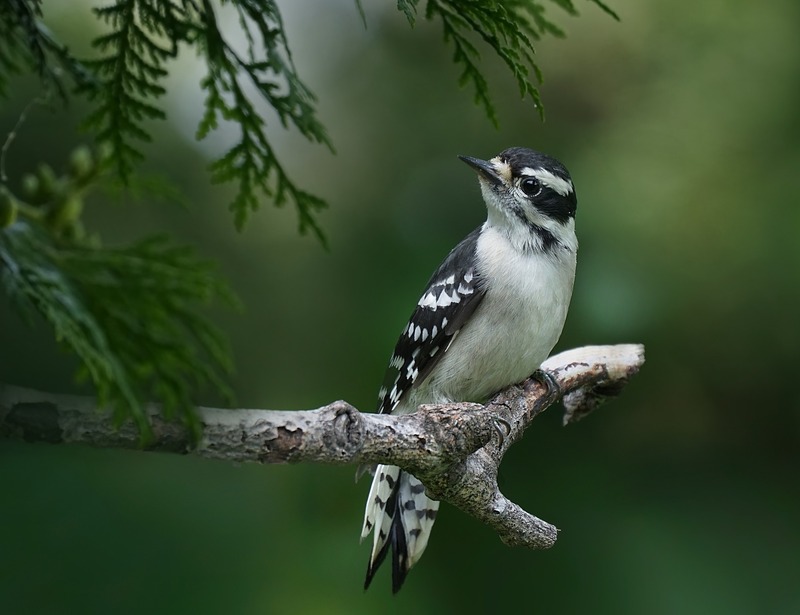 3. Downy Woodpecker
Length: 5.5 to 6.7-inches
Weight: 0.7 to 1.0oz
Wingspan: 9.8 to 11.8-inches
One thing that makes downy woodpeckers notable is that they are the smallest woodpeckers in North America. The adults can reach a height of less than 5.7 inches. They are white and black colored and have two shoulder pads at their backs with prominent white stripes between them. Despite that, they have black and white horizontal wing bars and sometimes black with white spots.
The males of the Downy woodpecker have a distinct red patch on the back of their neck. On the other side, the younger males have red spots on their head caps.
What's more, their calls are relatively quieter than most woodpecker species in the country. But, they prefer living in vast deciduous forests found in the northern parts of their range. These remarkable woodpeckers in their southern field reside in forests adjacent to ponds, riverbanks, and such moist environments. Plus, they exist as cavity nectars and mostly nest in tree limbs.
You can easily find the Downy woodpeckers in Florida all year-round. Although more frequent sightings can be achieved during the fall, specifically from September to the end of October. These woodpeckers are also prevalent at birdfeeders, and most of the time, they will be the first to visit a new feeder. Also, they like suet and also feed on various seeds, peanuts, and millet.
Ordinarily, you will find them all over the state, but there is a noticeable decrease in population density as you head south of the panhandle. Due to Florida's southern location, you can search for Downy woodpeckers around wooded riverbanks since that is their preferred environment during warmer periods.
---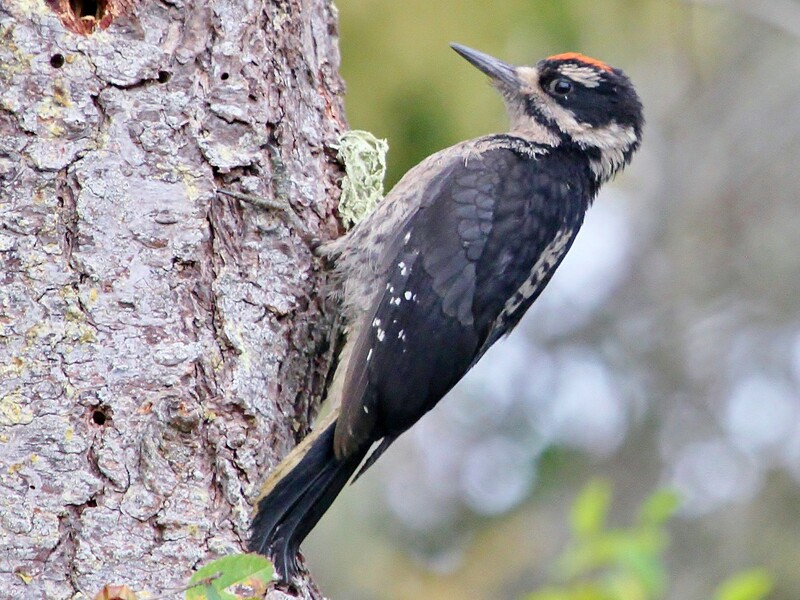 4. Hairy Woodpecker
Length: 7.1 to 10.2-inches
Weight: 1.4 to 3.4oz
Wingspan: 13.0 to 16.1-inches
When presented with pictures of the Hairy and Downy woodpeckers, you may wonder if you're looking at the same bird once more. That's not true, even though they look alike, and many people can find it hard to tell them apart. And to make things even more complicated, they are both in similar habitats.
Nevertheless, the only distinguishable feature between the hairy and downy woodpeckers is their structure and size, with the hairy woodpecker being the largest. And because of this, you will find them dwelling in more giant trees. Besides that, Hairy woodpeckers tend to be quite uncommon than the Downy woodpecker species.
A Hairy woodpecker has a large beak to excavate a large tree mass more easily than their counterparts, small-sized species. The ultimate for drilling deep into trees is to feed insects that burrow and hide in the wood.
In fact, the insects' larvae are one of their favorite foods, and therefore they will do everything they can to dig farther into woods than any other woodpecker species in Florida. Moreover, these Florida woodpeckers feed on the sap that drips out when they scoop into the trees. More importantly, they are less common around bird feeders. The good thing is that the Hairy woodpecker is non-migratory, which means you can see it around Florida during all seasons.
---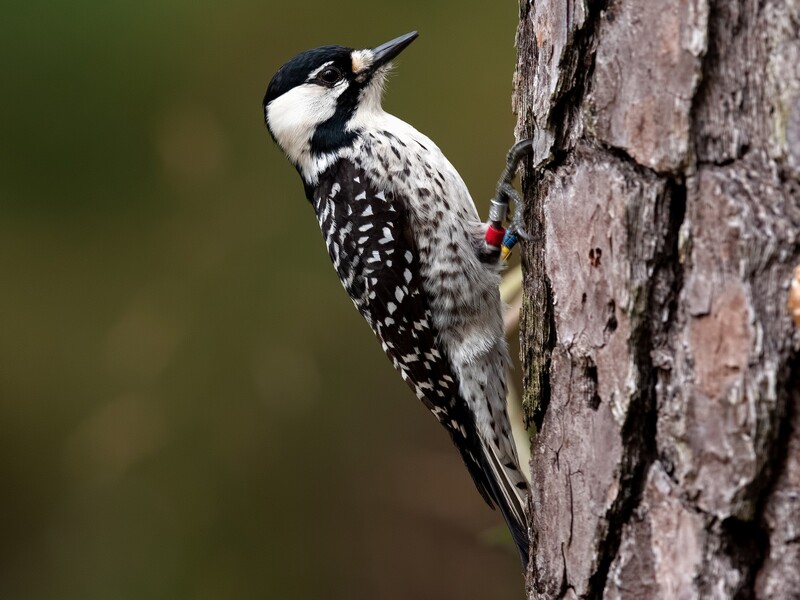 5. Red-cockaded Woodpecker
Length: 7.9 to 9.1-inches
Weight: 1.5 to 1.8oz
Wingspan: 14.2-inches
Red-cockaded woodpeckers are well-known for their large patches found on their cheeks. As with the red-bellied woodpecker, they also have black and white spots extending toward the back.
Typically, this bird species love living in old pine forests. It digs into the pines to create nesting cavities. However, these forests get deforested and burned down from time to time, causing these woodpeckers to become endangered.
It is common to see Red-cockaded woodpeckers living in pairs with an additional male offspring. As their offspring grows, they will take over excavating holes in the pine trees to make their home. Later on, the role will change to taking care of and raising a new offspring. If need be, the young females can join the group to help with breeding.
Although the Red-cockaded woodpecker is less common, you can still find this woodpecker throughout Florida all year. Since they are non-migratory, these birds will mainly reside in the southern parts of the U.S. You can also find them all over Florida other than the coastline, and especially in the pine forests.
---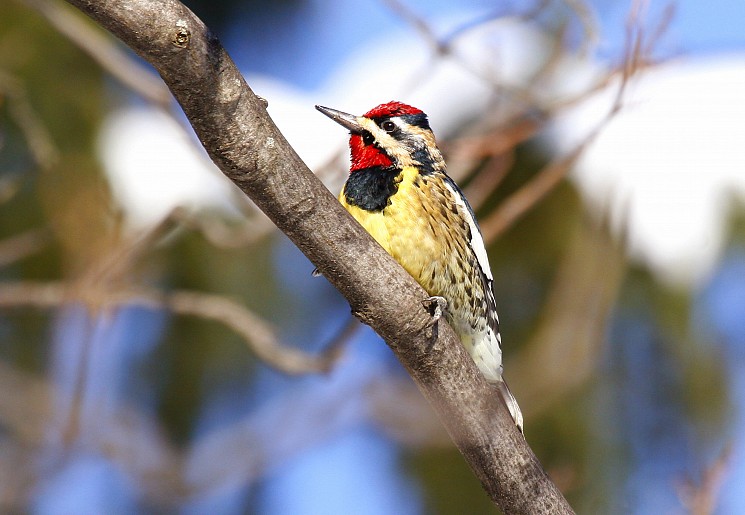 6. Yellow-bellied Sapsucker
Length: 7.1 to 8.7-inches
Weight: 1.5 to 1.9oz
Wingspan: 13.4 to 15.8-inches
Yellow-bellied sapsucker resides in Florida temporarily. In other words, they are migratory, and that's why they never reproduce in Florida. You will usually notice them fly in Florida during the winter seasons and inhabit areas further south like Cuba. Unfortunately, when you see these birds, it is more likely for you not to see them there for long.
According to their name, these Florida woodpeckers are best known for drinking sap that leaks out of tree species like elm, birch, aspen, and maple. They can also eat a wide range of fruits and insects they un-dig, which are attracted to sweet sap.
Habitat selection is an essential aspect of their mating process. In other words, females will breed with only males who have a suitable habitat.
Their underside bellies have a yellow tint and boast a unique white line that runs alongside their folded wings. You can differentiate their gender by looking at their throat colors, where the males have red throats, and the females have white.
If you want to track their location, look out for a neat horizontal row of tiny punctures in a tree or branch with leaking sap. Sapsuckers will always return to the holes they've already created since the sap will continue to drip.
---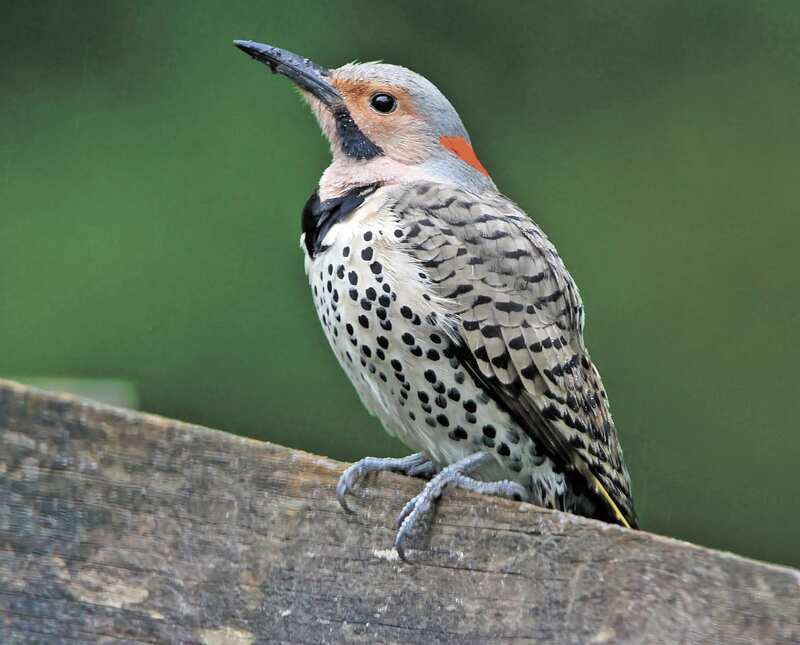 7. Northern Flicker
Length: 11.0 to 12.2-inches
Weight: 3.9 to 5.6oz
Wingspan: 16.5 to 20.1-inches
The Northern Flickers are broadly spread in Northern America, including Florida, where they are seen all-year-round. Asides from that, their size is between that of the Pileated and the Hairy Woodpecker. They are one of the most colorful bird species in Florida you can always enjoy watching.
Unlike other woodpecker species, the Northern Flickers rely on and hunt for food from the ground and not the trees. They pick through dirt and leaves as they search for insects, and they are very good at it. It is most often found seeking refuge in a naturally existing cavity. The good thing is that you can easily attract them to your birdhouse by covering it with wood shavings.
---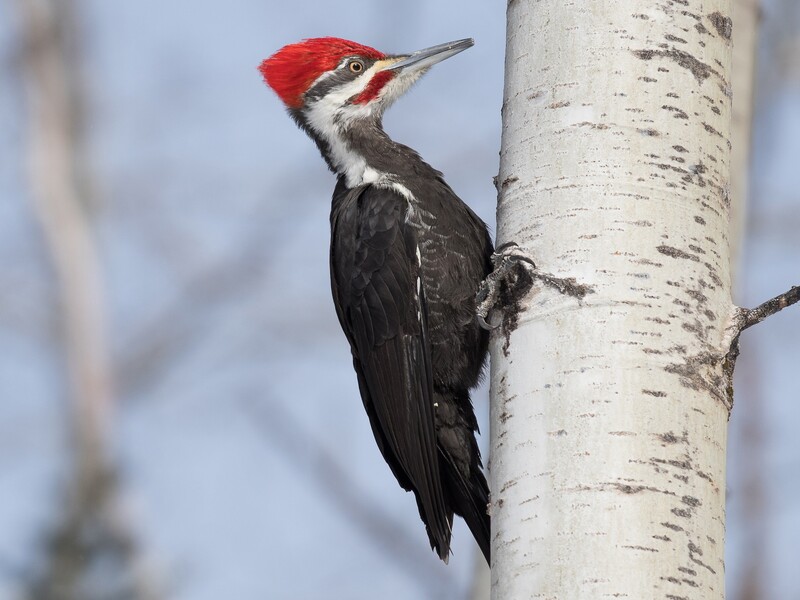 8. Pileated Woodpecker
Length: 15.8 to 19.3-inches
Weight: 8.8 to 12.3oz
Wingspan: 26.0 to 29.5-inches
The Pileated Woodpecker stands out as the largest of all Florida woodpeckers in Florida and North America. You will notice them with long necks, nearly crow-sized, white stripes sideways, and red mo-hawks. So, it is pretty hard to mistake them for other species.
They often visit suet feeders or poles that have been coated with peanut butter or suet. They reside in large trees and dig out holes on the trees to provide a habitat for a couple of other bird species that can't dig by themselves.
---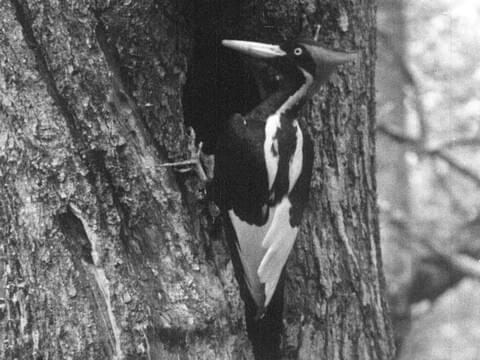 9. Ivory-billed Woodpecker (BONUS!)
Length: 18.1 to 20.1-inches
Weight: 15.9 to 20.1oz
Wingspan: 29.9 to 31.5-inches
Although this bird species is believed to be extinct, there is no official declaration made. They have an almost similar look to the Pileated though they're larger. Florida is home to Ivory-billed woodpeckers all year round, although there hasn't been a sighting of one for decades. However, there's still hope as sightings were reported in some areas in the country back in 2008.
---
Related
Interested in attracting woodpeckers to your yard? We've selected the 6 Best Woodpecker Feeders for doing just that.
If you would have seen the Ivory-billed woodpecker long ago, especially now that they are believed extinct, you would've seen what we call a "lifer" in the birding world. We've written an in depth article describing what a lifer bird is in more detail.