If you've seen woodpeckers in Indiana, chances are you've probably heard them first. That familiar rat-a-tat-tat lets you know one is in the vicinity. If he's pecking against the softwood of a dead or dying tree, he may be foraging for food, or he may be making a hole for a nest. If he's found drumming against a metal drainpipe or even a satellite dish, however, he's likely either hunting for a mate or making it clear it's his territory you've entered. Whatever the reason, woodpeckers are fun birds to observe.
There are seven types of woodpeckers in Indiana, each one as fascinating as the next. Today we'll take a look at these interesting, individual birds – in no particular pecking order.
---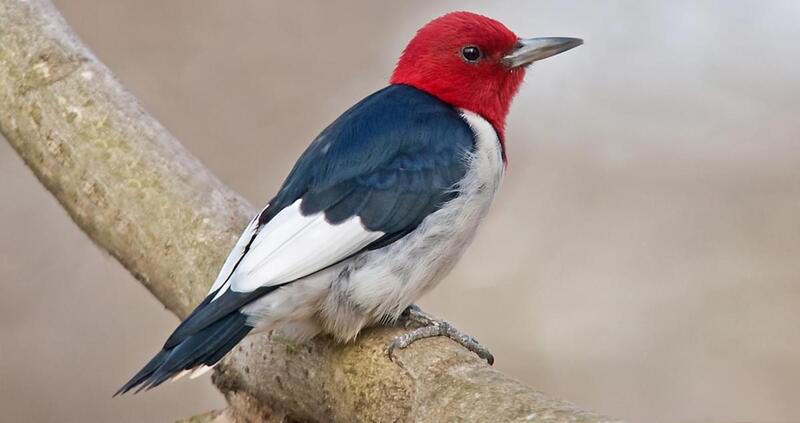 Red-headed Woodpecker
Melanerpes erythrocephalus
Spoiler alert! If you didn't know what a red-headed woodpecker looks like, now you do! Although juvenile birds have brown heads and duller colors all around, these medium-sized birds bloom as adults with heads and napes of bright red, pure white bellies, and black backs with white wing patches.
Their strong and spike-like bills are perfectly built for boring into decaying wood to find ants and other delicacies, but they can also catch insects on the wing and enjoy their fair share of seeds and fruit.
Red-headed woodpeckers prefer groves with widely spaced trees as well as marshy, beaver-dam areas with standing trees. And while mates will often remain a pair for many years, these birds have an independent streak choosing to limit their interactions only to the breeding season.
Although not an endangered species, the red-headed woodpecker has been declining in number over the last fifty years in Indiana and across the country. While humans see little use for dead and decaying trees and in many instances a possible safety hazard, their removal from forests and savannahs is a direct attack on their habitat.
---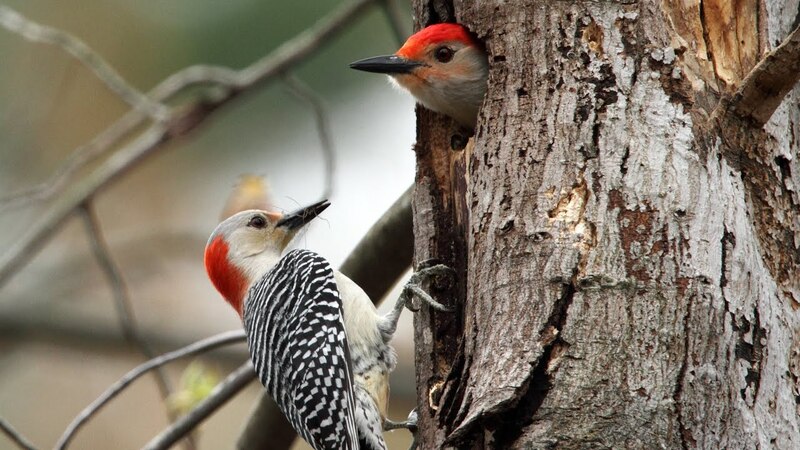 Red-Bellied Woodpecker
Melanerpes carolinus
Another spoiler! Isn't it great when the namers of birds go easy on us and hand out monikers that give us at least a hint of what we are seeing when we see them? The tough thing about red-bellied woodpeckers, however, is that with their red bellies usually up close and facing the trunks of trees, you rarely get to see them. The more pronounced red is the solid strip on males which runs from the top of their bills and head and down the back of the nape. Less colorful, females also have a red nape, but their heads are usually a duller brown. Their backs are punctuated by black and white barring.
Non-migratory, the red-bellied woodpecker feeds year-round on insects it obtains from boring holes in decaying trees as well as on fruits and nuts, mice, and salamanders.
Ah-choo! You'd think with all that wood pecking activity going on that they'd get a lot of wood dust in their nostrils, but believe it or not, woodpeckers have soft, fuzzy feathers covering their nostrils for just that protective purpose. And that's a good thing because red-bellied woodpeckers don't just use their short, chisel-like bills for eating. They also put in a lot of overtime drilling out nest cavities that will house the four eggs in a typical brood. Incubation and feeding of nestlings are shared by both adults.
Aggressive European starlings are no friends to woodpeckers, and sometimes after all their hard work, starlings will evict pairs from their nesting cavities forcing them to move and start all over somewhere new.
---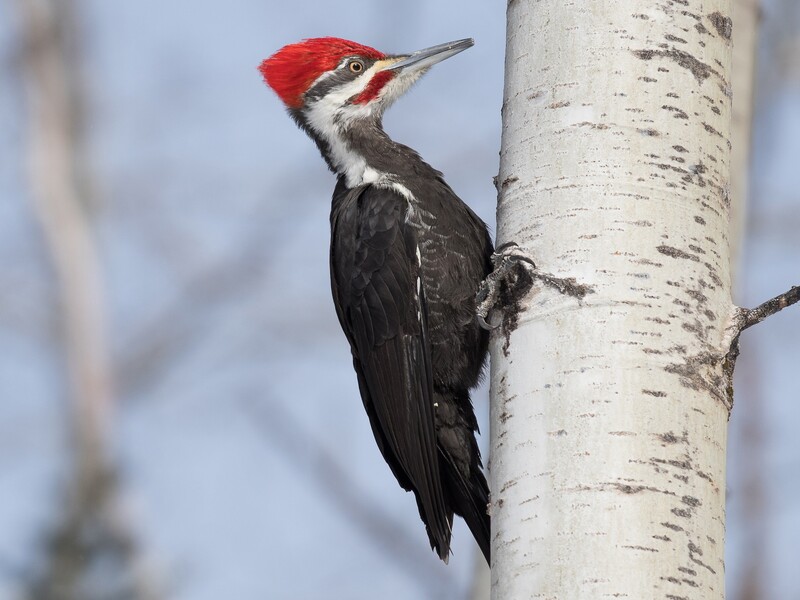 Pileated Woodpecker
Dryocopus pileatus
If you thought beloved cartoon character Woody Woodpecker was based on the pileated woodpecker, you'd be wrong. Wrong, but forgiven. Cartoonist and animator Walter Lantz's inspiration was actually the acorn woodpecker common to the western coastal United States. The pileated woodpecker, however, with its pointed red crest and its high-pitched, maniacal call sure bears resemblance to our old friend, Woody.
So what else do we know about this Woody look-alike? At 15 to 19 inches, the pileated woodpecker is the largest woodpecker in the United States and similar in size to a crow. It is largely black in color, but with a black, white, and red-striped head. Males are a bit larger than females and bear a red mustache-like stripe.
This bird prefers dense forests where it uses its short, chisel-like beak to rat-a-tat-tat bore deep rectangular holes into the decaying wood of standing dead trees. In this way, it forages for ants and beetle larvae using the long sticky, barbed tongue common to woodpeckers to then grab up food.
In early spring, males will also drum loudly in an effort to attract a mate, spreading their wings, raising their crests, and otherwise putting on quite the show. Once paired, pileated woodpeckers remain life partners.
Besides a source for finding food, the softwood of old-growth decaying trees is also the building material of choice for these industrious birds who work together to peck out large cavities in which to nest. Once abandoned, it is not uncommon for their holes to be repurposed as abodes for small owls and bats.
Pileated woodpeckers have a single, summer brood, usually consisting of four oval eggs. As in housebuilding, both males and females also share incubation duties which last about 15 to 18 days. Newborn birds are altricial, meaning they are born naked and unable to care for themselves. They spend about a month in their nest, but after graduating will remain dependent on their parents for several additional months.
---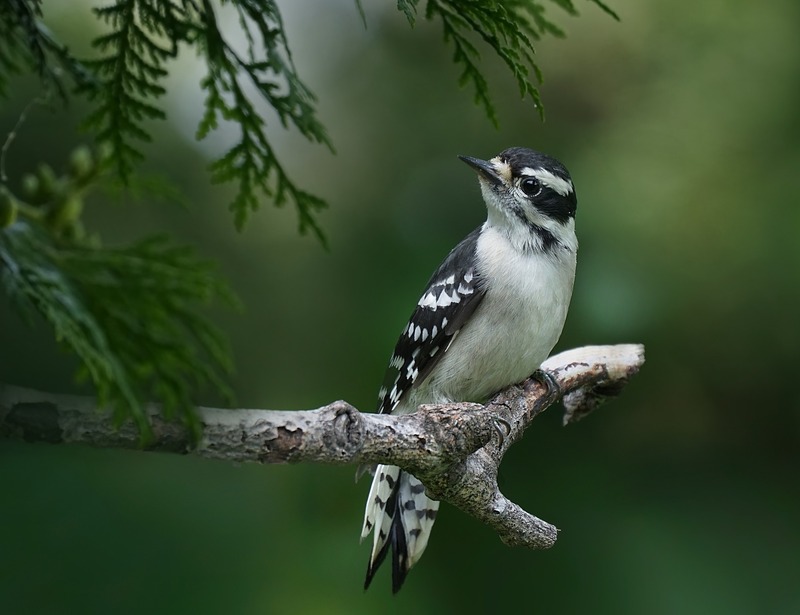 Downy Woodpecker
Dryobates pubescens
Of the seven types of woodpeckers in Indiana, the downy woodpecker is the most common. It's also the smallest and most widespread. An acrobatic little bird, it can often be found foraging for food on both the trunks or small branches and twigs of deciduous trees, sometimes hanging upside-down in the process. These birds typically feed on ants, beetles, gall wasps, and caterpillars, as well as seeds and berries.
The wings and backs of downy woodpeckers are dark, while their bellies are pale, and they have only a bitty patch of red on the backs of their heads to flaunt.
Males and females tend to feed in separate areas, then late in winter drum loudly on dead limbs to attract the opposite sex. As part of their courtship, males will often flutter their wings in imitation of a butterfly. Once paired, the two will excavate a cavity in a dead tree in areas surrounded by fungus or lichens as a means of camouflage.
Usually, four to five eggs are laid, and like other woodpecker species, males and females share their incubation which lasts about 12 days. Both also share in feeding the young which will leave the nest after about 25 days. Young may stay with the parents for a few weeks afterward.
---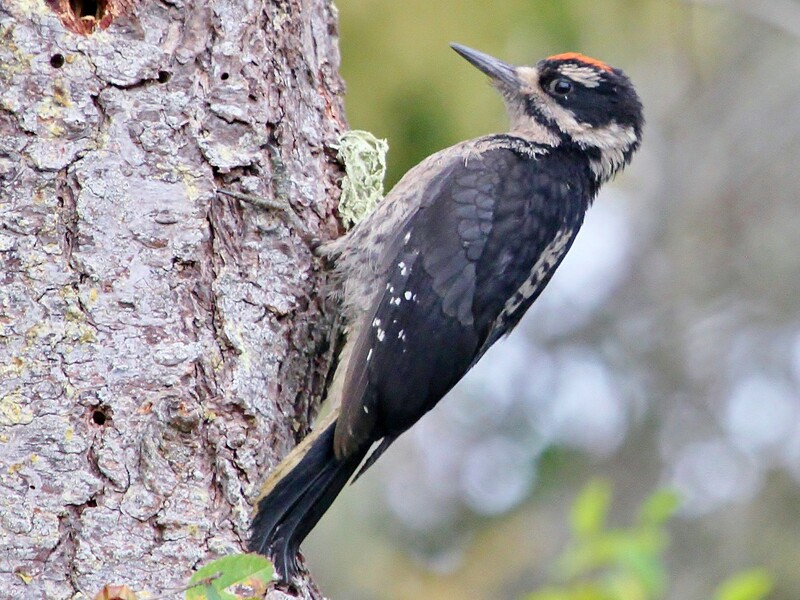 Hairy Woodpecker
Leuconotopicus villosus
Now that you've learned how to recognize downy woodpeckers, try not to mistake them with hairy woodpeckers. Save for their somewhat larger size and longer bills than downy woodpeckers, the two are quite similar in appearance. They're also known to hang out together.
About 7 to 10 inches in length, hairy woodpeckers are identified by small orange/red patches on their heads, dark backs, wings speckled with white spots, and pale bellies.
Common to central and southern Indiana, hairy woodpeckers prefer dense, coniferous, and deciduous forests as well as riverside groves.
They can be as irritating as they are fascinating with piercing, sharp cries and the ability during mating season to "drum" roll as many as 25-beats per second. Both patient and energetic, they are known to peck at the same spot on a tree in search of ants and beetles. They also mix their diet with a variety of caterpillars, berries, seeds, and nuts.
---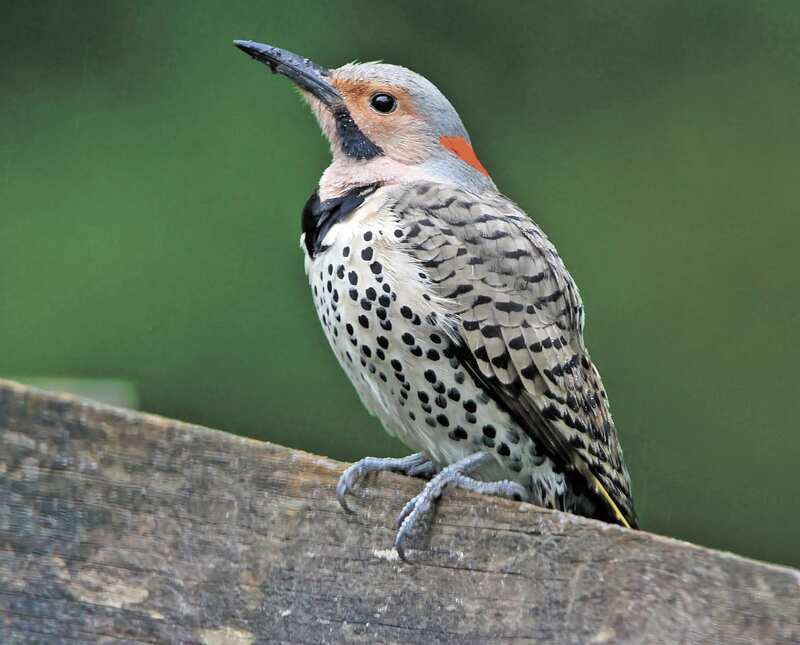 Northern Flicker
Colaptes auratus
Fairly large in size compared to other woodpeckers, the northern flicker ranges in length between 11 and 12 inches with wingspans that can reach 20 inches. Brownish overall but with a distinctive white rump patch, flickers are also identified by their rounded heads with bills that curve down, striking black chest crescents, and plumage including their bellies that is dotted with black spots and bars. Patches of red can be found on both their faces and tails.
The undersides of the northern flicker's wings and tail feathers will vary depending on where they are located. They tend to be yellowish in eastern birds, and that's what you'll see most often in Indiana. These same feathers are more reddish in the west with a hybridization of the two occurring in the Great Plains and northern Rocky Mountains areas.
Unlike most woodpeckers, northern flickers spend less time attached to the trunks of trees and more on the ground digging for ants and beetles in the ground. They will also perch on outer branches to feed on fruits and berries and to grab an occasional insect that dares to fly nearby. Northern flickers prefer open woods and forest edges.
Northern flickers also tend to be more migratory than other woodpecker species, although they enjoy year-round residency in Indiana. Once again, you're more likely to hear them calling and drumming before you see them.
---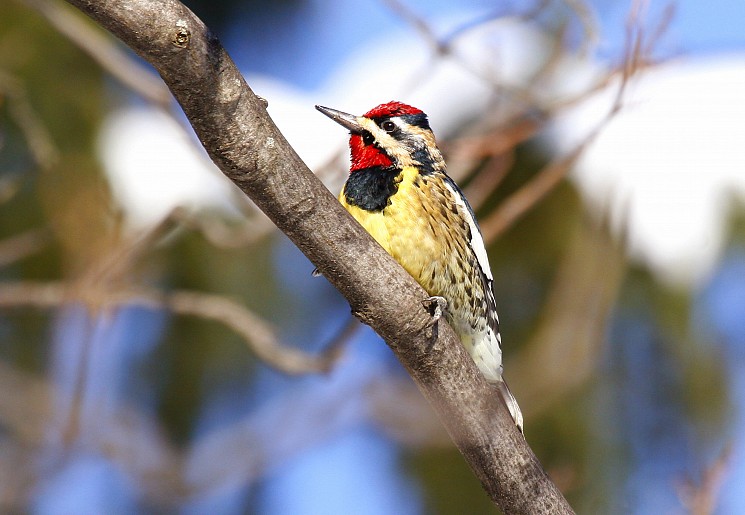 Yellow-Bellied Sapsucker
Sphyrapicus varius
Double spoiler alert! This bird's name tells us not only what it looks like but also what it likes to feed on. Both males and females have whitish-yellow bellies from which they get their namesake. They also have an identifiable white stripe along their folded wings. Males and females both have red foreheads and sharp black and white stripes that curve away from the face. However, while the males also have red throats, the females' throats are white.
Woodpeckers–of which yellow-bellied sapsuckers are no exception–are the rare birds you'll see attaching themselves upright to trunks of trees as often as you see them perched on branches. With two back toes to lean on and powerful tail feathers that lend support, woodpeckers are specially built to cling to the sides of trees they forage on. In fact, even when they climb down a tree, they'll stay upright and go tail first.
However, yellow-bellied sapsuckers do forage a bit differently than some of their other woodpecker cousins, preferring to drill rows of tiny holes in which they insert their long fringy tongues not so much to spoon out insects, but–you guessed it–tree sap. If, however, an insect gets caught up in the mix? Well, that's just icing on the cake.
The yellow-bellied sapsucker's habitat is a mix of hardwood and conifer forests. Like other woodpecker species, yellow-bellied sapsuckers tend to be monogamous pairs with both males and females sharing the roles of nest building and incubation. A clutch is typically made up of 4 to 7 eggs. Nestlings hatch after 10 to 14 days and will leave their nests for the first time between 25 and 29 days afterward.
---
The Amazing Woodpecker
So how much wood could a woodpecker peck when a woodpecker does peck wood? We may never know how much, but we do know how often. A woodpecker can make as many as 10,000 pecks a day!
So you can only imagine the huge headaches they must have by the end of each 10,000-peck day, right? Well, hold the aspirin. Woodpecker bills are also designed in such a way as to distribute the shock of all that head-banging throughout their thick skulls. It doesn't bother them at all! And that's probably why most woodpeckers in Indiana, and everywhere else for that matter, don't mind moving away and building a brand new house every year. If you ask us, that's a pretty good deal for the birds and small mammals that move in rent-free afterward!
---
Related
Looking for more interesting birds in Indiana? How about the owls of indiana?
If you're looking to attract more woodpeckers to your yard, take a look at our picks for the 6 best woodpecker feeders and we guarantee you they'll come in droves!