Minnesota is a wonderful place to enjoy wildlife and go bird watching. Owls in Minnesota are plentiful, and in this article we're taking a closer look at the species of owl (including pictures!) you can expect to see. The state lies at the center of four major North American biomes (MDNR, 2021a):
Prairie grasslands
Deciduous Forest
Coniferous Forest
Aspen Parklands
With so many converging biomes, the level of biodiversity is high. Minnesota is home to 80 species of mammal, 422 species of bird, and 53 species of tree.
A strong indicator of the ecological health of a region is the population of owls that live in the area. Owls are remarkable creatures, and their presence indicates a healthy presence of everything from rodents to trees to insects to other birds. Owls in Minnesota come from as far north as the Arctic and migrate as far south as Brazil. There are quite a few species of owls in Minnesota–twelve, to be exact. The following is the complete list of owls in Minnesota according to the state's own Department of Natural Resources (MDNR, 2021b).
Barn Owl
Barred Owl
Boreal Owl
Burrowing Owl
Eastern Screech Owl
Great Grey Owl
Great Horned Owl
Long-eared Owl
Northern Hawk Owl
Northern Saw-whet Owl
Short-eared Owl
Snowy Owl
---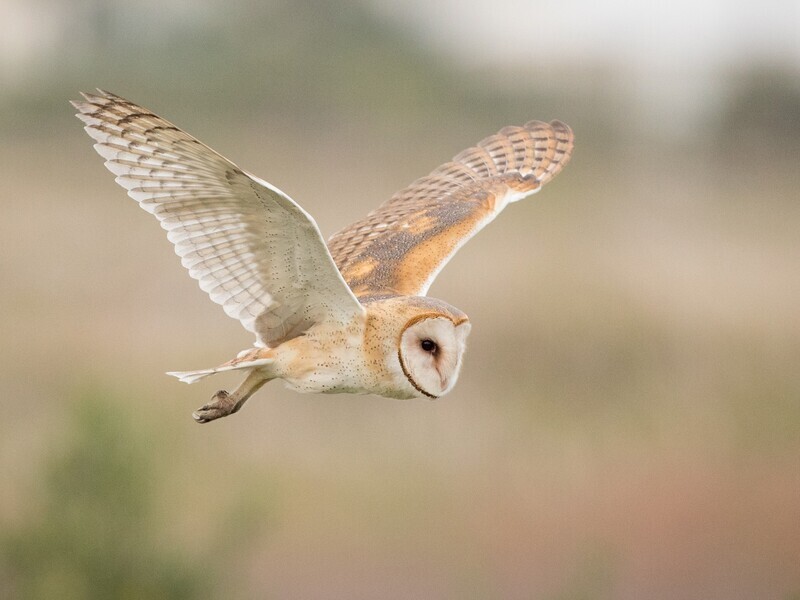 Barn Owl
Quick Reference:
Height: 13-16″
Weight: 12-15 oz (males 11 oz)
Wingspan: 39-50″
Sound: Screeching, hissing
Habitat: Various
Migration: Young yes; adult none
Identifiable Traits: White face with widow's peak-like outline; earless
Conservation Status: Endangered in seven states; extremely rare in Minnesota
Other facts: Female barn owls are slightly but visibly different than their male counterparts — if you can get an up-close look. Females have darker feathers around their face and tail as well as small black spotting on the chest and under the wings. Barn owls have adapted incredibly well to night hunting and have remarkable night vision and hearing. They hunt and eat small mammals (Barn Owl Trust, 2021.). These owls are very rare in Minnesota, and to date there have only been 10 recorded sightings in the state.
---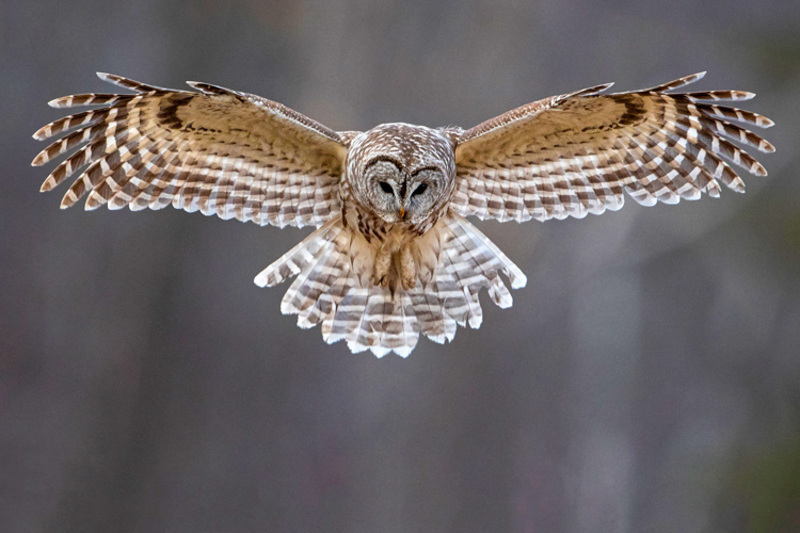 Barred Owl
Quick Reference:
Height: 17-19″
Weight: 16-37 oz
Wingspan: 39-43″
Sound: "Who cooks for you?"
Habitat: Dense wooded areas near water
Migration: None
Identifiable Traits: Striped white and brown plumage; ringed dark eyes; earless
Conservation Status: Least concern, population increasing
Other facts: The barred owl is mostly nocturnal, but is also known to hunt and call during the day. Their courtship rituals involve the sound of maniacal laughter (Audobon Society, 2021a).
Barred owls are generally known to eat small mammals like voles, but have also been observed eating crabs and crayfish.
---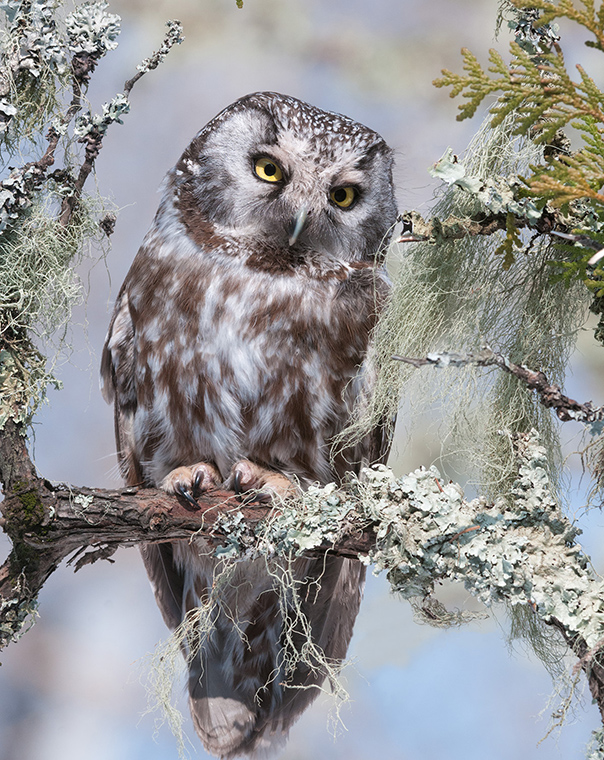 Boreal Owl
Quick Reference:
Height: 8-9″
Weight: 6.4 oz (males 3.8)
Wingspan: 21-24″
Sound: 8-20 low whistles (males, while mating); "kip" sound (all, year-round)
Habitat: Boreal forest/taiga
Migration: Uncommon, but breeding owls may move depending on food scarcity
Identifiable Traits: Small, light beak; earless; mostly-white face is encircled by black with numerous white spots. Yellow eyes.
Conservation Status: Least concern; population stable
Other facts: Boreal owls are named for their habitat of coniferous northern forests of pines, larces, and spruces. In North America, Boreal owls are also known as Richardson's Owls. In Europe, they are known as Tengmalm's Owl. These two types of boreal owls actually have different calls (Cornell Lab of Ornithology, 2021 b1) the Richardson's boreal owl has a slower call with more notes than that of its European counterpart. Like many other owls, female boreal owls make their nests in old woodpecker homes in trees (Cornell Lab of Ornithology, 2021b).
---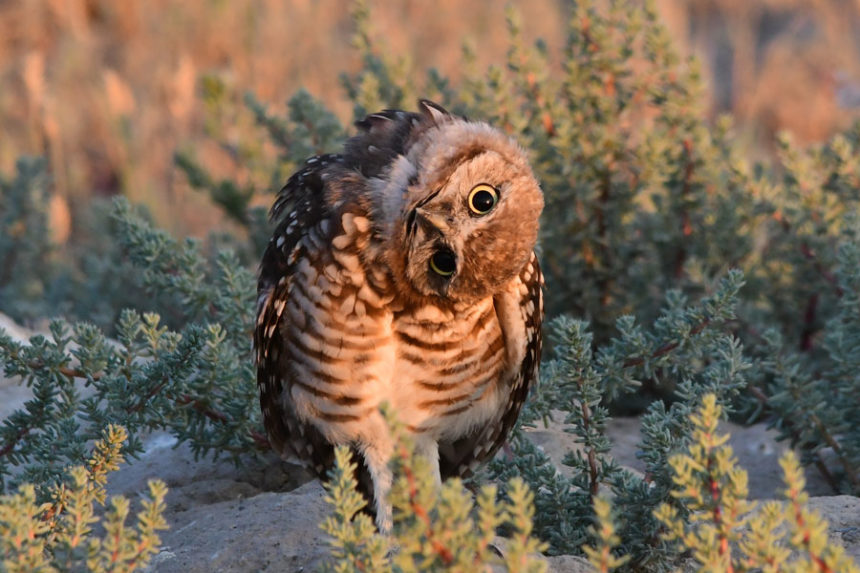 Burrowing Owl
Quick Reference:
Height: 10″
Weight: 5.3-6 oz (male and female same size)
Wingspan: 20-24″
Sound: Chatter calls (single-tone, high-pitched or "witch's cackle"); "coo-coooo" sounds (second tone long)
Habitat: Grasslands, farmland, and prairies; other open areas such as golf courses or airfields
Migration: Yes; winter in Central/South America
Identifiable Traits: small, sandy in color; white-spotted; vivid yellow eyes; earless
Conservation Status: Least concern; population decreasing
Other facts: Burrowing owls are rare due to human efforts to control ground squirrel and prairie dog populations, which are their main food source. Burrowing owls also are frequent accidental victims of cars. Also known in some parts as "howdy birds" due to their habit of nodding their heads. As indicating by their name, burrowing owls do not build nests but may dig their own burrows or use other burrows abandoned by prairie dogs, armadillos, kangaroo rats, or ground squirrels. These owls are rare in Minnesota (and in North America in general), but can be found occasionally on the western edge of the state (Audobon Society, 2021b).
---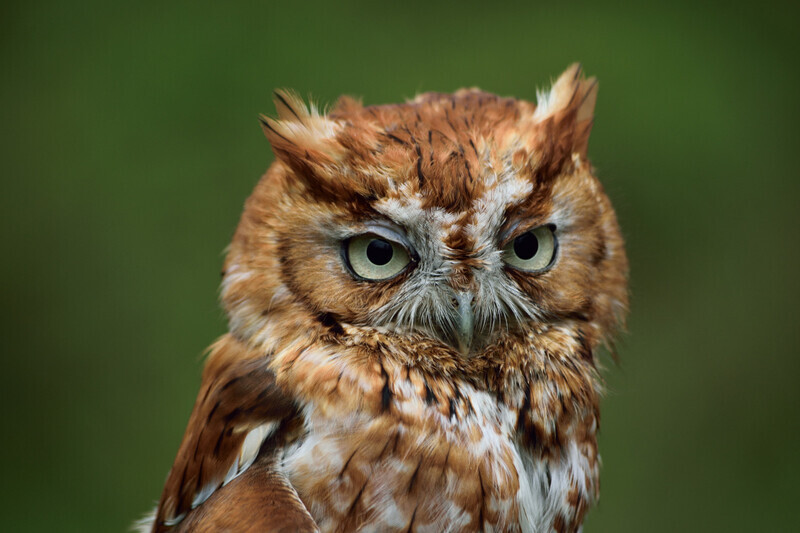 Eastern Screech Owl
Quick Reference:
Height: 6-9″
Weight: 5.8 oz
Wingspan: 19-24″
Sound: Descending trill
Habitat: Anywhere with tree cover (suburban areas, city parks, forests, farmland)
Migration: None
Identifiable Traits: Ear tufts; yellow eyes; black-spotted belly and breast
Conservation Status: Least concern; population increasing
Other facts: If you want to attract an Eastern Screech owl to your yard, you can put up a nesting box. Eastern Screech owls are very receptive to this as they never dig their own cavities in the wild. They do not actually make nests and lay their eggs on top of whatever debris happens to be in the nesting box or tree cavity. They also like birdbaths. Eastern screech owls eat almost anything–including, very occasionally, their own species (Cornell Lab or Ornithology, 2021c). They are highly nocturnal, so the best time for viewing these owls is definitely after the sun goes down.
---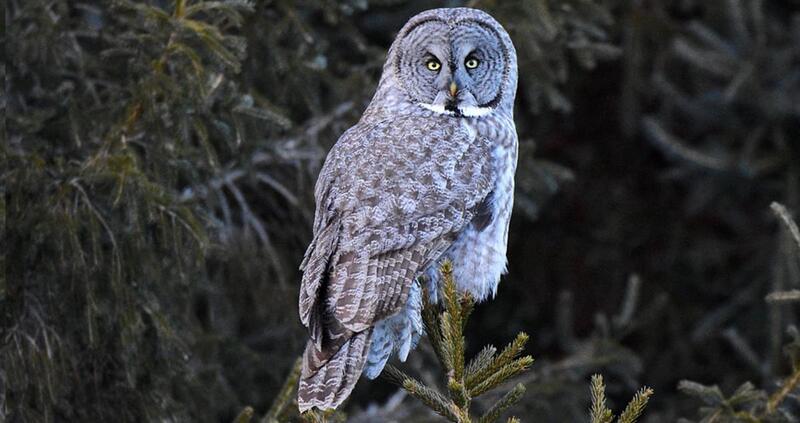 Great Grey Owl
Quick Reference:
Height: 24-33″
Weight: 24-60 oz
Wingspan: 53-60″
Sound: Deep, soft hoots
Habitat: evergreen/pine forests with meadows nearby; taiga
Migration: None; recent movement due to food scarcity
Identifiable Traits: Dull grey in color; earless; flat facial disk; no ear tufts; rounded, broad wings; "bow-tie" like white feather pattern at neck.
Conservation Status: Least concern; population stable
Other facts: The Great Grey Owl is the largest owl in North America (Cornell Lab of Ornithology, 2021d). These shy owls tend to hunt only at night and thus are also sometimes known as the Phantom of the North. They are efficient predators with a strong defensive streak, and have even been known to fight off black bears when defending their nest.
---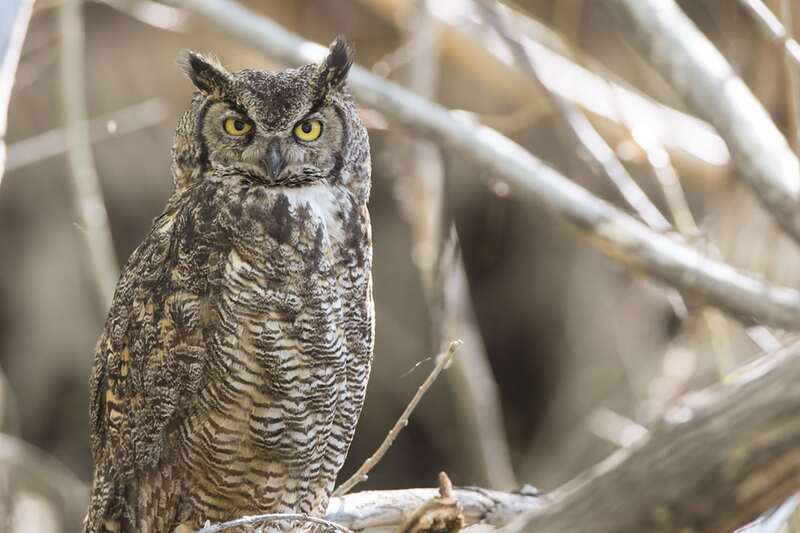 Great Horned Owl
Quick Reference:
Height: 18-25″
Weight: 2-5.5 lbs
Wingspan: 3.3-4.8′
Sound: Recognizable and classic "hoo-HOO"
Habitat: Woodlands; farmlands; suburbia
Migration: Northern populations move south in winter
Identifiable Traits: Large feathered ear tufts known as "plumicorns"
Conservation Status: Least concern; population stable
Other facts: Great Horned Owls are the most common owl in the Americas (National Geographic, 2021a) and the most populous in the Minnesota or Great Lakes area (Encyclopedia of Life, 2021). Great Horned Owls have highly efficient digestive systems and will sometimes swallow their prey whole. They eat mammals as large as raccoons and skunks and are known to prey on hawks, falcons, and smaller owls as well.
---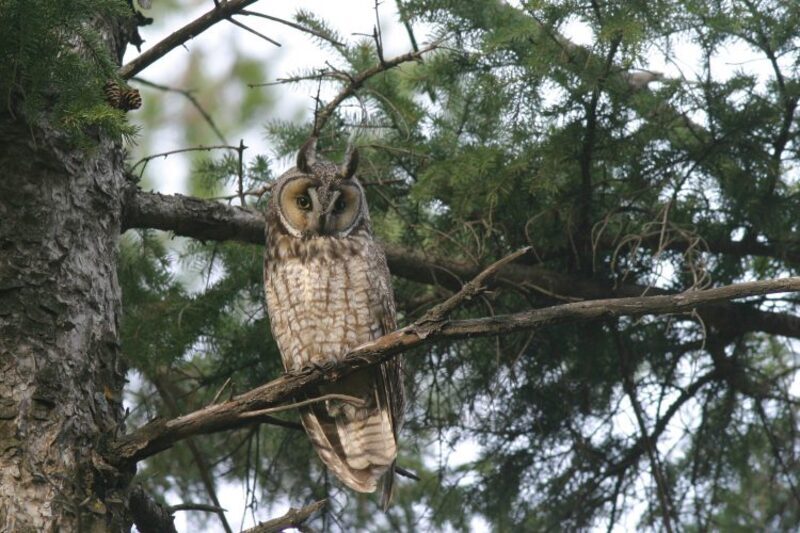 Long-eared Owl
Quick Reference:
Height: 13-15″
Weight: 7-15 oz.
Wingspan: 35-39″
Sound: Long, low single hoot
Habitat: Forests
Migration: occasional, but winters within breeding range
Identifiable Traits: Long, nearly-vertical ear tufts; small, close-together yellow eyes
Conservation Status: Least concern; population decreasing
Other facts: These owl roost in groups during the winter, making them easier for birdwatchers to spot. If you see large amounts of grey, 2-3″ pellets beneath a tree, you are probably beneath a 'roost tree' for long-eared owls. However, these owls are very well-camouflaged, so this doesn't necessarily mean you will have an easy time spotting them. Long-eared owls swallow their prey whole and then regurgitate what is indigestible in the form of these grey pellets containing bone, fur, or feathers (Cornell Lab of Ornithology, 2021e).
---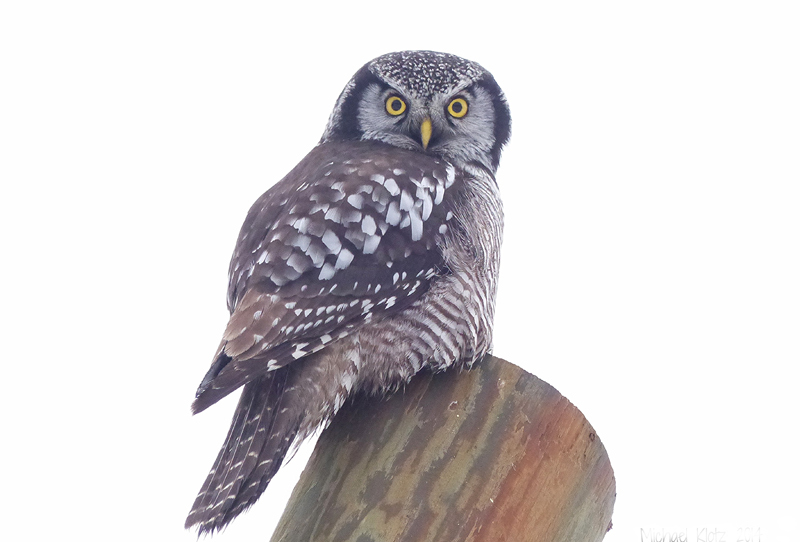 Northern Hawk Owl
Quick Reference:
Height: 37-44″ (males 36-42″)
Weight: 11-12 oz.
Wingspan: 18″
Sound: Long, rolling mating whistle ("ulululu"); screech followed by chip (alarm)
Habitat: Boreal/coniferous forests
Migration: Irregular; may move south in winter
Identifiable Traits: White face; long, tapered tail; horizontal stripes on belly; dark "eyebrow" lines
Conservation Status: Least concern; population in fluctuation
Other facts: This owl hunts both in the day and night, so you may be in luck if you are owl-watching during waking hours. It may also be easier to spot due to its habit of perching at the very top of prominent trees. This owl is not shy of humans. The Northern Hawk Owl can hear sounds 12 inches beneath the snow and, unlike most other owls, do not have asymmetrical ear openings (Peregrine Fund, 2021). Northern Hawk Owls normally use tree cavities, like most owls, but have also been known to take over bird's nests (Cornell Lab of Ornithology, 2021f).
---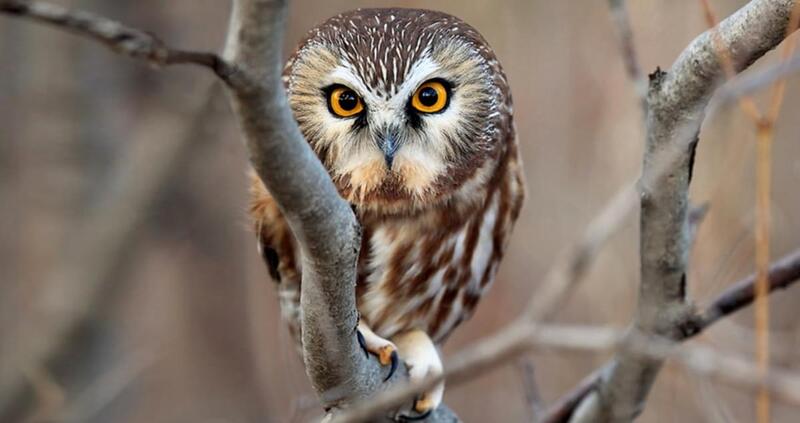 Northern Saw-whet Owl
Quick Reference:
Height: 6.7-8.3″
Weight: 3.5 oz (males 2.6 oz)
Wingspan: 18-22″
Sound: monotonous whistle (male mating); "ksew-ksew-ksew" (all)
Habitat: Coniferous forests; wooded areas; swamps; bogs
Migration: Southward in winter
Identifiable Traits: Reddish-brown in color; small; large yellow eyes
Conservation status: Least concern; population decreasing
Other facts: Also known as the Queen Charlotte Owl, Saw-whet owls are among the smallest owls in North America. This owl mostly eats deer mice and voles but can also indulge in the odd insect or small bird. These owls use nest boxes, so if you are hoping to attract owls to your backyard area, put out some small nesting boxes in eye-level thickets or in a dense cluster of pines (Owl Research Institute, 2021a). These birds do not spend a lot of time up high; if you see a small owl sitting at or around eye level, it may be a Saw-whet.
---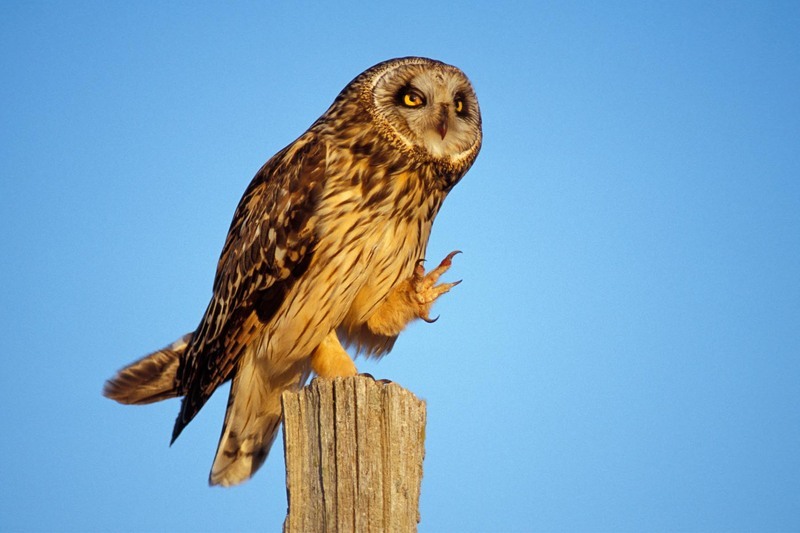 Short-eared Owl
Quick Reference:
Height: 15″ (males 14.6″)
Weight: 9-18 oz (males 1-16 oz)
Wingspan: 41.7″
Sound: 13-16 note "hoo" (male, mating); "kee-ow" bark (all)
Habitat: Grasslands, open moors, marshes
Migration: Southward in winter
Identifiable Traits: Tiny ear tufts; black beak; small yellow eyes; dark wing tips
Conservation status: Threatened; endangered in New York and New Jersey
Other facts: Though this species is rare among owls in Minnesota, it can be found on every continent in the world aside from Australia and Antarctica. It is also known as the Grass Owl and is endangered in most areas of North America. The Short-eared owl nests on the ground and is one of the few owls who actually do their own hole-building. Female short-eared owls will typically choose a small, raised mound in a field or flatland and dig a small depression in the top of the mound (Owl Research Institute, 2021b).
---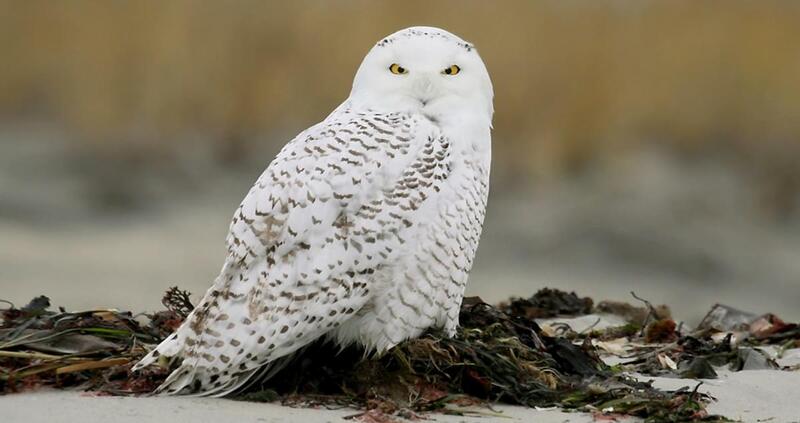 Snowy Owl
Quick Reference:
Height: 20-28″
Weight: 56-104 oz
Wingspan: 50-57″
Sound: Low, raspy hoots
Habitat: Arctic, taiga; migrate to forests, marshes, or coasts
Migration: Southward in winter
Identifiable Traits: Unmistakable all-white plumage (upon maturation); yellow eyes; light brown spotting
Conservation Status: Least concern; population decreasing
Other facts: Snowy Owls are migrants, meaning they visit areas other than their own native habitat at certain times of year. During the summer, Snowy Owls retreat south to open marshes in the upper US, but have even been known to vacation surf-side as south as Texas in certain recent years. They are territorial, highly defensive birds and have even been known to take on wolves if their nests are threatened. They have excellent eyesight and hearing, useful for these owls accustomed to heavy snowfall (National Geographic, 2021b). You may also recognize this owl as Hedwig, the famous owl from Harry Potter.
---
Owl Spotting Tips
Here are a couple of general tips on how to find or spot owls. Knowing some of the basic natural indicators that owls live nearby is a great way to start looking for owls–and identifying them. There are plenty of ways to identify the type of owl nearby even if there is not a clear visual of the owl itself. The following are some ways to seek, attract, and identify owls in Minnesota.
Listen and Study Calls
This one is important as it is a surefire way to ID an owl even without a clear visual. Of course, the more calls you know, the easier it will be to identify an owl right away (read on to find out all the calls of the owls in Minnesota along with other identifying information). If you're looking to attract an owl or bring him or her closer to you, you can imitate the sound you are hearing. This is a wildlife-appropriate way to interact or entice an owl closer so you can get some visuals.
Look For Whitewashing
Whitewashing is the common term for the urinary excretion of birds. The uric acid, which is in humans dissolved in urine, has low water solubility and resembles white paste (no, the white bird droppings you found on your car this morning is not technically poop). Whitewashing is an indicator of avian presence, and if you find whitewashing under a coniferous tree, you more than likely have found owls.
Look for Pellets
Pellets are the undigested bits of prey which owls have swallowed whole. They regurgitate bone, fur, and feather, and these pellets litter the ground below an owl's nest. They may also be found around ground nests, depending on the type of owl.
Owl Homes
Recognizing an owl home could make the difference between staying in an area and spotting an owl, or moving on and missing that visual. Owls make their homes in a number of places, most commonly in tree cavities. They may take the cavities made by woodpeckers or other animals, and almost never build their own nests. Instead, they will overtake existing or discarded nests from other birds such as hawks, magpies, or crows. Some owls will make homes on high treetops; others choose to live in dense thickets at human eye level.
No Flashlights!
If you are owl-watching at night, do not bring a flashlight. Although the light may be thought to make it easier to quickly get visuals on an owl, the light will startle and spook them and they will leave immediately.
This also applies to the flash on your camera. Though you may wish to take a picture of the owl seated perfectly still on that tree branch, the flash will scare them–and any surrounding owls nearby.
Educate Yourself
Knowing what distinctive characteristics belong to which type of owl in Minnesota will help you quickly identify it, saving you time to admire the owl and observe some of its behavior. So let's go over each owl in Minnesota according to its unique characteristics that make them easy to identify such as size, sound, habitat, and physical characteristics. Another good thing to know is which species are migratory, and which seasons those species inhabits the state. For example, knowing that Snowy Owls are migrants that come to Minnesota in the winter will help identify that stunning white owl you saw in December. However, in recent years, many owls' migratory patterns have been inconsistent. Some non-migrant owls have been moving due to food scarcity, and some migratory owls have been moving further south in winter due to irregular climate.
Also remember that while many owl species are quite shy of humans, some are not. If you get too close to their nests, especially if they have babies, they may act aggressive in defense of their young. Observing wildlife properly means just that–observing and not interfering.
Keep A Record Of Your Sightings
If you're an avid bird-watcher, you may want to keep a log of sightings. This will help identify the owl in question later, if you are not able to identify on-site. Write down the habitat including general surrounding observations such as pellets, droppings, nests, or burrows you may have observed, as well as the location of the area. Include as visual characteristics of the owl you may have noticed, and, if you can draw, try a sketch for future reference.
With all that in mind, now we'll go through the list of owls in Minnesota for a handy guide to traits, physical characteristics, and some interesting facts that makes quick identification easier– whether you saw an owl on your hike and want to know which one it is, or are actively trying to find one. Also included are the conservation status of these owls, to understand the rarity of the owl in Minnesota and significance of the sighting.
Entertaining Owl Facts
Now that you've done your research, here are some fun facts about owls!
A group of owls is called a parliament
There are 200 species of owls
Mother owls feed the strongest owl baby first
Owls do not have the ability to move their eyes
Owls can move their heads 135 degrees in either direction
Owls are far-sighted
"Ear tufts" actually have nothing to do with owls' ears
Owl flight is completely silent–you wont hear them approaching
Owls symbolize everything from wisdom to victory in battle to death, depending on the culture
Many owls have asymmetrical ears
Happy owl-watching–and be sure to check out the extensive resources on our website for your general bird-watching needs!
---
Related
Interested in more birds of prey in Minnesota? Check out the hawks in Minnesota, another one of nature's most exciting hunters!
Backyard birders struggle with the ecosystem they try to create in their yards from time to time — one issue that's bound to come up is bees and other insects taking an interest in your hummingbird feeders. Learn how to handle the bees in: How To Keep Bees Away From Hummingbird Feeders