Animals often refrain from showing any signs of illness. That is a very crucial trait, especially for wild animals. If a wild animal shows any signs of weakness or sickness in the wild, it is likely to be shunned by other animals or suffer attack from rivals and predators. In this article, we are going to tell you what you should know when you see a sitting pigeon.
From time to time, internet users upload "cute" pictures of animals doing something unexpected, like these pictures of sitting pigeons. However, as most professionals and experienced bird watchers will confirm, most pigeons don't just sit to pull a cute stunt. That may be a sign of illness.
A sitting pigeon in the middle of a street in a busy area is fair game for predators, especially stray pets, and it may get stomped or accidentally kicked by unaware pedestrians. Therefore, a sitting pigeon should be a tableau of distress and a reason for concern.
---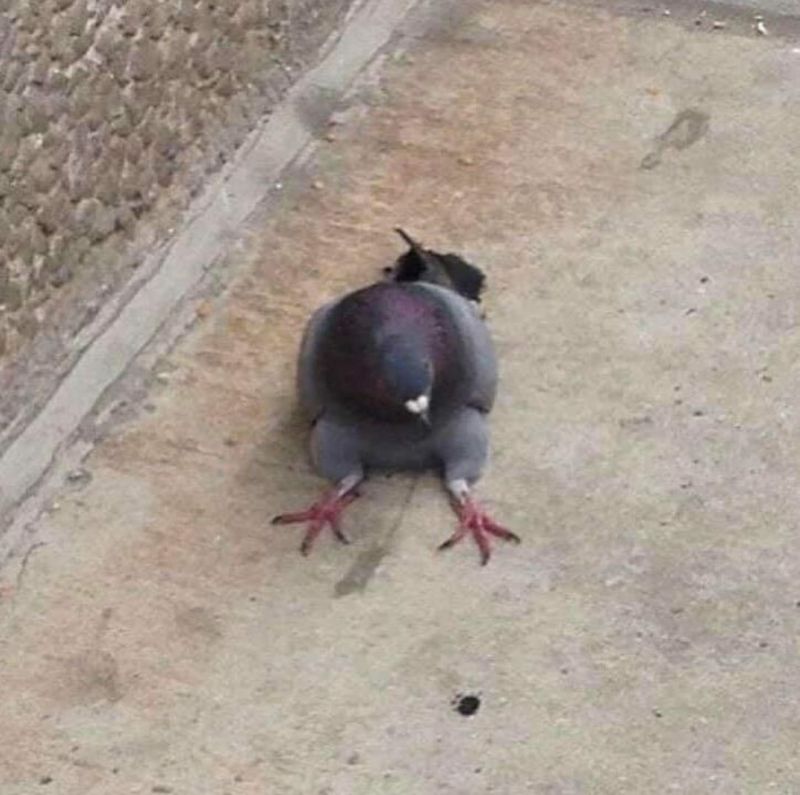 How To Spot a Sick Bird
You can spot signs and symptoms of injury or sickness in a bird from their behavior or appearance.
---
Behavior
• If it doesn't fly away when approached
Birds are supposed to fly away anytime a human or other animal gets too close to them. That is a very crucial survival instinct. If you happen to come across a bird that doesn't fly away as soon you get too close, that bird is definitely unwell.
• Panting breaths, puffing, or any other sign of difficulty breathing
If you notice a bird puffing, wheezing, or trying to breathe through an open beak, that bird is sick. This prognosis also applies to a bird that has its tail bobbing every time it takes a breath.
• Unsteady posture
An unsteady posture in any resting animal is a common sign of sickness. For instance, healthy parrots tend to rest in a somewhat vertical position, not entirely horizontal. Just as our sitting pigeon is in a particular posture that is unusual for birds — most of the time any kind of horizontal laying down is very unheard of.
You can differentiate a good posture from a bad one according to the bird type. However, a combination of a slouchy posture and puffed-up feathers is a sure sign of sickness in birds.
• Drooping or elevated wings
Some birds may elevate or keep their wings in a drooping position as compensation for balance. Also, you may notice drooping in young chicks who are yet to learn the art of tucking their wings or if a bird has just been misted or bathed.
However, if any of the explanations above don't apply, your bird may be sick. Especially if the wings are drooping and it is sitting rather dejectedly.
• Roosting in unlikely places
If you notice a bird roosting in weird, open places like patios or porches, it may be faring poorly. Most wild birds roost in niches or cavities where they are safe from predators. These roosting places are also ideal shelters from adverse weather.
• Half-closed eyes
Squinting half-closed eyes are a common sign of sickness in birds. Birds are supposed to be alert to survive. If a bird has a sleepy appearance and its eyes are halfway closed, it may be sick.
• Getting avoided by other birds
Most animals despise weakness in their fellows. If a bird has underlying sickness, it will try hiding any signs because the other birds may shun or even attack it.
• Head tilted to one side or tucked under a wing
A bird will often tilt its head to one side continuously or tuck it into a wing when it's sick.
• Losing balance and falling or teetering off perch
Most birds can maintain their balance on a perch even on one leg. If you see a bird losing balance or teetering constantly, it may be sick or injured. If it falls off a perch, its health status is much worse and, it needs help.
• Spending unusually longer sleeping
That is a common trait in most sick animals and humans. If you notice a bird sleeping during unlikely daylight hours, it may be in trouble health-wise.
• Personality changes
If your pet bird has suddenly shifted from being friendly to aggressive; or from playfulness to lethargy, you may have reason to be worried. The same applies to wild birds. That is especially so if you notice a bird that acts in an aggressive way without provocation.
• Increase or decrease in eating or drinking tendencies
If a bird happens to refrain from eating its favorite food, or in the case of hummingbirds, from nectar, it is a sign of trouble. That is also the case when they start eating or drinking too much. However, a sick bird is more likely to show signs of decreased rather than increased appetite.
• Throwing up
Some birds incorporate regurgitation in their courtship routine. However, throwing up sometimes may be a sign of nausea. If you see a bird throwing up undigested food, consult with avian or online resources whether this behavior is usual in their kind.
---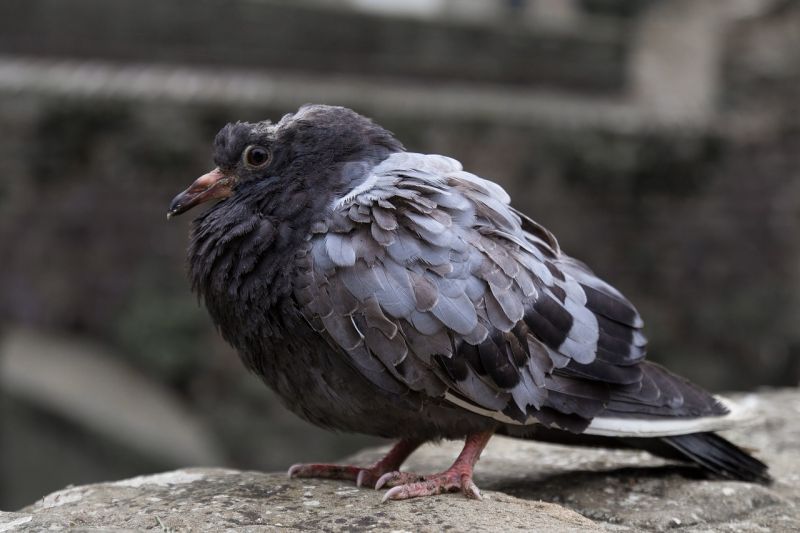 Appearance
• Eye-swelling
Swollen eyes are a common sign of sinusitis. Sinusitis is a bacterial or fungal infection that can lead to discharge or swelling in one or both of a bird's eyes.
• Unfocused, sunken, or abnormally colored eyes
As we mentioned before, birds need to keep alert eyes out for danger from predators. If you notice a bird with eyes that appear dull, sunken, or have an abnormal color, it may be unwell.
• Crusty or wet discharge from the mouth, eye, or noses
Discharge around a bird's eye may be a sign of eye problems. Also, look for signs of wetness or crusting-over on their noses and mouth.
• Grimy, wet, or matted feathers
Most birds keep their feathers clean and neat. If you meet a dirty bird, it may be a sign that it's too weak to clean itself. You can also check if the bird's vent feathers have gotten matted with poop. Matted feathers are sometimes a sign of sickness.
• Loss of feathers
Some birds possess a natural plucked appearance. However, if a bird starts losing feathers, things may not be going well for it. Most experts and birdwatchers consider parasite infestation as the number #1 cause of plucked feathers.
• Puffed-up or fluffed feathers
Puffed up or fluffed feathers are usual in a healthy bird that either wants to get some warmth, is in a resting position, or feeling unwell.
• Visible wounds, injuries, or lesions
Check for visible wounds or bleeding on a bird to determine if it's wounded. Any sign of bleeding is a clear indicator the bird has wounds that need tending. The sitting pigeon that's the topic of our article today could have a cut or an abrasion that is preventing it from being able to stand normally.
• Change in consistency, formation, or color of droppings
Droppings are one of the most efficient ways of telling whether a bird is unwell. You should pay attention to any change in color or shape of droppings. However, changes in the appearance of droppings may be food-related. You should check what the bird has been feeding on of late.
Runny poop can also result from a bird drinking too much water.
You should also check a bird's droppings to ensure they are well-formed and appear to be well digested.
---
Steps To Take If You Find an Injured or Sick Wild Bird
Don't try to help a wild bird unless your help is evidently needed. An injured or ill bird may show signs of aggression if they feel threatened. Plus, wild birds are not used to human handling and treatment. Therefore, it may be a stressful and strange experience for them.
If you find a small bird that appears to be injured or sick, you should handle it very gently. If it's a bird small enough to fit in your hand, place your hand over it in such a way that its head is between your middle and forefinger.
In the case of a middle-sized bird, use both of your hands its wings against their body. You should be very careful with larger birds because they can cause you considerable harm if they attack. We highly recommend you contact a professional if you are not used to handling larger birds.
Do not attempt to feed or feed a sick wild bird. Just place it in a comfortable, warm, dry place and consult wildlife rehabilitators or a licensed veterinarian. You can also contact the State Veterinarian, agricultural extension agent, or US Department of Agriculture (USDA) Veterinary Services if you are in the US.
---
Step By Step Guide
Step 1: Find a cardboard board box and line it with a cloth or paper towels
Step 2: Take the bird carefully and place it in the box.
Step 3: Find a dry towel and use it to cover the box.
Step 4: Find a quiet, dark, and warm area and place the box in it.
Step 5: Place a bottle of warm water or any other heat source next to the sick. Do not use hot, boiling water.
Step 6: Contact a wild bird rehabilitator or a local vet.
A sick bird needs a dark, quiet, and warm place where it can wait for a specialist without unnecessary disturbance.
Below are a few dos and don'ts of lending help to a sick bird:
Do's
Handle a sick bird with extra care. Birds breathe using their chest muscles. They have no diaphragm. If you hold a sick wild bird with unnecessary strength, they can suffocate. That is especially so in the case of small birds.
Keep a sick bird warm. Avoid using hot heat sources, and don't try to keep it warm if it is suffering from hyperthermia.
Keep a sick bird in a comfortable cardboard box with breathing holes. Place the box with the bird in a spot where it won't be disturbed by too much light or attract unwanted attention, especially from predators like cats.
Wash your hands with a detergent after handling a sick bird
Contact a rehabilitator or veterinarian as soon as you can.
Don'ts
Don't show a sick bird to other animals or put them in the same confined space. That will only make the bird agitated.
Don't assume a sick bird is friendly. It can react defensively, especially if it feels threatened or distressed.
Don't make a sick bird eat or drink water. The anatomy of birds is very delicate, and even a drop of water can go into their lungs and kill them.
Don't try to keep a wild bird as a pet. It is against the law.
---
Common Bird Diseases You Can Watch Out For
Below are a few common bird diseases and their respective symptoms. You can use this list to determine what a bird is suffering from.
Mycoplasmal Conjunctivitis
This disease is also known as House Finch Eye Disease. Birds suffering from it tend to have crusty or runny eyes with discernible redness and swelling.
In extreme cases, it can cause a bird's eyes to swell shut. That results in blindness and eventually death.
Mites/ Mange Infection
The symptoms of mite infection include loss of feathers and bald, sore spots. Most birds die from this predicament due to predation or exposure.
Aspergillosis
Aspergillosis gets caused by Aspergillus fungi which grow mostly on wet, moldy seeds. If a bird has trouble breathing, drinks too much water, or appears emancipated, it may be suffering from this disease.
Canker
Also known as Trichomoniasis, Canker affects numerous types of birds including, doves, raptors, and pigeons. Raptors mostly get sick when they feed on pigeons and doves suffering from this disease. That is one of the deadliest bird diseases with high mortality rates.
A bird suffering from Canker shows specific symptoms, including lethargy, vomiting, fluffed-up feathers, difficulty breathing, and trouble swallowing.
Avian Tuberculosis
Most bird species are susceptible to this bacterial infection. A bird suffering from TB usually loses weight fast, drinks excess water, suffers from runny poop, and experiences considerable difficulty breathing. This disease can lead to sudden death in wild birds.
---
Conclusion
You are likely to encounter a sick bird at some point, especially if you are a bird watcher with feed spots in your compound. If you can identify a sick wild bird from the signs and symptoms that we have listed above, and if you find it necessary to help, please do so with extreme care.
Don't try to treat, force feed, or give water to a sick bird.
Always remember that you are a temporary caregiver to a sick wild bird. Wild birds don't fare well in captivity, and holding them is illegal in the US.
You can help a sick wild bird, such as a sitting pigeon, by providing a comfortable environment as you contact a wildlife rehabilitator or your local veterinarian.
---
Related