There is no denying that hawks are some of the most beautiful birds of prey you can ever come across. As much as most people fear these creatures, watching them in action is a sight you'd never want to miss. As much as are hawks are medium-sized birds; they appear at the top of the food chains. Actually, a few known predators in the world prey on hawks, including the red fox, raccoons, bigger hawks, and great-horned owls. When it comes to predatory behavior, hawks are among the leaders since they prey on most small birds and animals. With that being said, should these animals be on the lookout for hawks all day and night? Do hawks hunt at night? And if they do, should you be on guard 24/7 for your pets and songbirds?
Do hawks hunt at night? The answer is no. Hawks do not hunt at night. Hawks are diurnal birds meaning they are mostly active during the day, and they tend to roost during the nights. Also, it's possible to find hawks hunting just before nightfall. This is because hawks have exceptionally good eyesight: it has been found that their eyesight is 8 times better than the sight of the sharpest human eye; hence they can hunt and take cover without being easily spotted by their prey.
While we all agree that hawks are diurnal birds, it's important to note that they have some of the unique hunting techniques possessed by any bird. The question, 'do hawks hunt at night?' often pops up because of these creatures' unmatched eyesight and intelligence.
With their great eyesight, you have to watch these birds of prey closely to understand their activities and techniques. This is because one minute you might think you have them where you want, but it turns out that they were the ones who were fooling you all along.
Depending on the area they are residing in and the type of prey they're pursuing, hawks will behave entirely differently than you're accustomed to. For this reason, here is a breakdown of some of the things you might want to know about hawks hunting techniques;
---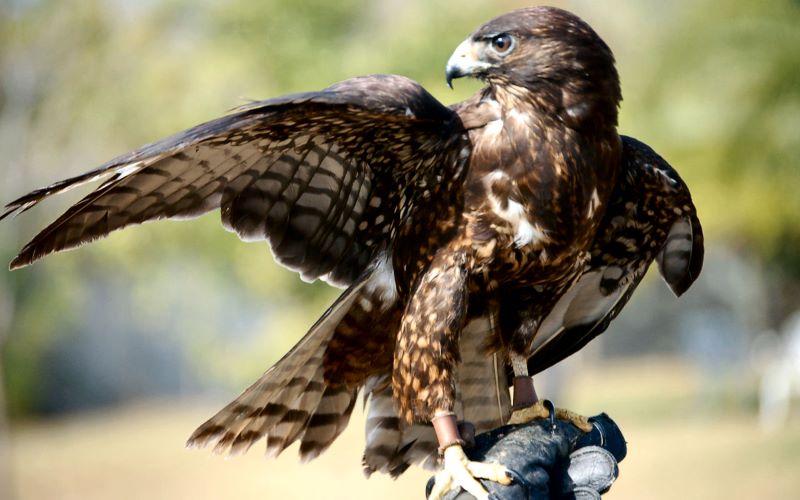 Do hawks really hunt at night or not?
Even if they might seem like they are doing it, hawks never hunt during the night. This is because they tend to take advantage of the dim evening light to take cover and hide from their prey.
Depending on the type of hawk, they can easily perch quietly throughout the night to throw off their prey. Most hawks do this because they have one of the greatest sights on the planet, and that's why they never hunt at night.
They'd rather perch somewhere close to their prey, watch it while they wait to make their move during the day. It is this patience that makes hawks some of the most efficient predators on the planet.
Named among the most intelligent birds in the world, hawks do not rely on their sharp claws during hunting like you'd expect them to. Instead, they prefer relying on their all-powerful eyesight to perceive their prey even in polarized and ultraviolet lights.
To put hawks 'eyesight into perspective, there are about a million per square mm photoreceptors inside their eyes. That's about five times the number in a human's eye. You will usually find hawks in forests, marshes, open savanna, rainforests, mountains, deserts, prairies, and even grasslands.
Since they are found in so many different places, hawks don't differentiate between pets and other wild animals. They will feed in either. Although they are categorized as medium-sized birds, the biggest hawk species named Accipiter Gentilis is about 69 centimeters in length, and its wingspan can stretch out about 127 centimeters in length.
With their intelligence and incredible eyesight, it's only right that hawks never hunt during the night. If you can see so well during the night, why not wait for a decent challenge during the day!
---
So what exactly do hawks do during the night?
Most hawks roost during the night. After the day's activities, they are likely to rest while gathering energy to go again the following day. When the sun sets, and there is no prey on their radar, hawks will stay put all night.
---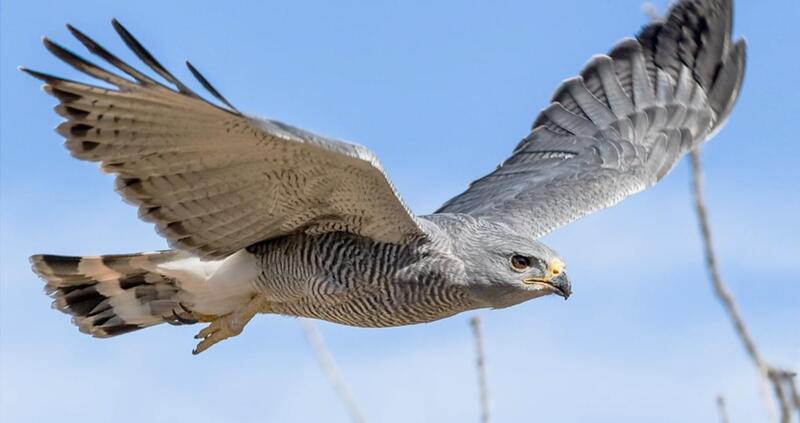 Why hawks' hunting techniques are a sight to behold
Hawks are naturally violent creatures, but their smaller size makes most people mistake them for gentle and harmless creatures compared to an eagle or vultures. Even though the average hawk will feed mostly on songbirds, reptiles, small insects, and amphibians, they should never fool you.
If you're a birdkeeper, a hawk's presence should be something to think about. This is because when most songbirds and even squirrels sense their presence, they're likely to leave their habitats in search of new ones.
The minute you overlook a hawk's presence around your bird feeders, they're likely to feed on any dive, starling, or sparrow that might be insight. However, while these birds' predatory behavior is bound to give you chills, their techniques are flawless.
When hawks fly, they tend to flap their wings very fast and vigorously. This gives them sufficient momentum to glide in the air graciously and smoothly. Seeing this in person is bound to take your breath away, and you'll end up regretting how you mistook them for calm birds.
---
How and what do hawks frequently hunt?
Most birds of prey, such as falcons, often use their talons to catch and hold on to their prey while they use their beaks to kill it. However, on the other hand, a hawk will kill its prey using its talons. While most birds of prey tend to kill their prey instantly, hawks usually take their time.
During this time, the hawk will use its talons to squeeze its prey and suffocate if it's that small in size. If the prey happens to be as big as a rabbit, hawks will step on top of it for long until they get a good grip of it.
This ensures that the hawk instills more injuries to the prey so that it doesn't have a chance of escaping. The talons among hawks are made in such a way that the first and second ones are huge while the rest are small in size.
It is the bigger talons that the hawks will use to tear their prey apart while the smaller ones keep it in place. If the hawk has caught a bird, they'll use their beaks to pluck out the feathers. This increases the injuries on the bird while also traumatizing it. It's important to note that hawks will start feeding on their prey while it's still alive.
---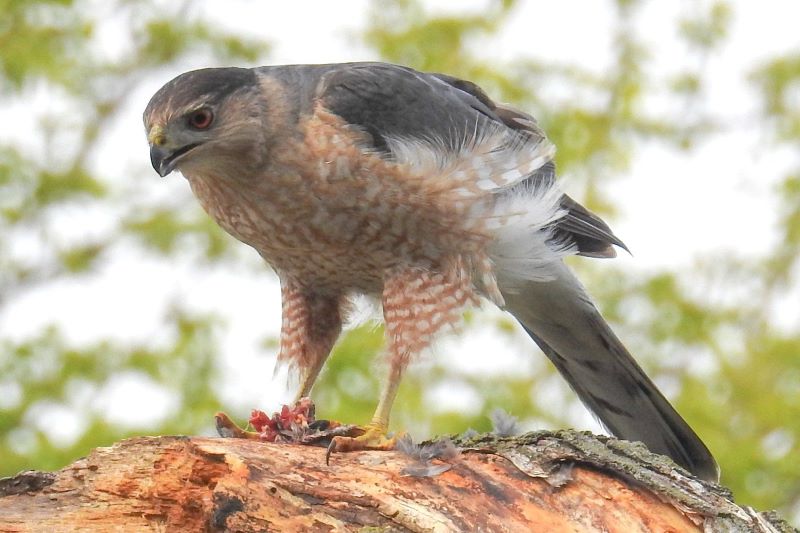 What are hawks' most preferred hunting times according to the weather?
An aspect that makes hawks such efficient hunters is that they are so flexible and opportunistic in their hunting. These creatures can adapt almost anywhere and keep on hunting as per usual. However, it's highly unlikely to spot hawks being active during the winter. Actually, during the winter and fall months, hawks are usually on lockdown in their habitats.
During the summer months, hawks are very active from early mornings until mid-morning. After that, they rest and resume their activities during the late afternoon. When the months are cooler, hawks will be spotted hovering in the sky for the better part of the day. During these months, these creatures will only attack their prey in the early morning hours.
---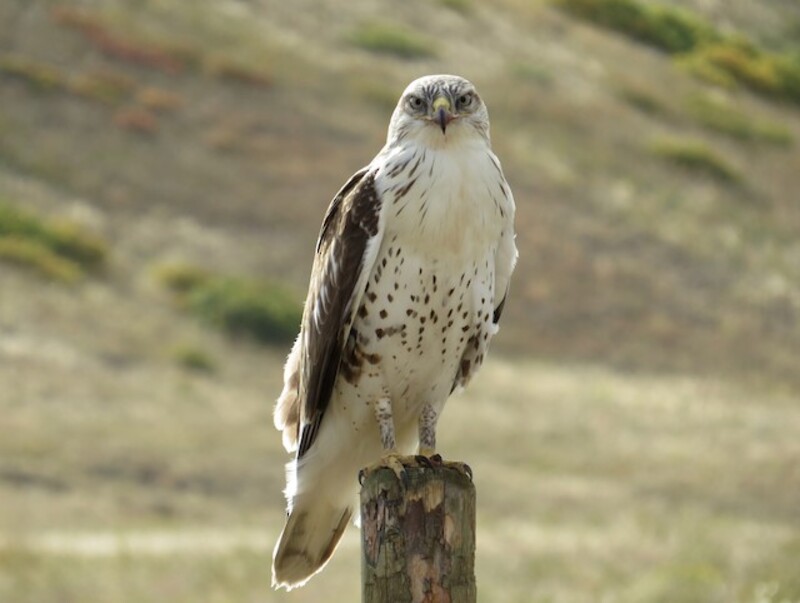 Steps you can take to protect your pets from being attacked by hawks
Keep your pets in covered spaces
If you're planning on leaving your pets outside and unsupervised, you might want to invest in a cage with a roof. Depending on the size of your pets, you can get a perfectly enclosed cage that will ensure that they still move freely. The main reason for adopting for an enclosed cage for your pets is to ensure that they can be outside without being victims of aerial attacks from hawks and other birds of prey.
Ensure your pets are always under supervision
It's very hard for a hawk or any other birds of prey to attack their prey if they spot another huge figure close to it. So if you can, ensure that you're always visible, more so when your pets are roaming in the garden or backyard. While supervising your pets, it's also important to ensure that you do not stand under an umbrella, a canopy, or roof.
Assemble your pets together
Another thing that can keep hawks away from your pets is when they appear in groups. This is because it's highly unlikely for a hawk to attack its prey when there are other animals around. This comes from the fear of being attacked by the other animals in defense or the other animals stealing its kill.
Ensure you feed your pets indoors
Feeding your pets indoors is bound to save your pets a lot. This is because when pets are feeding outside, they're likely to forget about their surroundings and become more vulnerable to any aerial attack by a hawk.
Also, another reason for feeding your pets inside is you minimize attracting mice and other rodents, which are the hawk's favorite food. Whenever a hawk attacks any given prey at particular surrounding, that place automatically becomes its productive hunting ground. For this reason, they are likely to come back and try their luck again.
Provide the necessary cover for your pets
If your pets love the outdoors, you can do one more thing to protect them from any attacks by hawks. For example, if your place is in the open, you can consider getting some tree covers to ensure that your pets are not so exposed to the sky. Even if the hawk was to spot the pets, having a dense trees cover will make things difficult for any hawk to execute its plan at all.
Try training your pets
Most of the times, cats and dogs tend to be playful and very friendly with birds. While this is cute, you should ensure you train them to be aware of any impending danger. You can train them on how to take cover whenever they sense danger outside.
---
Conclusion
Even though hawks are dangerous creatures and incredible hunters, watching them in action can be fascinating. However, to ensure that you don't fall victim of these creatures' hunting prowess, it's important to take the necessary measures to protect your pets. Also, keep in mind, although rarely, hawks can also attack humans if they feel threatened by their presence around their nests.
---
Related