People often either see squirrels as the cute furry things scurrying along their fence line or as the gross little rodents messing up their yards. The furry-tailed critters are a mix of both of these things. Many people have no clue that squirrels can actually harm the birds that come into your yard for a bite of food or to take a rest. The biggest question on some people's minds is, "Do squirrels eat birds?" We'll go in-depth to answer this for you.
---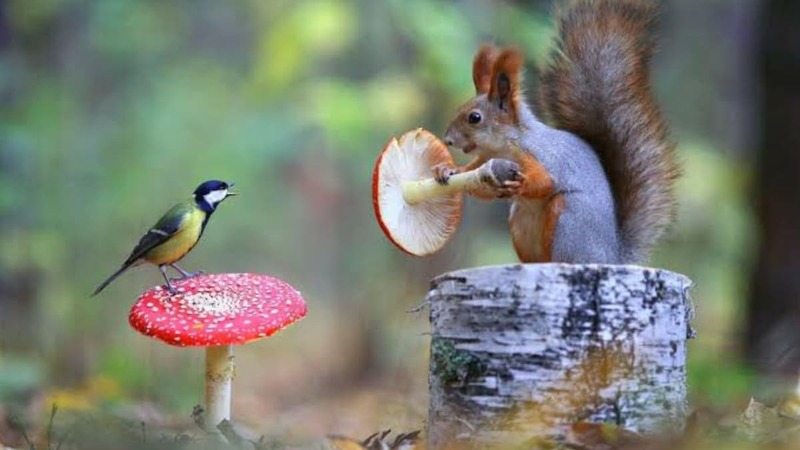 Do Squirrels Eat Birds?
If a squirrel is going to eat a bird in your yard, it's probably doing it more for sport and not for food. They may eat parts of the bird if they are really hungry. The main thing to worry about isn't a squirrel hunting a bird in your yard, but rather a squirrel eating the eggs and chicks in the nest of a bird.
---
The Kinds Of Bird-Eating Squirrels
You may not even realize there are different squirrels hanging out in your yard. Tree squirrels don't care about birds very much. They live alongside them and pretty much respect them. They might watch them, but never follow through with attacking them. A gray squirrel will often eat bird eggs and also nestlings. Fox squirrels sometimes dine on mourning doves and blue jays. Ground squirrels do eat a lot of meat, surprising to many people. Mainly this meat consists of tiny mammals and little lizards. They sometimes do eat sparrows, warblers, and even ducks. Flying squirrels have been known to eat nestlings, carrion, and eggs. They aren't usually known to eat adult birds.
---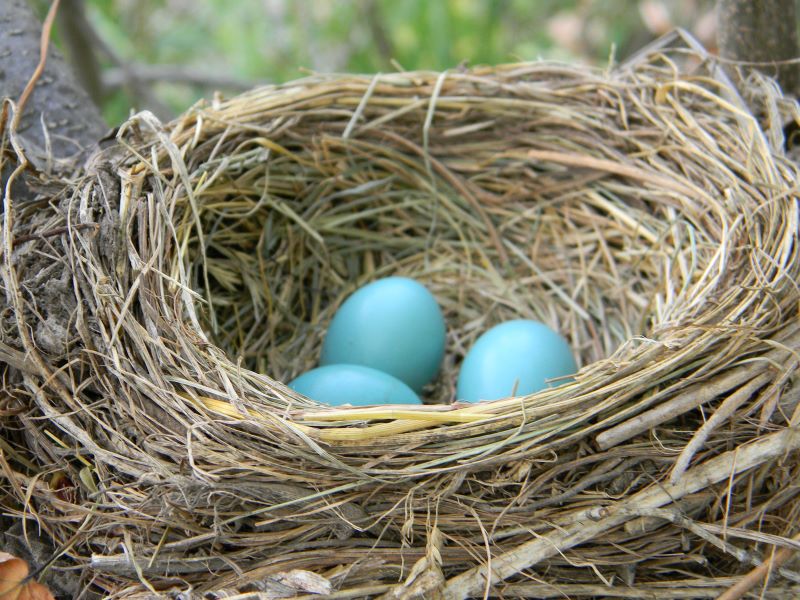 Why Squirrels Might Eat Your Birds Or Their Eggs
We've already explained that most of the time squirrels dine on birds for sport. You probably won't see the squirrels in your backyard hunting down the cardinals for lunch. They are opportunistic omnivores, meaning they'll take the chance if it's given to them. Overall, they don't really care about eating a bird. Interestingly enough, chipmunks and squirrels have both been found to be good hunters with some studies showing animal matter in 75% of squirrels examined. This might happen because the squirrel is very hungry. If it's missing out on essential vitamins or needs a nutrition boost, it will resort to eating anything that gives it that nutrition.
The reason a squirrel might eat your eggs or nestlings is almost the same reason that it has a breakfast of a full bird. Squirrels just take the advantage of anything and everything when they are hungry. They may be hanging out in the tree and notice a nest without any adult birds. This squirrel then feels comfortable enough to eat the contents of that nest. If the mother is around, the squirrel will probably move on. If there are a lot of squirrels in one area, you may see others scurrying into trees to see if there is any extra food. This food may come in the form of an egg or a nestling. The squirrel isn't thinking of the bird egg as an actual bird. It just sees it as a nice, yummy meal full of protein.
You may notice a squirrel taking the opportunity to eat a dead bird. They could be after the protein, fat or calcium of the dead bird. They may encounter a dead bird that has struck a window. Often when a bird is injured, it will then be eaten by an opportunistic squirrel.
---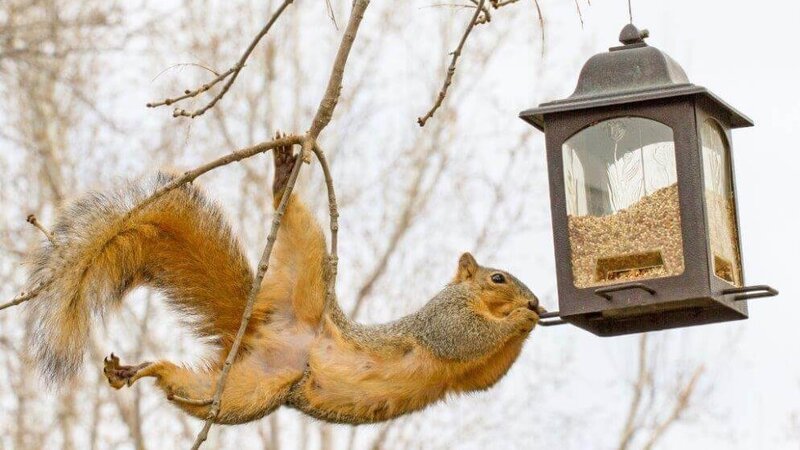 The Birdfeeder Issue
The biggest problems between birds and squirrels happen when squirrels take over the bird food in the feeder. A tiny squirrel overtakes the bird then sits on the feeder for however long it feels. It will sit there and just eat until its tummy is full. The poor bird then gets nothing. As long as the bird feeder stays full, the squirrel will ignore the birds and concentrate on the food. If more squirrels come to join in the feast, birds may start to stay away altogether.
---
How To Protect Birds In Your Backyard From Squirrels
You can do your part to help protect the birds in your backyard from squirrels. The main thing to do is to make sure your bird feeder is less accessible to squirrels to your furry friends. The secret to this is usually location. It's important to note that a squirrel can jump ten feet or more. They can also jump almost five feet off the ground. You should place your feeders away from porches, gutters, the roof, wires, and trees. Don't let squirrels trick you into thinking they won't jump far distances for their dinner. There are also bird feeders which are more squirrel proof than others.
---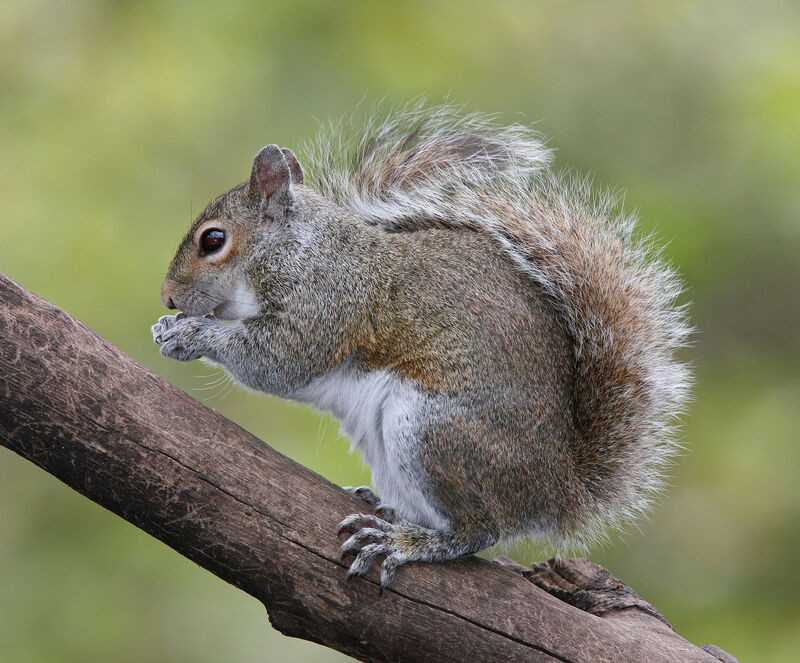 Best Way To Repel Squirrels
Squirrels are a lot smarter than they seem. They will climb and do all sorts of contortions to get what they want. They know they are bigger than the birds in the feeder. They can chew through almost anything. The good news is that you can keep them away from your bird seed. Since squirrels have large heads, you can get feeders that are enclosed in a cage. This is also beneficial because bigger birds cannot get to your feed. You can also get bird feeders that have weight-sensitive perches. This means the ports close when a heavy squirrel sits on the feeder.
Squirrels hate spicy food. You can buy bird seed with added cayenne pepper or add chili peppers yourself. Birds don't seem to mind the pepper ingredient capsaicin as it isn't harmful to them at all.
---
How To Attract Birds Without The Squirrel Action
Squirrels seem to love birdseed because it often includes peanuts and sunflower seeds. You can easily fill your bird feeder with this type of food that squirrels don't seem to enjoy as much. Birds also enjoy thistle seed, but squirrels don't usually eat it. Ground feeding birds are attracted to a small seed called the white proso millet. Titmouses, cardinals, and chickadees love safflower seeds. Squirrels don't seem to feast on this type of seed either. They would eat it if they were dying of hunger, but they usually sniff it and leave it.
You can also put your black oil sunflower seeds in a tube feeder just for finches. Squirrels cannot get into this tube. Always keep these seeds separated from each other.
---
What To Feed Squirrels
You don't have to fight squirrels all of the time. You should welcome them into your yard to live beside the other little friends. You can provide special food that sits lower for them. They love to eat peanuts, corn, and sunflower seeds. You might not want to put this out overnight as you may attract some rats, raccoons, and opossums.
So, do squirrels eat birds? The answer is both yes and no. They don't only feast on the feathered friends, but they will when given the opportunity. The animals can happily live together in your backyard if they're fed in different places. Both types of creatures are fun to watch, but it's important ot remember squirrels are sneaky little fellas. They look sweet, but they'll a yummy little bird egg with their first pang of hunger.
---
Related