It's amazing to see a hawk perched on a fence post or a telephone pole seemingly just hanging out. Sometimes they'll circle over your head. Sometimes it seems like these hawks are everywhere as you drive down the road. The truth is that hawks aren't there just to hang out. They're always looking for food. In this article, we're zooming in on the hawks in Missouri. By the time you're done reading, you should be able to identify most any hawk you can see in the greater southern United States.
The open road is their best friend as they search the fields for their prey. The bonus is that you get to see these majestic creatures. The bad news is that you might not see many in your backyard unless they're hunting your bird friends. Most of the time, you'll spot a "red-tail" because they're the most common hawk in Missouri. Other times, you'll get a glimpse of one of the other extraordinary species of hawks. We've got some of the top species of hawks in Missouri.
---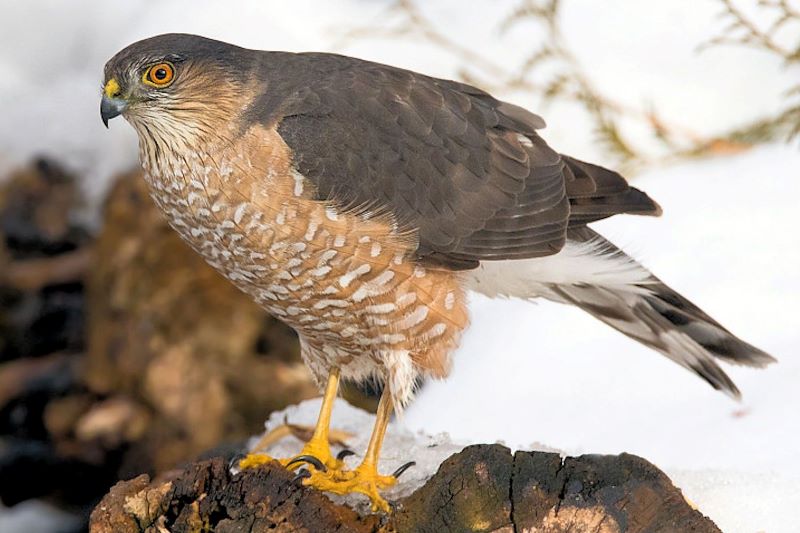 Sharp-Shinned Hawk
The Sharp-shinned Hawk is one of the smallest hawks you'll see soaring through the daytime skies. It ranges from about nine to 13 inches long and only weighs up to about seven ounces. Its wingspan still ranges to above 20 inches. These beautiful birds have a variety of different colors of brown feathers. They have pale brown feathers along their bellies with dark brown wings.
These graceful fliers can be found everywhere in North America. In Missouri, they have a non-breeding population. Sometimes during the winter, they will fly on up to Canada or Alaska to breed. You can still some hanging out in the winter in Missouri.
The Sharp-shinned Hawk loves to hang out by your backyard feeders. They want to eat your food and take down those birds trying to get it. If they're bothering your birds, you can take down the feeders for a few weeks until the hawk decides to leave it alone.
You won't find this type of hawk nesting in the lower tree areas. They only nest in the dense parts of the forest. They aren't as active during their breeding seasons to help reduce the risk of becoming prey. Sharp-shinned Hawks will often next together in the deep forest cover. They usually produce from three to eight eggs each time.
Sharp-shinned Hawks like to dine on the smaller species of songbirds. They are pursuit hunters, not opportunity hunters eating anything in their path.
Most of the time you will spot this type of hawk in the western half of the state.
---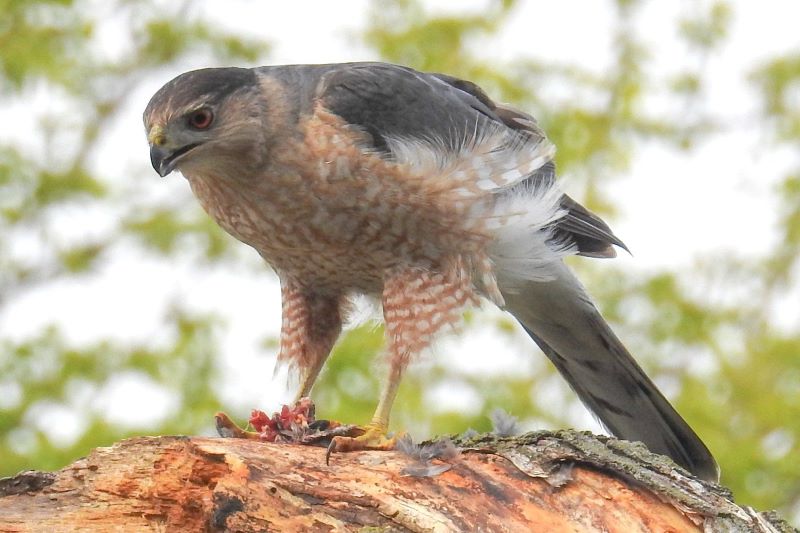 Cooper's Hawk
Cooper's Hawks look a lot like a larger version of the Sharp-shinned Hawk. With a length of up to 17 inches and weighing up to 24 ounces, they are a little bigger. They have a large wingspan up to 35 inches. A Cooper's hawk has a much larger head than its body. Their bellies are covered in red feathers with gray along their wings and backs.
Cooper's Hawks like to stalk your bird feeders. They almost feed exclusively on birds. They live in wooded areas and forests. They'll nest in backyards and suburban wooded areas if they think they can find more food in these areas.
You might get lucky and see one of these hawks in a park. The male and female will build a nest together. This only happens after the male performs a bow display for the female hawk.
You'll usually see these in all regions of Missouri, mostly during their breeding seasons. They're most common in the central regions.
---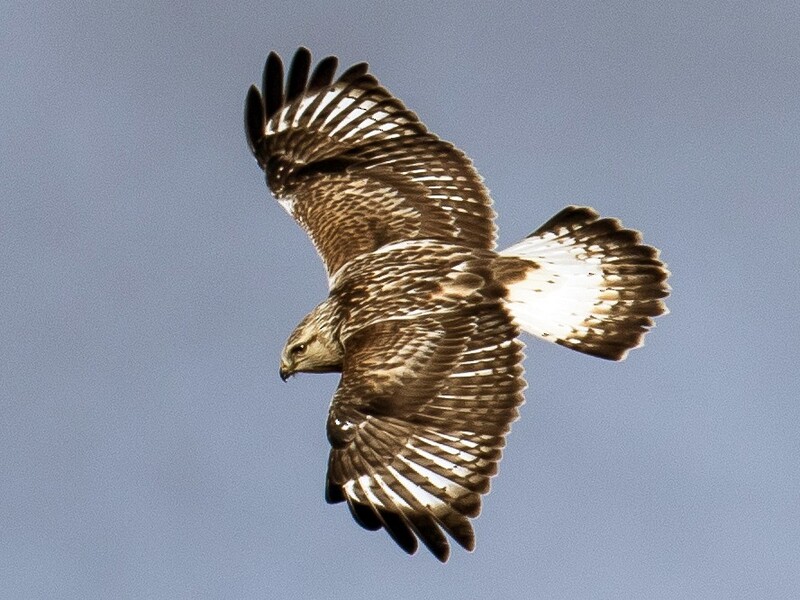 Rough-legged Hawk
Rough-legged Hawks are one of the only types of hawks that have feathered legs and toes. Some are light while others are dark. Males and females look very different. Light morphs are lighter overall with a big of a mottled look. Dark morphs are brown with two tones of light and dark under their tails and wings.
Rough-legged Hawks are about 18 to 20 inches long and weigh from 25 to 49 ounces. They have an impressive wingspan up to 54 inches.
These birds are usually best seen in winter. They are in Missouri during the non-breeding times. They'll migrate up to Alaska or northern Canada each year to breed.
---
Northern Harrier
The Northern Harrier has an interesting name compared to other hawks, and perhaps was aptly named because of its aggressive nature. It has brown patches of feather along its pale body. The wings of this hawk have pale grey feathers. With a length of up to 19 inches and a weight of about 26 ounces, this hawk is a good size. The Northern Harrier has a wingspan that ranges from about 20 to 46 inches.
This is the only harrier variety of hawks that is indigenous to North America. They usually spend winters in warmer climates, and they have breeding grounds that go all the way to Canada. Northern Harriers enjoy living in marshes and fields.
These hunters rely on their vision and hearing to hunt. They're the species of hawk that is most like an owl. They'll even drown their prey if needed. Male Northern Harriers will sometimes balance five females at once. It's more common to have one or two, but these hawks know how to lure the ladies.
Male and female Northern Harriers are very territorial over their nests. The male will often chase another male away. Females defend the nest from other females.
You can spot these hawks throughout the year in Missouri, mainly in the south west area.
---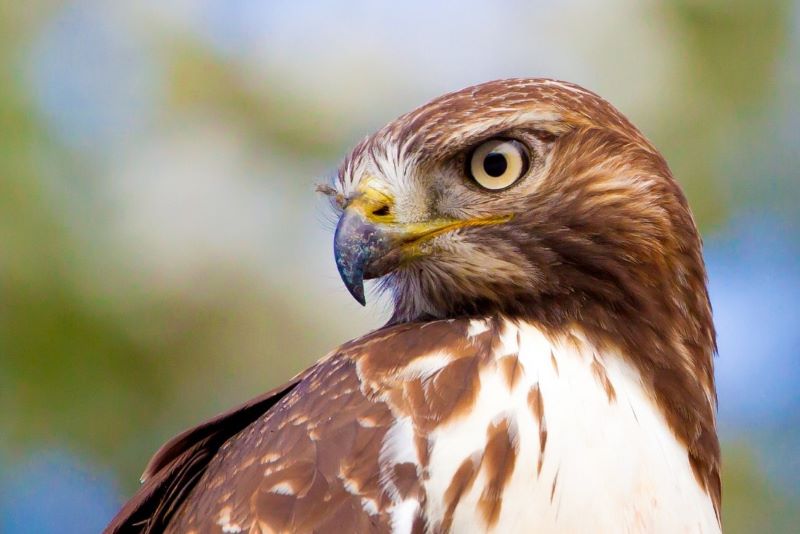 Red-tailed Hawk
The Red-tailed Hawk is the most common hawk in North America with about two million birds. They range in length from about 17 to 25 inches and weigh about 24 to 51 ounces. They have a large wingspan of 44 to 52 inches. These exquisite birds are broad with rounded wings and a wide tail. Living up to its name, they have a red tail.
Red-tailed Hawks won't usually be found in your backyard unless you have a very large area of land where they can happily hunt for mammals. They have a stereotypical raspy scream. In fact, most movies and television shows depict any species of hawk as having a Red-tailed Hawk's screech.
You can spot a Red-tailed Tailed Hawk throughout Missouri all parts of the year. You'll see them often soaring above your head looking for food. Sometimes they'll perch on telephone poles or high fences.
---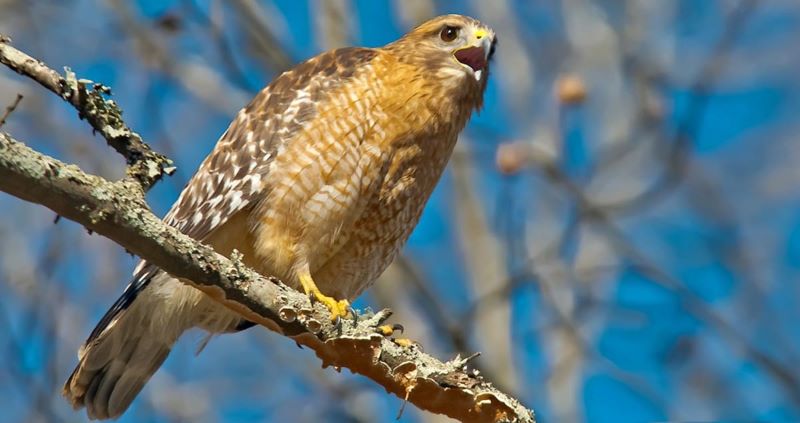 Red-shouldered Hawk
The Red-shouldered hawk is an extravagant bird with checkered-patterned wings on its wings. These medium-sized hawks range up to 24 inches long and weigh up to 27 ounces. They have a wingspan from about 37 to 43 inches.
You can see these hawks throughout the year in southeastern Missouri. They love to eat birds, amphibians, small mammals, and reptiles. Red-shouldered hawks won't usually hang in your backyard. You'll find them nesting in the same spot year after year in dense forests and heavily wooded areas. They love to make nests near swamps. Male red-shouldered hawks show off for a mate by doing a series of dives in a mating display. This is known as a special "sky dance."
Red-shouldered hawks have seen a boost in population in the last few decades. Clearing of wooded areas has been a large threat to the species.
These hawks are highly territorial. They're known to attack crows and owls that get on their space. They've even been known to attack a human that tries to get too close to a nest.
---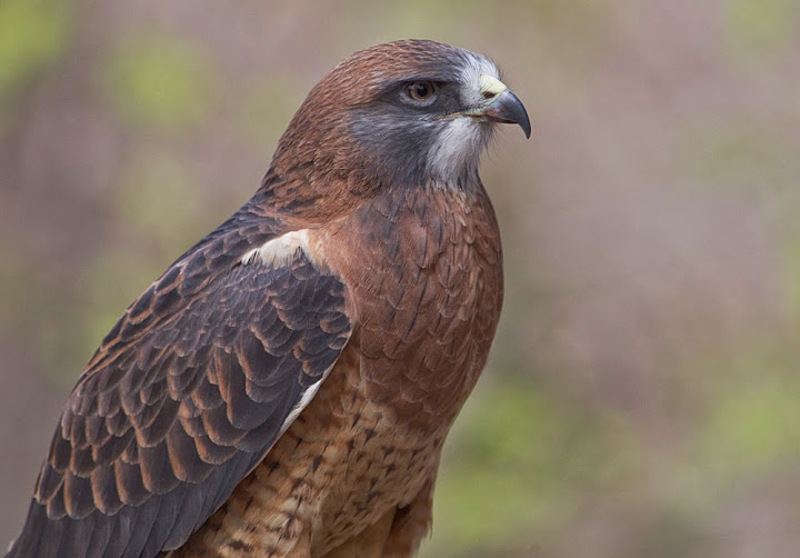 Swainson's Hawk
Swainson's Hawks have paler feathers on their bellies and breast with darker brown and grey feather along their back and wings. They range from 18 to 22 inches long and weigh up to 48 ounces. Their wingspan is a stunning 48 inches.
Most hawks don't enjoy the open grasslands like Swainson's Hawks. They prefer the grasslands over the forests. They hunt their foot on foot, so this gives them the advantage to find small mammals in the grass. Breeding pairs of Swainson's Hawks are monogamous. Both hawks are very aggressive if anyone gets on their territory. They're known to pick a fight with another bird trying to step into their hunting ground.
These birds have a long migration period. It's one of the longest of all the North American raptors. They migrate by the thousands from southern South America. their flocks are called "kettles."
Since Swainson's Hawk are migratory, you'll only see these hawks in Missouri during their breeding seasons. They're usually spotted in the western half of Missouri mostly in April and September. You'll see them perched on fence posts, tree branches, and telephone poles. They're constantly scanning for small mammals and other food.
---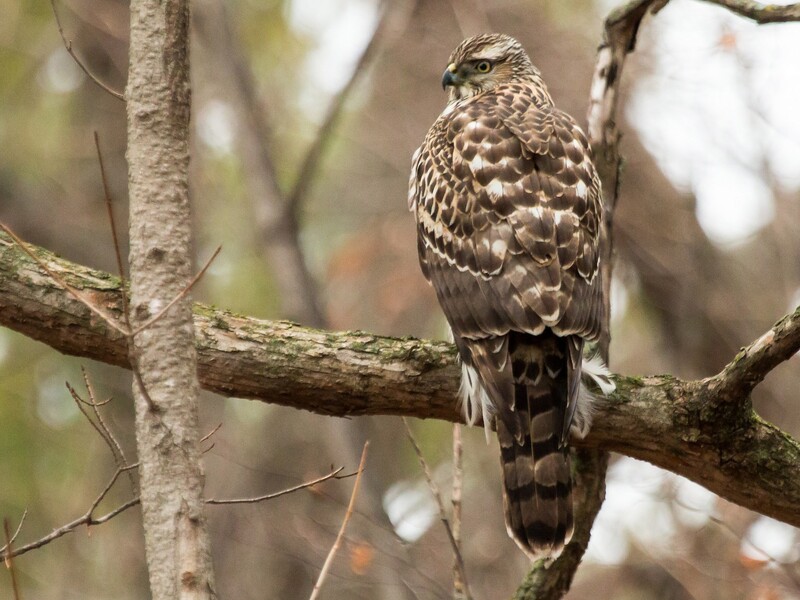 Northern Goshawk
Northern Goshawks are a larger species of hawk. They range from about 21 to 25 inches long and weigh up to 48 ounces. With a wingspan of up to 46 inches, these birds are fun to watch fly through the sky. The adult Northern Goshawk is dark gray on top with a light gray underbelly. They have a stripe over their eyes.
Don't expect to get to view many Northern Goshawks. They are pretty scarce and don't breed in Missouri. It's tough to find them as they like to live in big forests with large trees. They are known to be very protective of their nests. They'll even attack you if you come too close to their young. But if you do happen to see one throw it into your birding journal because you more than likely just spotted a lifer!
Northern Goshawks are known as opportunistic eaters. They'll eat a wide array of food. They love mammals, carrion, insects, and other birds.
---
Broad-winged Hawk
The broad-winged hawk lives up to its name for its large, circular-shaped wings. With a wingspan ranging from about 30 to 39 inches, they're an exciting bird to see. Broad-winged Hawks have brown wings and heads with a pale-colored belly.
These hawks like to make a home close to the water. They usually hang out in forest areas with nearby water areas. You won't usually see them in urban areas.
The Broad-winged Hawk migrates each year with thousands of others, called "kettles." They only have one brood every year with up to five eggs. The female works to construct the next while the male helps a bit. They both protect the nest and always build the nests with almost a mile of separation between themselves and other birds.
Not all of these hawks stay with the same bird for years. Sometimes they will mate with different hawks, and other times they will stay with the same mate forever. Broad-winged Hawks don't interact with each other if it's not breeding season.
This type of hawk is one of the most popular hawks in Missouri. You can see it during their breeding seasons throughout the entire state.
You can spot these hawks throughout the year in Missouri, mainly in the south west area.
---
Conclusion
Missouri is a wonderful place to spot different types of hawks. Hawks in Missouri enjoy the nice weather and are often easy to spot on the open road. Next time one is gliding over your head, you'll be able to identify it a little better. Just watch out if they're hanging out by your feeders trying to steal the birds for their dinner.
---
Related
You shouldn't go anywhere in your birding adventures without a proper birding journal. Check out our reviews of our favorite birding journals, some of which are leather-bound and/or come with additional bird identification resources.
Hawks are very vocal birds. Especially when trying to mark their territory to other nearby aerial predators. Learn how you can better your ear and identify hawks without seeing them in How To Identify Birds By Their Sounds.