Hawks are predatory birds from the family Accipitridae which they share with eagles and kites. They live mostly on hunting small mammals and birds and can often be seen circling high in the sky or perched on a high post as they search the ground for their prey. In this article, we're taking a look at hawks in Texas that you can commonly see patrolling the skies in the lone star state.
Spotting a hawk in flight is a mesmerizing experience that even non-birdwatchers know well. Your head tilts back and everything disappears except for the slow flight of one of nature's most beautiful predators. They are grace and power made flesh and viewing them is always a gift.
There have been 18 different species of hawks in Texas with documented sightings. Just five species are native to the region while 13 others are migratory and only visit the Lonestar State to escape the winter, or for the purpose of breeding. A few species have only been spotted in specific areas and would be considered a rare find.
Below is a guide to help you identify these hawks, where to go to find them, and the best time of year to catch seasonal visitors.
---
Native Species
These species spend most of their time in Texas and can be found throughout the year.
---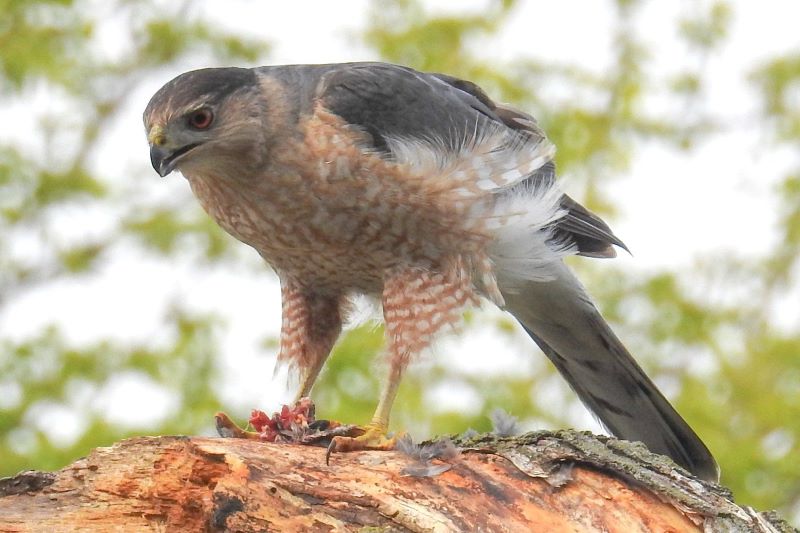 Cooper's Hawk – Accipiter cooperii
This medium sized hawk likes to hang out in backyards, especially when there are bird feeders. Not because they like the birdseed but because they like to hunt other birds. Backyard bird feeders are the bait piles of the Cooper's Hawk world.
Location
Eastern Texas, Western Texas, Central Texas (winter)
Identifying Marks
The heavily hooked bill and red eyes of the Cooper's Hawk stand out at close quarters. The blue-gray top feathers mix with a black cap and pale undersides. Thick reddish barring throughout the leading edges of its broad wings and black and white barring on the flight feathers make this hawk easy to pick out.
Dimensions
| Length | Wingspan |
| --- | --- |
| 15-18in (38-46cm) | 24-35in (61-89cm) |
Behaviors
The Cooper's Hawk is an aggressive predator that uses stealth to actively stalk its prey. Moving from cover to cover, it will sneak within range and then pounce with a short powerful flight to its victim before it even knows it is in danger.
When courting, both males and females will fly with slow and exaggerated flapping of their wings to attract a mate. Once paired, the male will spend a month keeping the female fed before the eggs are laid. They will use squirrel nests or whatever is available for a foundation for their bulky nests. They prefer to build high up in leafy trees.
---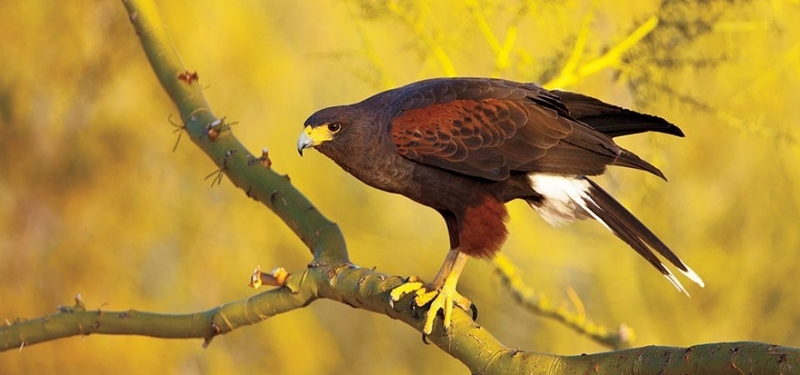 Harris's Hawk – Parabuteo unicinctus
This large and oddly sociable hawk prefers country that is dry and open, such as the mesquite brushland found in Texas and Mexico.
Location
South Central Texas, Eastern Texas (uncommon), Central Texas (uncommon)
Identifying Marks
This is a large hawk with long legs and broad, rounded wings. The body and underparts are dark with reddish shoulders and inner leading edges of the wings. The tail is white at the base and leading edge with a single dark band in-between.
Dimensions
| Length | Wingspan |
| --- | --- |
| 18-2 in (46-58cm) | 41-47in (1.04-1.19m) |
Behaviors
The Harris's Hawk hunts through active pursuit of its prey, chasing it around the dry foliage of the bush. They have been known to hunt in groups of up to seven and will share their kill with their hunting partners. It has been suggested that the larger the hunting group the longer the lifespan of its members.
Their sociability carries into courtship with the formation of triads when nesting. Two males and a female cooperate to raise the young in their bulky nests. Harris's Hawks tend to prefer small trees or huge saguaro cacti for their nests.
---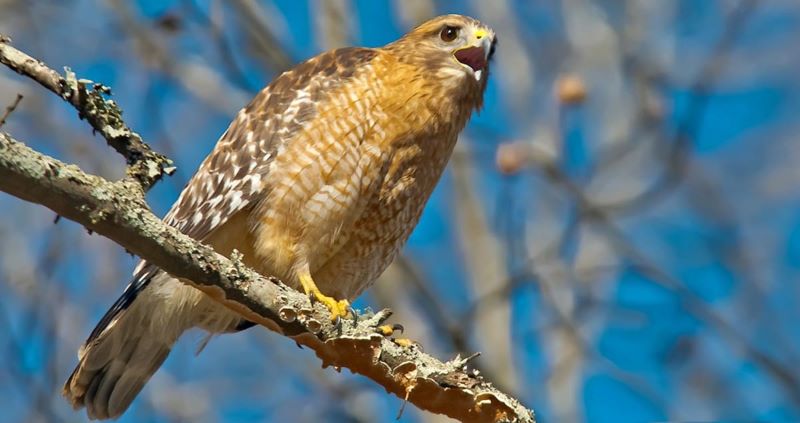 Red-Shouldered Hawk – Buteo lineatus
This medium-sized, woodland hawk has become less common than in the past, but the population seems to have stabilized. It is most likely to be spotted among the high trees near a river or within a swamp.
Location
All of Eastern Texas, South Central Texas, North Central Texas (uncommon)
Identifying Marks
The black and white banding of both the tail and the flight feathers are helpful in spotting the Red-shouldered Hawk. The reddish brown body is slim with the coloring extending out to the inner leading edge of its wings. The head is small while the tail is long. In flight, the wings square off at the tips.
Dimensions
| Length | Wingspan |
| --- | --- |
| 17-24in (43-61cm) | 37-43in (94-109cm) |
Behaviors
The Red-shouldered Hawk will hunt from a perch both in the forest and in open areas. It will also fly low over open fields to catch their prey unaware. Their call is whistling and clear, but don't let a Blue Jay fool you with their near perfect mimicry of the Red-shouldered Hawk.
When courting, the male will make steep climbs and rapid dives while calling out. Once paired the couple will circle and call above their nesting area. They create platform nests in forks of trees high off the ground.
---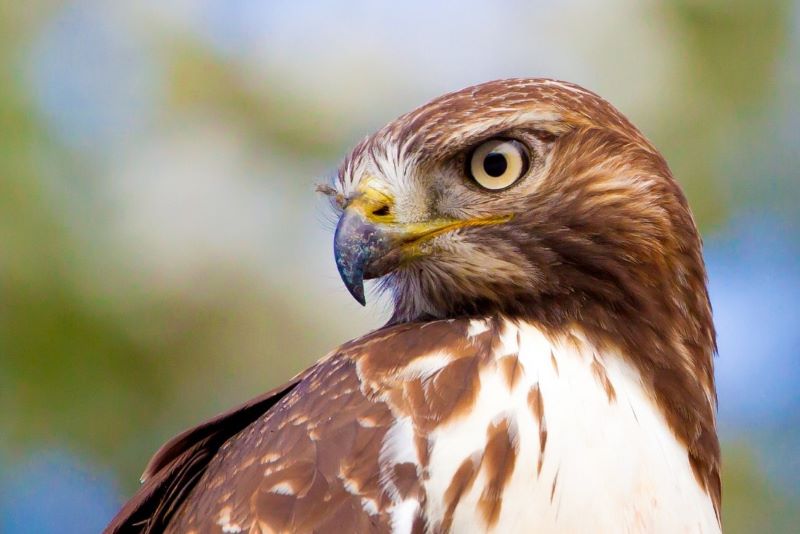 Red-Tailed Hawk – Buteo jamaicensis
One of the most common raptors in North America, the Red-tailed Hawk feeds mostly on small mammals, birds and reptiles.
Location
Common throughout Texas
Identifying Marks
The Red-tailed Hawk can be found with a variety of plumages with dark and rufous phases. Their wings are long and broad with mottled coloring underneath except for the dark patagial markings on the inner leading edges of each wing. The tail is short, wide and reddish in color for adults. Juveniles lack the red tail. Their dark brown heads and light colored breasts with a mottled belly band can help you identify them from a distance.
Dimensions
| Length | Wingspan |
| --- | --- |
| 17-25 inches (43-63cm) | 45-52 inches (1.14-1.32m) |
Behaviors
The Red-Tailed Hawk prefers high perches above open fields and alongside roads. It will launch from its perch to catch its prey with its sharp talons. It can also be seen flying across fields in a lesser used hunting pattern.
When courting, the breeding pair will circle high while calling to one another. The male performs daring dives and aerobatic maneuvers and will even pass food to its mate mid-flight. Their nests are bowl shaped, often with green leafy branches used in the construction. Location varies from the arms of cacti to high up in the tallest trees to cliffsides.
---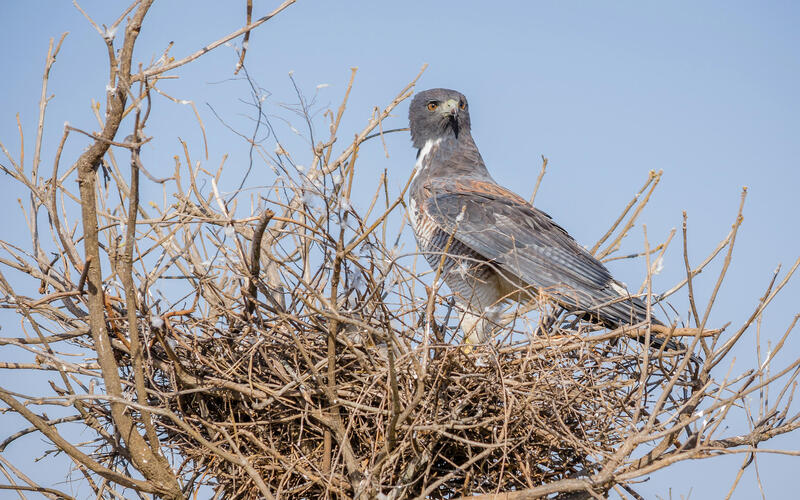 White-Tailed Hawk – Geranoaetus albicaudatus
Most common in tropical areas and preferring open areas, the White-tailed Hawk has been known to winter on Padre Island, Texas though they no longer nest there.
Location
Southeast Texas
Identifying Marks
Sporting a wide white tail tipped with a black band, this hawk has broad wings with pointed tips. The undersides have barring leading to dark bands on the trailing edges of the wings. The breast is barred and the body looks heavy for a hawk.
Dimensions
| Length | Wingspan |
| --- | --- |
| 17-24in (43-61cm) | 46-56in (1.17-1.42m) |
Behaviors
Uses steep dives to capture its prey and has been known to catch insects mid-flight. Far from being a foodie, the White-tailed Hawk will eat whatever it can catch and will even feed on carrion.
Courtship rituals remain a mystery with the White-tailed Hawk though males and females have been spotted on the ground with the male pulling at shoots of grass. Their nests are built in low trees and shrubs close to the ground.
---
Just Passing Through
Migratory hawks can travel incredible distances every year. Most pass through Texas on their way to or from warmer climes.
---
Broad-Winged Hawk – Buteo platypterus
A small hawk that prefers woodland areas with water nearby. They are a long distance migratory species that travels in large flocks, fleeing the winter weather in the eastern half of the United States. They pass through Texas on their way to the warmth of Central and South America.
Location
East Texas, South Central Texas, All of Central Texas (uncommon)
Identifying Marks
The wings on these small hawks are notably broad and come to slightly pointed tips. The tail feathers have thick bands of high contrast color and the breasts are likewise barred. There is a bold outline on the trailing edges of the wings.
Dimensions
| Length | Wingspan |
| --- | --- |
| 13-17in (33-43cm) | 31-39in (79-99cm) |
Behaviors
A patient hunter, the Broad-winged Hawk hunts most often from a perch, and waits for its prey to wander into its path. They have been observed hunting in flight but it is not as common. When migrating they will gather by the thousands and will be seen filling coastlines and shorelines with their numbers as they rest.
---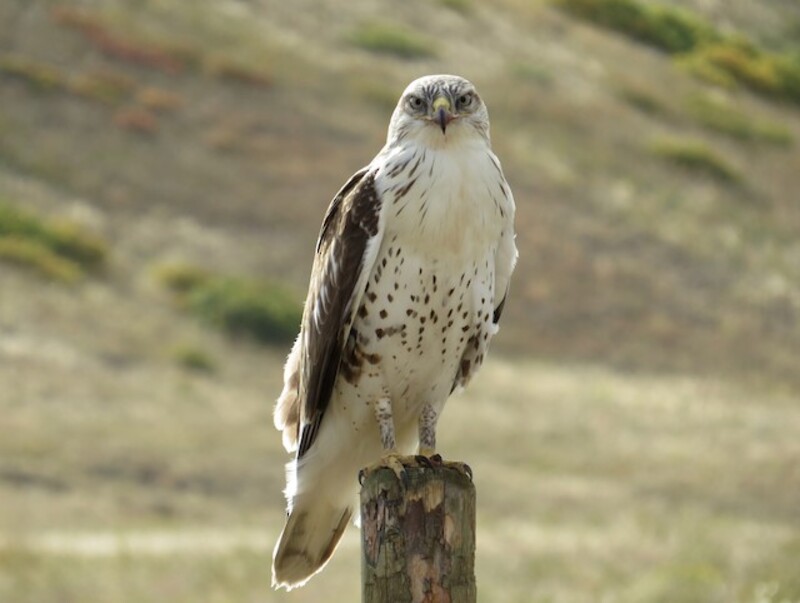 Ferruginous Hawk – Buteo regalis
These larger hawks spend their winters in Texas and are seemingly unimpressed with humans. They will allow a close approach while displaying neither concern nor interest. They prefer the open plains over which they will soar in groups of up to 10. They are currently a threatened species with an estimated population of only 4,000 mating pairs.
Location
The entire western half of Texas (winter only)
Identifying Marks
Literally meaning "rust-colored", the Ferruginous Hawk is a large rusty brown hawk with light colored undersides and rusty highlights along the breast and the leading edges of the wings. The trailing edges of the flight feathers have a shaded outline and the broad wings are pointed at the tips. It is one of only two hawks in North America to have feathered legs.
Dimensions
| Length | Wingspan |
| --- | --- |
| 22-27in (56-69cm) | 53-56 in (1.35-1.42m) |
Behaviors
These hawks watch for prey while soaring high with their wings held in a shallow 'V'. They will roost in groups of 5 to 10, being atypically social hunters. Their prey ranges from snakes to squirrels and jackrabbits. They have also been known to stand outside gopher holes and ambush their prey as it exits the hole.
---
Northern Harrier – Circus hudsonius
The only harrier in all of North America, the Northern Harrier breeds in Canada and winters throughout the southern United States and as far south as Central America. They are fond of open areas with ground cover and are often near water or marshes.
Location
Throughout Texas (winter)
Identifying Marks
The Northern Harrier has long, broad wings and a long tail. There is a white splash across the rump. They are grayish on top with with a dark border on the trailing edge of each wing. Females have pale undersides with brown streaking that is quite stunning and make it one of the most beautiful hawks in Texas.
Dimensions
| Length | Wingspan |
| --- | --- |
| 18-19in (46-48 cm) | 40-47 in (1.02-1.19m) |
Behaviors
This hawk makes low flights while scanning for its prey. The Northern Harrier uses its keen sense of hearing when it hunts, listening for the sound of prey diving for cover. It will drown larger prey if necessary.
---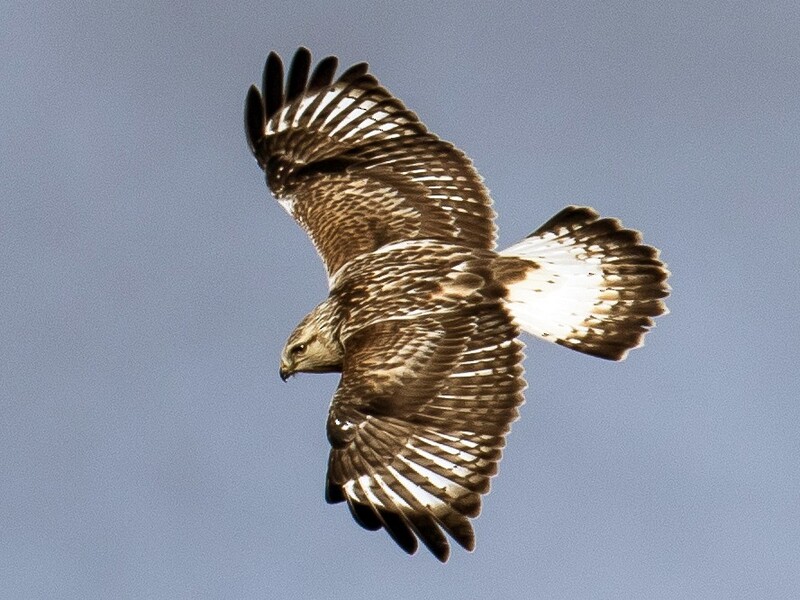 Rough-Legged Hawk – Buteo lagopus
This hawk prefers the tundra and arctic coasts most of the year but prefers to winter in warmer climes. North Texas represents the southernmost region of their migratory patterns.
Location
Texas Panhandle (uncommon)
Identifying Marks
One of only two hawk species in the United States to have feathered legs, the Rough-legged Hawk is a large specimen with narrow wings. Its undersides are light colored with dark spots at the wrists and a tail with a white base and dark banded tip.
Dimensions
| Length | Wingspan |
| --- | --- |
| 18-21in (46-53cm) | 52-54in (1.32-1.37m) |
Behaviors
A soaring hunter the Rough-legged Hawk hovers over open fields while watching for prey. They will occasionally hunt from a perch or via pass over flights.
---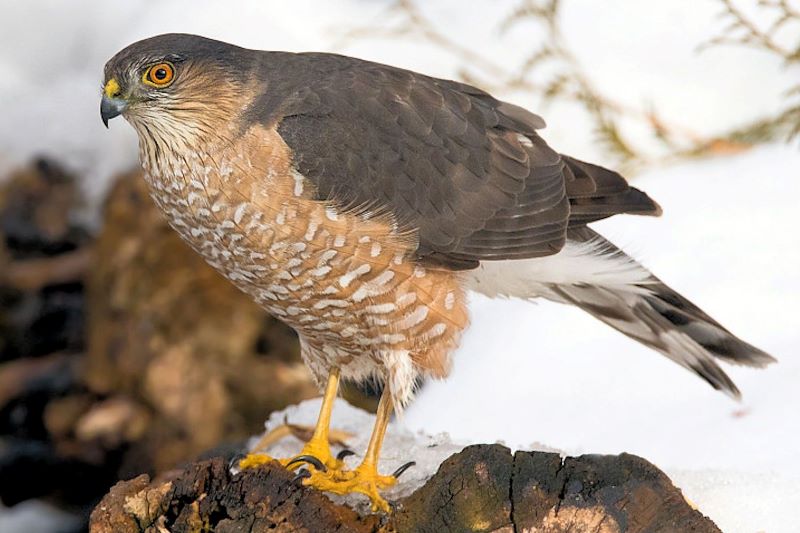 Sharp-Shinned Hawk – Accipiter striatus
Difficult to spot unless migrating, the Sharp-shinned Hawk is the smallest bird-hunting hawk in the United States. It is another long distance migratory species and will breed amongst the tree-line of Alaska and Canada and winter in as far south as Panama. Look for them in the fall months.
Location
All of Texas (fall and winter)
Identifying Marks
A small hawk with a long tail and a small head. They have blue-grey feathers above and long skinny legs below. Their breast has red-orange bars throughout. Juveniles have brown feathering up top and thick brown streaks down the front.
Dimensions
| Length | Wingspan |
| --- | --- |
| 9-13in (23-33cm) | 17-22in (43-56cm) |
Behaviors
The Sharp-Shinned Hawk prefers to let its favorite prey, songbirds, blunder past its hiding spot for a sneak attack, but will stalk its prey if necessary. Due to their hunting style they are difficult to spot.
---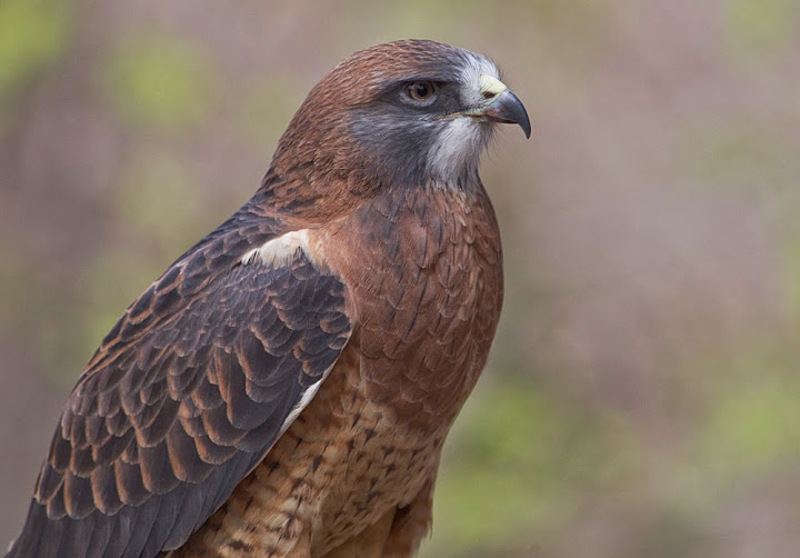 Swainson's Hawk – Buteo swainsoni
This graceful hawk has a lengthy migratory pattern and travels up to 12,000 miles each year. Their path takes them from the northern reaches of Canada all the way to southern South America and back. They pass through Texas around the months of April and September.
Location
West Texas, Central and North Central Texas, Texas Panhandle, South Central Texas (uncommon)
Identifying Marks
This is a large hawk with long wings and grey coloring. They can be light or dark, but always have high contrast between the body, head and leading wing edges and the flight feathers. The upper breast is darker than surrounding markings which gives a hooded impression. They tend to lift their pointed wings slightly when soaring.
Dimensions
| Length | Wingspan |
| --- | --- |
| 19 – 22in (48 – 56cm) | 48in (1.22m) |
Behaviors
Swainson's Hawk migrates in flocks and can be found in large groups running around and picking through fresh-turned farmland while feasting on insects. They will soar or perch when hunting for larger prey. In breeding season you can observe pairs in steep curling flights of courtship.
---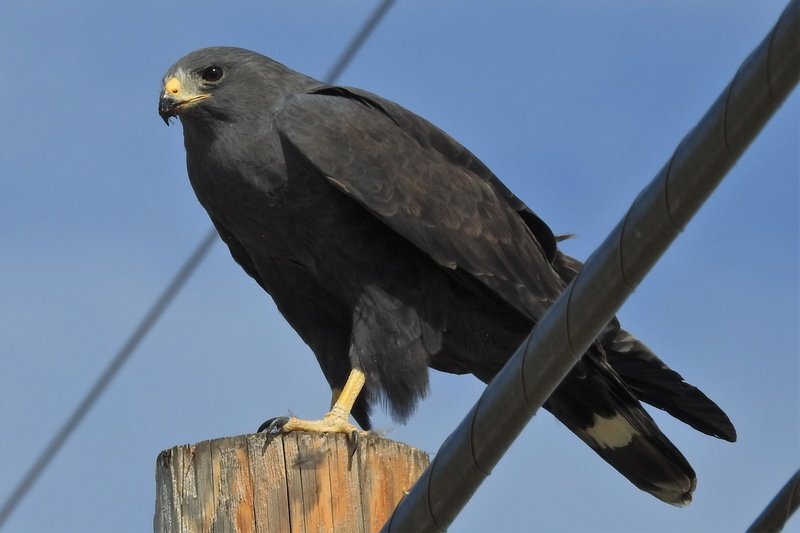 Zone-Tailed Hawk – Buteo albonotatus
Visiting the American Southwest only to breed, the Zone-tailed Hawk soars masterfully and uses its similarity to Turkey Vultures to its advantage.
Location
Southwest Texas, Texas Horn (along the border)
Identifying Marks
A large hawk with a wide banded tail with a black tip and feathers that can appear ragged. The top is dark with a yellow bill and dark leading edges underside the wings. The flight feathers are barred with a dark trailing edge.
Dimensions
| Length | Wingspan |
| --- | --- |
| 17-22in (43-56cm) | 47-55in (1.19-1.4m) |
Behaviors
Prey animals mistake this predator for the mostly harmless Turkey Vulture due to their coloring, ragged looking tail, and a tippy, vulture-like flying style. The Zone-tailed Hawk uses this to get their prey to ignore them as they maneuver to the perfect angle before striking. Breeding pairs will circle and call to one another high in the sky with some males making steep dives that barely clear the ground before they pull up.
---
Rare Finds
These hawks are highly localized and rare finds in the State of Texas but that doesn't mean the species isn't common elsewhere.
---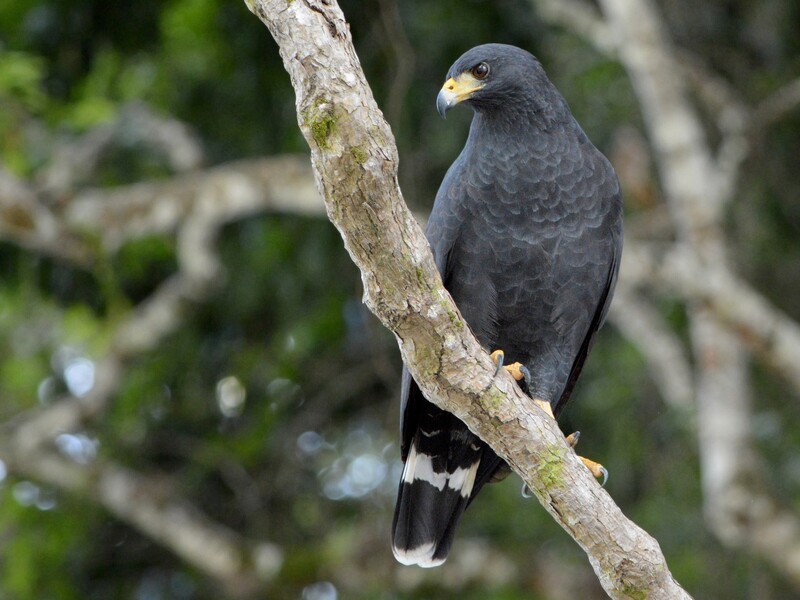 Common Black Hawk – Buteogallus anthracinus
Known to occasionally stray across the Rio Grande into the Horn of Texas, the Common Black Hawk is marked by a single white band on the tail and dark feathers all over.
---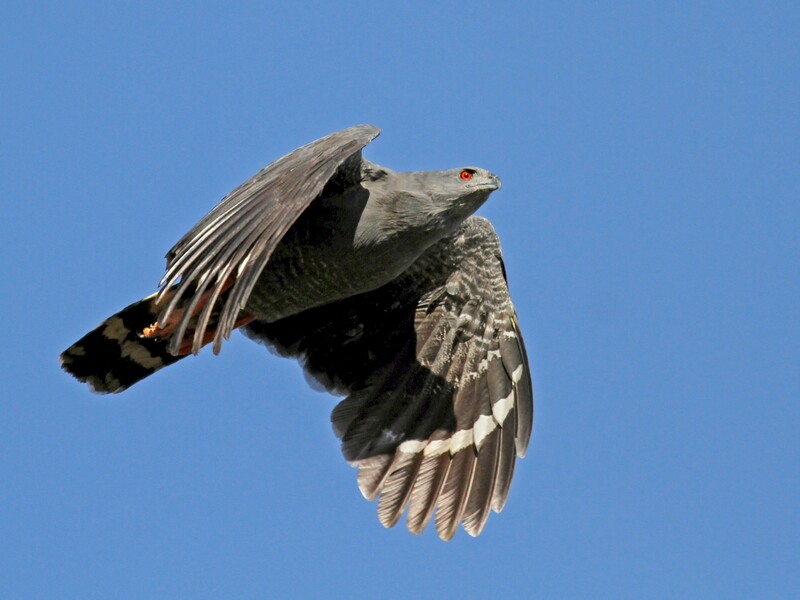 Crane Hawk – Geranospiza caerulescens
The beautiful Crane Hawk, while common south of the border, can only be found on South Padre Island off the coast of the Horn of Texas. Their long bright legs, dark feathering and two thick white bands on the tail make it easy to confirm once spotted.
---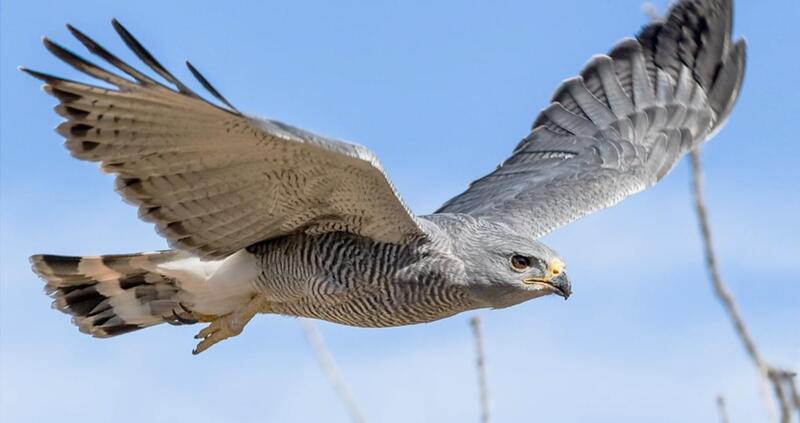 Gray Hawk – Buteo plagiatus
There may be no more than 50 breeding pairs of these gorgeous creatures north of the Rio Grande. Relatively common in the tropics, spotting a Gray Hawk in Texas is a rare and special event. Make sure you have your birding journal handy just in case you happen to spot one of these hawks in Texas, because it's not everyday you'll see one! You can recognize them by their gray top feathers and a pale gray underside with fine barring on the chest. Their long tail is banded black and white.
---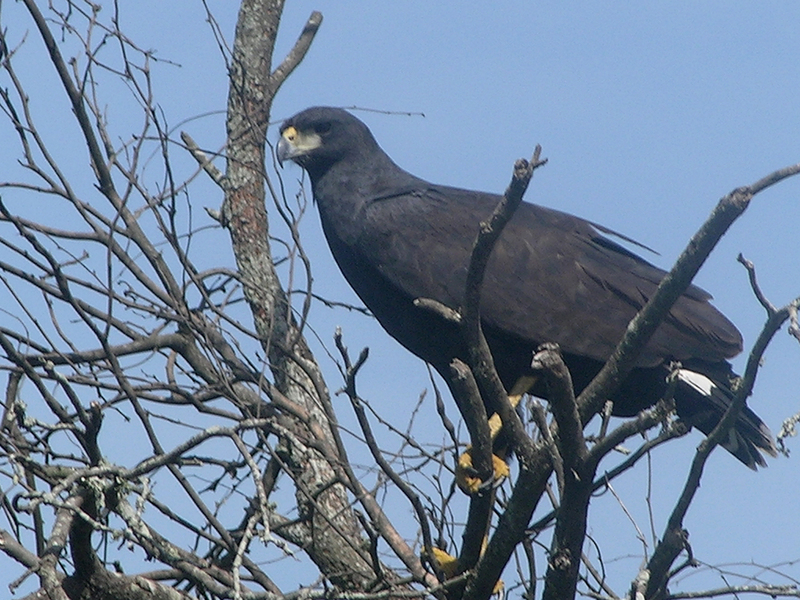 Great Black Hawk – Buteogallus urubitinga
Found only on South Padre Island off the coast of the Horn of Texas, the Great Black Hawk is slightly larger than the common variety with two white bands on its tail. They are more common in Central and South America.
---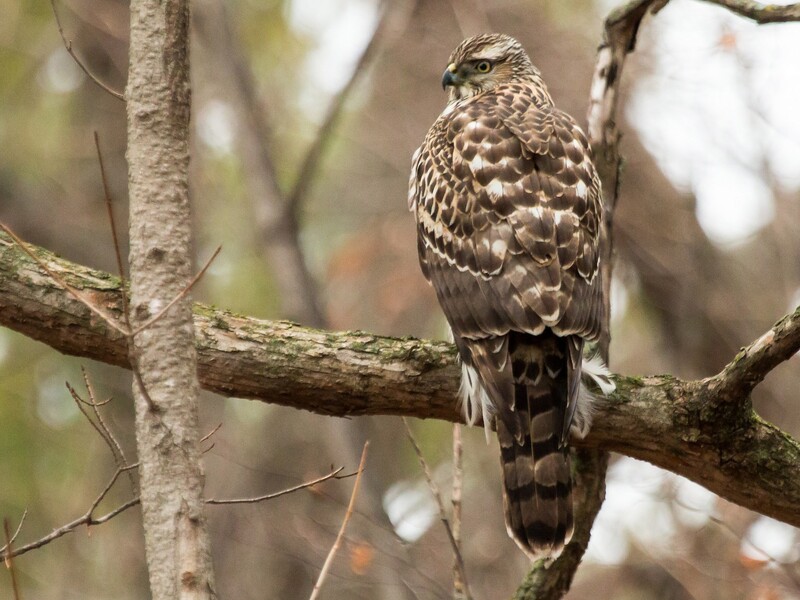 Northern Goshawk – Accipiter gentilis
At the best of times the Northern Goshawk is difficult to see since it nests in the tops of tall trees. There are no breeding pairs known to be within Texas, but the lucky or careful might glimpse this large, gray-capped hawk with the beautifully barred undersides of gray and white. Your only chance to see one in Texas is up in the panhandle.
---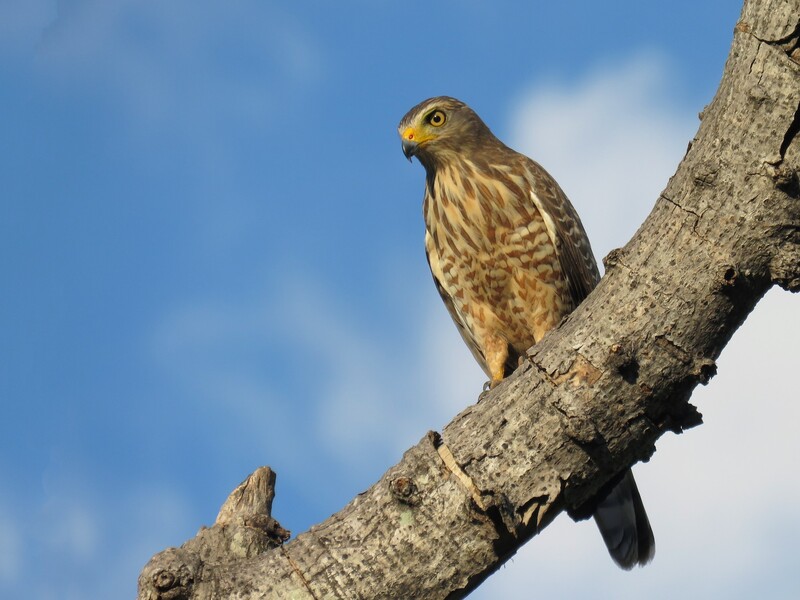 Roadside Hawk – Rupornis magnirostris
A fan of telephone poles, wires and posts the Roadside Hawk is well named. While exceedingly common in Mexico and points south, it can only be spotted in the Texas Horn around the Rio Grande. Gray feathered with a reddish-brown and black banded tail. The broad wings have reddish-brown and black barring along the flight feathers.
---
Hawks In Texas: Related