In this extensive birding guide, we will be looking at orange breasted birds of all types. We have compiled information on 18 species of orange breasted birds which includes hummingbirds, finches, orioles and even a falcon. Each one having their very own distinctive coloring, you will learn how to easily identify these flaming flyers the next time you see them.
From the American Robin to the Red Knot and the Varied Thrush, you will be learning about each orange breasted bird, and how they make their homes all over the world. Most of the birds mentioned in the guide are from the order Passeriformes, the largest order of birds, which is made up mostly of songbirds. Below, you will find more in depth information regarding each bird's size, coloring, feeding habits, breeding and more.
---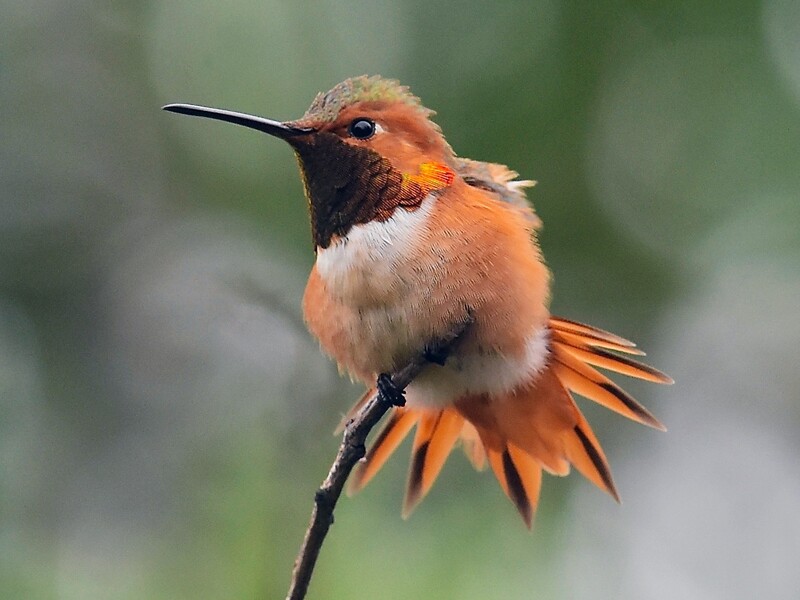 Allen's Hummingbird
| Length | Weight | Wingspan |
| --- | --- | --- |
| 3.0 – 3.5 in | 0.1 – 0.2 oz | 4.1 – 4.3 in |
Copper and green coloring make the Allen's Hummingbird easy to spot. Found on the Pacific Coast, from California all the way down to Mexico, this orange breasted bird migrates noticeably earlier than other birds. These tiny Trochilidae Vigors breed along the coast of California and Oregon in early spring.
Interestingly, male and female Allen's will use different habitats during breeding season. The female will visit areas that the male has set up in order to watch over open areas of coastal brush. Once she has mated, she will move into forests or thickets to nest. Allen's Hummingbirds will feed on nectar producing flowers, as well as hummingbird feeders.
---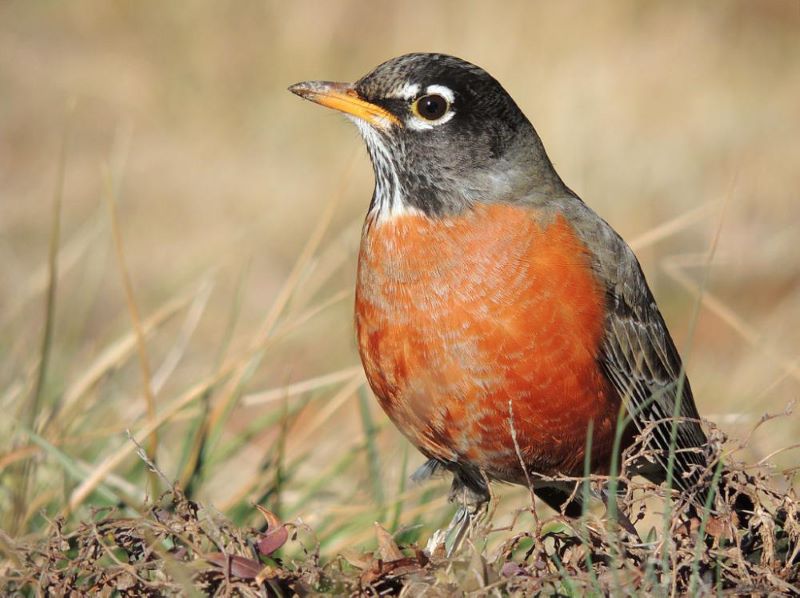 American Robin
| Length | Weight | Wingspan |
| --- | --- | --- |
| 7.9 – 11 in | 2.7 – 3.0 oz | 12.2 – 15.8 in |
This well known orange breasted bird is seen all across North America in yards and trees foraging for insects and fruit. The American Robin's coloring is warm and muted with its orange breast and blackish gray top plumage.
Although seen about the city and in suburban areas, this bird prefers the open woodlands, mountain forests and even the Alaskan wilderness for nesting. Even though their clear whistles signify the end of winter, they often stick around all year round.
---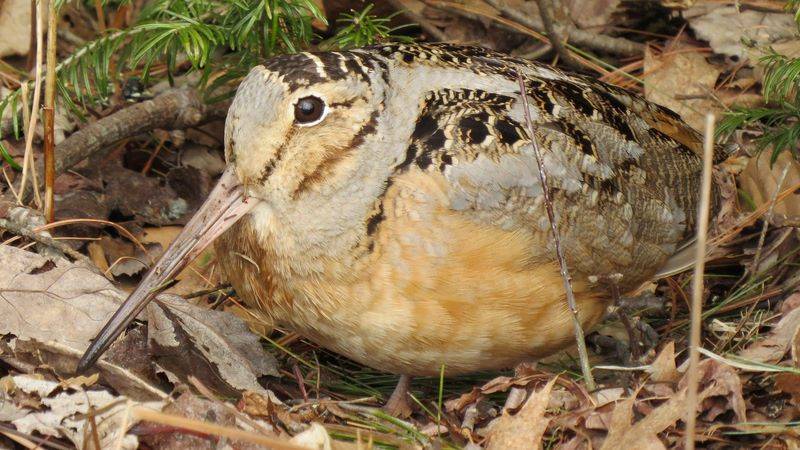 American Woodcock
| Length | Weight | Wingspan |
| --- | --- | --- |
| 9.8 – 12.2 in | 4.1 – 9.8 oz | 17.5 – 18.9 in |
This little shorebird is perfectly camouflaged amongst the fallen leaves. They tend to walk across the forest floors near the coast searching for insects and worms. Not easily seen, except at dusk and dawn, the American Woodcock is located in Eastern North America. When they do come out, the male performs a mesmerizing sky dance in the evenings of spring.
Their long beak, eyes situated near the back of their head and a warm, light orange breast make this plump little bird quite distinguishable once you spot them. The American Woodcock also goes by a variety of nicknames such as bog sucker, timberdoodle, Labrador twister and night partridge.
---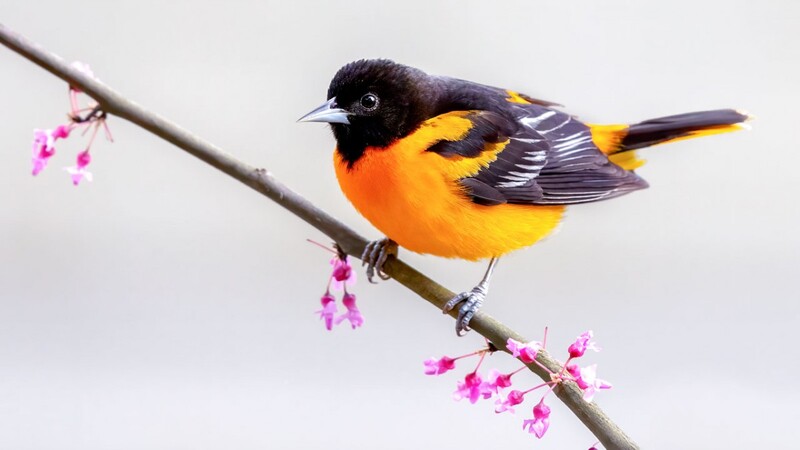 Baltimore Oriole
| Length | Weight | Wingspan |
| --- | --- | --- |
| 6.7 – 7.5 in | 1.1 – 1.4 oz | 9.1 – 11.8 in |
Garnering their name from the colors they share with the Baltimore Family crest, the Baltimore Orioles are a favorite North American songbird. A bold orange chest and black head make this bird a noticeable sign of spring in Eastern North America. Males and females present a thick neck, sturdy body and pointed bill.
Its whistling song can be heard belted from the treetops while they weave their hanging nests. Baltimore Orioles love nectar and fruit, so feeders filled with sugar water or small amounts of jelly will attract them.
---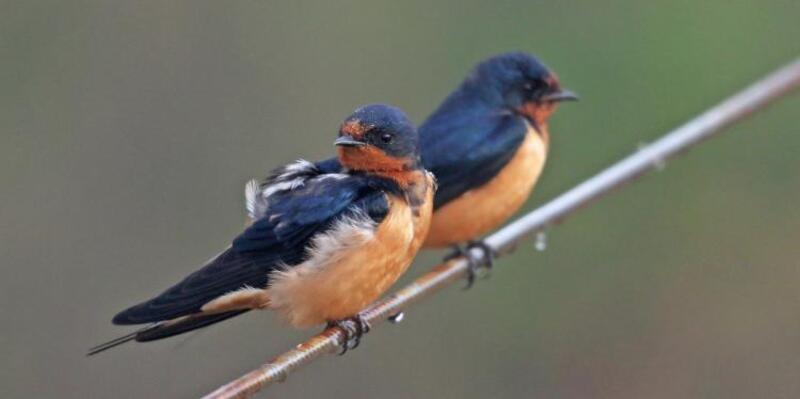 Barn Swallow
| Length | Weight | Wingspan |
| --- | --- | --- |
| 5.9 – 7.5 in | 0.6 – 0.7 oz | 11.4 – 12.6 in |
This shimmering cobalt and burnt orange breasted bird is the most abundant of the swallow species. These Barn Swallows are found all over North America from farms to prairies and meadows. They make their nests from mud, and tuck them among the eaves of barns, stables and under bridges.
They will breed throughout the Northern Hemisphere, but then head winter towards the Southern Hemisphere. To note, unmated male Barn Swallows will kill the nestlings of another mated pair so as to break them up and give himself the opportunity to mate with the female.
---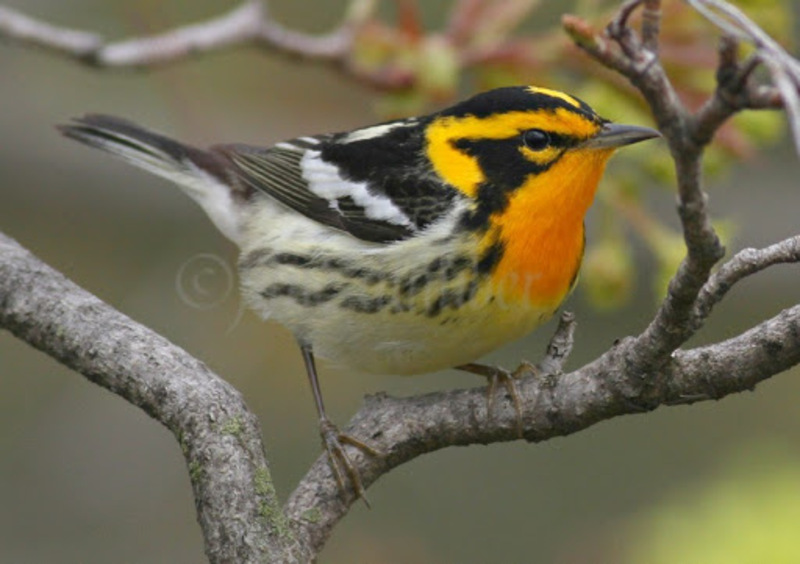 Blackburnian Warbler
| Length | Weight | Wingspan |
| --- | --- | --- |
| 4.3 – 4.7 in | 0.3 – 0.4 oz | 7.9 – 9.1 in |
Noted as the only North American Warbler with an orange throat, the Blackburnian is small with a long body. They have brilliant orange coloring about their face and throat along with a black crown.
Picking at insects and perching among conifers and deciduous trees, the Blackburnian Warbler is found throughout Eastern North America. In spring, rival males will perform grand territorial displays, chasing and swooping until territories are established.
---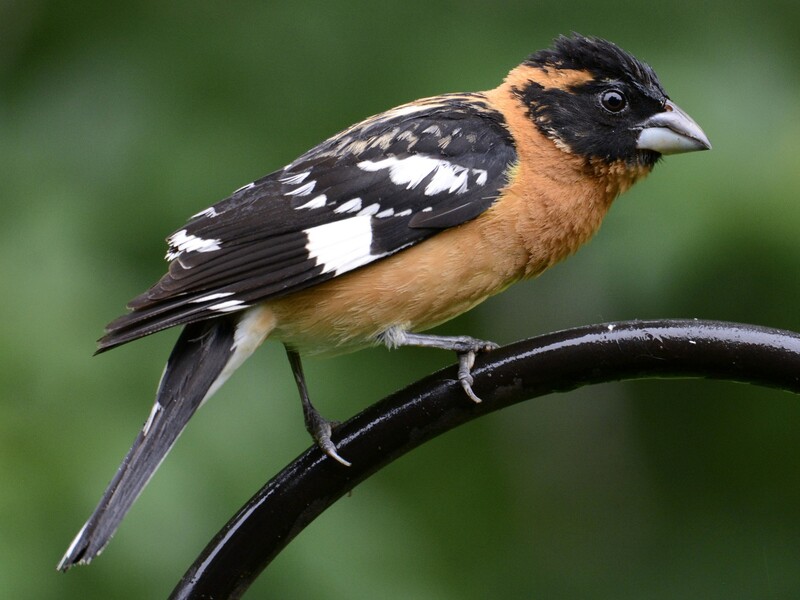 Black-Headed Grosbeak
| Length | Weight | Wingspan |
| --- | --- | --- |
| 7.1 – 7.5 in | 1.2 – 1.7 oz | 12.6 in |
Habitating in forests, the Black-Headed Grosbeak is just that, black-headed with white upper plumage with brownish-orange coloring on their neck and breast. The Grosbeak can be found in many places such as the desert, suburban areas and mountain forests of Western North America.
This song bird, both male and female, has a loud call and rich tune. In regards to breeding and nesting, the male and female spend equal amounts of time incubating their eggs and feeding their young.
---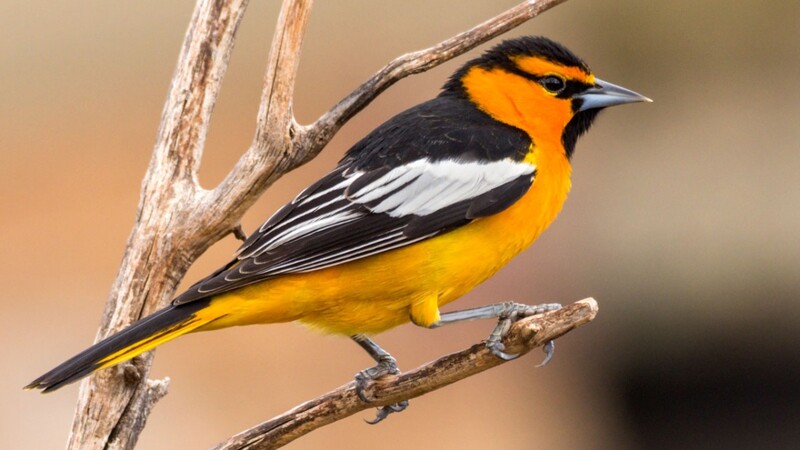 Bullock's Oriole
| Length | Weight | Wingspan |
| --- | --- | --- |
| 6.7 – 7.5 in | 1.0 – 1.5 oz | 12.2 in |
With their bright orange head and breast coupled with their black and white striped wings, the Bullock's Oriole makes its home in the Western United States. Although the female's coloring is washed, these birds are noticeable as they dangle upside down while building their hanging nests.
Found about the open woodlands eating insects, fruit and nectar , this species of oriole are vocal songbirds who whistle and chatter about. The Bullock's Oriole is named after the father-son duo William and William Bullock, English naturalists who collected information on the bird in Mexico.
---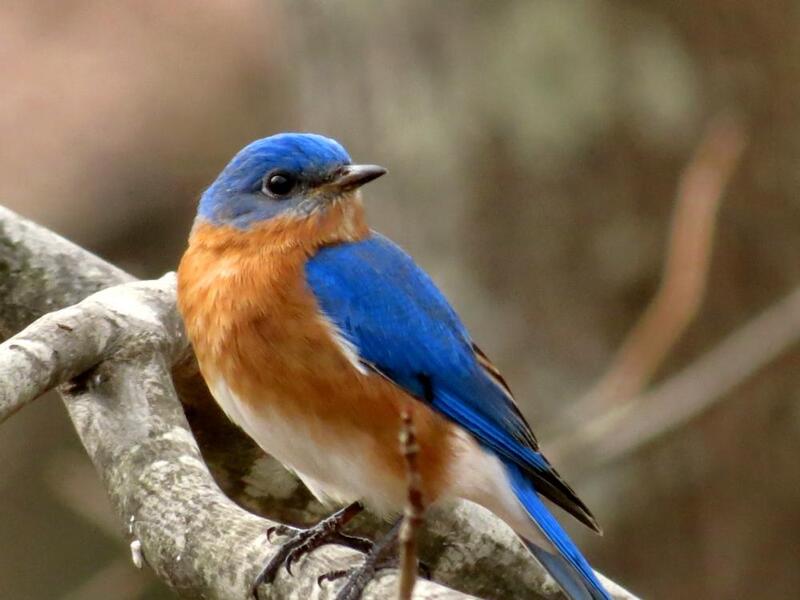 Eastern Bluebird
| Length | Weight | Wingspan |
| --- | --- | --- |
| 6.3 – 8.3 in | 1.0 – 1.1 oz | 9.8 – 12.6 in |
Royal blue plumage with a rusty orange colored breast best describes the Eastern Bluebird. As its name implies, this bird is found in both Eastern and Midwestern North America year round. Whether it's in nesting boxes, the forest or open country, this beautiful, blue bird makes its home all over.
Their soft chirping song can be heard throughout the summer as they perch in trees and upon telephone wires. They will come down and forage the ground for insects as well as delight in backyard bird feeders.
---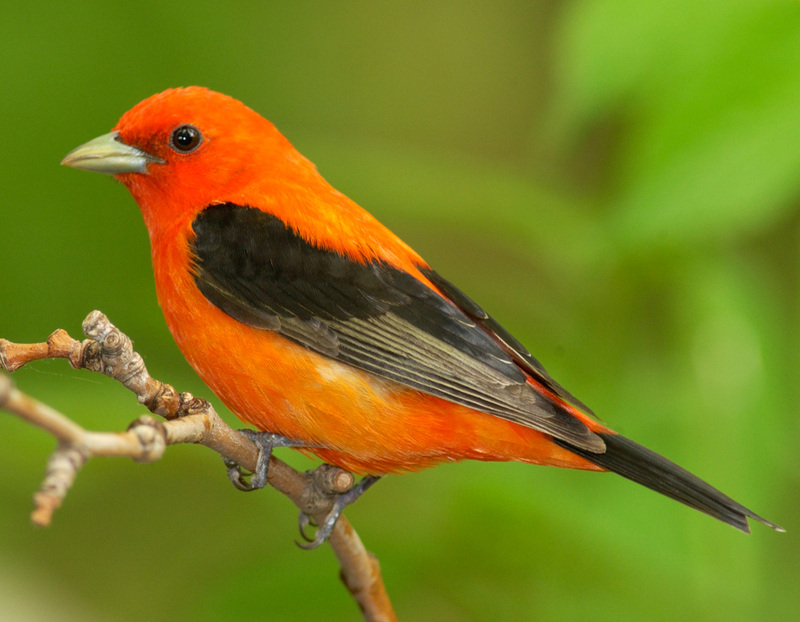 Scarlet Tanager (Orange Variant)
| Length | Weight | Wingspan |
| --- | --- | --- |
| 6.3 – 6.7 in | 1 – 1.2 oz | 9.8 – 11.8 in |
The orange variant of the male Scarlet Tanagers have flaming orange bodys and black wings, whereas the females are dark winged with yellowish green bodys. They are located in Eastern North America, have a robin-like call and migrate to northern states in the spring and summer.
Preferring the high canopy of trees, this bird will play host to eggs of the Brown-headed Cowbird who switches a Tanager egg for one of their own. Often, a Cowbird is raised along with the Tanagers without them even noticing. The Scarlet Tanager prefers to eat insects as well as a wide variety of berries.
---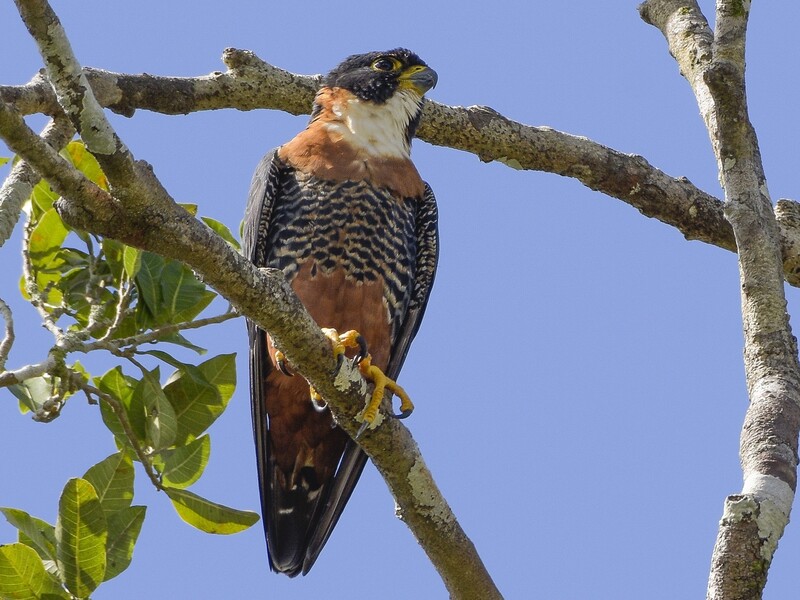 Orange-breasted Falcon
| Length | Weight | Wingspan |
| --- | --- | --- |
| 14 – 15.5 in | 11 – 16.9 oz | 30.5 – 35.5 in |
Knowledge of this bird was limited up until a few years ago. The Orange-breasted Falcon is located in Central and South America. It is sparsely distributed and spotting it is rare. It is a considered to be a near threatened species that is found habitating in the tropical lowlands.
This Falcon occupies its territory year round near cliffs, on ledges and in crevices. They will hunt from the tops of the tropical forest canopy. Female Orange-breasted Falcons are more dominant than the male in size, nest defense and also social relations.
---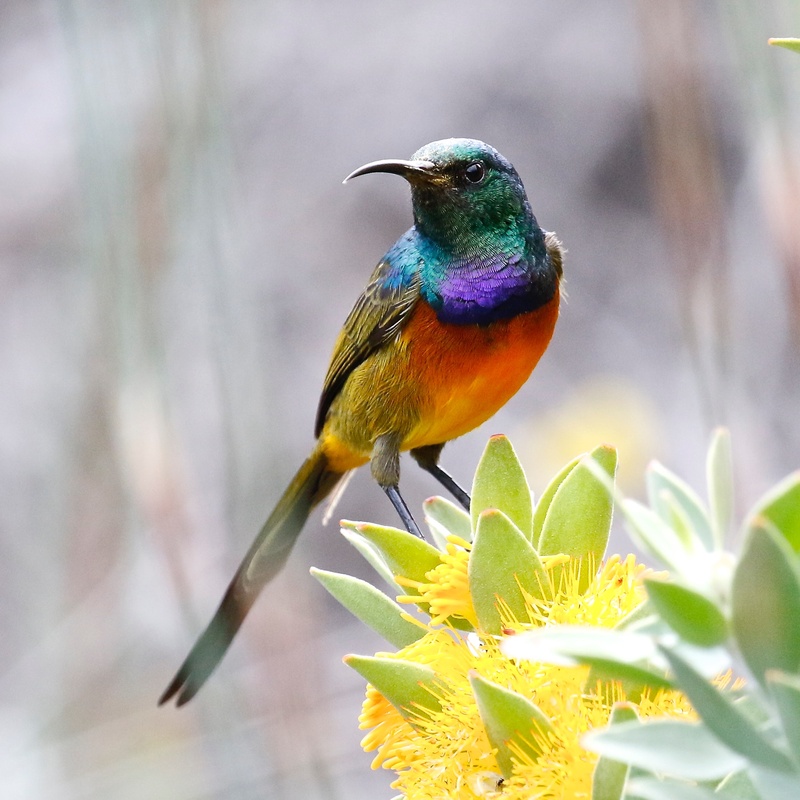 Orange-breasted sunbird
| Length | Weight | Wingspan |
| --- | --- | --- |
| 4.9 – 6.4 in | 0.20 – 0.27 oz | Unknown |
The Orange-breasted sunbird can be found in the Southwestern part of South Africa. They move to higher altitudes during southern summers in search of nectar from heath flowers and insects.
Their shimmering green and purple head and neck paired with their bright orange bellies, makes this bird sparkle in the sun. They generally breed in the month of May, which is also the peak growing season for the above mentioned heath flowers that they love feasting on.
---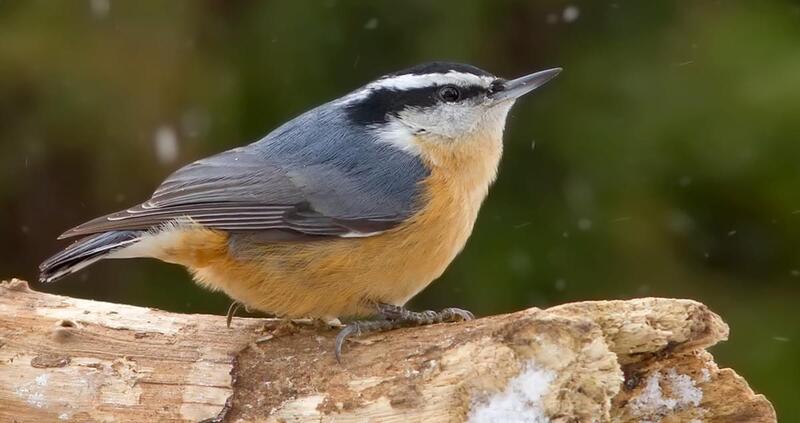 Red-Breasted Nuthatch
| Length | Weight | Wingspan |
| --- | --- | --- |
| 4.0 – 4.3 in | 0.3 – 0.5 oz | 7.1 – 7.9 in |
Although their name indicates a coloring of red, these birds have a rust colored breast with a blueish gray top plumage and black crown. Nuthatches are found all throughout the United States and Canada. These birds are non-breeding, nasal calling and insect foraging.
The Red-breasted Nuthatch always shows up with others in abundance, perching along tree trunks. This bird is a hole nesting, and uses coniferous resin around the entrance to their nest to deter predators. Also, Nuthatches are known for stealing nest material from other birds.
---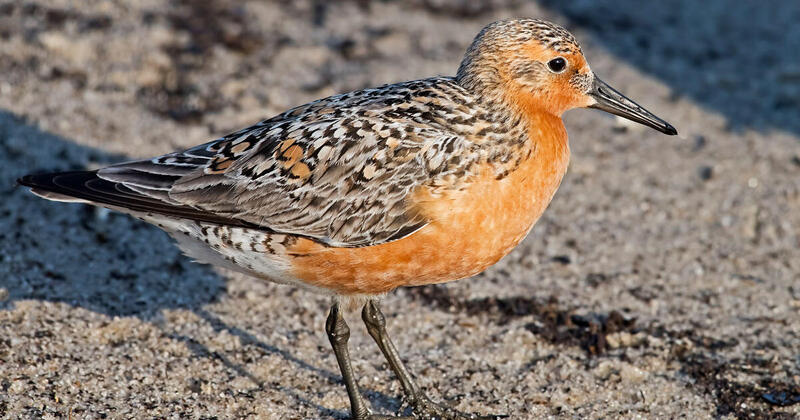 Red Knot
| Length | Weight | Wingspan |
| --- | --- | --- |
| 9.1 – 10.6 in | 4.4 – 7.2 oz | 22.4 – 23.6 in |
These plump terracotta sandpipers make their homes on shorelines in the Northern parts of North America, specifically in Canada and Alaska. From sandy beaches to mud flats, the Red Knot often feeds by sight, but also touch. They will dig and burrow into the mud and sand in search of aquatic vertebrae.
Red Knots have declined in number due to the unsustainable harvest of horseshoe crabs. These birds will migrate in large numbers, and stop over in spots such as Delaware Bay during the spring.
---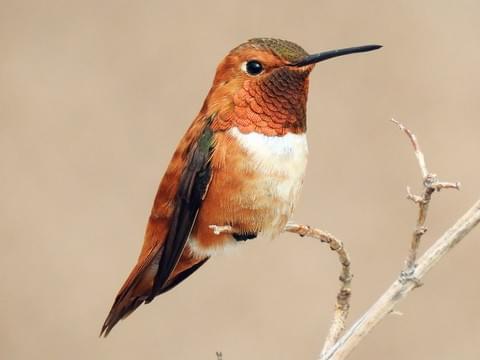 Rufous Hummingbird
| Length | Weight | Wingspan |
| --- | --- | --- |
| 2.8 – 3.5 in | 0.1 – 0.2 oz | 4.3 in |
One word describes this hummingbird, feisty. From Canada to Mexico, the Rufous Hummingbird searches for flower filled areas to perch and eat. They are always on the move, and commonly seen at hummingbird feeders. Their coloring is a bright orange back and breast with an iridescent red throat.
Their migrations are long and span 3,900 miles (one way). The Rufous will make a clockwise circuit of North America every year. An interesting fact about this bird is that it has an excellent memory for location.
---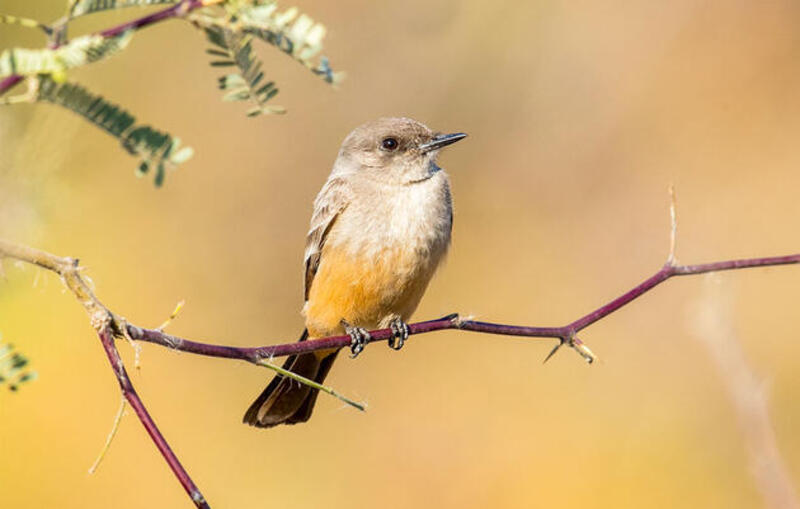 Say's Phoebe
| Length | Weight | Wingspan |
| --- | --- | --- |
| 6.7 in | 0.7 – 0.8 oz | 13 in |
The Say's Phoebe blends into its desert surroundings of Western North America. With their cinnamon bellies and grayish brown top plumage, this flycatcher feasts strictly on insects. Their slurred whistle will echo from the ground where they forage.
They will then find their way to buildings to make nests in eaves. The Say's Phoebe is the only flycatcher to breed farther north than others. Once they find a good nesting site, they will continue to use that same site year after year.
---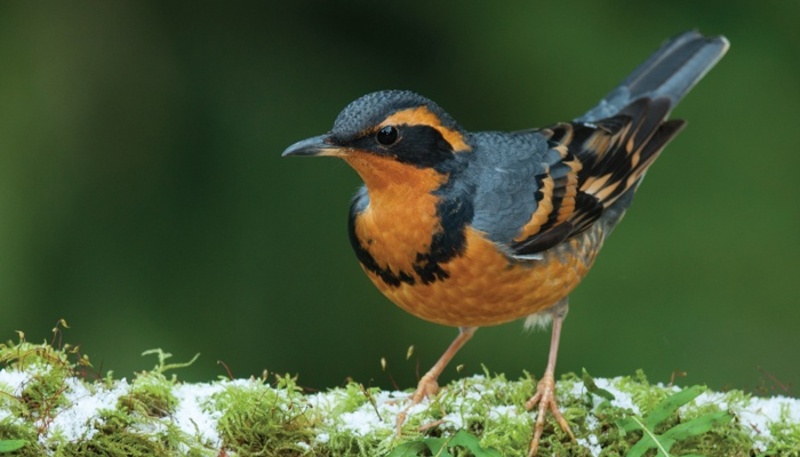 Varied Thrush
| Length | Weight | Wingspan |
| --- | --- | --- |
| 7.5 – 10.2 in | 2.3 – 3.5 oz | 13.4 -15.0 in |
This particular thrush is found throughout the Pacific Northwest and Canada in dense forests. The Varied Thrush is a large, stocky, burnt orange breasted bird with a blueish gray back.
Considered a shy bird, it will sing from up high in the tops of trees. Varied Thrushes are often aggressive towards other birds. They will forage in holes along the ground for insects, but can be seen in backyards at bird feeders too.
---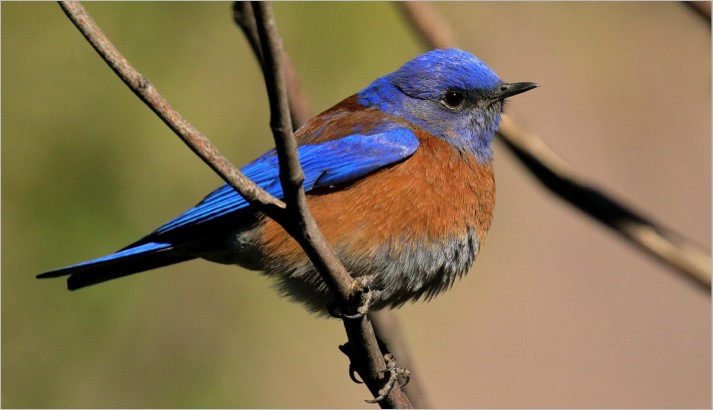 Western Bluebird
| Length | Weight | Wingspan |
| --- | --- | --- |
| 6.3 – 7.5 in | 0.8 – 1.1 oz | 11.4 – 13.4 in |
Located in the Western parts of North America, the Western Bluebird spends its time sitting in low perches and swooping to the ground for insects. Deep blue and rust make up this birds coloring. They will feed on insects, berries and bird feeders filled with mealworms.
Males will fiercely protect their territory, pinning their opponent to the ground and jabbing them if needed. They will nest in holes in trees or in nest boxes provided for them.
Above we have highlighted only 18 orange-breasted birds. There are still many to discover. Across all 7 continents, there are many orange bellied birds that make their home among the trees, shores and cliffs. To learn more about orange-breasted birds, visit here for more information.
Related