Orioles are some of the most pursued backyard birds. There are different types of orioles. The bullock's orioles, orchard orioles, and Baltimore orioles have a black and bright orange color, and they usually like to build their gourd-shaped nests at a tree branch's end. If you are an avid birdwatcher, you probably wouldn't mind seeing more of these beautiful birds hanging out in your backyard. In this article, we're going to learn more about oriole food preference and how you can attract more of them to your backyard.
You may have succeeded in bringing them in, or you may be struggling to get them to your backyard. If the latter is your case, keep reading on to find out more about oriole's preferred food, how to feed them, and how to attract them to your yard.
---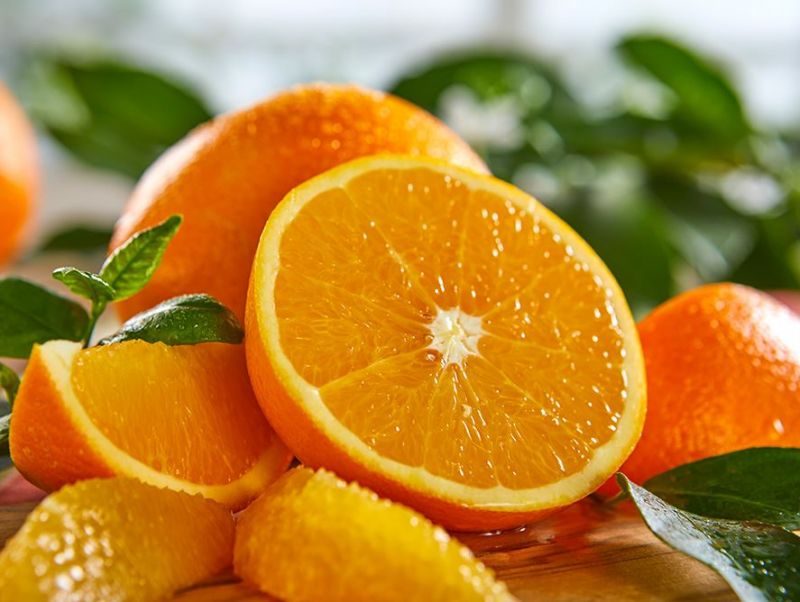 Oriole Food
It is worth noting that orioles will not visit a conventional bird feeder, and they do not eat seeds. For instance, the Baltimore oriole's ideal diet is made up of insects, nectar, and fruits. If you would like to attract orioles to your backyard, then the first thing you should do is ensure that the feeding station is at least seven feet from the ground.
Ensure that your feeding station has a container with jellies, a container with mealworms, a water and sugar solution holder, and fruit. You can either build your feeder or buy an oriole feeder since there is a vast selection you can choose from. Listed below is the detailed list of oriole-food.
1. Oranges
Orioles like the color orange, and they also like the orange fruit. Therefore, oranges are a perfect treat for orioles. Ensure that the oranges are cut in half, or you have them in slices. Some bird watchers have noted that having the color orange on your feeder may attract orioles to your backyard. Therefore, it would help if you had a visible orange color on your feeder so that orioles can easily spot it and come to your backyard.
2. Grape Jelly
During spring, orioles usually love sweet and sugary things since they are almost at the end of their migration. Both fruit and grape jelly is a high-energy oriole-food, meaning they will give orioles the boost they need to complete their journey. Most backyard birders affirm that if you would like to feed orioles, have grape jellies. There is no specific brand of grape jelly you need to choose since any brand of grape jelly will do.
You can use a shallow container or buy a jelly feeder. If you are using a container, ensure that you fasten it down to avoid having orioles knocking them to the ground. You could also mix water and grape jelly by blending them. Make sure that the consistency is that of thick juice.
3. Mealworms
At the start of nesting seasons, orioles usually prefer feeding on insects, which offers them a lot of protein and nutritional value. Since they like caterpillars when they are in the wild, then the perfect oriole-food would be mealworms. Ensure that you place them in an open dish in your backyard. It would help if you set the mealworms in the grape jelly dish you use as your oriole feeder at the start of nesting season.
4. Humming Bird Nectar
Most birders affirm that orioles tend to visit hummingbird feeders that have an in-built perch. Since orioles cannot hover as hummingbirds do, they will require a place to drink and land. As mentioned earlier, the color orange usually attracts orioles. Therefore, you could design your feeders to cater to their needs. Just like hummingbirds, orioles also like sugar water, ensure that the ratio is the same.
You can opt to buy nectar feeders designed for orioles, but if your hummingbird feeder has perches around its edge, you do not have to buy a feeder for orioles. If the two bird species do not get along and one keeps chasing the other, it would be best to get separate feeders.
5. Suet
During nesting season, some orioles may also visit suet feeders. A couple of backyard birders in the southern states have affirmed seeing some orioles, during winter, on their suet feeders. However, do not count on this so much. The best oriole food and your best chance of having them come to your back yard are having sugar water, grape jelly, mealworms, and oranges.
---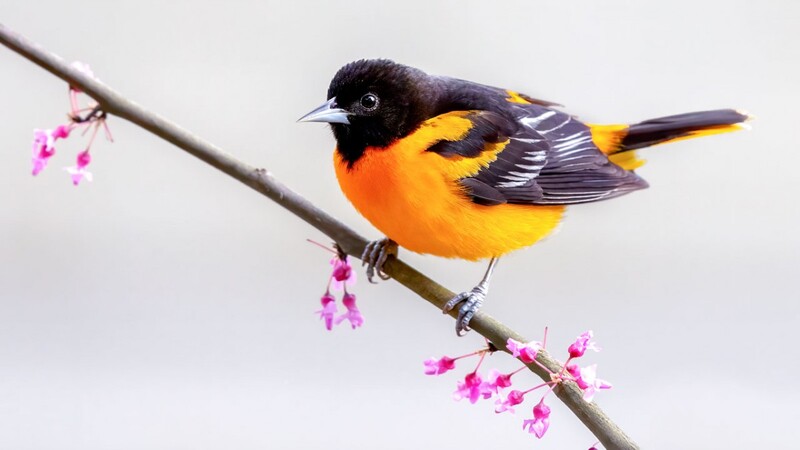 How To Attract Orioles
Since orioles have particular habits, they often tend to be elusive. Listed below are some tips you can employ to ensure that you attract orioles in your backyard during spring.
Timing
Timing is perhaps the essential thing to factor in when you think about attracting orioles to your backyard. If you would like to feed orioles, then it is worth noting that you need to have your oriole feeders outside way before you are expecting them in your area. They need to spot the feeders when they arrive in the spring because if orioles do not spot them, chances are they will not come back later to use them when you finally have them out.
It would be best if you attracted Orioles to your backyard as soon as they start arriving. Failure to do so means it is unlikely for you to attract them throughout the year. However, you will also have to be patient because it could take years before orioles start coming to your backyard. It is also worth noting that if you live in the northern states, orioles usually start showing up in May, and they start showing up in April in the southern states.
Color
As mentioned earlier, orioles love the colour orange and are attracted to it. Therefore, you could purchase an orange oriole feeder. It would also help if you got a feeder that is specifically designed for orioles. Ensure that the oriole feeder has sufficient drinking ports and perches. Since they also love oranges, you could place orange slices on the feeder or the branches.
Feeder Placement
Besides getting the appropriate feeder and trying to have it in orange color, the placement also matters. When placing a feeder in your backyard, have the bird in your mind or instead think like one. Therefore, do not hide the feeder under a tree or an awning, have the feeder in the open to make it easier for birds to spot it as they fly overhead.
Another essential thing worth noting is to place your feeder near a birdbath. Orioles love both the sound and sight of moving water, so having your feeder next to a birdbath with a bubbler is a plus.
Beware of the Food You Offer Through the Season
As mentioned earlier, orioles are particular about their food, so you may fail to attract them because you are putting out the wrong food based on the season. To have a better chance at attracting them to your backyard, ensure that you know what food you need to put out during what season. During their migration, their dietary needs change, and in most cases, you often have about four months annually to attract orioles. Therefore, during spring, late summer, and early fall, it would be best to feed orioles high sugar foods like nectar, jelly, and ripe fruits. They often need the energy for their migration. Other than orange slices, you can also feed them grapes.
The best diet for orioles in summer would be insects. They need the protein to breed and raise their young ones. You can offer them dry mealworms or live ones. Although working with live worms may be a hassle, birds love live worms. However, note that once orioles are coming to your back yard, keep offering them nectar, fruits, and jelly until they stop feeding on them. When you notice they are not feeding on these as much, it is time for you to switch them with mealworms to ensure that they keep coming to your backyard throughout summer.
---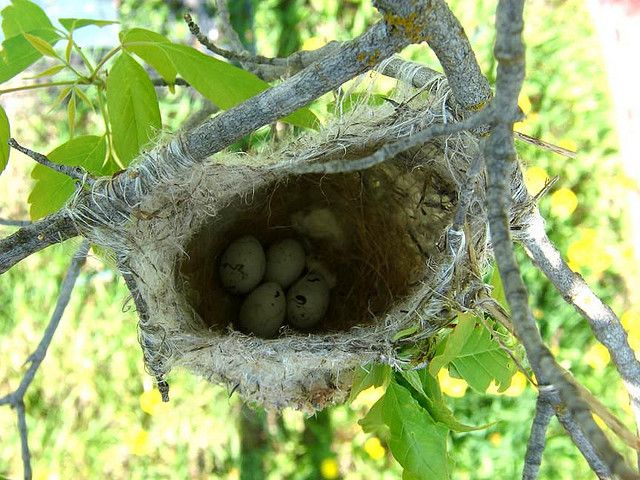 Native Trees
Another tip that can help you attract orioles to your backyard is planting specific native trees or shrubs that can appeal to orioles. This can also get rid of the need for you to maintain your oriole feeders constantly. Consider planting trees that orioles can use for nestings, such as elm, sycamore, maple, and oak trees. Although you also need to note that they prefer more mature and large trees.
You could also plant fruit trees and shrubs such as serviceberry, mulberry, blackberry, raspberry, and wild cherry since orioles love these, and they are also a source of food and nutrition. Lastly, it would also help if you landscape your yard with orange flowers or plants with orange flowers. For instance, you could grow trumpet vines since they grow fast and they have bright orange flowers that are nectar-filled and can attract both orioles and hummingbirds.
There are different oriole species, and they may have other food preferences. However, the above-listed foods are the most common and ideal oriole-food. It is worth noting that you should not try supplementing nectar with processed orange juice or orange-flavored drinks. Remember that timing is essential, and patience is required to attract orioles to your backyard.
---
Related
Baltimore orioles are one of the many birds that boast an orange plumage, check out more exotic birds you can spot in the states in: Orange Breasted Birds: A Complete Guide
Ever stumbled on a bird nest outside your home, and seen some hungry chicks? You may be tempted to feed them. Before continuing with that, however, take a read on what we've written about baby bird diets. The short of it is, it's probably only a good idea to feed them if you know for sure mama bird might not make it home to them.