According to the Audubon Society, the Midwestern state of Kansas falls at number three in America for the most species of birds. The number of species of birds seen in the state falls anywhere between approximately 225 to 453. But what about owls in Kansas? Owls, under the Strigidae family (except for the Barn Owl, which is under the Tytonidae family) are primarily solitary and nocturnal birds that like to hunt insects, other birds, and small mammals. Over 200 species of the bird exist. Here are six kinds of owls in Kansas.
American Barn Owl
Burrowing Owl
Northern Saw-Whet Owl
Eastern Screech-Owl
Snowy Owl
Great Horned Owl
Let's look at each owl and go over each of their sizes, feeding habits, personalities, and more:
---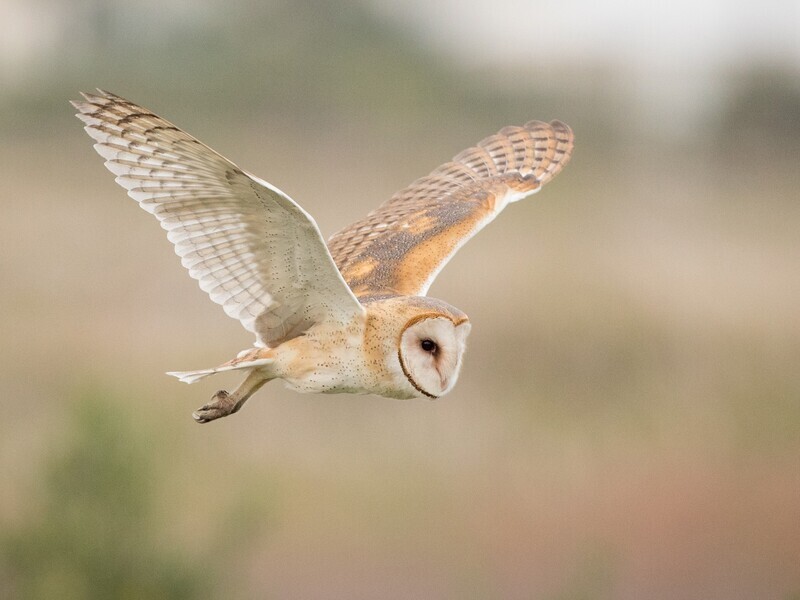 American Barn Owl
Length – 11 to 17 in.
Weight – 1 lb. 4 oz.
Wingspan – 39–49 in.
There are over 40 varieties of Barn Owls in America. The non-migratory American Barn Owl has a heart-shaped face with white feathers in front and brown feathers in the back. The American Barn Owl has superior hearing. In fact, the shape of its face brings sound to its ears.
As the name suggests, the American Barn Owl likes to inhabit abandoned barns. They are great for farmers because they hunt mice and rats. Since mice and rats carry disease, the Barn Owl protects other animals from these rodents. These owls can eat up to 1,000 mice a year, and they swallow them whole.
This is an owl that hunts at night by flying close to the ground. Although sometimes it hunts by flying down from a perch. The owl has powerful hearing as well as strong sight.
---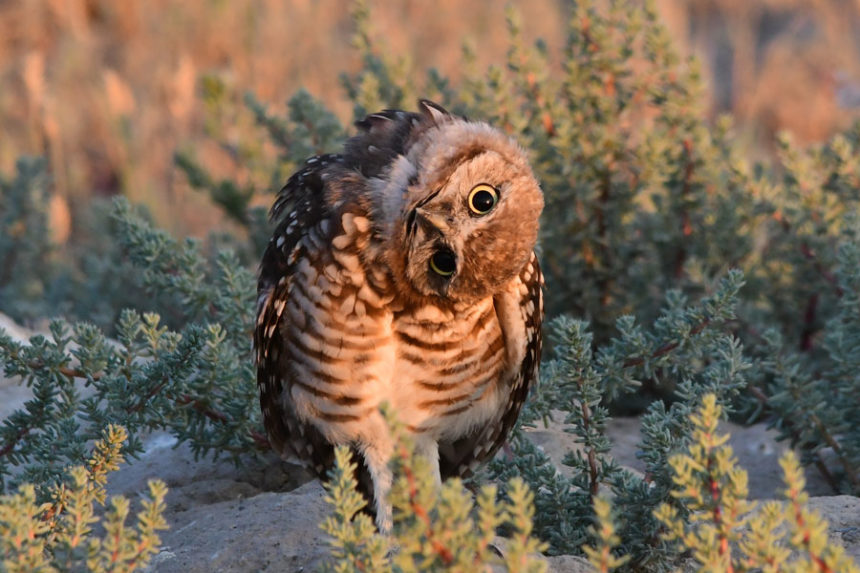 Burrowing Owl
Length – 7.5–11.0 in.
Weight – 5–8.5 oz.
Wingspan – 20–24 in.
You can spot a Burrowing Owl by its white eyebrows. It has a light brown chest with spots, bars, or stripes in white or another color. Its wings are a deeper brown with light spotting. Its legs are long for navigating the ground.
The owl is a prairies dweller who likes areas like pastures and deserts. They can typically be found in the western United States, such as midwestern Kansas.
A unique fact about this owl is that they live underground instead of spending a lot of their time in trees. They often take over underground areas created by prairie dogs and ground squirrels. But due to control programs, the Burrowing Owl is declining.
The Burrowing Owl loves to navigate the ground for mice, etc. They then store these animals in their underground shelters. They also eat insects.
---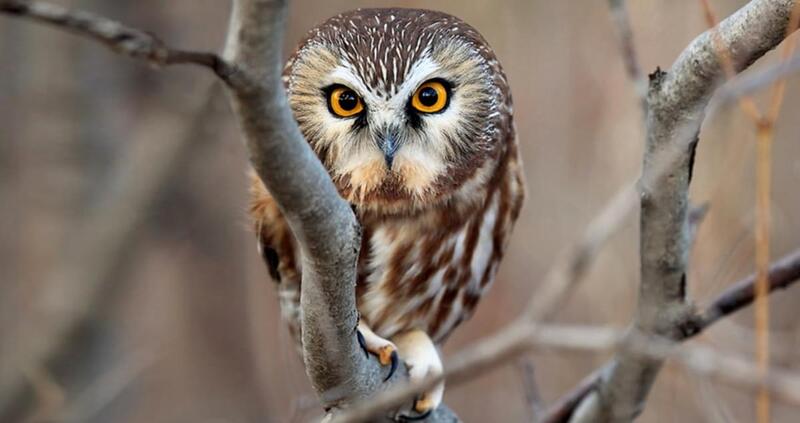 Northern Saw-Whet Owl
Length: 6.5–9 in.
Weight: 1.9–5.3 oz.
Wingspan: 16.5–22.2 in.
The Northern Saw-Whet Owl is typically colored in light browns and tans. Some migrate south, and some do not. Their diet consists of shrews, deer mice, small birds, insects, etc., and they hunt entirely at night. The sound they make sounds like the sharpening of a saw, hence their name.
Unlike a species such as the Burrowing Owl, the Northern Saw-Whet Owl prefers mature trees and dense forests. Unfortunately, because of this need and because dense forests have been declining, their numbers have been declining.
---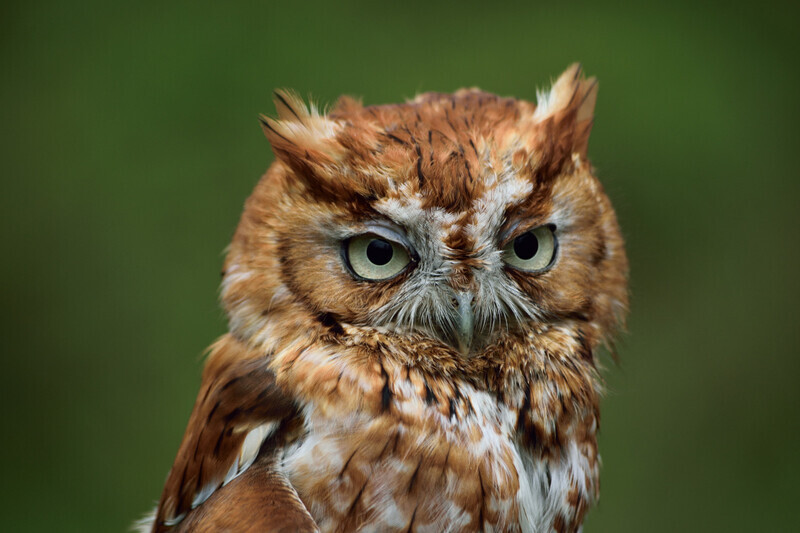 Eastern Screech-Owl
Length – 6.3-9.8 in.
Weight – 4.3-8.6 oz.
Wingspan – 18.9-24.0 in.
The Eastern Screech-Owl is one of the most common owls in Kansas. These owls don't go out of their way to avoid humans. (You can sometimes find them on top of streetlamps or buildings, for example.) However, they do like to avoid larger owls, such as the Great Horned Owl.
You can also find the Eastern Screech-Owl in woodlands, shade trees, farms, etc. They become active at dusk and continue into the night. They hunt by swooping onto their prey. They eat rodents, large insects, small birds, etc.
---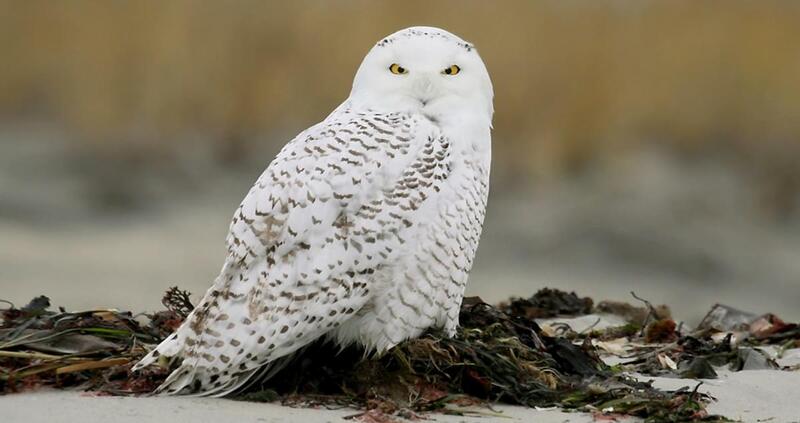 Snowy Owl
Length: 20.7–25.2 in.
Weight: 3.2–4 lb..
Wingspan: 48–60 in.
Arguably, one of the most beautiful owls is the Snowy Owl. As you can imagine, its white color with brown markings makes them spectacular in appearance. As they get older, they get even more white.
The Snowy Owl is a huge bird, second only to the American Bald Eagle. Although this owl is originally from the artic, they can be found in Kansas.
Unfortunately, according to the Kansas Ornithological Society, approximately three-fourths of these owls in Kansas will not survive. There is plenty to eat in the summer in the arctic. However, older Snowy Owls claim their territory in the fall, forcing younger ones out.
The younger ones migrate to northern states, and some are forced to go south to places like Kanas. Unfortunately, by the time they get to Kansas, they are tired and starving.
---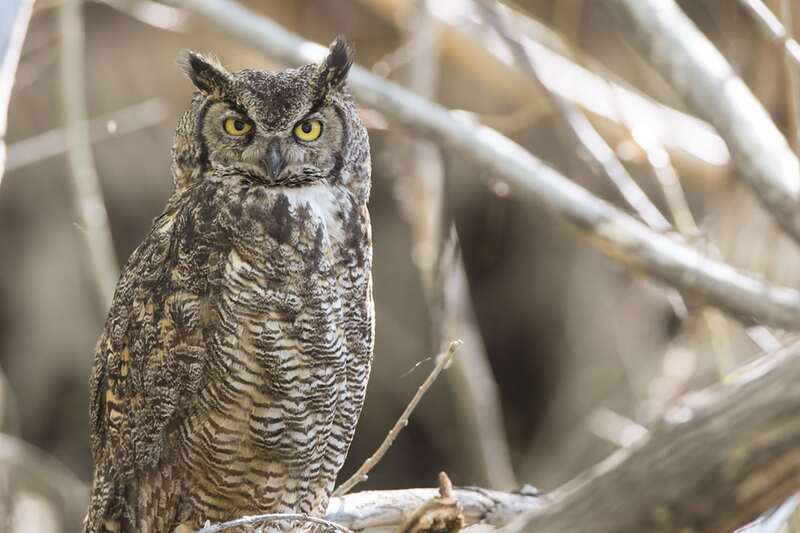 Great Horned Owl
Length: 17-25 in.
Weight: 2.5 to 4 pounds
Wingspan: 3 – 5 feet
The Great Horned Owl is very common in Kansas. This owl is very unique in appearance. It has long feathers on its head that resembles ears. They also have somewhat intimidating eyes. It typically has an orangey face and black and white contrasting lines that look like a tiger's. Their undersides blend in with trees to look like tree branches and blend in not to be seen by predators.
This is an owl that is comfortable in any place that has trees. Both the males and females hoot, but the males' sound is lower-pitched than the females. Also, you can hear the territorial call of a male miles away. The birds are large and, therefore, often eat larger animals such as rabbits, birds, rats, groundhogs, etc.
---
12 Interesting Facts About Owls
The ears of an owl can be unique because many of them are asymmetrical. Depending on the height they are located on an owl's head, they can laser focus on the location of sounds in a multitude of dimensions. This helps them be the strong hunters that they are.
As we mentioned, there are over 200 species of owls. Most owls can be found in Asia. However, for the continent of North America (which includes both the United States and Canada), only 19 of those species can be found.
Often we see owls by themselves, typically perched on a tree limb. But what if you see a group of owls? If you are fortunate to witness a group of owls together, that is called a "parliament." The name comes from owls being depicted as being intelligent and wise.
One of the reasons owls are such astute hunters is the way they can move their heads. You may think that an owl can turn its head all the way around. In actuality, it not quite a 360 turn. Their necks can rotate 135 degrees in both directions, giving them a total of 270 degrees of movement.
Humans have eyeballs. But did you know that owls do not? This is because the eyes of an owl are tubular shaped and completely immobile. However, they have binocular vision, which boosts their depth perception and makes it easy for them to focus on prey, even from high up on a tree.
The talons (claws) of an owl are powerful. In fact, their grip is as much as ten times stronger than a human's grip. This is another feature they have that makes them excellent hunters. Their strong talons can kill prey instantly. Also, the structure of their feet protects the impact when they attack prey.
In addition to their talons being extremely strong, owls are zygodactyl. Zygodactyl birds have feet with two forward-facing toes and two backward-facing toes. However, one thing that most zygodactyl birds can't do is pivot a back toe forward for gripping and walking. Owls, however, can.
Baby owls are called owlets. The fluffy birds are babies because they are dependent on their parents for food and can't hunt independently. Owlets cannot fly and are fiercely protected by their parents. If you go near an owlet, and its parents consider you a threat, you are likely to be attacked.
Another reason why owls are fantastic hunters is that when they fly, they are silent. Therefore, when hunting at night, their prey doesn't even know they are in the owl's sights when an owl swoops down to get them. Owls have soft down and feathers that break turbulence and reduce sound.
In America, owls are considered beautiful and exotic creatures. In Japan, owls are thought to bring protection, luck, and good fortune. But did you know that in some cultures, owls are considered bad and evil? For example, in Mexico, an owl represents magic, darkness, and death.
=Owls can't chew food. This is because owls have weak stomach acid that can't digest bones, fur, and feathers. As we mentioned with the barn owl, when owls catch their prey, they swallow it whole. Once they swallow a creature whole, they throw the parts of them up that they can't digest.
One of the most beautiful facts about owls is that they mate for life. However, approximately 25 percent of owls indeed leave their partner for another owl. The male owl will keep the nest when this happens, but the female owl has to find a new home.
As you can see, owls, including those found in Kansas, are unique, beautiful birds that everyone recognizes. They are built to be superior hunters, which is even more impressive given that they hunt at night.
---
Related
Ever wondered why owls hoot at night? We have the answers!
Owls are a unique bird of prey in that they are one of the few that hunt at night. Another well known bird of prey that predominantly hunts during the daytime, the hawk, has supposedly been seen recently hunting near the twilight hours as well. We try to explore phenomenon in: Do Hawks Hunt At Night?