For a group of people enamored by the flight and freedom of birds, the coronavirus has really hit the birding community hard. The pandemic has grounded birdwatchers across the globe, and relegated them to backyard binocular viewing. Granted, there are many birds that you can find in the comfort of your own backyard, but it is more fun to take off on adventures to see some lifers in new locales. With that in mind, it is time to start daydreaming about birding vacations so you are ready to go when it is safe to do so. And there is no better vacation for birdwatchers than finding a place where they can add to their list of lifers, while enjoying the beauty of nature in specific regions around the globe. In this article, we're going to present our picks for the best birding vacation.
But don't worry if someone in your family or vacation group is not enthused about birding. Each of these birding hotspots offer other activities and one of a kind adventures to please all the members of your party. While you're grounded, you can use the guide below to get started planning your next birding vacation!
---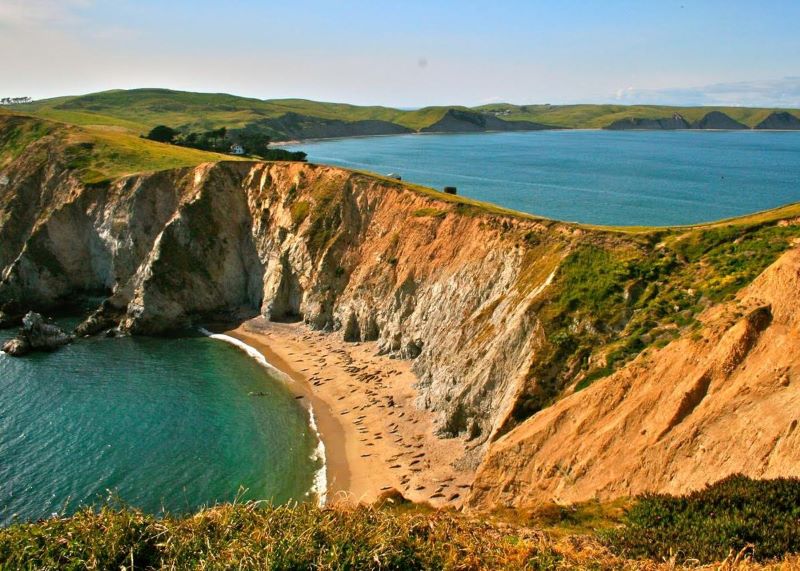 Point Reyes National Seashore, California, USA
With more than 70,000 acres of habit harbor, around 490 species of birds have been spotted at Point Reyes. This is approximately 50 percent of the birds found in North America. The peninsula located right in the Flyway makes this a bird magnet. Nestled on the coast of the Pacific Ocean about an hour north of San Francisco, this beautiful and rugged combination of estuaries, grassland, and coastal scrub combine to create a home for birds of all types, including vagrants. Visit the Lighthouse Rocks if you are seeking a peregrine falcon, and Wilson's snipe and green-winged teal are some other lifers found in the area. The northern spotted owl and snowy plover are especially protected here.
There are many activities to add to your birding if you are vacationing with people who don't necessarily feel that the white-tailed kite is the most amazing thing ever. While it's an ideal location for a birding vacation, there's plenty of other historical monuments to visit and activities to participate in to make it fun for the whole family. The 1870 Point Reyes Lighthouse is a great historic lighthouse and a good place to find gray whales. (Just make sure you can make the return trip back up the cliff of over 300 steps!) The area features great wine and homemade cheeses, along with some cute shops along the way. If you broaden your trip 30 miles south, you will have all of San Francisco at your fingertips. See the Golden Gate bridge, visit Alcatraz (which itself has three types of cormorants), enjoy a meal in China Town, ride the cable cars, and experience Fisherman's wharf, just to name a few. This would be the perfect combination for bird lovers and adventure seekers alike. The scenery is extremely picturesque, so be sure to remember to bring a nice camera with you to capture all the memories.
Giacomini Wetlands
Look for
northern harriers, white-tailed kite, American coot, green-winged teal, and
Wilson's snipe. You might even score a bald eagle searching for food!
Lighthouse Rocks and Cliff
Areas
Known for
brown pelicans, Brandt's cormorants, loons, surf scooters, and pigeon
guillemots, you might even spy a peregrine falcon at the Lighthouse if you
look carefully..
Five Brooks Pond
You can
spy a hooded merganser, ring-necked docs,k and grebes. Pileated woodpeckers,
swallows, thrushes and warblers are found near the pond too.
---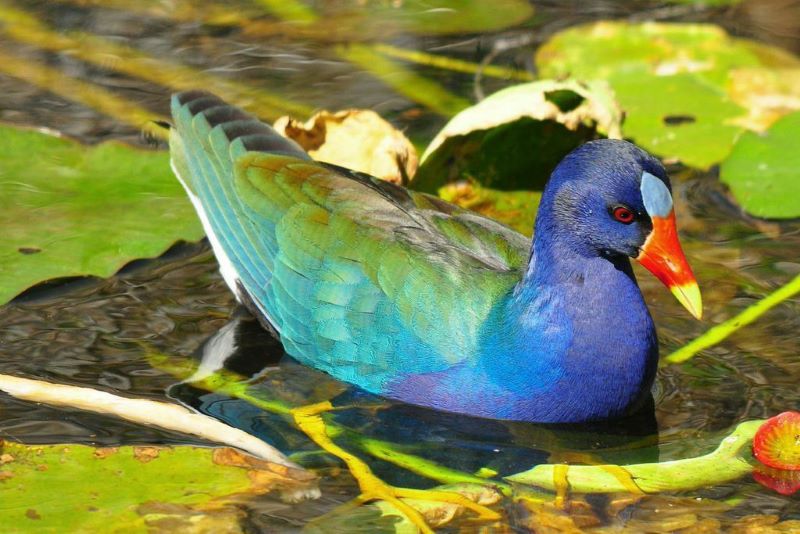 Everglades National Park, Florida, USA
With one of the most distinct habitats in the United States, the Everglades are home to 344 species in tidal marshes, cypress trees, and mangrove forests. Because of the water covering most of the region, it is a perfect place for wading birds. The Everglades are located in south Florida, and if you visit be prepared to experience both mosquito bites and alligators. With so many different species, you are bound to see some lifers here. Snail kites, mangrove cuckoos, great blue herons, and purple gallinules can all be found in this swampy habitat.
The third largest national park in the lower 48 states boasts a plethora of outdoor activities. From slogging (off-trail hiking) to guided tours, canoes and kayaks, to geocaching and fishing, you will enjoy nature in all varieties in the Everglades. This really is an outside paradise. Although you might not have the density of restaurants you are used to, you can enjoy some Florida delicacies and some delectable Key Lime Pie after a long day outside.
| | |
| --- | --- |
| Nine Mile Pond | You can find wood storks, roseate spoonbills, limpkins, snail kites, and wading birds of all kinds. Take a morning trip by canoe for best viewing. |
| Snake Bight Trail | Find mangrove cuckoos and warblers in the morning, and a plethora of wading birds, shorebirds, and even flamingos! |
| Shark Valley | Part of the Everglades National Park, the third largest national park in the continental US, Shark Valley sits near the east entrance and is the gateway to the popular Flamingo drive. It features tours, airboat rides, and a whole lot of birding! Here you can see the popular anhinga, a great blue heron, or purple gallinules. Look for a wood stork, a short-tailed hawk, and several varieties of kites. |
---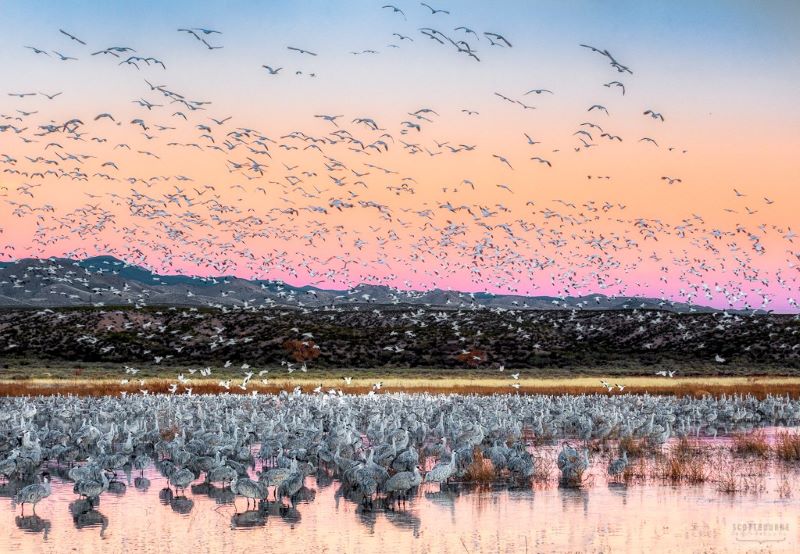 Bosque del Apache National Wildlife Refuge, New Mexico, USA
Run by the US Fish and Wildlife Service in southern Mexico, Bosque Del Apache is a great refuge filled with the desert scrub, mesquite and grasslands geography in the Rio Grande Valley. This is a photographer's paradise, with wide expanses or sky, a large contingent of birds lifting off, and many people coming to shoot the goose blast off scene at sunrise. If you haven't already geared up with a great camera for your next birding vacation, check out our list of the 7 best cameras for wildlife photography.
Over 340 species of birds call this refuge home, with huge masses of sandhill cranes and snow geese in the winter. There are also migratory birds on their way north or south. All in all, it shapes up to be a fantastic spot for your next birding vacation.
The Bosque del Apache Refuge is 8 miles south of San Antonio, New Mexico, so you can enjoy small town New Mexico in addition to bird watching. Bicycling, hunting, fishing and frogging can all be enjoyed here. The Fort Craig Historic Site and Mission Church are a few places you can go to brush up on your history. This is a small New Mexico town with charm, and you will find plenty to eat and drink at the local watering holes. The Festival of the Cranes in the third week of November is one of the most important things that happens in the area each year, and is well-worth checking out.
| | |
| --- | --- |
| Crane Pools | See the migrating sandhill cranes rise up at sunrise in one of the most glorious displays of birds in the nation. |
| Flight Deck | The arrival and departure of the snow geese is one of the most amazing sights on the planet. Be prepared to be cold. |
| Auto Tour | Throughout the Bosque del Apache Refuge you will see so many birds including spotted towhee, black phoebe, American wigeon, northern shoveler, gadwall, and greater roadrunner. |
---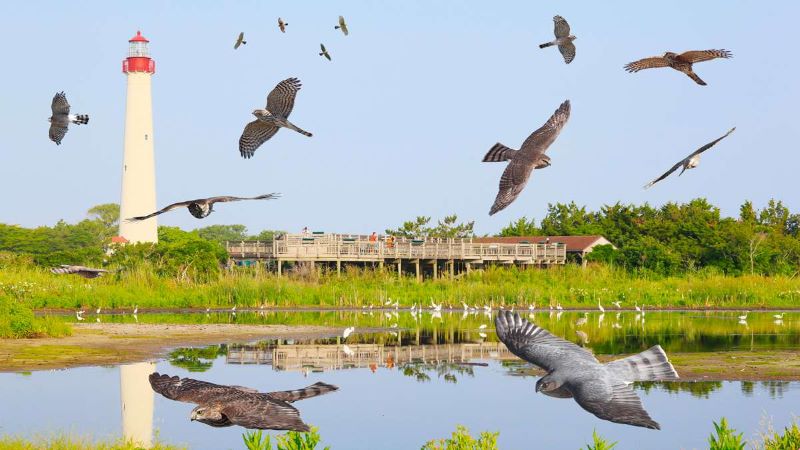 Cape May, New Jersey, USA
Located at the point where the Atlantic Ocean meets the Delaware Bay, Cape May is recognized by National Geographic as the best birding site in North America. If you're looking for a number one contender for the best birding vacation stateside, this could very well be it. The Cape May Observatory encourages conservation, creates both educational and fun birding activities, and conducts research about birds. The Cape May area really takes their birding seriously. The fall migration is one of the most amazing sights in the entire country for birders. But you will be able to add to your lifer list no matter what time of year you visit. You will definitely enjoy hawks and warblers at the famous Higbee Beach, as well as Lily Lake's plethora of warblers.
The tiny town of Cape May Point with its Victorian charm will offer you a relaxing visit. The southernmost point in New Jersey, people accept and love their vacationing birders, but that is certainly not all they have to offer. Water sports like kayaks and parasailing will keep your group entertained, while breweries are a winner when the sun goes down. You can take a trolley tour around the area to see even more sights. Make sure to visit the promenade, a two mile walk with ice cream shops, candy shops and an arcade.
| | |
| --- | --- |
| Higbee Beach | This is the perfect place to see hawks and falcons as they migrate, and you will also happen upon red-throated and common loon, gannets, and scooters. |
| Stone Harbor Heronry | This critical nesting place is home to songbirds, herons, egrets, and wading birds of all varieties. |
| Lily Lake | The area around Lily Lake will offer you warblers and more warblers as far as the eye can see! Also keep your eyes open for western kingbirds and other rarities. |
---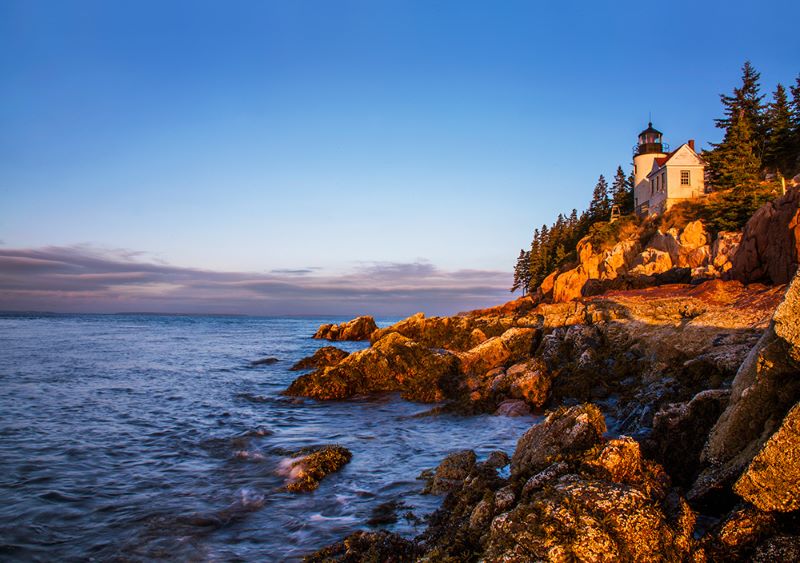 Mount Desert Island, Maine, USA
The largest island off the coast of Maine at 108 square miles, with over 308 species of birds including over 20 of warblers, the history of Mount Desert Island is deeply intertwined with bird watching. Located in Acadia National Park, one of the most beloved National Parks in the nation, Mount Desert Island is one of the birding hotspots in the contiguous states. Among many others, you can find ruffed grouse, ravens, and of course, warblers along this rocky coast.
For the non-birders in the group, consider a Tall Ships Tour or bus tour around the area, a visit to Cadillac Mountain, or the land bridge to Bar Island. There are many ways to take advantage of the great outdoors and experience the coast of Maine. Round out your trip with some of the best coastal culinary choices you can find, and some local breweries.
| | |
| --- | --- |
| Thompson Island | shorebirds, terns, and gulls |
| Mount Desert Island | On the island itself you will find many ruffed grouse, osprey, ravens, and even black capped chickadee. |
| Bird Thicket, Acadia Wild Gardens | These gardens are beautiful onto themselves, but add a plethora of warblers, thrushes, and black-throated warbler. |