California is a state that stretches from Oregon in the north to the Mexican borders in the south and boasts over 450 diverse bird species, including Woodpeckers. This enormous variety of birds is attracted primarily to California's beautiful parks and favorable climate.
Woodpeckers in California are pretty common. In fact, you will find at least 15 different Woodpecker species in this state. Considering the fact that there are more than 180 known Woodpecker species in the world, 22 of which live in the United States, California is, therefore, one of the states with the highest population of different Woodpecker species.
If you are a birder and would like to know more about the Woodpeckers in California, you are in the right place. We have included a comprehensive list with everything you need to know below.
Types of Woodpeckers in California
---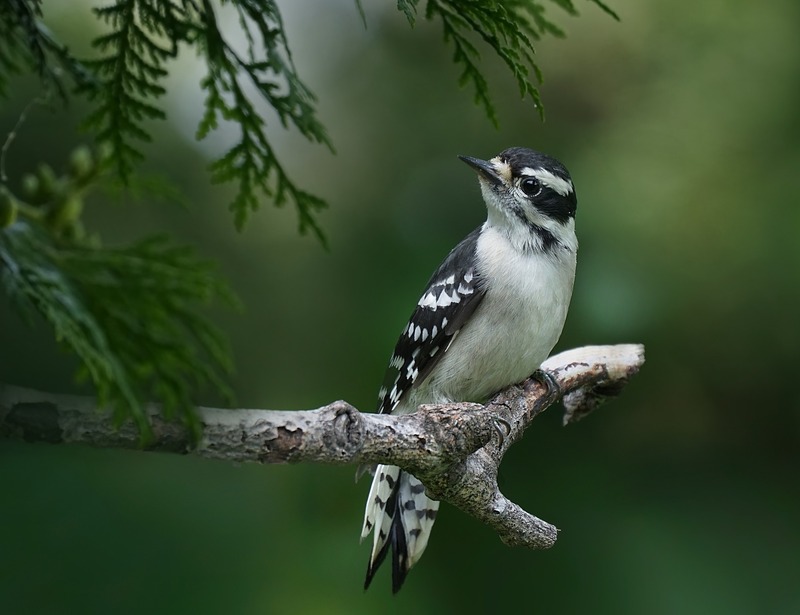 1. Downy Woodpecker
Scientific name: Picoides pubescens
Downy Woodpeckers are among the smallest Woodpecker species. You can identify them from their tiny size and black and white plumage patterns. Male Downy Woodpeckers typically have red-feathered crowns on top of their heads.
These Woodpeckers like visiting backyards and feeders. Especially where peanuts, suet, black sunflower seeds, and mixed seeds are offered. They live in a variety of habitats, ranging from urban backyards to woodlands. In Florida, you'll mostly find them in residential areas that have hardwood trees.
Both male and female woodpeckers measure 14-17cms in length and weigh 21-28g. Their wingspan is 25-31cms.
Most people often confuse the Downy Woodpecker with Hairy Woodpecker. However, the Hairy species is more prominent in size, while the smaller Downy species have white tail feathers. Moreover, Downy Woodpeckers have a unique 'pik' call that you can use to identify them.
Downy Woodpeckers, during the breeding season, attract respective mates by repeatedly drumming on posts and trees. They also like to nest in tree cavities, where they also roost in winter. Their diet subsists mainly of insects, berries, and seeds.
---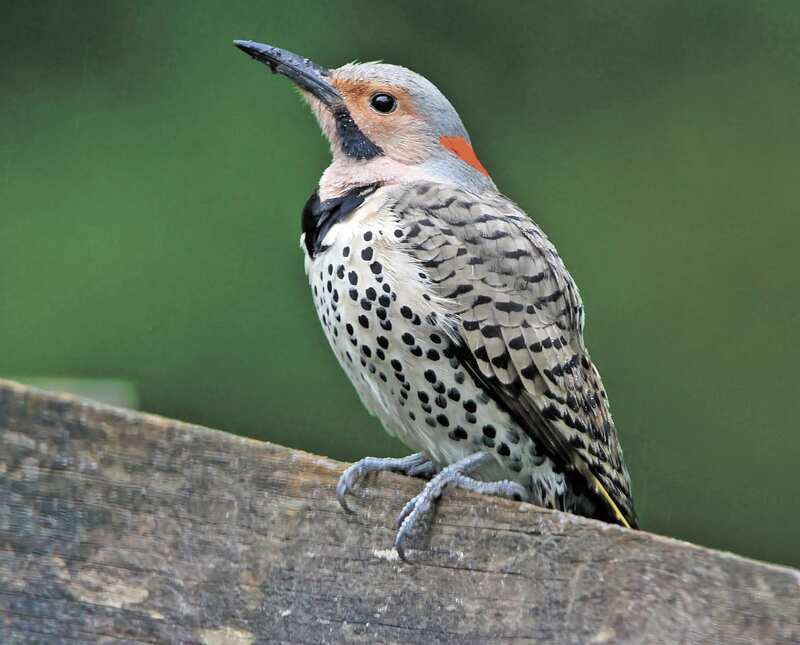 2. Northern Flicker
Scientific name: Colaptes Auratus
Northern Flickers are the third-largest Northern Woodpecker species. They are prevalent in California and many other states with wooded areas.
Northern Flickers are large and brownish, with black scallops, crescents, and bars on their feathers. Their wings and tails also contain a dash of red or yellow color depending on subspecies.
These Woodpeckers are very colorful and like frequenting backyards with suitable feeders. However, you are more likely to find them in your backyard sifting through dirt and leaves, searching for ants. Other than ants, they also feed on thistles, sunflower seeds, and berries.
Both male and female Northern Flickers measure 28-31cm in length, weigh 11-160g, and a 42-51cm wingspan.
You can find Northern Flickers in open areas near parks, woodlands, yards, and hedges. They like spending most of their time on the ground or perched on horizontal branches.
Northern Flickers are strongly migratory. Those in the Northern areas tend to winter in the South. They also like nesting in tree cavities like other Woodpeckers.
---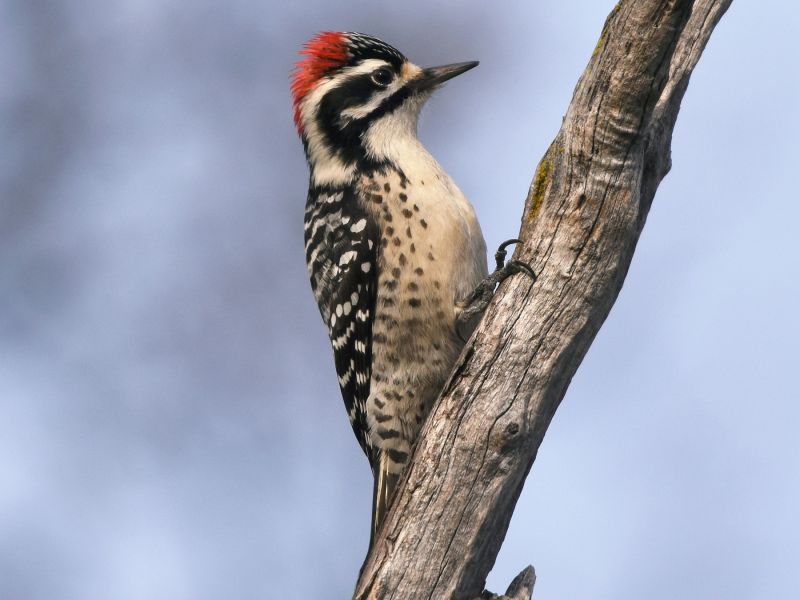 3. Nutall's Woodpecker
Scientific name: Picoides Nuttallii
Apart from its small size and gorgeous plumage, Nutall's Woodpecker interestingly only lives in California's oak woodlands. You will mostly find this black-and-white striped bird hitching up twigs and branches of cottonwoods, willows, and oaks.
This bird is an all-year-round dweller in California. You can identify it by its high-pitched pit call and metallic rattle. And, although they love oaks, Nutall's Woodpeckers do not eat acorns.
Nutall's Woodpeckers mainly subsist on insects. Some of the insects they prefer include ants, beetles, termites, and caterpillars. They are also known to feed on berries, nuts, fruits, and seeds.
Both male and female Nutall's Woodpeckers measure 16-18cm in length, weigh 30-45g, and have a 33-41cm wingspan. You can identify males by the red patches on the back of their heads.
One of the best spots to find Nutall's Woodpeckers are the oak forests around the Sierra Nevada Mountain. They also frequently visit backyard feeders in residential areas. You can even observe them during their January to March breeding season as they make nests in tree cavities.
Nutall's Woodpeckers are permanent residents and rarely leave their nesting areas.
---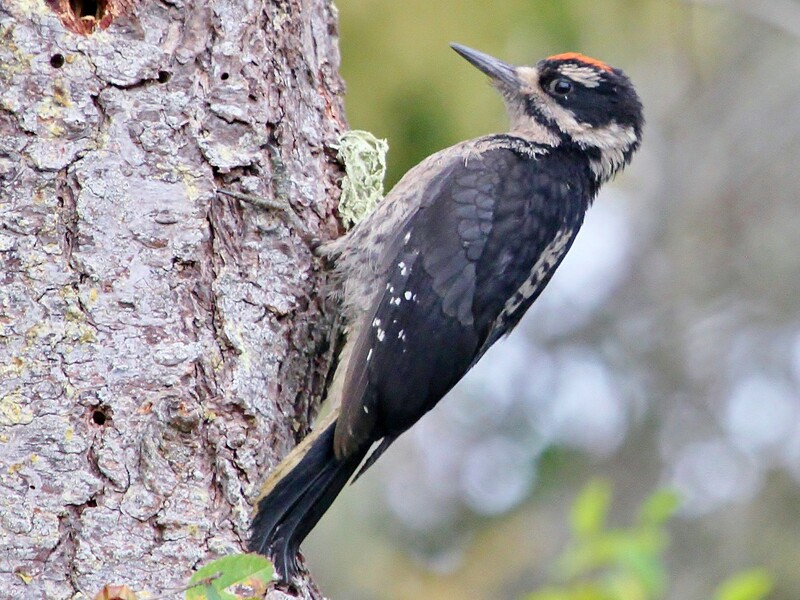 4. Hairy Woodpecker
Scientific name: Leuconotopicus Villosus
Hairy Woodpeckers are medium-sized birds with distinct long and straight bills that measure nearly the same length as their heads. They also have white-colored feathers on their bellies and dark-colored ones on their backs and wings.
Adult male Hairy Woodpeckers have red-orange caps on the crowns of their heads. You can use that to differentiate them from females. You will find these Woodpeckers excavating and searching for food during the breeding season on medium or large-sized trees in the woodlands of California.
The Hairy Woodpecker's diet mainly includes insects. However, sometimes they also eat seeds, berries, and nuts. They have also been seen feeding on tree sap and occasionally frequenting bird feeders for suet.
These birds are all-year-round Californian dwellers. However, do not confuse them with Downy Woodpeckers. Their behavior and appearance are somewhat similar, although Hairy Woodpeckers are larger. Hairy Woodpeckers also have a sharp and short 'peek' call.
Hairy Woodpeckers of both sexes measure 18-26cm in length, weigh 40-95g, and have a 33-41cm wingspan. They habituate forest edges, woodlots, parks, cemeteries, and open pine and oak woodlands.
---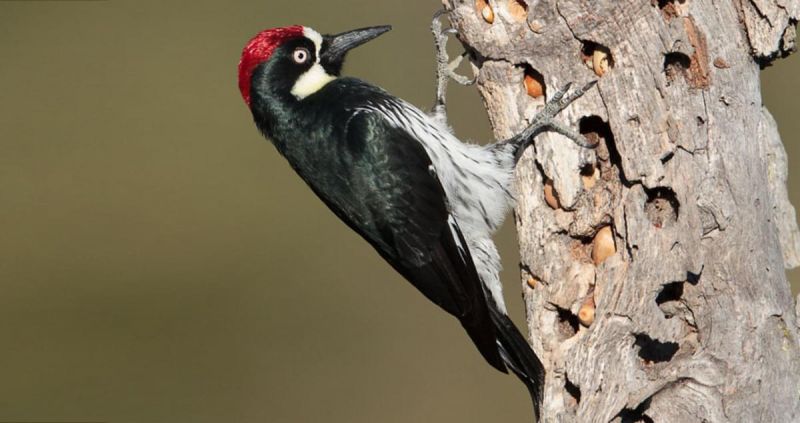 5. Acorn Woodpecker
Scientific name: Melanerpes Formicivorus
Acorn Woodpeckers populate various areas in California but mostly prefer Northern and Central areas. They are among the easiest to identify since they have unique markings. They have red, black, and white colors on their heads, black wings and backs, and light and dark-streaked underbodies.
These medium-sized Woodpeckers are very unusual behavior. They live in considerably sized groups, breed cooperatively, and interestingly hoard acorns. They are known to excavate holes on poles or tree trunks, where they hide acorns that they've gathered.
Acorn Woodpeckers spend most of their time flying and catching insects. And, although acorns make up about half their yearly diet, they also eat fruits, seeds, nuts, and occasionally other bird's eggs. They give waka-waka calls that are scratchy and raucous.
Both sexes are approximately 21cm long and weigh 85g. They tend to have a 43cm wingspan.
These Woodpeckers do not usually migrate. If an acorn crop fails, they search for new territory in the vicinity.
---
6. White-headed Woodpecker
Scientific name: Picoides Albolarvatus
White-headed Woodpeckers are relatively easy to recognize. They are medium-sized, their heads are black and white, and they have tiny white patches on their wings. These Woodpeckers often fly together in family groups or pairs.
The call for White-headed Woodpeckers is a sharp and quick 'pik'. Males have red patches on their heads which distinguish them from females. You will commonly find them in coniferous forests located near mountains. They primarily feed on pine seeds and insects. However, they do not generally get their insects by drilling into the wood but prefer flaking bark away.
These woodpeckers typically have a 21-23cm long body, Weigh 55-65g, and have a 43cm wingspan. They usually make a sharp, high-pitched, and quick 'peek-kik-kik' or 'pee-kik' call.
If you want to observe White-headed Woodpeckers, find a mountain forest with an abundance of sugar pine and ponderosa pine. They are permanent dwellers, so you can enjoy watching them all year-round.
---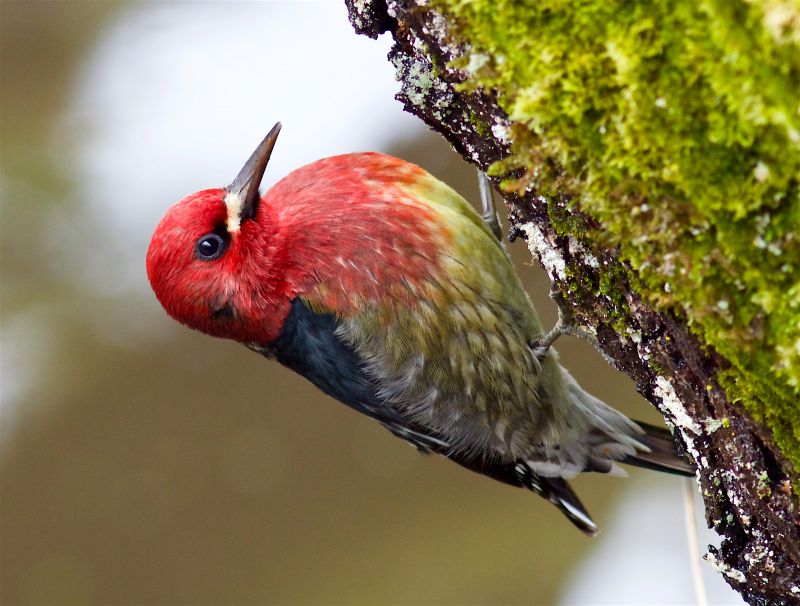 7. Red-breasted Sapsucker
Scientific name: Sphyrapicus ruber
Red-breasted Sapsuckers are year-round dwellers in California and along North America's western coast. They are medium-sized, with red chests and heads. They also have black and white feathers on the rest of their bodies.
Red-breasted woodpeckers, red-naped woodpeckers, and yellow-bellied sapsuckers were categorized as the same species in the past. However, experts are now aware of their unique characteristics despite them sharing a few things in common.
You can find Red-breasted Sapsuckers in coniferous forests. Their diet comprises of tree sap, fruit, and insects. They are also known to feed on fruits and berries. They mainly get tree sap by drilling small holes on trees.
Male and female Red-breasted Sapsuckers measure 20-22cm long, weigh 53.1-63.5cm, and have a 37-40.6cm wingspan. They have a harsh, mewing 'waah' call.
The Red-breasted Sapsucker is mostly a permanent resident and one of the Sapsuckers with the slightest tendency for migration. They often nest on the same tree but rarely use the same cavity twice subsequently.
---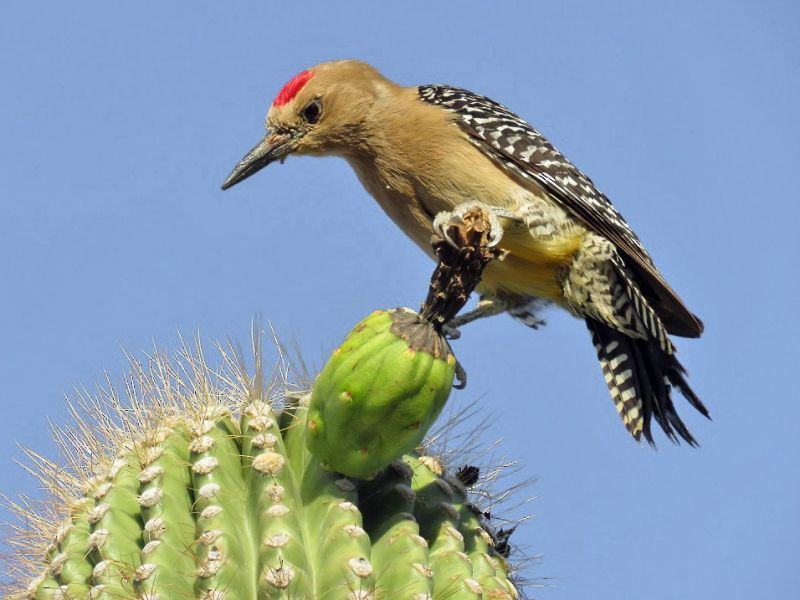 8. Gila Woodpecker
Scientific name: Melanerpes uropygialis
Gila Woodpeckers have gray-brown plumage, but their tails, wings, and backs usually have great black and white patterned feathers. Adult male Gila Woodpeckers also have the red caps commonly found in woodpeckers.
If you want to find these birds easily, try April, among large trees and cacti. You can pinpoint their location from the tapping sound they produce to attract mates. Their calls tend to be one-pitched, monotones similar to Red-bellied Woodpecker calls.
These Woodpeckers spend a good chunk of their day in tall desert vegetation and catching insects by probing, pecking, or gleaning on large trunks and branches. Gilas also often sugared water from hummingbird feeders.
They also often perch in open places in the morning or late afternoon, calling frequently or chasing other woodpeckers from their respective territories.
Gila Woodpeckers of both sexes measure 22-24cm in length, weigh 51-79g, and have a 40-42cm wingspan. They nest in tree cavities and are very noisy and aggressive. Their migratory habits are minimal and, as such, are mostly all year-round residents.
---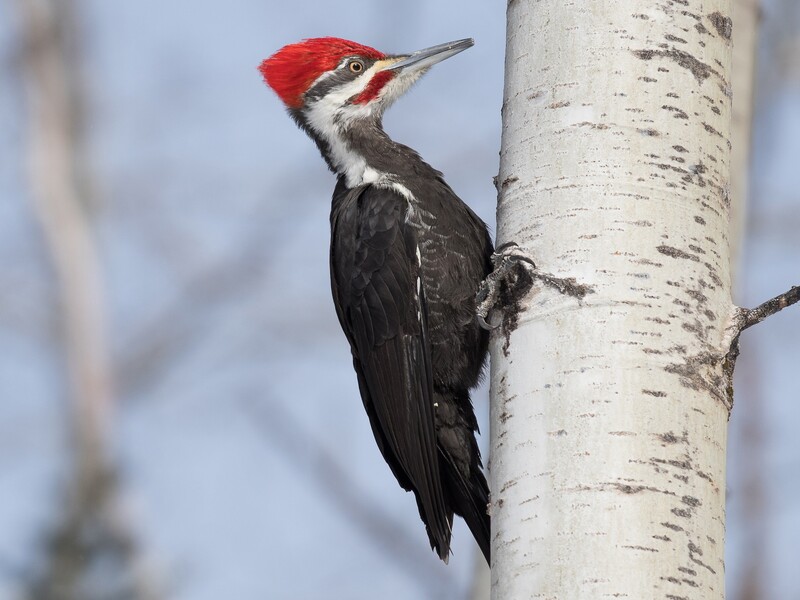 9. Pileated Woodpecker
Scientific name: Dryocopus pileatus
The Pileated Woodpeckers are familiar year-round residents of various areas in Northern California. They are mostly restricted to the Eastern half of the US and rarely venture into deeper Southern territories.
These birds are the largest of all the Woodpecker species in California and North America. They are also the second-largest species in the US. They often frequent suet feeders, like other woodpeckers, but they are more challenging to attract.
Pileated Woodpeckers have black-colored plumage, distinct white necks, and red barring on the crown of their heads. You will mostly find them searching for prey in dead trunks and fallen logs. They also nest in holes that later provide shelter for ducks, owls, bats, and other bird species.
If you are interested in Pileated Woodpeckers, look for them in forests with large fallen logs and dead trees in abundance. One of the telltale signs of their presence is deep excavations in rotten wood. Moreover, they make deep, shrill, loud, whinnying drumming calls.
Adult Pileated Woodpeckers are 40-49cm long, weigh 250-400g, and have a 66-75cms wingspan. They are primarily permanent residents and rarely wander far from their breeding spots.
---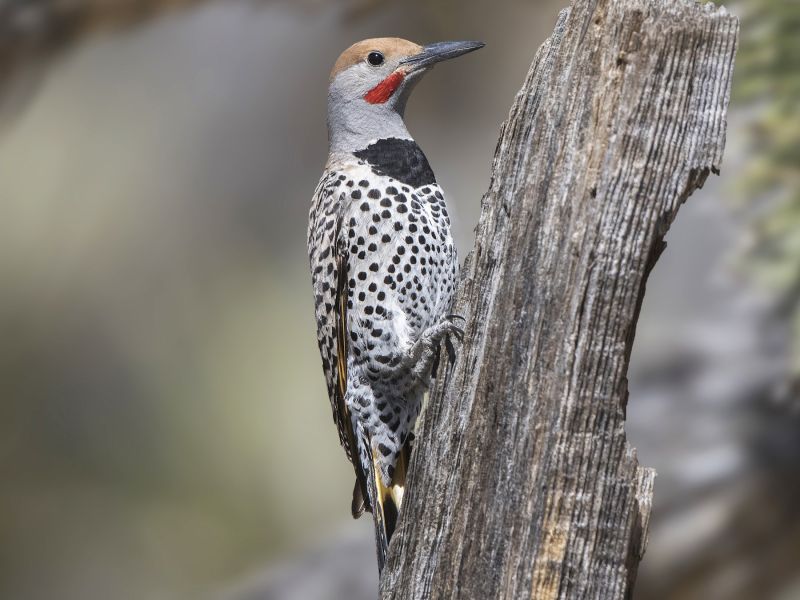 10. Gilded Flicker
The Gilded Flicker, like the Gila Woodpecker, is restricted to Baja and Southern California. And, in Southern California, you will mostly find them in the eastern parts near the border to Arizona and Nevada.
Very little is known about this Woodpecker species because of the small range of habitat. However, two species are known: the Gilded Flicker and the Northern Flicker. They have a similar appearance, but the Gilded Flicker has golden-yellow tail feathers.
Although Gilded Flickers have not been listed as an endangered species yet, their population has been on a steady decline for the past few years. They are common in the Sonoran desert, making their nests in cavities in giant saguaro cactus.
Gilded Flickers of both sexes tend to be 28cm long, weigh 92-129g, and are 50-52cm from wingtip to wingtip.
Their feeding behavior includes foraging by hopping on the ground, occasionally taking wing, catching insects in the air, and climbing cacti and tree trunks searching for prey. They mainly feed on ants, termites, beetles, and various other insects. These birds are also known to eat fruits, nuts, and berries at times.
Gilded Flickers are typically permanent residents and only love locally within limited distances.
---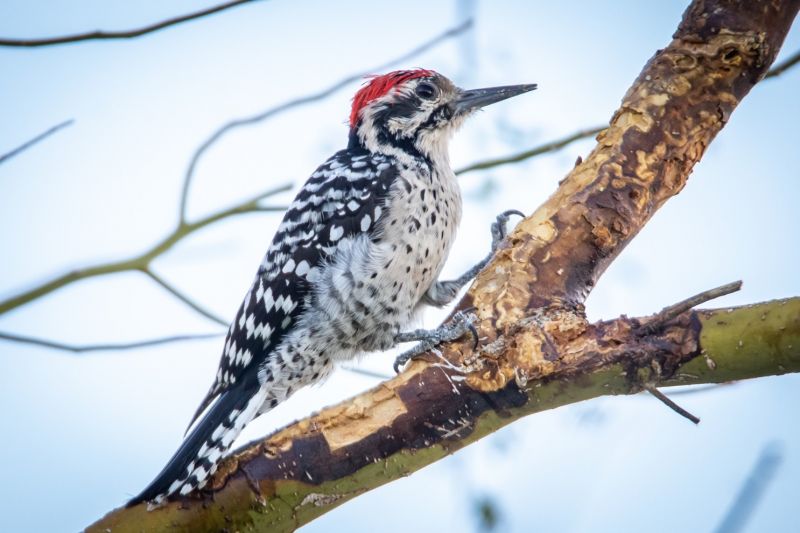 11. Ladder-backed Woodpecker
Ladder-backed Woodpeckers are small-sized birds that are relatively easy to recognize by unique patterned dark and light plumage on their backs and distinct spots on their breast. Full-gown males also have a red cap on the top of their heads.
In California, these birds are known to live in scrubs, cacti, and forested areas. Most watchers spot them visiting bird feeders during the breeding season in spring. They are usually more active during their breeding season.
Unlike most other woodpecker species, Ladder-backed woodpeckers make little noise, and their call is a relatively quiet 'peek' note. They usually make their nests in dead trees. These birds' foraging activities include pecking at tree barks for larvae or insects and hitching around branches searching for food.
Most times, expect to detect these birds by their quick, constant drumming on trees because they usually get hidden by vegetation as they forage. They have rapid flight but do not stay in the air for longer than necessary.
Both male and female Ladder-backed woodpeckers usually have a length of 16-18cm, 33cm wingspan, and weigh 21-48g. They are permanent residents, but some individual birds wander from time to time.
---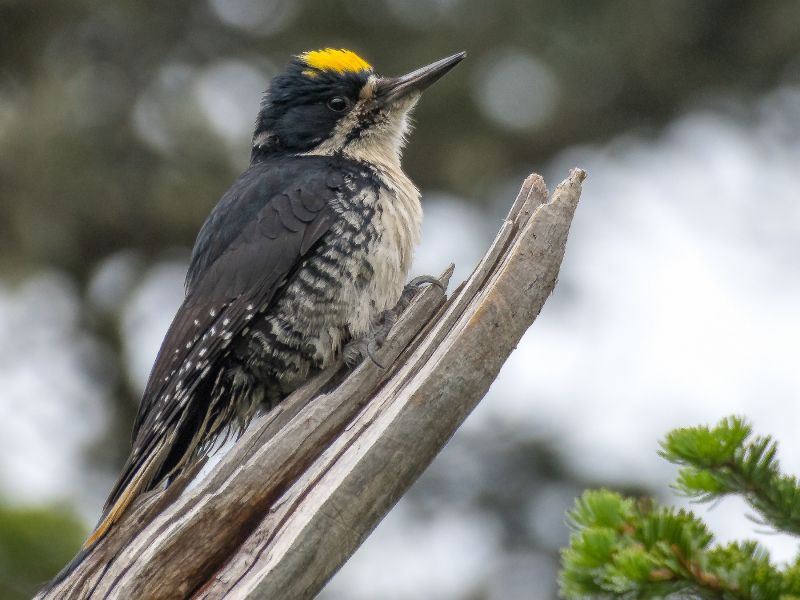 12. Black-backed Woodpecker
Scientific name: Picoides Arcticus
These are medium-sized woodpeckers that tend to have glossy black backs and flight feathers with faded white markings. They also have black heads, white throats, and white mustache stripes. Their adult males have distinct yellow caps on top of their heads.
Black-backed woodpeckers habituate forests, especially those that have experienced fire damage. They tend to be less conspicuous than other species, and their population in a particular area mostly depends on food availability.
The best time to look for these woodpeckers is early summer and spring. You can quickly identify them by their short and uniquely toned clicking 'pick' call. And, as we mentioned before, unless your area has a burned forest, chances of seeing a bird of this species are pretty slim.
However, once Black-backed Woodpeckers show up in your area, they will more likely than not stay for a long time. They are known to visit and stay in one area for as long as eight years feeding on any beetle larvae.
Size-wise, Black-backed Woodpeckers are 22-24cm long, weigh 61-88g, and 40-42cm wingspan. During winter, they sometimes migrate to slopes on relatively lower altitudes.
---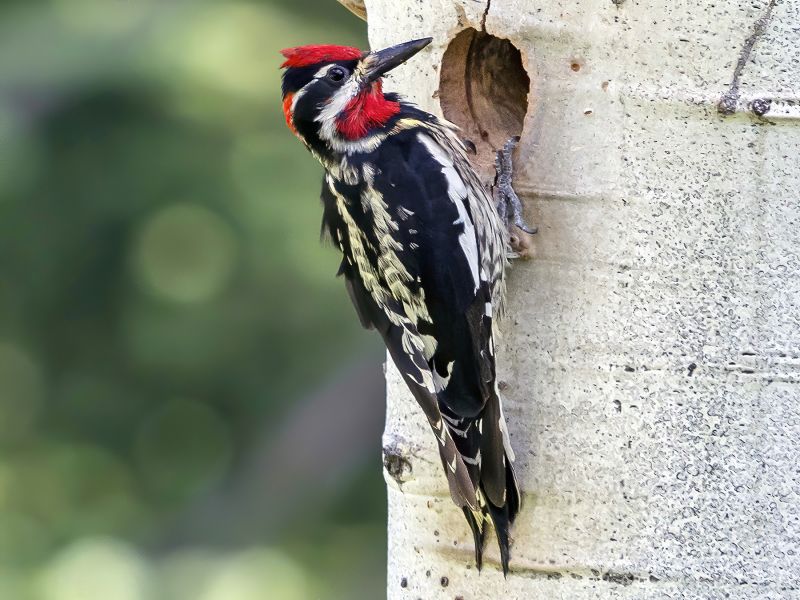 13. Red-naped Sapsucker
Scientific name: Sphyrapicus Nuchalis
These are medium-sized woodpeckers that have short and sharp bills. Adult Red-naped Sapsuckers are mostly black and white and have bright red patches on their heads and white stripes on their faces. They also have pale bellies with yellow patches and black and white mottling.
During the breeding season, you can find Red-naped in Northern California. They usually live in mixed forests of willows, pines, and aspens. You may also find them residing in oak forests but not in the breeding season.
Differentiating male and female Red-naped Sapsuckers is relatively easy. Males have red throats, while females have red throats with a tiny white patch. You can find these birds near the Rocky Mountain region forest areas in California.
Red-naped Sapsuckers measure 19-21cm in length, have a wingspan of 41-43cm, and weigh 32-66g. They like climbing trees and support themselves with their stiff tail feathers when they need to lean.
These birds' diet consists mainly of insects, fruit, and tree sap. They mostly excavate in live or dead tree trunks and use the cavities for nesting.
Red-naped Sapsuckers are short-distant migrants but only migrate during winter.
---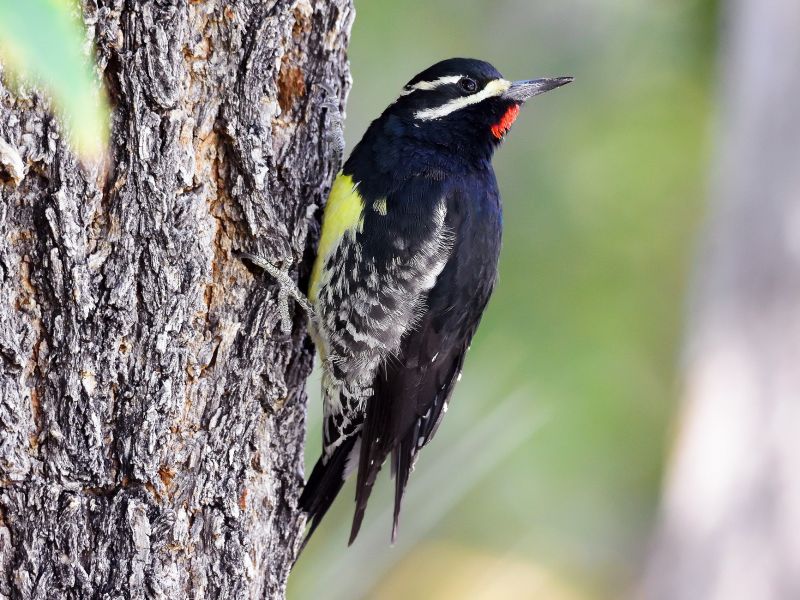 14. Williamson's Sapsucker
Scientific name: Sphyrapicus Thyroideus
Williamson's Sapsuckers are medium-sized woodpeckers that have bold, intriguing color patterns. Adults have black plumage with bright white streaks on their wings. Their faces also have white slashes and red throats, and their bellies are yellow.
You can easily distinguish female Williamson Sapsuckers by their dark breast, brown heads, and black and white patterned wings and backs. Both males and females are popular for their 'chyaah', wheeze-sounding call.
These woodpeckers mostly dwell in mountainous terrains like the Sierra Nevada, the Cascades, and the Rocky Mountains. They also make their habitat in mixed and coniferous woodlands with mature trees.
Williamson's Sapsuckers have a diet similar to other sapsuckers. They tap in tree sap supplies by drilling into sap wells, substituting their diet with fruits, insects, and various plant materials like cambium.
These birds are quiet. However, during spring, you can expect to hear their high-pitched, nasal calls more frequently. They usually make noises during their breeding season, when they are trying to attract mates.
Both male and female Williamson Sapsuckers measure 21-25cm in length, weigh 44-55g and have a wingspan of 43cm. They are short-medium term migrants who mostly seem to prefer wintering at upper elevations, and in fall, their migration follows mountain ranges in the South.
---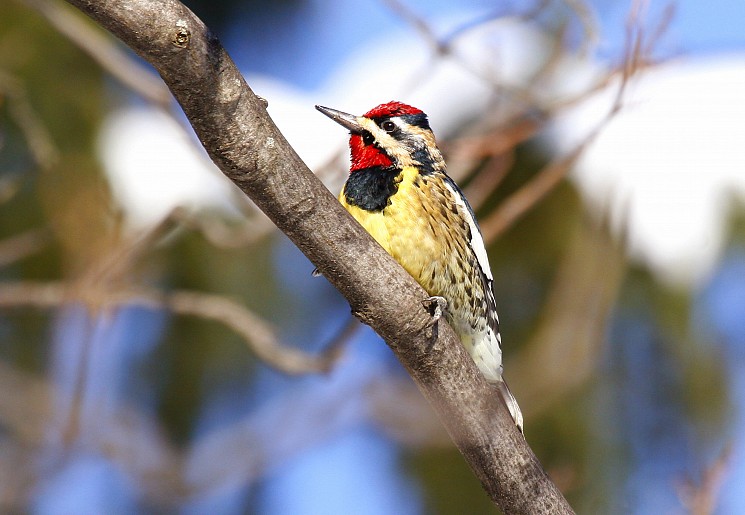 15. Yellow-bellied Sapsucker
Scientific name: Sphyrapicus Varius
Yellow-bellied Sapsuckers are medium-sized woodpeckers that are easy to recognize due to their distinct shoulder stripes. Mature Yellow-bellied Sapsuckers are famous for their read throats and foreheads, while females usually have white throats.
These woodpeckers in California get their name from their pale, yellow underbellies. They nest in coniferous forests and excavate their homes in tall trees. If you want to find these birds in open woodlands, trying looking for them during the summer and spring months.
You can quickly locate Yellow-bellied Sapsuckers by their scratchy, nasal mewing call. They prefer feeding at sap wells, where they lap up a tree's sugary sap and any insects they can find. Listen out for their distinct drumming on trees or metallic objects.
These woodpeckers usually nest in small-treed groves like aspens. They are also known to feed on suet from birdfeeders occasionally.
Yellow-bellied Sapsuckers measure around 19-21cm long, weigh an average of 50.3g and have a 34-30cm wingspan. They also migrate over short and long distances. Some leave their breeding grounds in September and early October and spend winter in Mexico, Central America, and West Indies.
---
Conclusion
California is one of the best places for avid birdwatchers to observe woodpeckers. The multitude of woodpeckers available is mainly attracted to parks, but you can attract a few using bird feeders.
And, although some people don't like the constant drumming and noisy calls produces by woodpeckers in California, learning about their behavior and watching their interaction is worthwhile. If you happen to be in California, keep an eye out for these birds on fallen logs and dead trees.
---
Related
Interested in more California birds? Take a look at some of California's most well known predators, specifically, the hawks in California.
Lots of birds, like owls, are nocturnal and do most of their active hunting at night. Some folks have seen hawks do the same. We try to answer this puzzling question in the following article, because most believe hawks to be daytime hunters. Like anything else in this world, there's a gray area (or more specifically, a time between day and night where hawks may still be active!)