Woodpeckers are best known for their inherent ability to drill holes into tree branches and trunks with their beaks. They like to forage underneath tree's barks with pride. These birds exist in a wide range of colors, most of them being white and black with conspicuous red burs. This is one of the favorite bird species to watch and attract to your backyard for any birder. In this article, we look at the Woodpeckers that can be found in Virginia.
Virginia is a US state situated on the south-eastern coast of America. It borders the Chesapeake Bay to the east and boasts the beautiful Appalachian Mountains. Therefore, these two are the main shaping factors for the topography and climate conditions in Virginia. You'll find a diverse range of plant and animal species living in Virginia, including birds.
---
Typically, we have 8 species of woodpeckers in Virginia, though one of them is rare and endangered. Regardless of the place you reside in Virginia, you'll see woodpeckers around in large flocks. Alongside them, there is a wide species variety, making these birds fun to watch.
8 Species of Woodpeckers in Virginia
They include:
• Downy Woodpeckers
• Red-Cockaded Woodpeckers
• Red-Headed Woodpeckers
• Red-Bellied Woodpeckers
• Hairy Woodpeckers
• Northern Flickers
• Pileated Woodpeckers
• Yellow-Bellied Sapsuckers
Of all the 8 woodpecker species, 7 are permanent residents of Virginia. This means that you'll spot them all year round. The other species that don't breed in the state. Here's our detailed description of each species of woodpeckers in Virginia. We'll also inform you when and where to watch these remarkable birds. More importantly, learn how to attract each species to your backyard.
---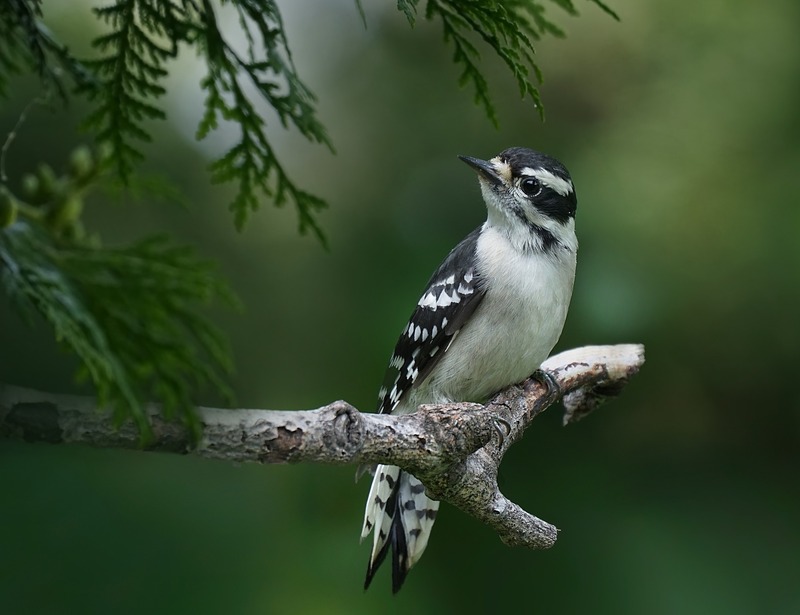 1. Downy Woodpeckers
Weight – 0.7-1.0 oz
Length – 5.5-6.7 inch
Wingspan – 9.8-11.8 inch
Downy Woodpeckers exist as one of the most popular woodpecker species in Virginia as they live here all year round. They are quite a familiar sight in many backyards, and you'll probably notice them.
These birds are the tiniest woodpeckers in the whole of North America, with their size ranging between a sparrow and robin. For this reason, you may not spot them with ease.
Like many other species, the Downy Woodpeckers birds have white and black plumages. The males have caps with distinctive small red spots that females lack. They tend to look like the Hairy Woodpeckers, but they have shorter and smaller bills than other species.
You can find these birds in many types of habitats in Virginia. Naturally, these woodpeckers are visible in deciduous woodlands with adjacent water sources. They also live in gardens, forest edges, clearings, orchards, cemeteries, parks, and suburban backyards for habitat.
Their diet mainly comprises many kinds of insects like caterpillars and beetle larvae they find beneath tree barks. Berries, acorns, and grains also form part of their diet.
Are you looking to attract Downy Woodpeckers to your yard? It's easy. Simply put suet, peanut, or sunflower seeds in a bird feeder. They'll also drink sugary water from the hummingbird feeders.
These birds have high-pitched "pik" sounds and descending whinny noises. But the best way to spot Downy Woodpeckers is through their way of drumming on trees. That's what they often do when establishing a territory or looking for a mate. Usually, the drumming is relatively fast and sounds like a continuous sound.
---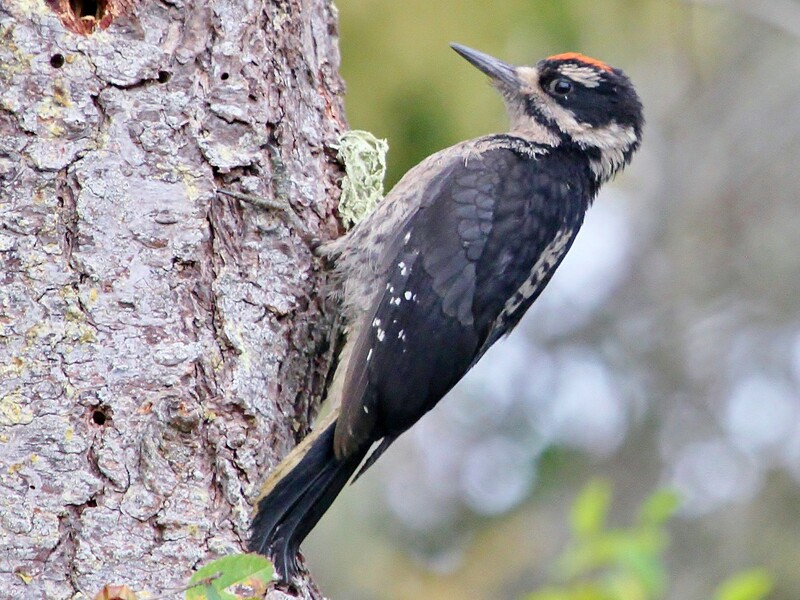 2. Hairy Woodpecker
Weight – 1.4-3.4 oz
Length – 7.1-10.2 inch
Wingspan – 13.0-16.1 inch
You can see this species in Virginia nearly all year round, particularly in woodlands. These medium-sized woodpeckers' bodies are covered in bold black and inconsistent white checkered plumage. Their backs also have large white spots, and the males boast a distinct flash of red that runs towards the back of their heads.
They tend to look the same as Downy Woodpeckers but relatively larger with a long chisel-shaped bill. These woodpeckers prefer living in mature forests. But, you'll likely see them in open woodlands, parks, cemeteries, orchards, swamps, and suburban backyards.
In other words, you can spot them in places with many large trees. Burnt forests may also be a better place to checkout for these birds as most woodpeckers love areas with foraging opportunities.
Their long and strong bills help in digging out insects from tree barks and dead woods. When insects are scarce during the winter months, you'll see them visit suet birdfeeders. So, you can use suet and sunflower seeds to attract one to your yard.
Like the Downy Woodpeckers, these birds make a short yet sharp "peek" call. The only difference, though, is their slightly lower pitch. You'll also hear them make a whinny or sharp rattling sound.
---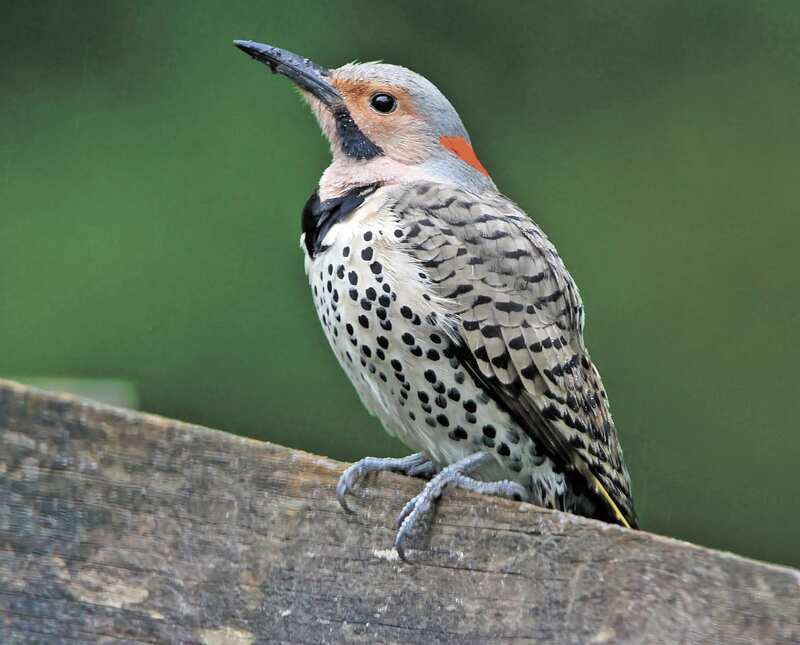 3. Northern Flicker
Weight – 3.9-5.6 oz
Length – 11.0-12.2 inch
Wingspan – 16.5-20.1 inch
Northern Flickers reside in Virginia year-round. They're pretty large, ranging between a crow and the American Robin's size. With a pale brown plumage covering their whole bodies, these birds boast a unique appearance. In addition, they have a variety of dark spots undersides.
These birds also have long tails, slim heads, and relatively downward curved bills. The Northern Flickers have yellow-colored or red undersides on their wings and tails. Though these appearances vary depending on your place of residence. Here are the two distinct variations to look for:
Yellow-shafted
The Yellow-shafted Northern Flickers typically exist on the continent's eastern parts. They have a red spot on the back of their head and yellow feathers under the wings and tails, which you can see when they fly. The males have mustache with a red stripe, making them distinct from the females. Their faces and crowns are brown and gray respectively.
Red-shafted
These sub-species exist in the west. For correct identification, look for a red stripped mustache that the males and females have. When they fly, you'll easily see red-orange feathers under their wings and tail. They have gray faces and brown crowns.
These woodpeckers are unique as you'll have to look for them on the ground but not on tree sides. They spend time looking for and digging ants and beetles out of the forest floors. These birds often perch upright on tree branches.
They feed on fruits and berries during winter, and you'll likely see them at bird feeders. Plus, they're occasional visitors and love feeding on suet, sunflower seeds, and peanuts. Therefore, look for a well-sized bird feeder or plant native plants that attract insects to call these birds to your backyard.
---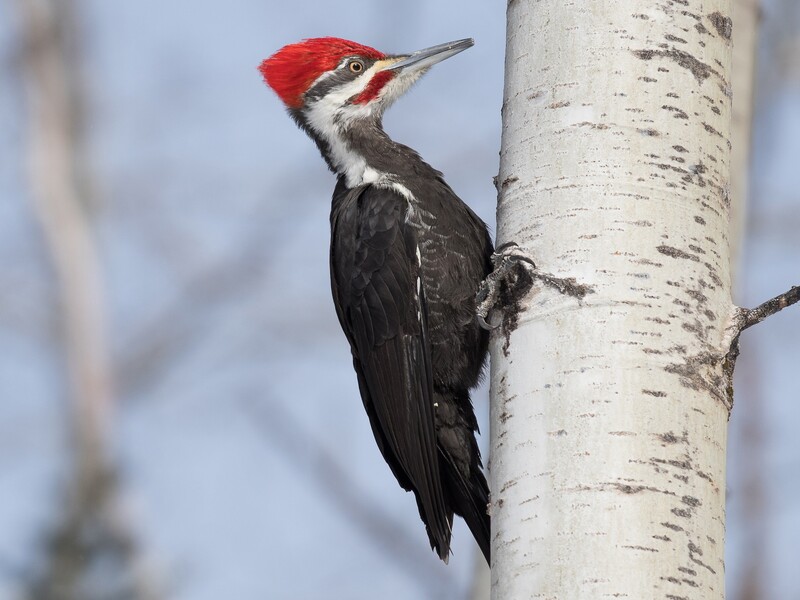 4. Pileated Woodpecker
Weight – 8.8-12.3 oz
Length – 15.8-19.3 inch
Wingspan – 26.0-29.5 inch
You won't find any species of woodpeckers in Virginia that can make you pause your trails than the Pileated Woodpeckers. They are the largest species, about the crow's size. Their bold white stripes and colorful red crest make it easier to spot them.
These birds are usually black but have white stripes on their faces and necks. Be sure to look for a triangle-shaped red crest on their heads. The males feature a red line on the cheeks, while the females have the stripe at their backs.
If you wish to sightsee these birds, old and mature forests are the best place to look. You'll find them living in lots of dead woods and logs, where they also dig out ants, beetles, and termites for food. However, they are uncommon at backyard suet feeders. They'll feed on fruits and nuts during winter or supplement their diet.
The Pileated Woodpeckers are quite vocal, and you can hear them make loud drumming sounds with 10-20 taps in not more than a second. It's their way of finding mating partners, mark territories, and warn of intruders.
---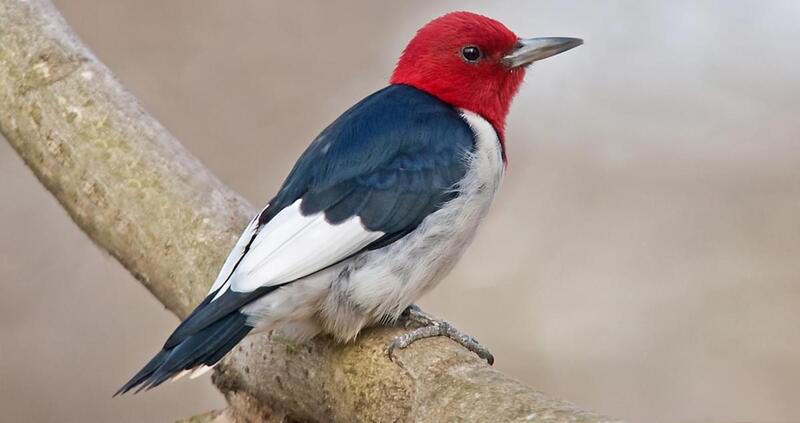 5. Red-Headed Woodpecker
Weight – 2.0-3.2 oz
Length – 7.5-9.1 inch
Wingspan – 16.5 inch
These birds boast a redhead and beak that's quite larger than most species of woodpeckers in Virginia. Their backs are covered in black plumage, while the wings have white patches and a purely white belly. With their bold patterning, these woodpeckers are at times called the "flying checkerboard."
They have medium sizes, nearly that of a Hairy Woodpecker with short tails and large round heads. Their bills are relatively short yet powerful enough to hammer the wood to dig out food.
Other than insects, these birds love beechnuts. Unfortunately, the destruction of the extensive beech forests has negatively impacted the population of the Red-headed Woodpeckers in the state.
Interestingly, these birds are clever and are the only woodpeckers that know how to store surplus food. They'll hide seeds, insects, or nuts under tree bark, in the fence, or under roof shingles.
If you wish to watch these birds easily, listen to their shrill "tchur" sound that resembles that of a Red-bellied woodpecker. The difference is that the sound is highly pitched and doesn't roll a lot.
---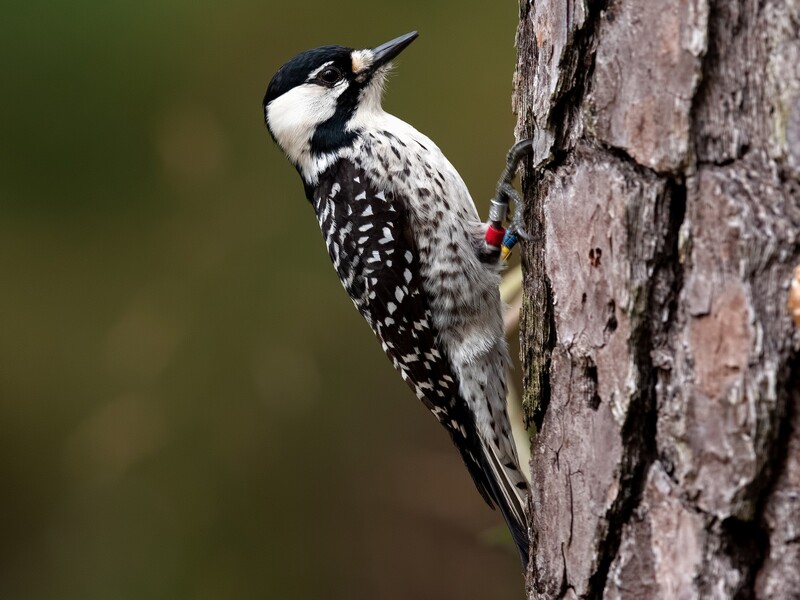 6. Red-Cockaded Woodpecker
Weight – 1.5-1.8 oz
Length – 7.9-9.1 inch
Wingspan – 14.2 inch
Unlike their name, these birds have little red plumage covering their bodies. The males are pretty small and have a nearly invisible red patch behind their eyes. Plus, the rest of the body has black and white spots, bars, and stripes.
The Red-Cockaded Woodpecker occupies only a small part of Virginia. Yet, you can find them all year round, but that may not be that easy. It was one of the endangered species in 1970 and has ever since disappeared from most habitats they initially occupied due to logging.
If you want to see this bird, visiting a protected national forest or wildlife refuge can be the best option. You'll find these birds' nests marked for accessible location. They use flowing sap found near their nesting spots or roosting caves to establish their territories.
You can also spot them in mature pine forests and regions with less understory growth. And they tend to avoid habitats dense and crowded vegetation. Such habitats are usually due to wildfires due to lightning storms though it's rare.
These birds feature an alarm call that sounds "sklit." They also drill sap wells to leak sap as it flows down a tree. This sap, in turn, helps deter away snakes as they climb up the tree.
---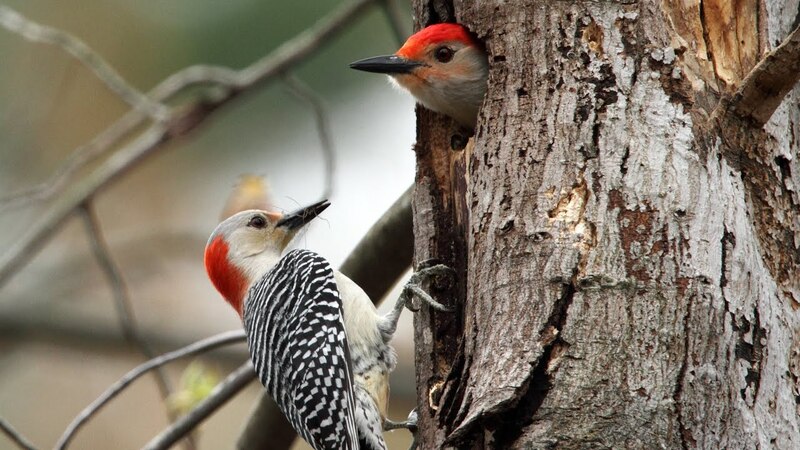 7. Red-Bellied Woodpecker
Weight – 2.0-3.2 oz
Length – 9.4 inch
Wingspan – 13.0-16.5 inch
These woodpeckers are best known for their pale, peachy undersides. Their backs have black and white stripes and also have bright-red napes and heads. You'll find these birds in Virginia all year round, mostly in different forests and woodland grooves closer to water sources.
Thankfully, these woodpeckers can adapt and survive in any habitat and visit backyard feeders more often. Their diet is pretty diverse in that they eat insects, berries, seeds, and nuts. Just like the Red-headed Woodpeckers, these birds store their excess food in cavities for future use.
Red-Bellied Woodpeckers have a distinctive rolling call that makes them easily identifiable. During the spring and summer months, you can hear them frequently call as they search for mates. If you live closer to wooded areas and want to attract these birds to your backyard, place peanuts and suet blocks in bird feeders. You may also leave deadwood in the yard to lure these birds to your compound.
---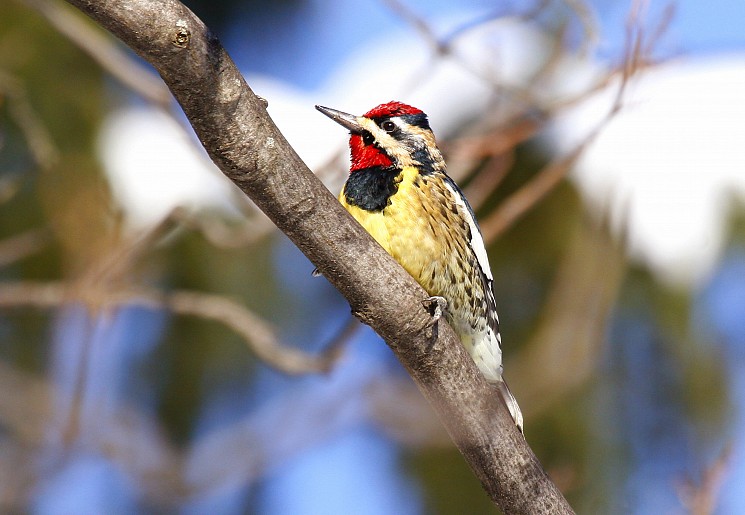 8. Yellow-Bellied Sapsucker
Weight – 1.5-1.9 oz
Length – 7.1-8.7 inch
Wingspan – 13.4-15.8 inch
This is the non-breeding woodpecker species found in Virginia. So, you'll only spot them in the state in winter periods. Their breeding grounds and permanent territories exist mainly in Canada. Since they tend to live in the young deciduous forests, you'll easily see these birds perch and fly in the sky.
If you notice small rows and well-spaced cavities on trees, know that the Yellow-Bellied Sapsucker is around. They are common at sap wells they create where they leak and lap up the sap for food. These birds also eat tree's cambium.
The sugary sap wells they drill also serve hummingbirds for food. That is why you will find the hummingbirds alongside the Yellow-Bellied Sapsuckers when the time to migrate comes.
These woodpeckers often sit at the tree branches' tips where they catch insects. Listening to their mew-like calls can be another best way to spot these birds. As you walk around the forests and habitats, make sure to look around the trees as these birds usually perch on the tree sides.
---
Related
Interested in more birds in the Virginia area? Check out the Hummingbirds in Virginia as well!
Occasionally in your backyard birding you may stumble upon an injured bird. Before taking it in, prepare yourself by reading What To Do With An Injured Bird. There are many situations where you will want to call in a professional.