You're outside in your backyard and come upon what looks like an injured songbird. You look around carefully to see if there is a nest nearby, but your search comes up empty. Your better senses tell you it's not safe to leave the little fellow unprotected, but how do you help? Are there rules about this? It's hard to know what to do with an injured bird.
---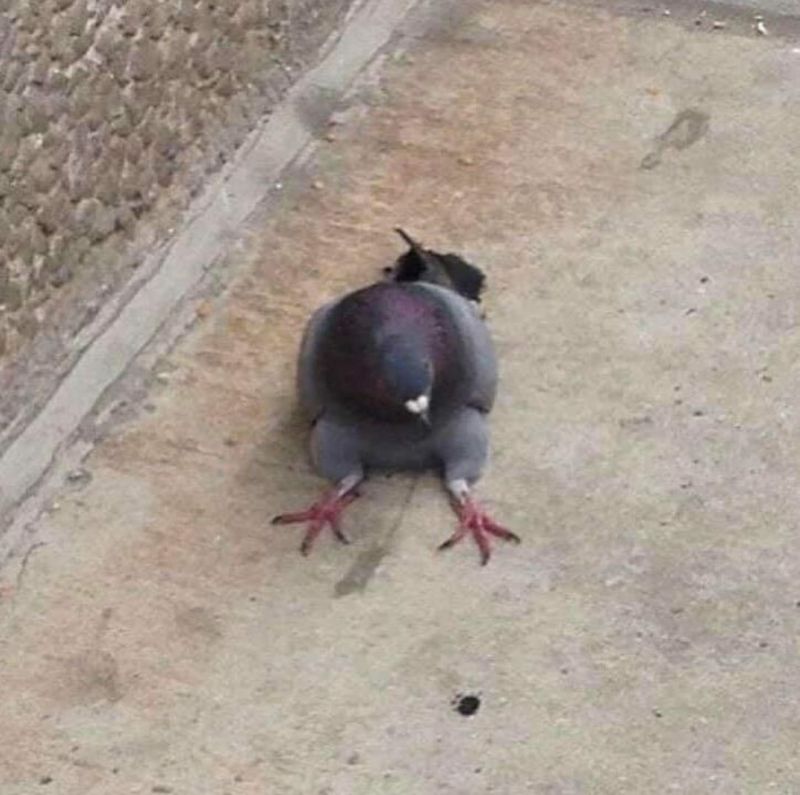 How Old Is the Injured Bird?
We're not talking about years or months here, but rather what stage of life the injured bird appears to be at. Is it a hatchling or a nestling? A fledgling? An adult bird?
Hatchlings may be featherless or have soft down while nestlings' bodies may show the start of feathers. If you find one or the other, you should contact a licensed wildlife rehabilitator for instruction. In the meantime, you can keep a young injured hatchling or nestling comfortable by placing it in a small plastic container lined with soft toilet paper.
Just like human babies learning to walk, nestlings must learn how to fly. And they don't always get it right the first time. Their parents understand this and will continue to feed and care for them for a while even after they leave the nest.
You can generally tell if a bird is a nestling because it will be as large as an adult, but with immature feathers. If you put out your finger and it grasps it firmly, then it is likely healthy. Therefore, if you find a nestling on the ground, chances are good they are just going through that awkward age and should be left alone.
If, however, the bird is an adult and does not immediately take to the air when you approach it, it probably is injured and in need of help. Other signs of injury include:
Fluffed up feathers indicating he is trying to stay warm
Closed, squinted, crusty, weepy, swollen or bleeding eyes
Drooping or hanging wings
Dangling legs
Clear evidence of blood or wounds
While your instincts may be to care for an injured wild bird and nurse it back to health, it's really not in the bird's best interests. In most cases, even if you have the best intentions, the injured bird will not survive. Instead, contact your local licensed wildlife rehabilitator and ask them about how to best capture and transport the bird to their facility. They have the proper education and equipment to ensure the best chances of his survival.
---
Capturing an Injured Bird for Transport
Not every injured bird lies still and seemingly unconscious under a tree. In some cases, they may arrive at your front door in the mouth of a family pet. Or they may be alert but hopping about unable to fly.
If a family pet has brought a bird home, try to extricate it as best you can and keep a firm grip on it so it can be later examined. If it is lying still outside, approach it from behind and cup your hands around its wings when lifting it. If it's able to hop about or even fly a bit, employ a friend or two to help you capture it with bird netting. In some cases, injured pigeons and doves can be lured into a bird carrier with seed.
In all cases, do not pick up a bird by its wings, feet, or its head, but hold it firmly by the body. You can support it in the palm of one hand with the other over the top around the shoulders of both wings. Once the injured bird is captured, try not to handle the bird unnecessarily but instead transfer it to a ventilated, covered shoebox with a cloth, though not terry cloth, on the bottom as their feet can get caught in the loops. Fashion a second cloth into a donut shape to form a nest for it to lie in. Keep in mind that birds stress easily and too much handling may cause their premature death. Once secured in a box, tape the lid to the bottom of the box and take the injured bird immediately to a wildlife rehabilitator.
---
Transporting Sick or Injured Birds
While your heart may tell you to check on the sick or injured bird you have secured in a box, it's best not to. A sick or injured bird is already stressed, and human sounds, touch and eye contact will only exacerbate their condition.
While you're in possession of the bird, don't try to feed it or give it water as these could potentially get stuck in their feathers and cause them harm.
When you're ready to take it to a rehabber, keep the lid on the box and hold it steady during transport.
---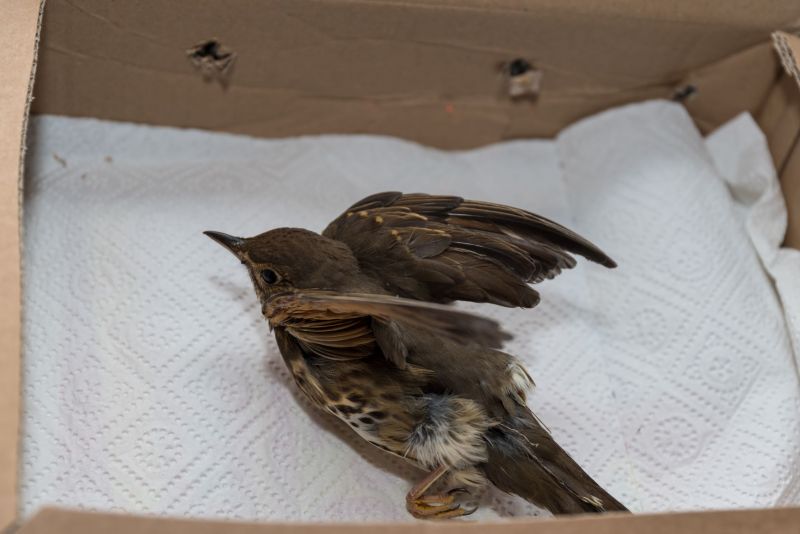 Dealing With Large Injured Birds
Larger injured birds including many birds of prey or waterfowl can be difficult to handle, so if you don't know what to do with an injured bird of this size, it is often best to simply contact a rehabber. Hawks and owls with sharp talons can penetrate thick gloves so welding gloves with forearm-protecting gauntlets are best to wear. Herons and cranes with long, sharp bills will jab at a person's face if threatened, so don't approach one without protective eyewear.
If you do try to capture such injured birds, hold a large bedsheet or blanket in front of you and toss it completely over the bird. Or cover it with a box and then slide a flat piece of cardboard beneath it.
Just as with any other injured bird, keep your conversation around it to a minimum while transporting it. Leave your radio off as well as this will minimize stress.
---
Common Causes of Bird Injuries
There are several reasons why birds may become injured especially in the wild, and often they have a direct or indirect connection to we humans. True, fledglings can be hurt in falls from the nest, but they are also often attacked by our beloved house cats, hit by cars, sickened by bacterial illnesses contracted at our bird feeders, or killed by window collisions.
It's estimated that between 300,000 and 900,000 birds are killed each year in North America from flying into windows. You can help reduce that number by hanging bright-colored fluttery ribbons in front of your windows or breaking them up with decals. Another helpful deterrent is to hang unwanted CDs on strings in front of windows so they will twist and turn in the wind.
Additionally, many birds are killed when their paths cross with the oil and electric utility sectors. For example, often birds are killed when they land in oil waste pits mistaking them for ponds. They also can become entangled in or electrocuted by power lines. There are a number of best practices that the electric utility sector can employ to reduce the number of deaths.
---
Treating an Injured Wild Bird On Your Own
Anyone who is not a licensed wildlife rehabilitator should be aware that it is illegal to possess an injured or ill adult songbird with the exception of transporting it to such a rehabilitator or facility. Even an avian veterinarian is a better choice. Despite that warning, there are a number of websites that provide advice for caring for injured birds at home.
Understanding that there may be situations where there is no qualified animal care professional to be found or no way to have an injured bird transported or picked up immediately, the following first aid care is provided below.
If the Bird is Bleeding
A bleeding bird can die quickly. Therefore action must be taken quickly. If a bird is observed physically bleeding, place a clean cloth (but not a towel) over the wound and apply pressure for about five minutes. This should stanch the flow of blood. Afterward, remove the cloth to make sure it has stopped. Don't try to remove any blood clots, and don't apply any antiseptic ointments.
If the Bird is In Shock
If an injured bird is breathing in slowly and out quickly and is otherwise unresponsive, he is likely in shock. If found in this condition, don a pair of gloves to protect yourself from any type of disease or infection. Then carefully place him on a clean cloth or newspaper in a ventilated shoebox and in a quiet, warm, humid, and semi-dark area. Check on his progress in half-hour intervals.
It's best if this location is outside. In this way, if he does recover, when you take off the cover he can quickly fly away. Placing a hot water bottle beside him may also help. Do not provide food or drink during this time. In general, a bird will recover from shock in four to six hours.
Following Recovery from Shock
If the bird recovers, you may want to visually examine the bird for further injury. Eyes should be open and bright with equal-sized pupils. If they are not, he may have sustained a head injury. If his feathers are fluffed up, this is an indication that he is unwell and is trying to stay warm. Labored breathing may be a sign of respiratory infection. Poor posture could indicate wing or leg injuries.
In any of these cases, there is little you can do besides try to get the bird to an animal care professional as soon as possible.
---
Protecting Our Feathered Friends
There are many ways to protect our feathered friends, but unless you are a licensed wildlife rehabber yourself, it's best to leave the care of sick and injured birds to the professionals. Keeping the number of your local rehabber on hand for making a quick call can often be the best help to give.
---
Related
A long while back the photo at the top of this article circulated as a meme. The reality of it is: if you find a sitting bird, they are more than likely injured. Read more in: A Sitting Pigeon: Cute or Injured?
Birds have many predators that can cause them injury. We've done a fair bit of exploration on these predators as we have the birds themselves. One question that oddly seems to come up often is: Do Squirrels Eat Birds?